Are you sick of the same old feminine or gender neutral scented shampoos? If your answer is a resounding, yes! Then I give you this list of best smelling shampoos designed specifically for guys like us.
Each one is formulated to cater to the discerning nose of a man. They're rugged, masculine, tough, fresh, and most importantly, they smell freaking awesome.
Since every man has his own unique tastes and preferences, each one of these great smelling shampoos is hand selected based on personal experience, and thousands of genuine user reviews from guys just like you and me. That many noses can't be wrong, right?
So if you're looking for the best smelling men's shampoo, pull up a chair, get comfortable, and brace your nose hairs for impact. Enjoy.
The List:
Baxter of California Daily Fortifying Shampoo
V76 by Vaughn Hydrating Shampoo
Kick Active Shampoo
Tame the Beast Eucalyptus Shampoo
Blackwood For Men Hydroblast Shampoo
5 Best Smelling Shampoos for Men Reviewed
---
Baxter of California – Daily Fortifying Shampoo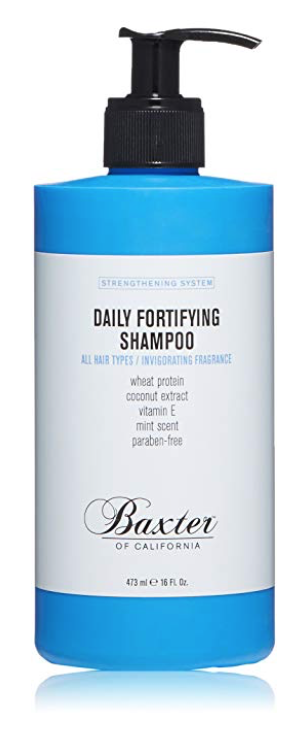 Featuring a minty fresh scent, this Baxter of California Daily Fortifying shampoo not only smells great, it also strengthens, nourishes, and hydrates hair, and leaves your scalp with a refreshingly cool tingle. Known for their premium men's grooming products, Baxter of California is one of my favorite brands when it comes to quality and effectiveness, and the fresh masculine scent of their products never disappoints.
What else is great about Baxter of California Daily Fortifying shampoo?
• It strengthens and thickens hair
A great fragrance isn't the only thing you should be looking for in a shampoo. How it performs is even more important. One of the great things about this Daily Fortifying shampoo is that it strengthens and thickens hair thanks to hydrolyzed wheat protein. While you won't find hydrolyzed wheat protein in your every day bottle of shampoo, this nutrient rich extract originates from wheat germ, and provides a shit ton of benefits for the hair, including:
Strength – Hydrolyzed wheat protein penetrates deep into the hair shaft and provides strength and support to hair's internal structure. It also provides hair with a massive increase in moisture. This in turn increases hair elasticity and makes it far less likely to break.
Thickness – As each individual strand of hair sucks up hydrolyzed wheat protein like a straw, they become swollen and engorged. This naturally gives hair a thicker, fuller appearance, making it a great option for guys with thin or thinning hair.
Protection – As if hydrolyzed wheat protein didn't already do enough for your hair, it also causes hair to form an invisible film that protects each strand of hair from damage. As a bonus, this protective film barrier adds a nice healthy shine.
• Improves scalp health
Just because your hair smells awesome and looks great doesn't mean you should ignore your scalp. This Daily Fortifying shampoo is formulated to not only improve the look and feel of your hair, but it also prioritizes the strength and health of your scalp as well. Key ingredients include:
Vitamin E – Did you know that poor scalp health has been linked to poor hair health? Vitamin E is added to this Daily Fortifying shampoo due to it's ability to improve scalp health by reducing oxidative stress and to help preserve hairs natural protective lipid layer. As it turns out, happy scalp = happy hair.
Salicylic acid – While salicylic acid is commonly found in acne treatments, it also offers a few benefits for our scalps as well. Regular use of salicylic acid containing shampoo causes the scalp to shed it's top layer of dead skin cells, revealing the softer, healthier skin underneath.
---
V76 by Vaughn – Hydrating Shampoo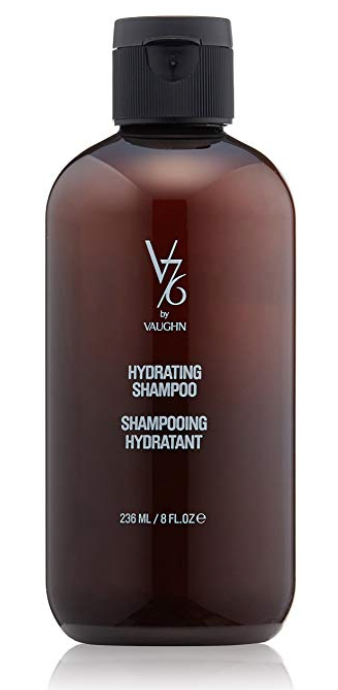 For a unique and masculine smelling shampoo, this Hydrating Shampoo from V76 by Vaughn is truly one of a kind in my opinion. Featuring a "blue cedar fragrance" that I can best describe as smelling woodsy, leathery, cedar-y, and downright masculine as hell. It's one of those scents that requires first hand experience to truly appreciate. Aside from it's great scent, this Hydrating Shampoo is full of moisturizing, healing, and hair strengthening ingredients that are designed to leave your hair looking as good as it smells.
What else is great about V76 by Vaughn Hydrating Shampoo?
• Promotes healthy hair and scalp
Besides being an awesome smelling shampoo, V76 by Vaughn is full of beneficial ingredients that improve the look, feel, and health of hair and scalp, including:
Sage leaf extract – This aromatic herb is part of the mint family and is full of antioxidants that reduce scalp inflammation, rejuvenate healthy skin, and promote the growth of healthy hair.
Almond butter – Almond butter is rich in omega-3 fatty acids which is believed to help promote hair health and improve growth. It's also a natural moisturizer that hydrates hair and scalp, and strengthens hair by increasing elasticity, making it less susceptible to breakage and split ends.
Chamomile – This powerful herd is a natural anti-inflammatory and antibacterial that reduces scalp inflammation and irritation. It's also commonly used to treat dry skin and scalp due to it's effective healing properties.
Vitamin E – Vitamin E is a natural antioxidant that is known for it's ability to maintain the growth of healthy hair. It also helps preserve the hairs protective lipid layer which is responsible for hairs healthy shine.
---
KICK – Active Shampoo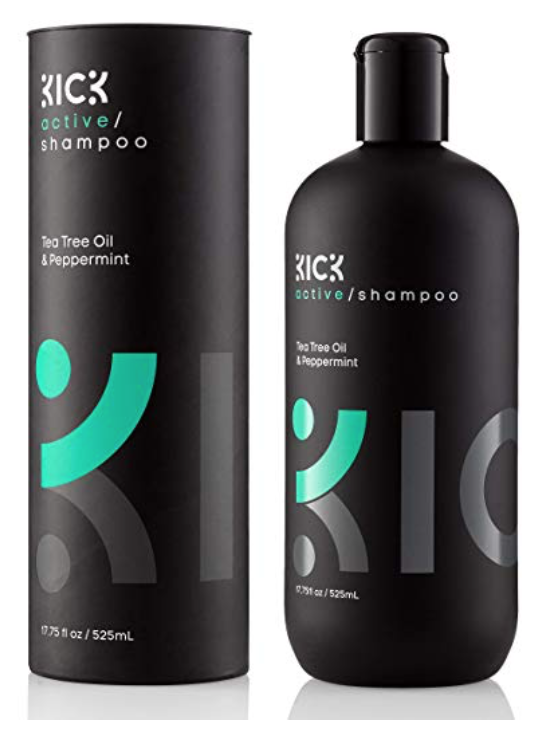 Featuring peppermint and tea tree oil, the scent of Kick Active shampoo offers men the perfect balance of masculinity, freshness, and cleanliness. Thanks to peppermint oil and menthol, Active shampoo not only smells awesome, it leaves your scalp feeling clean, energized, refreshed, and invigorated. Aside from the great fragrance, Kick Active shampoo excels at everything you would expect from a premium shampoo. Designed to promote hair growth, thicken, strengthen, hydrate, and even eliminate dandruff, Kick Active is the do-it-all shampoo with a pretty awesome scent to boot.
What else is great about KICK Active shampoo?
• Promotes hair re-growth/fights hair loss
Yes, this shampoo smells great, but that's certainly not the only thing that it's great at. KICK Active shampoo is designed specifically for men, and therefore targets one of the most common conditions that men suffer from: hair loss. While not every guy loses his hair, the fact is it's pretty damn close. It's estimated that up to 85% of men have noticeably thinner hair by the age of 50. Yes, it does suck. The good news is KICK Active shampoo is formulated with 11 natural herbs that strengthen hair follicles, increase blood circulation to the scalp, and even help reactivate inactive follicles to promote new hair growth. What's inside:
Rosemary – A great natural herb that is known to improve hair thickness and growth when applied to the scalp. Studies have shown that rosemary oil performed as well as the common hair loss treatment minoxidil when applied to the scalp, but without the unpleasant side effects.
Peppermint oil – Peppermint oil is known for causing a slight tingling sensation when applied to the skin, and the reason for this is because it's stimulating blood flow to the area. Blood flow is important because it delivers oxygen and nutrients to hair follicles that are vital for hair growth. A 2014 study found that peppermint oil increased hair follicles and improved overall hair growth when applied to the skin of mice.
Lavender – Lavender is another natural ingredient found in KICK Active shampoo that is known for it's hair follicle stimulation. A

2016 study

found that lavender oil increased hair growth and density when applied to the skin of mice.
---
Tame the Beast – Eucalyptus Shampoo
For a seriously fresh smelling shampoo, don't bother looking any further than Tame the Beast Eucalyptus Shampoo for men. Featuring peppermint, green tea, ginseng, and of course eucalyptus, this shampoo has a truly invigorating fragrance that leaves hair smelling masculine, clean, or what I would simply describe as: fresh as hell. While the scent will leave your nose doing the happy dance; the tingle inducing ingredients will leave your scalp doing an Irish jig. Menthol, caffeine, and peppermint oil combine to provide a refreshingly cool tingle that feels about as good as this stuff smells.
What else is great about Tame the Beast Eucalyptus shampoo?
• Anti-DHT
Tame the Beast Eucalyptus shampoo smells frigging awesome and it provides the scalp with a refreshingly cool tingling sensation, but that's not all this men's shampoo is great at. Tame the Beast formulated their shampoo with a shit ton of natural DHT blocking ingredients. DHT is an androgen that's believed to be the main cause of male pattern baldness. Using a shampoo that has anti-DHT elements has been shown to slow or even prevent the effects of hair loss in men.
• Big lather
Aside from the scent, one of the first things I look for in a shampoo is how well it lathers. While this may seem insignificant, it's actually pretty important for 2 reasons:
More efficient – Shampoo that works into a thick lather does a better job of breaking down oil, dirt, and grime, effectively speeding up the shampooing process.
Less is needed – When you have a shampoo that works into a thick, rich lather, less is needed to get the job done. Not only does this prolong the life of your bottle of shampoo, but it saves you money in the long run. Win-win I suppose.
---
Blackwood for Men – Hydroblast
If you call yourself a real man, isn't it about time you started using a shampoo that'll have your hair smelling like one? Blackwood Hydroblast shampoo for men is the epitome of a man's man shampoo. It smells masculine, fresh, clean, and downright tough as hell. It laughs in the face of flowery smelling shampoos, and bullies shampoos that are gender neutral. Infused with all-natural ingredients including: honey, shea butter, and coconut oil to leave hair feeling clean, hydrated, and smooth.
What else is great about Blackwood for Men Hydroblast shampoo?
• Long lasting scent
What's the point of a great smelling shampoo if the fragrance winds up washing down the drain anyway? One of the things I really like about Blackwood for Men Hydroblast is the long lasting masculine scent. Not only does it smell great in the shower, but expect the fresh, rugged scent to stay with you all day and night. Good thing it smells so good.
• A little goes a long way
Blackwood for Men products aren't cheap, and this Hydroblast shampoo is unfortunately no exception. The good news is that only a little is needed to get the job done. Just a small quarter sized dab lathers up quickly and easily, and does it's job without requiring a second helping. This not only prolongs the life of the bottle, but it's another example of getting what you pay for.
---
Shampoo Ingredients to Avoid
Did you know that the grooming products you put on your skin, hair, and body are capable of absorbing into your blood stream and organs?
Sometimes we as consumers forget the fact that there are many common chemicals used in our shampoos and skincare products that are downright toxic to our bodies.
While it's easy to get hung up on the scent of a shampoo, or the efficacy of a hair conditioner, we sometimes forget to verify if the ingredients used to make it are actually safe to use.
Below is a list of the most common ingredients found in shampoos that we as consumers should avoid:
Sulfates
I'm sure you've seen the words "sulfate-free" on countless grooming products, but chances are you have no idea what sulfates actually are and why it's best we should avoid them.
Sulfates are powerful detergents that were first introduced as an ingredient in shampoos in the 1930's. Sulfate containing shampoos quickly revolutionized the beauty industry since they were far superior to their sulfate-less predecessors in terms of efficacy.
Sulfates help get our hair and bodies clean by clinging to dirt, oil, and grime and rinsing it down the drain. While this sounds like a good thing, research has concluded that sulfates are actually too good at what they do, which actually has a negative impact on the health of our skin and hair.
Some of the negative effects of using sulfate containing shampoos:
They strip the hair of essential oils, proteins, and peptides leaving hair vulnerable to damage and breakage.
They lift the protective outer layer of the hair called the cuticle, leaving the cortex of the hair shaft exposed to moisture and air damage. This results in frizz, and dry, brittle hair that is prone to split ends and breakage.
They strip the scalp of natural lipids, allowing chemicals from hair products to permeate the skin. This results in scalp irritation and inflammation.
Sulfate names to look out for:
Sodium Laureth, Myreth, Lauryl Sulfate, Ammonium Lauryl, TEA Lauryl Sulfate, Sodium Alkylbenzene Sulfonate, TEA-dodecylbenzenesulfonate, Ammonium
Parabens
Parabens have been around since the 1950's and their primary function is to act as a preservative that dramatically increases the shelf life of our shampoos and skincare products.
Again this doesn't sound like a negative thing, but studies have shown that parabens are fully capable of penetrating the skin and residing within our soft tissue. A 2004 study found traces of parabens in the breast tissue of 19 out of 20 participants studied. While this doesn't prove that parabens can officially cause cancer, they have been shown to increase the growth of cancer cells.
Humans aren't the only ones at risk from paraben use. They also have a direct impact on the environment and marine life. Scientific studies have shown that traces of parabens have been found in the bodies of marine mammals. It's believed that paraben containing products that get washed down sinks and drains are making their way into the environment and water systems.
Paraben names to look out for:
Methylparaben, Ethylparaben, Butylparaben, Isobutylparaben, Propylparaben
Isopropyl alcohol
This extremely common ingredient is found in many shampoos due to it's ability to break down oils, and help cleanse the hair. But similar to the problems with sulfates, isopropyl alcohol is a little too good at it's job. Isopropyl alcohol main problem is that it strips the hair of essential oils and nutrients. This results in dry, frizzy, damaged hair that is prone to split ends and breakage.
---
Thanks for checking out my list of best smelling shampoos for men. If you have a question, comment, suggestion, or recommendation, feel free to drop me a line in the comment section below.