Trouserdog.com is a participant in the Amazon Services LLC Associates Program, an affiliate advertising program designed to provide a means for sites to earn advertising fees by advertising and linking to Amazon.com.

Article updated: April 26, 2023
  
Spritz the bowl before you go and no one else will ever know.
A catchy little rhyme for sure.
I suppose it's better than saying: spritz the bowl before you go and no one will know that you took a shit.
But whichever catch phrase you prefer, I think it's safe to say that Poo-Pourri does a pretty awesome job of preventing shit fumes from escaping the toilet bowl and permeating the air.
It does such a good job in fact that I can't believe humanity went so long without it. Founded in 2007, Poo-Pourri was the first product of its kind. Prior to Poo-Pourri we were relegated to spraying copious amounts of air freshener into the air that didn't actually eliminate poop odor — just slightly masked it.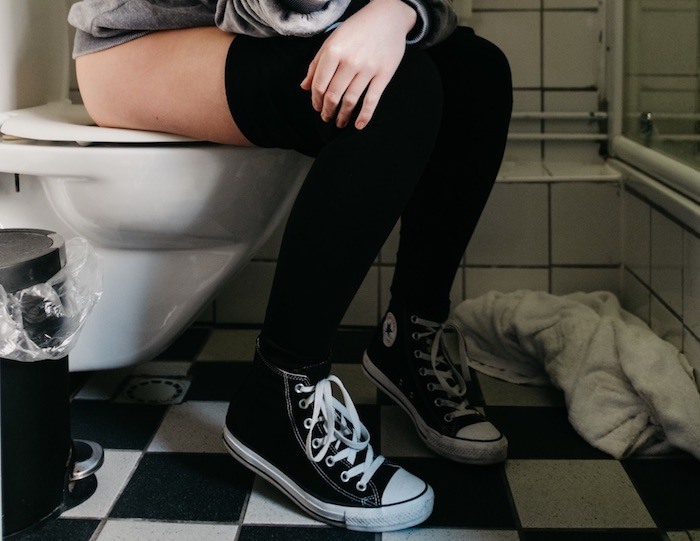 With Poo-Pourri you not only prevent poop odor from happening, but you also get the pleasure of breathing in their unique, essential oil infused scents.
It's certainly a big step up from the days of aerosol air fresheners.
Aside from the fact that Poo-Pourri actually does what it's supposed to do, another thing that I really like about them is their long line of unique — humorously named — scents. In this article we'll go over some of my personal favorite and best selling Poo-Pourri scents currently available. Enjoy.
Best Smelling Poo-Pourri Scents Reviewed
---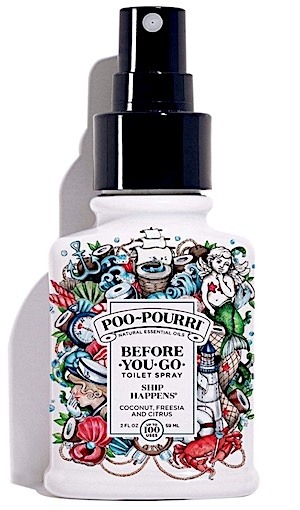 If you're looking for the best smelling Poo-Pourri scent, you can't go wrong with Ship Happens. Featuring a light, aquatic inspired scent, Ship Happens will hide the smell of your offending shit bomb while leaving an awesome, fresh smelling scent in its place. The slightly tropical scent of Ship Happens contains notes of coconut, freesia, and citrus.
---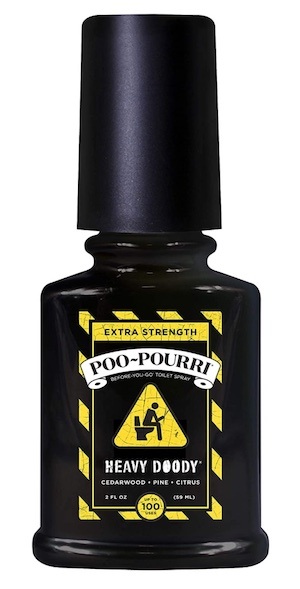 For when that Taco Bell and Natty Ice binge from the night before finally catches up to you, make sure you reach for the Poo-Pourri Heavy Doody. Part of Poo-Pourri's extra strength line, Heavy Doody is designed to block the smell of some of the worst smelling shits imaginable. Featuring an excellent blend of cedarwood, pine, and citrus, Heavy Doody is simply one of the best smelling, and most effective offerings from Poo-Pourri.
---
Give your turd a royal sendoff with Poo-Pourri Royal Flush. One of Poo-Pourri's most popular fragrances, Royal Flush features a fresh, clean scent that contains eucalyptus and spearmint. This gender neutral scent is well suited for both men and women which is probably why it's one of their best sellers.
---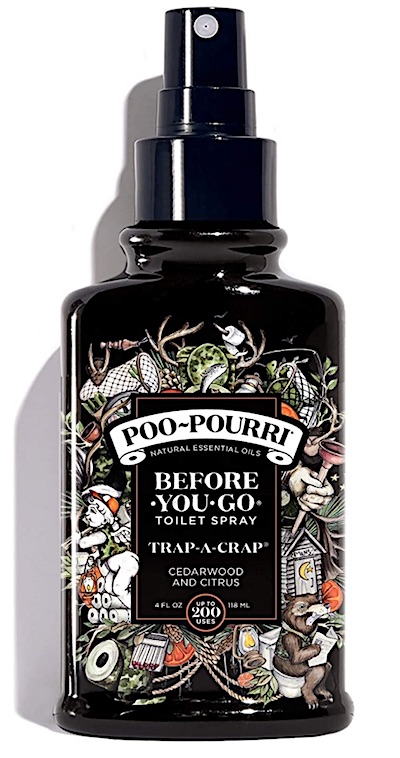 Don't let your shit fumes permeate the air for everyone to smell. Trap them inside your porcelain throne with Trap-a-Crap. This fresh, woody scent from Poo-Pourri contains cedarwood and citrus essential oils and does an awesome job of blocking shit fumes before they have a chance to stink up the joint. The light, fresh scent of Trap-a-Crap is perfect for man or women, and is one of Poo-Pourri's best sellers.
---
For when your shit fumes are particularly toxic, you need a toilet spray that is up to the challenge. Enter: Poo-tonium. This extra strength scent from Poo-Pourri is designed to block the worst of your butthole offenses while unleashing an awesome scent into the air that contains notes of basil, bay, and fir. Aside from the awesome scent, Poo-tonium features a cool glow in the dark bottle that makes it easy to find in a pitch black bathroom. The glow in the dark feature really comes in handy when that explosive diarrhea isn't going to wait for you to find the light switch.
---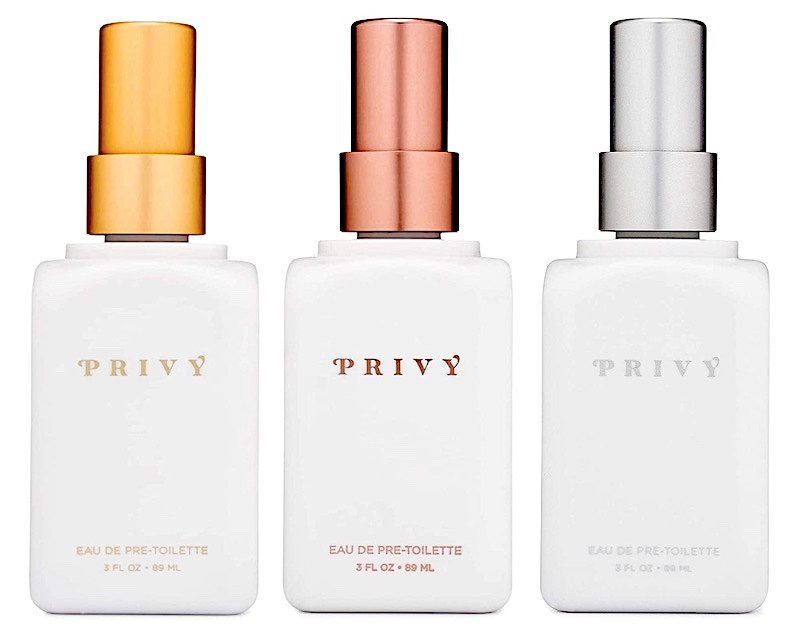 If you enjoy taking your shits in style, you might want to consider grabbing the new Poo-Pourri Privy Collection set. Featuring 3 unique scents that come in a fashionable white bottle, the Privy Collection is the perfect choice for individuals who shit with their pinky in the air.
The scents include:
Wood sage & Sea Salt (3oz)
Patchouli & Peppercorn (3oz)
Tuberose & Sandalwood (3oz)
---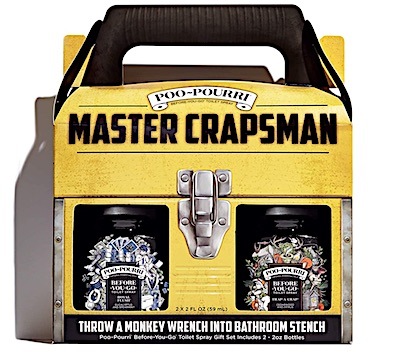 Can't decide on which Poo-Pourri scent to go with? Then the Poo-Pourri Master Crapsman gift set might be the one for you. This 2 piece gift set comes in a cool tool box shaped box and contains 2 of Poo-Pourri's more popular scents, including: Trap-a-Crap and Royal Flush. It's an awesome gift idea for yourself or the notorious bathroom offender in your home.
Trap-a-Crap – A fresh clean, woody scent of cedarwood and citrus.
Royal Flush – A light, minty fragrance containing eucalyptus and spearmint.
---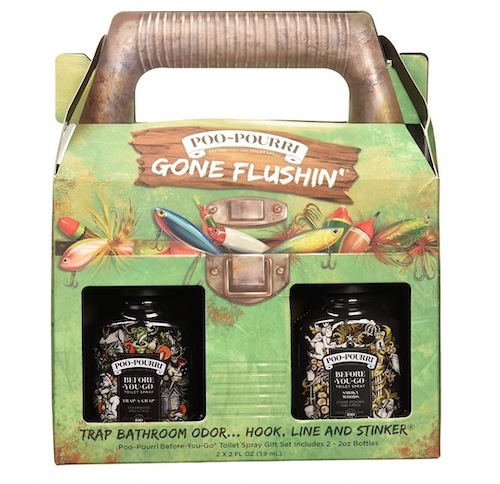 Poo-Pourri Gone Flushin' is the perfect gift for the fisherman or major bathroom offender in your life. The tackle box inspired packaging houses 2 excellent smelling offerings from Poo-Pourri, including: Trap-a-Crap and Smoky Woods. Both scents smell great and do an awesome job of keeping shit fumes where they belong — in the toilet.
Trap-a-Crap – A fresh, clean scent of cedarwood and citrus. Great for men or women.
Smoky Woods – A masculine scent of cedar, hickory, and citrus. An often overlooked scent but definitely worth trying.
---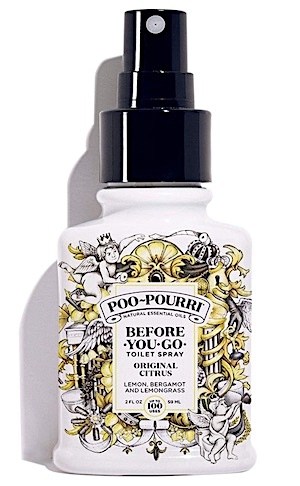 It may be the original but it's still one of the best. Poo-Pourri's Original Citrus offers a light, clean, fresh scent that is enjoyed by pretty much everyone. There is a reason why it's still one of the best selling Poo-Pourri scents online. Original Citrus contains notes of lemon, bergamot, and lemongrass. If you're not sure which Poo-Pourri scent to go with, you can't go wrong with Original Citrus.
---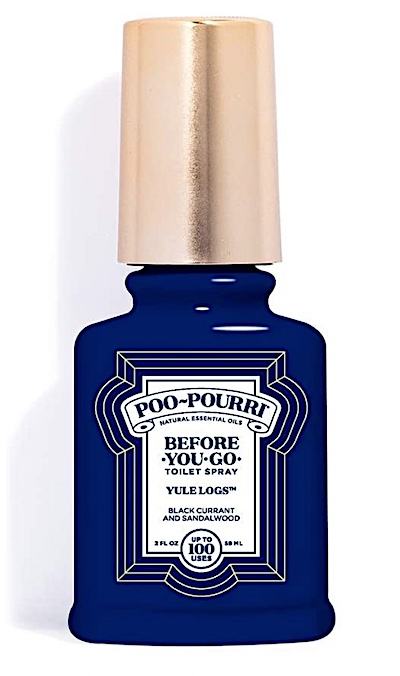 Whether you like this scent or not, you gotta give props to Poo-Pourri for the great name. As it stands the scent is actually pretty awesome too. As you can probably guess by the name, Yule Logs is actually one of Poo-Pourri's limited edition Christmas sprays. It features a great scent that contains notes of mandarin, bergamot, and amber. It's fresh, citrusy, and sort of spicy. So while it does kind of suck that it's only available for part of the year, it is certainly worth the wait.
---
Thanks for checking out my list of best smelling Poo-Pourri scents. If you found this article helpful, check out how to get rid of poop smell from the bathroom fast. As always if you have any questions or comments, feel free to drop me a line in the comment section below.