Trouserdog.com is a participant in the Amazon Services LLC Associates Program, an affiliate advertising program designed to provide a means for sites to earn advertising fees by advertising and linking to Amazon.com.

Article updated: January 2, 2023
  
As a guy with long hair, I can attest to the fact that some shampoos simply perform better than others when it comes to washing my hair.
While most store bought shampoos can technically get the job done (I guess), there are far better options out there for us guys who take pride in the look, feel, and health of our long hair.
But the fact is there are literally thousands of shampoos on the market. How do you determine which ones are worth investing in?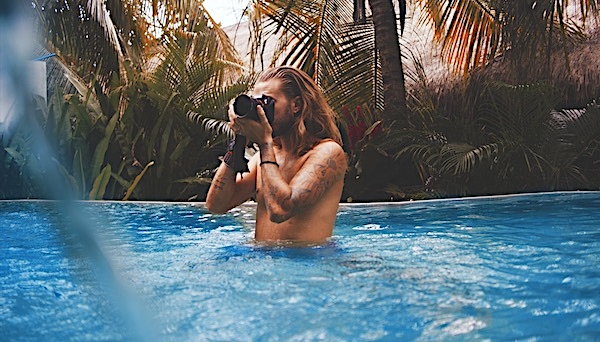 How to Choose the Right Men's Shampoo for Long Hair
While pretty much any shampoo is capable of getting your hair clean (for better or worse), that's not the only criteria you should consider when making a decision.
Here is a few things to look for when buying a shampoo:
Does it strengthen hair?
Is it free of harmful ingredients?
How well does it lather?
Will it improve the look and feel of your hair?
Is it moisturizing?
To help simplify matters, I consolidated my top 7 favorite shampoos that are perfect for us guys with long hair. Enjoy.
The Lineup:
Best Shampoos for Men with Long Hair Reviewed
---
---
Tame The Beast – Tingle Shampoo


Tame your mane with Tame the Beast Tingle shampoo for men. This all-natural shampoo is the perfect compliment to your long hair morning routine, and even provides a refreshing tingling sensation to the scalp. While I find it particularly awesome for long hair, it's also great for frizzy hair, damaged hair, and guys with fine hair. The extensive all-natural ingredient list includes:
Eucalyptus oil
Caffeine
Tea tree oil
Peppermint oil
Vitamins A,B,C, and E
Guarana
Lavender
Menthol
What I like about Tame the Beast Tingle shampoo:
• Leaves hair feeling silky
After you've tried as many shampoos as I have, you begin to notice the differences between the good shampoos, and the not so great ones. This Tame the Beast shampoo definitely falls into the former category. It leaves your hair feeling soft, thick, moisturized, and squeaky clean. I'd describe the feeling as having long, hydrated strands of silk flowing from my scalp. And yes, it feels as good as it sounds.
• Thick lather
Who doesn't like their shampoo to produce a thick, rich lather? Hell, I'd even go as far as saying it's a requirement for guys with long hair. One of the things that I like most about Tame the Beast shampoo is how well it lathers in the hair. It cuts through dirt, excess oil and grime with ease, and even helps detangle. Another added benefit of it's lathering capabilities is that you really don't need to use a lot of this shampoo to get the job done. Which is great because a bottle of this shampoo ain't cheap.
• Refreshing tingle
Thanks to eucalyptus, peppermint, caffeine, and menthol, Tame the Beast shampoo leaves your scalp with an invigorating and refreshingly cool tingle. It's a great pick-me-up during those early morning showers, and also feels really refreshing during hot and humid weather.
• Volume and body
Extra volume and body isn't something I was expecting with this shampoo, but I'm not complaining. Beast eucalyptus leaves fine hair looking and feeling thicker and fuller. I personally think it's a great option for guys looking to add a little extra density and volume to their long flowing mane.
---
KICK – Active
Kick weak, brittle hair in the ass with KICK Active strengthening shampoo for men. Long hair is cool and everything, but compared to short hair, it's more susceptible to breakage and split ends. It also needs more moisture and hydration in order to keep it looking and feeling healthy. While KICK Active is an awesome men's shampoo for pretty much any hair type, it's particularly beneficial for men with long hair due to it's strengthening, moisturizing, and safe, all-natural ingredients.
Why I like KICK Active Shampoo for men:
• Strengthening
As a guy with long hair, I know first hand how brittle and weak long hair can get, particularly the ends. It's important to use a shampoo that not only cleanses the hair, but contains strengthening ingredients that help stop breakage from occurring and prevents damaging split ends. KICK Active contains 11 natural botanicals that are shown to strengthen and improve hair growth including:
Lemongrass
Eucalyptus
Rosemary
peppermint oil
• Moisturizing
Not only does KICK Active shampoo moisturize hair, it nourishes and hydrates the scalp too. Aloe vera and tea tree oil combine powers to kick dry, irritated scalp's ass, and effectively eliminate dandruff and itchiness from occurring.
• Promotes hair growth
I like my long hair. I'm sure you guys like your long hair too. One of the things I'd really like to prevent is losing my long hair, and I'm sure you guys wholeheartedly agree. One of my favorite things about KICK Active is that it's formulated with all-natural ingredients that are shown to maintain growth, stimulate follicles, and promote new growth, including:
Rosemary – According to studies, rosemary oil is effective at re-growing hair in men, and has even been shown to be as effective as the popular hair re-growth treatment minoxidil.
Lavender – Studies have shown that lavender oil can stimulate hair growth. A

2016 study

found that lavender oil applied to the skin of mice caused them to grow more hair.
Peppermint oil – When applied to the scalp peppermint oil is known to increase blood circulation, and help stimulate hair follicles.
• All-natural ingredients
I'm not a fan of putting mystery chemicals and ingredients on my skin, and I'm sure most of you guys aren't either. One of the things I really like about KICK Active shampoo for men is that it's formulated with safe, all-natural ingredients. It contains no parabens, no sulfates, and no harsh chemicals. If you give a damn about your long hair, KICK Active shampoo is definitely worth consideration.
---
Blackwood For Men – Hydroblast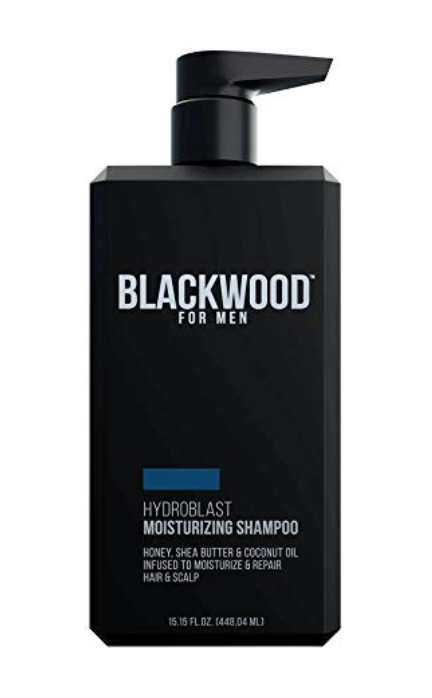 Give your long hair the VIP treatment it deserves with Blackwood for Men moisturizing shampoo. Boasting borderline illegal levels of hydration, this Blackwood for Men shampoo provides intense moisturizing benefits with the help of shea butter, coconut oil, and honey. Hair feels smoother, thicker, healthier, and more manageable. It also provides hydration for dry, itchy scalp as well. While I personally love it for my long hair, it's great for all hair types especially guys with dry or damaged hair.
Why I like Blackwood For Men Hydroblast:
• Masculine scent
It's about time you ditch the feminine smelling crap you've been washing your hair with and get yourself a shampoo that smells like a man. Blackwood For Men has a rugged, masculine fragrance that won't leave your hair smelling like a flower chewed you up and shit you out.
• Big time lather
Don't underestimate the power of a good lather; especially if you have long hair. Blackwood moisturizing shampoo works into a thick, rich lather that powers through dirt and oil buildup, and even detangle unruly hair. If you're anything like me, you don't brush your hair as often as you should and I find that a shampoo that helps separate knots and tangles is a big plus.
• A little goes a long way
While Blackwood For Men Hydroblast isn't the cheapest shampoo you're going to come across, a bottle of this stuff does however have some serious staying power. Even with my much longer than average hair, I find that you really only need a small quarter sized amount of this shampoo to cut through dirt, excess oil, and grime. So while it does cost more than your basic grocery store shampoo options, I find that you don't need to use as much of it. Hell, you might even save money in the long run.
• Awesome for dry hair and scalp
The highly moisturizing formula makes this a solid choice for guys with dry hair. While long hair is cool, it has the tendency to become dry near the tips. That's because essential oils from your scalp only nourish and hydrate the roots of your hair, leaving the ends brittle and dry. Blackwood shampoo moisturizes these dry ends resulting in a stronger, healthier head of hair.
---
Krieger + Söhne – Man Series

Unleash your inner warrior with Krieger + Söhne shampoo for men. Or at least get your hair feeling fresh, clean, and hydrated. Apparently Krieger means warrior in German, which is sort of fitting for a shampoo that's designed to fight dirt, oil, grime, dandruff and even hair loss. Formulated with tea tree and peppermint oil, K+S shampoo not only cleanses, but provides a stimulating and invigorating sensation to the scalp that feels great and can even help minimize hair loss. Warrior indeed. My only question is, what the hell does Söhne mean?
What I like about Krieger + Söhne shampoo:
• Great for men with long hair
More hair, more problems. Well sort of. As a guy with long hair, I can quickly tell when a shampoo isn't tough enough to handle all the dirt, oil, buildup, and grime that my long locks can dish out. One of the things that really impressed me about this K+S shampoo is it's ability to thoroughly cut through all that crap leaving my hair feeling soft and clean, without being stripped of moisture.
• Invigorating scent
Not to overuse the word invigorating here, but I can't really come up with a better word to describe it. Refreshing maybe? Either way, the combined scents of tea tree and peppermint oil provide a refreshing pick-me-up to the senses during those early morning showers.
• Great for dry scalp/dandruff
Talk about your multi-functional ingredients. Tea tree and peppermint oil not only provide an invigorating, fresh scent, but they both contain anti-inflammatory, antibacterial, and ant-fungal properties that help alleviate dry scalp and eliminate dandruff.
• A little goes a long way
Hey it's not the cheapest shampoo in the world, which is why I'm glad to see that a little bit of this stuff goes a long way, even for guys with long hair. Just a dollop of K+S shampoo works into a thick, rich lather that quickly breaks through excess oil and grime. No need to overdue it with this one.
---
Jack Black – Double Header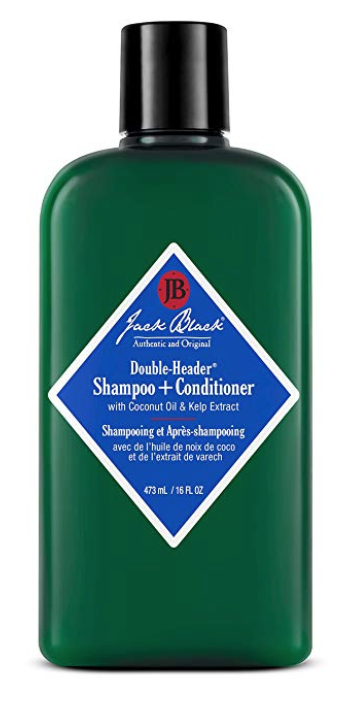 The only 2-in-1 on this list is Jack Black Double-Header. This made for men shampoo is perfect for guys with long hair due to it's strengthening, conditioning, and cleansing power. Made with natural and organic ingredients, Double-Header is designed to safely improve the look, feel, and health of your hair. Some of the hair beneficial ingredients include:
White lupine protein – Helps nourish and hydrate for healthy hair and scalp.
Coconut oil – Hydrates and moisturizes hair and scalp, and also helps improve hair health and growth.
Kelp extract – Chalk full of vitamins and minerals that help improve hair strength and health.
Basil – Thought to improve scalp health and also help stimulate new hair growth.
Why I like Jack Black Double-Header:
• 2-in-1
I'm honestly not the biggest fan of 2-in-1s because they typically don't leave my hair feeling as moisturized as a standalone conditioner. Double-Header on the other hand leaves my hair feeling soft, smooth, hydrated, and as moisturized as any good conditioner would.
• Lots of lather
I don't care much for shampoos that are light on the lather. They never seem to get my hair as clean as I would like, or I need to use way more than necessary to get the desired effect. Thankfully that's not the case with Jack Black Double-Header. It quickly works into a thick, rich lather that leaves hair feeling clean, fresh, and hydrated.
• Detangles
When I started growing out my hair for the first time I started to experience something I never had before – tangles. While daily brushing resolves the problem, it can be time consuming and actually sort of painful. One of the things I really like about Double-Header is that it really loosens knots and tangles in my hair, which leads to less combing, and less pain.
• Smells great
No surprise here. Jack Black products almost always have a clean, fresh, masculine scent, and Double Header is no exception. Although it has no added fragrance, natural ingredients such as coconut oil, sage leaf extract, peppermint oil, basil, and green tea provide a clean, subtle, man friendly scent that is sure to please.
---
Brickell – Daily Strengthening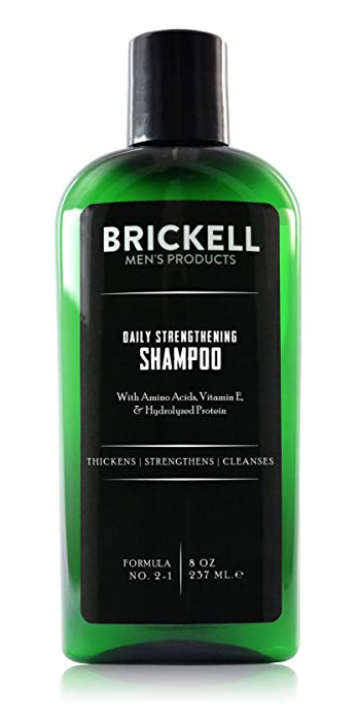 When it comes to men's grooming products Brickell always seems to be at the top of my list. I've grown quite the liking for their products due to their effectiveness, and the fact that they are made from natural and organic ingredients. Their daily strengthening shampoo naturally falls into both categories which is clearly why I like it so much. Designed to cleanse, strengthen and thicken hair, Brickell manages to do all three while boasting 97% natural and 73% organic ingredients. Sort of impressive.
What's great about Brickell Daily Strengthening Shampoo:
• Great for long hair
Since my hair is much longer than the average man's, I need a shampoo that performs better than the average shampoo. At least that's my thinking. With Brickell Daily Strengthening shampoo my hair feels clean, hydrated, and healthy. Also my usual dry, brittle ends are left feeling noticeably more moisturized, and considerably stronger.
• Great for dry scalp
I don't wash my hair everyday (nor should you) and after a few days without shampoo my scalp tends to become dry and flakey. With Brickell I noticed a significant improvement in the health and hydration of my scalp, which helped eliminate flakes and dandruff between washings.
• Smells awesome
While this is a bit subjective, I really like the minty fresh scent of this daily strengthening shampoo. It's refreshing, invigorating, and provides a nice little pick-me-up for your senses during those early morning showers.
• Thickens
If you're looking for a little extra volume for your long hair, Brickell Daily Strengthening shampoo might be the answer. Infused with hydrolyzed protein and amino acids, this shampoo provides thickness and volume that you can see and feel. Each strand of hair is individually hydrated for a noticeably fuller head of hair.
---
Baxter of California – Daily Fortifying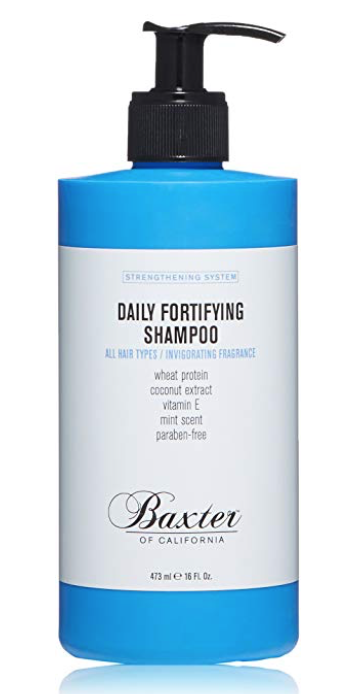 For guys with long hair, it's especially important to use a shampoo that contains hair strengthening ingredients. With this Baxter of California Daily Fortifying shampoo, that's exactly what you get. It contains:
Wheat protein – Gives hair a thicker, fuller appearance by providing each hair strand with a massive boost in moisture. It also adds shine, and helps strengthen and support hair's natural structure.
Coconut extract – Helps stimulate hair growth by moisturizing deep into the hair follicle, and helps prevent breakage and split ends.
Vitamin E – Improves blood circulation to the scalp which helps increase hair growth. Helps prevent breakage, and also supports a healthy scalp.
Aside from it's ability to strengthen hair, it also thickens, moisturizes, and even helps eliminate dry, flakey scalp. The finished result is thick, healthy, hydrated hair with a minty fresh scent.
What I like about Baxter of California Daily Fortifying shampoo:
• Refreshing tingle
One of the first things you'll notice about this Daily Fortifying shampoo is the cool, refreshing tingle. Although it's only a temporary sensation, it kind of gives you the reassuring feeling that the shampoo is doing it's job for both your hair and scalp.
• Great scent
I really like the cool minty scent of this shampoo. It's fresh and masculine, without being too strong or overbearing. It kind of reminds me of spearmint chewing gum, but in a good way.
• Big lather
Considering how much hair I have, it's important for me to use a shampoo that provides a lot of lather. It takes time to get my hair clean, but using a shampoo that works into a thick, rich, lather really helps break down dirt and oil buildup more quickly and easily.
• Leaves hair feeling healthy
With regular use of this Daily Fortifying shampoo you'll start to notice healthier, thicker, stronger, and shinier hair. I also noticed that it does a good job of alleviating dry, flakey scalp.
---
How to Wash Your Long Hair – 7 Tips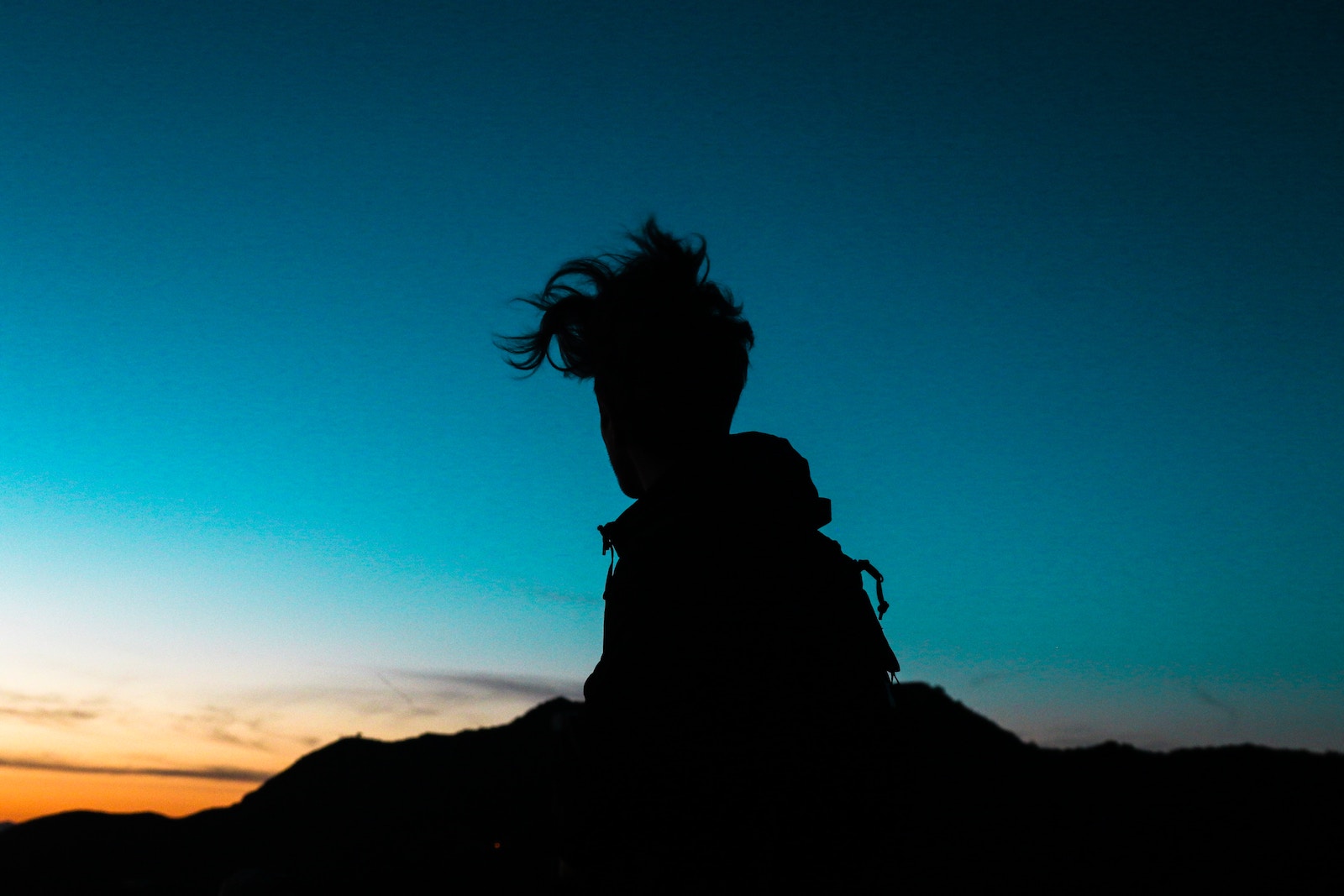 Washing my hair wasn't such a big deal when it was short, but once I started to grow it out I quickly realized how much of a pain in the ass it can be to wash it.
Although I don't miss having short hair, I do miss the ease and simplicity of maintaining it. But since I don't have any immediate plans of parting ways with my long, flowing locks, I devised a simple routine to help minimize the annoyances and frustrations associated with shampooing it.
Tip #1 – Wash it at night
Long hair obviously takes longer to dry than short hair, so I recommend washing it in the evening to give it more time to dry. So whether you're wearing it down, or rocking a sick man bun, your morning routine will be quicker and easier when you wake up to clean, dry hair.
Tip #2 – Don't wash it everyday
You don't have to tell me twice. Washing your hair everyday can actually cause it to become overly dry and brittle. The natural oils that your scalp produces help to nourish and moisturize, so it's important to not strip it all away by washing your hair too frequently. I personally shampoo my hair 3 times per week.
Tip #3 – Rinse with warm water
Warm water helps open the shingle-like cuticles of each hair strand, so try rinsing your hair with warm water before adding any shampoo or conditioner. This will allow dirt, oil, hair product, and god knows what else to be more easily removed. It also allows for deeper penetration of the conditioner.
Tip #4 – Conditioner before shampoo
This is some next level shit right here, but try conditioning your hair before you shampoo. While this may go against everything you thought you knew, it actually has some pretty serious hair benefits. Conditioning first helps protect the hair from the drying effects of shampoo by penetrating the cuticle and supplying moisture. Since long hair is more susceptible to becoming overly dry and brittle, conditioner is extremely important if you want to keep your hair healthy and looking it's best.
Tip #5 – Root to tips
The oiliest part of your hair is the hair closest to the scalp. The further away from your scalp you get, the drier your hair gets. When shampooing, focus more on the roots, and less on the tips. Since shampoo can be quite drying, the ends of your hair don't need to be washed as frequently. This will help keep the full length of your hair moisturized and healthy.
Tip #6 – Finish with cold water
If you're man enough to handle it, I highly recommend rinsing your hair with cold water. Cold water helps close the shingle-like cuticles, trapping moisture inside, and helps make your hair appear smoother and shinier.
Tip #7 – Easy on the towel
Hey guy, you might be tough, but your hair isn't. Towel drying your hair can cause some serious damage in the form of split ends and breakage. If you insist on using a towel to dry your hair, just remember to be gentle and take your time. My personal recommendation is to use a good microfiber hair towel to soak up excess water, then let it air dry to completion.
I personally recommend the Aquis Original Microfiber hair towel (available on Amazon). It's gentle on the hair while providing superior drying capabilities compared to traditional cotton terry towels. It's also bigger than most other microfiber hair towels I've come across, which is great considering us guys tend to have larger heads than women.
Shampoo Ingredients to Avoid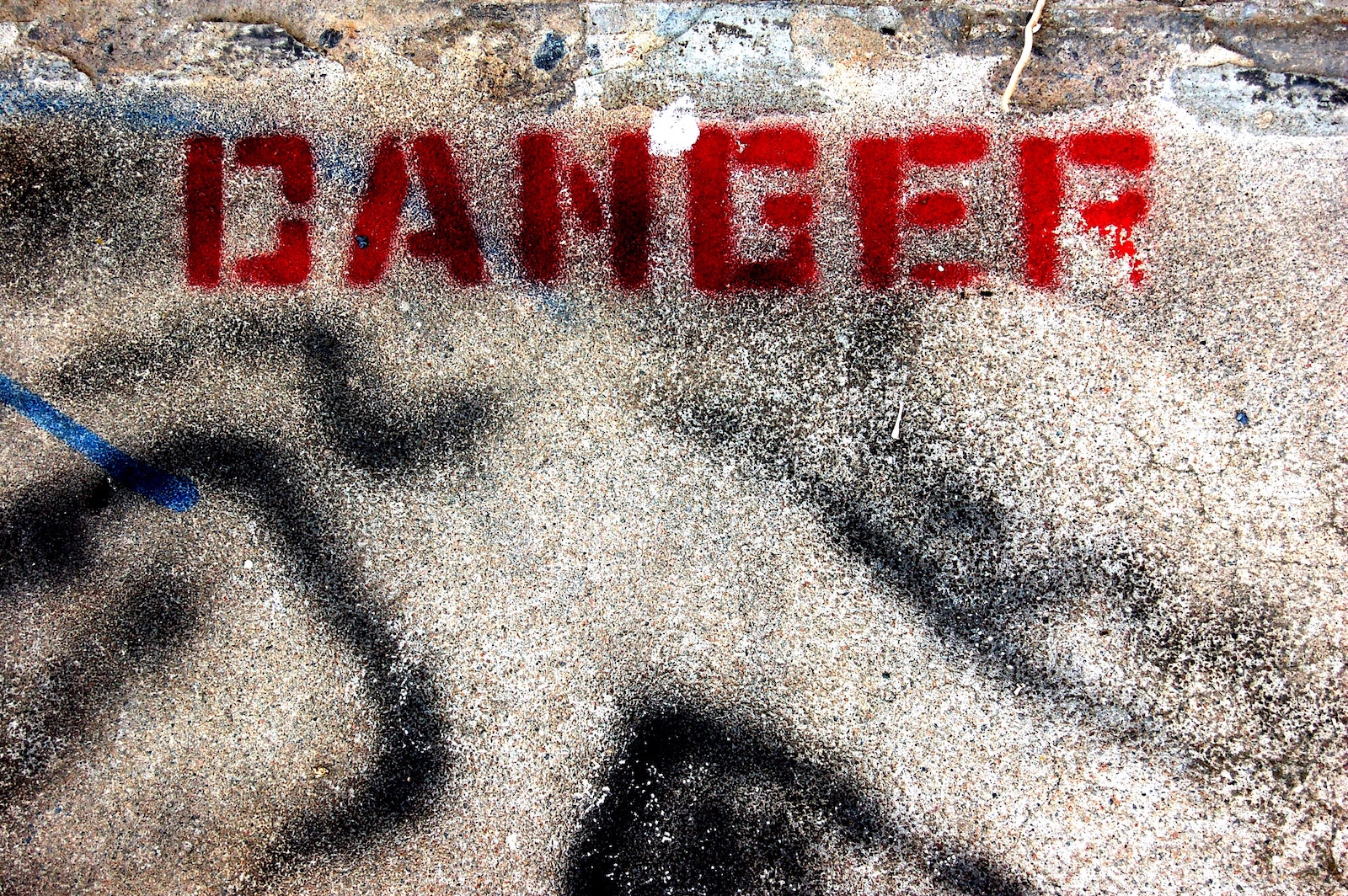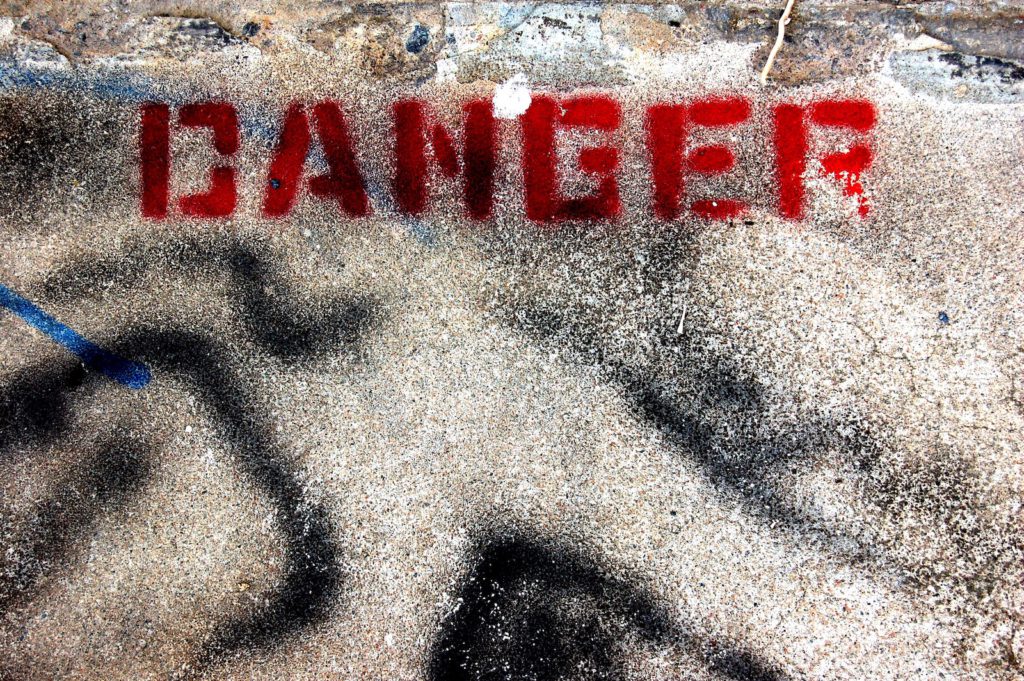 Did you know that some manufacturers still use known harmful chemicals and ingredients to formulate their shampoos? Unfortunately most people are completely unaware that there may be some seriously dangerous ingredients lurking in their bottle of daily shampoo. Below is a list of some of the most common – and dangerous – ingredients that you should look out for.
Parabens
Parabens are preservatives that are added to skincare products to help increase their shelf life. Unfortunately for us, studies have shown that parabens penetrate the skin and can actually reside within our soft tissue. While it's still unclear if these chemicals can actually cause cancer, it has been shown that parabens can increase the growth of cancer cells.
Sulfates
Sulfates are detergents that are commonly used in skincare products for their ability to cleanse the skin and hair. The problem is, sulfates have been shown to be way too strong for the human body which can result in a negative impact to our hair and skin.
Negative effects of using sulfate containing products:
Sulfates strip the hair of essential oils, peptides, and proteins which can lead to damage and breakage.
Sulfates can lift the protective layer of the hair shaft called the cuticle, leaving the cortex of the hair shaft exposed to moisture and air. This can lead to hair that is brittle and prone to breakage and split ends.
Sulfates strip the scalp of natural lipids, which allows chemicals from hair products to penetrate the skin. This can lead to irritation and inflammation.
Formaldehyde
Formaldehyde is a carcinogen that's best known for embalming and preserving corpses. But believe it or not, some manufacturers have used it in skincare products as a preservative. While the back of your shampoo bottle isn't likely to have formaldehyde listed in the ingredients, that doesn't mean it's not in there. It can go by many names. Here's some common formaldehyde containing ingredients to look out for:
Quaternium-15
Nitorpropane-1
Diazolidinyl Urea
Formalin
DMDM Hydantoin
Methyl Aldehyde
Methanal
---
Thanks for checking out my list of best shampoos for men with long hair. If you found this article helpful, you might be interested in checking out my list of best smelling shampoos for men. As always, if you have any questions, comments, or personal experience with any of these shampoos, feel free to leave it in the comment section below.