Trouserdog.com is a participant in the Amazon Services LLC Associates Program, an affiliate advertising program designed to provide a means for sites to earn advertising fees by advertising and linking to Amazon.com.

Article updated: January 2, 2023
  
Spiked hair can be one of the most difficult hairstyles to get right.
The problem usually comes down to the type of product that's being used to achieve the look.
While all hair gels, waxes, and glues offer some level of hold, most simply aren't strong enough to maintain the style for the entire day.
While spiked hair is pretty cool, there is nothing more uncool than spikes that have lost their hold, and are flopped over like a limp penis.
So to help you avoid this spiked hair faux pas – I scoured the internet, read countless reviews, and even ravaged my own personal hair products cabinet to bring you the 5 best gels, waxes, and glues for achieving the triumphant spiked hairstyle you desire. You're welcome.
The List:
5 Best Gels, Waxes, and Glues for Spiking Your Hair Reviewed
---
Joico – Ice Spiker Styling Glue

Mild or wild, whatever look you're going for, this is simply one of the best products you can get for spiked hairstyles. Joico Spiker is a water resistant, super strong styling glue that is designed to hold any look you can throw at it, especially spikes. Containing resin and vinyl for a thick "glue" like consistency; Spiker is most easily managed when applied to wet or damp hair and dries to a low shine finish. A great option for long spikes, short spikes, and pretty much any hair type. Joico Spiker is one of the strongest hold styling glues available and won't let you, or your spikes down.
What I like about Joico Spiker Glue:
• Hair health benefits
While you don't typically think of styling glue as being good for your hair, I really like that Joico Spiker contains hair beneficial ingredients including:
Sea kelp (macrocystis pyrifera) – Commonly found in shampoos, conditioners, and hair treatments, sea kelp is known for strengthening and nourishing hair and scalp.
Glycerin – Strengthens and moisturizes hair and scalp.
Horseradish root – The natural antioxidants in horseradish are believed to improve blood circulation to the scalp, resulting in improved hair growth.
• Water-resistant
Nothing can put a damper on perfectly sculpted spikes quite like an unforeseen downpour. Thankfully Joico Spiker glue is formulated to resist any water that would seek to destroy your style. While it's reasonably simple to wash out with shampoo and water, it does offer some serious resistance to unexpected moisture, rain, and even sweat. Although I never tested it out myself, some users claim that Joico Spiker is capable of maintaining it's hold even after full head submersion in water. Powerful stuff.
• All day hold
Nobody wants to spend their morning trying to achieve the perfect hairstyle only to have it lose it's shape midway through the day. Thankfully Joico Spiker glue provides a powerful hold that will last you from morning until you decide to wash it out at night. After all, it wouldn't have made this list if it didn't last all day.
• It lasts
While the price is a bit higher than your average grocery store styling glue, this stuff lasts. Available in 3 sizes, including a big 16.9 ounce pump jar, a little bit of Joico Spiker glue goes a long way. Mileage will vary based on your hair type and style, but you really don't need much to achieve most looks.
---
Sexyhair – Hard Up Gel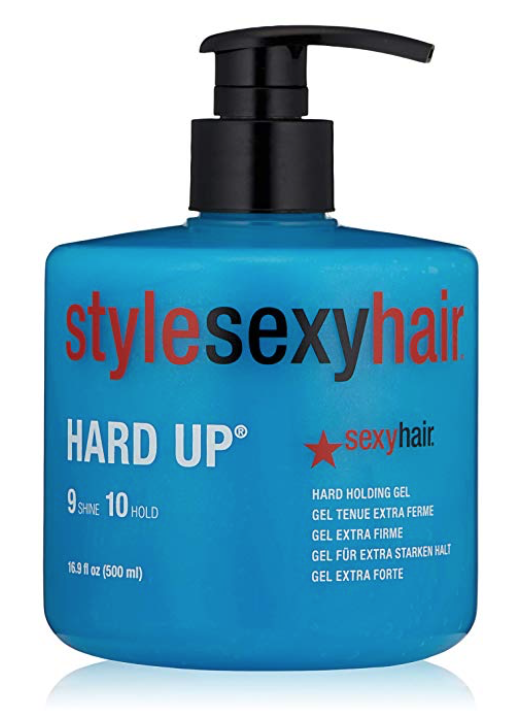 If you're going for a spiked hair look, you're going to get hard for Sexyhair Hard Up gel. This extremely strong hold hair gel can handle any hairstyle you dare throw it's way and is known to be one of the strongest hair gels available. Whether your style is spiked, mohawk, slicked back, pompadour, quiff, or even the tousled messy look, Hard Up is versatile enough to handle it. Formulated with high shine and flake free ingredients, Hard Up is simply one of the best strong hold hair gels available.
Why I like Sexyhair Hard Up gel:
• It's versatile
If spiking your hair isn't something you intend to do everyday, no worries. Sexyhair Hard Up is versatile enough to hold a broad range of hairstyles, from mild to wild. You can apply to damp hair for spiked, sculpted, or slicked back hairstyles. Or apply to dry hair if you're going for a tousled "just got out of bed" look.
• High shine
If a shiny finish isn't the look you're after, Hard Up isn't for you. Formulated with mica and titanium dioxide; Hard Up gel offers an extremely high level of shine for that just out of the shower "wet look." Even the blue color of the gel is intended to attract and reflect light for added shine.
• Flake free
As a teenager I remember using really cheap grocery store bought hair gels and they always seemed to dry out and cover my hair with flakes. Not only did I appear to have really bad dandruff, but it took the cool factor completely out of the look I was trying to achieve. One of the first things I noticed about Hard Up is that it doesn't have this problem. It provides all day hold and shine, and doesn't leave your hair in a dry, flakey mess.
• A little goes a long way
While I'm not crazy about the price of this gel, I will admit that a little bit goes a long way. It's not like those cheap store bought hair gels you may be used to. You really only need about a quarter sized amount of this stuff to achieve a strong, all-day hold. So even though the price is a bit more than I'm used to spending on gel, a bottle of Hard Up lasts considerably longer than the cheap crap I used to buy. It works hell of a lot better too. You get what you pay for I guess.
---
Johnny B – Trick Styling Glue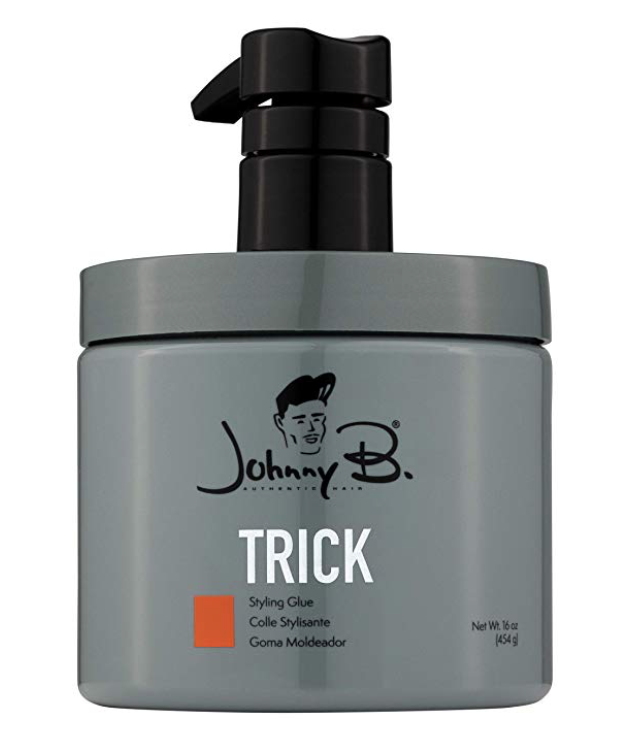 A buddy of mine first introduced me to Johnny B, and I have to say that I was immediately impressed. Not your typical grocery store hair care products, Johnny B offers barber shop quality men's products that cater to pretty much all hair types and styles. Trick is their strongest hold styling glue, and is perfect for spiking, mohawks, slicked back hair, or pretty much any look that you want to stay put.
Why I like Johnny B. Trick:
• Masculine scent
When you first get Johnny B. Trick into your hands and take a whiff, there is no mistaking that it was made for a man. It has a great masculine scent that's a welcome reprieve from the flowery smelling haircare crap you may be used to. While the scent does smell stronger when it's fresh out of the bottle, I noticed that it does dissipate a bit and become more subtle when it's fully dried.
• Shine
Not only is Trick their strongest hold haircare product, it's also their shiniest. While it's not quite as shiny as products like Sexyhair Hard Up, it does offer a high level of shine that is ideal for guys looking for that "wet look" finish. For you guys who prefer a more matte finish but still want a very strong spike-able hold, I recommend checking out Johnny B. Fuddy or Clash.
• Water resistant
Don't let rain, moisture, or sweat ruin the look you worked so hard to achieve. Trick is formulated to be water and sweat resistant, so it'll keep your style looking it's best in all conditions. Don't worry, it still washes out quite easily with shampoo and water.
---
Mitch – Hardwired Spiking Glue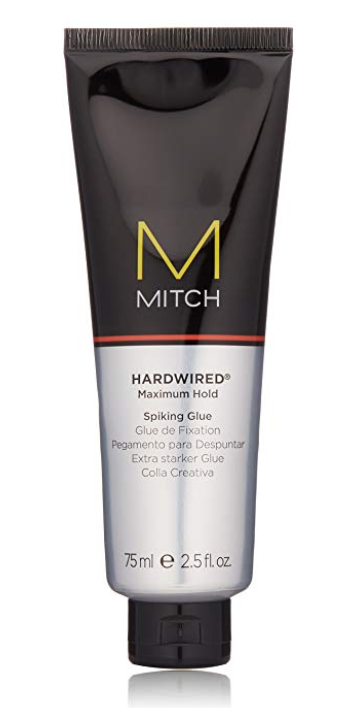 Part of the Mitch men's line of products from Paul Mitchell Systems, Hardwired is a salon quality hair glue that is designed to hold extreme hairstyles including: spikes, mohawks, pompadours, and quiffs. Complete with a subtle masculine scent and a low-shine finish, Hardwired is a solid choice for any guy looking for a premium spiking glue at a reasonable price.
What I like about Mitch Hardwired:
• It holds all day
When it comes to extreme hairstyles, you need a product that isn't going to let you down midway through the day. Hardwired is capable of handling any style you can throw at it, and maintains the hold until you're ready to wash it out.
• It doesn't flake
Unlike those cheap grocery store hair gels, Hardwired won't dry out and cause flakes in your hair. It simply does it's job, without the unappealing mess.
• It has a masculine scent
Long gone are the days where us guys have to settle on feminine smelling grooming products. Mitch has a subtle, masculine fragrance that smells great in the hair. It isn't strong or overbearing and it won't clash with your body spray or cologne.
• It's easy to work with
One of the things I really like about Mitch Hardwired is how easy it is to work with. While it does provide an extremely strong hold, it isn't as thick or gloppy as most strong hold hair gels. It has a thin consistency that easily works through wet or damp hair, and gives you ample time to get your style how you want it before it dries.
---
Avenue Chiett – Super Hard Spiker Wax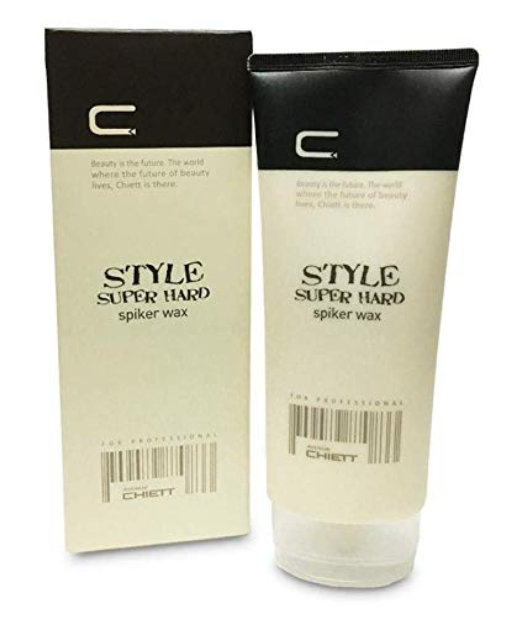 If you're looking for an incredibly strong hold hair wax but prefer a matte finish, Avenue Chiett Spiker Wax is definitely worth checking out. Designed to hold even the most extreme hairstyles, Spiker Wax is great for spikes, mohawks, pompadours, quiffs, and slicked back hair. The non-sticky formula applies quickly and evenly, and allows for plenty of time to get your style how you want before it dries. Unlike most other strong hold hair products, Avenue Chiett Spiker Wax dries to a very natural looking satin finish that I think looks pretty great.
What I like about Avenue Chiett Spiker Wax:
• Easy to apply/non-sticky
One of the first things you'll notice about Avenue Chiett Spiker Wax is the non-sticky texture. While most other strong hold hair products rely on glue-like stickiness to maintain their hold, this product does things a little differently. The smooth wax doesn't get clumpy or gunky. Instead it applies quickly and easily, allowing you to achieve your perfect style without the pain in the ass sticky mess.
• Matte finish
The wet look is great, but sometimes I prefer a more natural finish to my hair. Avenue Chiett Spiker Wax leaves your hair with a matte – almost satin like – finish that I think looks pretty badass when paired with spikes, or pompadour hairstyles.
• Washes out easily
While I wouldn't exactly say it washes out like you have nothing in your hair, I will say for an extremely strong hold hair wax, it washes out surprisingly easy. As with all gels, waxes, and glues, I recommend full removal of the product at the end of the day to help maintain the health of your hair.
---
How to Spike Your Hair
Now that you have the right product to handle your spiked hairstyle, it's time for the hard part – styling.
When it comes to spiked hair, I suggest working with a clean slate. That means your hair should be shampooed, conditioned, and free of any residual hair products from the previous day.
Before you add product, I recommend running a comb or brush through your damp hair to work out any knots or tangles. This will allow for easier application of the product, and more even distribution.
Now that your hair is prepped and ready to style, it's time to add your product of choice. Whether you choose gel, wax, or glue to achieve the look you want, it's important to evenly work it through your hair for the strongest hold.
Apply the desired amount of product to your fingertips and massage evenly through your hair from the roots to the tips in a upwards combing motion. If you prefer uniform spikes, it's okay to use a comb for this step, just make sure the product hasn't set yet.
At the end of the day there isn't any wrong or right way to spike your hair. It simply comes down to personal preference, and the look that you're trying to achieve. Don't be afraid to experiment and discover what works best for you.
---
Thanks for checking out my list of best gels, waxes, and glues for spiking your hair. If you have any questions or experience with any of these products, leave it in the comment section below.