Trouserdog.com is a participant in the Amazon Services LLC Associates Program, an affiliate advertising program designed to provide a means for sites to earn advertising fees by advertising and linking to Amazon.com.

Article updated: April 26, 2023
  
If taking a shower isn't an option, does that mean personal hygiene should suffer?
Hell no!
Thankfully there is a product that I think every self respecting guy should know about: body and ball wipes.
These magical little wipes eliminate sweat, dirt, odor, and bacteria all without the use of a shower or water.
Simply use the pre-moistened wipe whenever the need arises. So whether you're camping, hiking, working, post-workout, or maybe you're just a chronic sweater, body wipes are a great backup plan when showering simply isn't in the cards.
Perfect for full body cleanses – specifically the notoriously funky ball sack region – no-rinse body wipes are a handy little grooming product that I never leave the home without.
Below is a hand curated list of the 6 best body wipes and shower sheets for men. Each one is fully capable of eliminated ball and body sweat, odor, dirt, grime, and bacteria all without the need for water. Enjoy.
The List:
7 Best Body and Ball Wipes for Men Reviewed
---
Oars + Alps – Cooling and Cleansing Wipes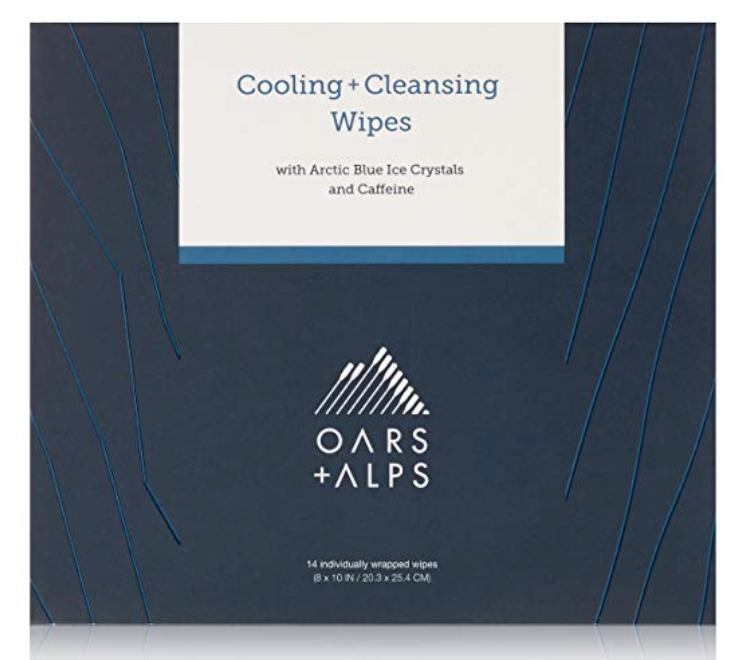 Finally give your balls and body the VIP treatment they deserve with these all-natural double sided wipes from Oars + Alps. With one side designed to exfoliate, while the other side contains caffeine and menthol for a refreshingly satisfying kick to the nuts (and body). Formulated using only safe, natural ingredients, these Oars+Alps body wipes are a safe choice for guys with sensitive skin, or any guy who prefers to avoid putting synthetic chemicals and ingredients on his skin.
What I like about Oars + Alps body wipes:
• Refreshing
I can't think of a better body wipe for sweaty balls and body than the one that provides a refreshingly cool chill. These Oars + Alps double sided wipes are infused with caffeine and menthol for a blast of refreshment that feels pretty fucking great on a hot and sweaty pair of balls. Individually wrapped for convenience, I highly recommend these wipes to any guy that regularly knows the struggle of swamp crotch, swamp ass, sweaty pits and sweaty body.
• Double-sided
Two sides are better than one, right? These Oars + Alps body wipes feature one side that contains exfoliating "ice crystals", while the flip side is infused with cooling menthol and caffeine to give the skin a jolt of energizing refreshment. And yes, it feels as good on the balls as it sounds.
• Individually wrapped
We are men on the go damnit, and that means we like a little convenience and simplicity in our skincare and grooming products. One of the things I really like about these Oars + Alps body wipes is that they are individually wrapped for convenience. Keep one in your pocket, throw a few in your gym bag, or keep a few in your car. The point is, wherever you are these convenient little wipes will always be near at hand.
---
HyperGo – Full Body Wipes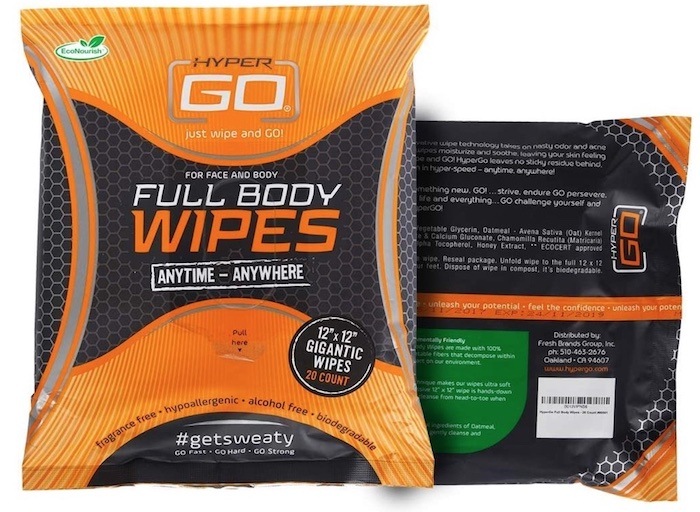 Man sized problems require man sized solutions. These full body wipes from HyperGo are a whopping 12″x12″ and are specifically designed to cleanse and deodorize your full body in one wipe – balls included. Available in a hypoallergenic, unscented option (pictured) or cooling mint, these wipes are an excellent option for any guy in search of the best ball and body wipe on the market.
What I like about HyperGo Full Body Wipes:
• Options
HyperGo Full Body wipes are available in an unscented option for guys with sensitive skin, and a mint option for men who like to feel cool and refreshed. While many body wipes on the market are kind of one size fits all in regards to scent options, I kind of like the fact that HyperGo gives us choices.
• All-natural ingredients
You don't have to be a hippie to appreciate products that are made from all-natural ingredients, especially when that product will be coming in contact with the sensitive skin of the ball sack. HyperGo wipes are constructed with safe, biodegradable, all-natural ingredients that are perfectly suited for men with sensitive skin.
• Huge size
As I already mentioned, these HyperGo wipes are pretty damn big. The 12″x12″ size is perfectly suited for a full body wipe down, with plenty of moisture to spare.
• They leave the balls and body feeling clean, not sticky
I've used plenty of ball and body wipes in the past that left me feeling sticky and gross. One of the things that I really like about these HyperGo wipes is that they don't leave any residue behind. Once the skin is dry it feels clean and refreshed, with not unpleasant tacky or sticky feeling to speak of. These wipes leave you feeling about as close to that 'fresh out of the shower feeling' as you can get without actually taking a shower.
---
DUDE Shower Wipes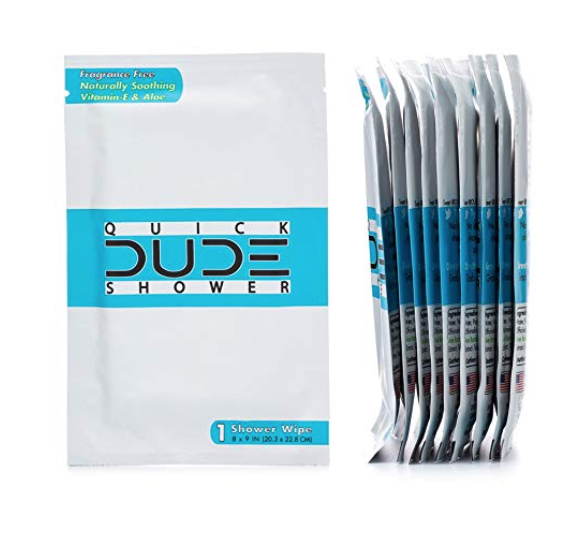 Commonly known for their bathroom wipes, I guess it was only a matter of time before DUDE gave us a full body wipe that's intended to eliminate sweat, odor, dirt, and bacteria. Enriched with aloe and vitamin E, these thick, durable wipes help nourish and hydrate the skin, and are perfect for those situations where showering simply isn't an option. Just like their DUDE Body Powder, these wipes keep ball sweat and funk in check, while nutrients help reduce inflammation and irritation. Kind of a like a one-two punch to the balls and body, but you know, in a good way.
What I like about DUDE Shower Wipes:
• One wipe does it all
These aren't the biggest wipes on this list but that certainly doesn't stop them from getting you clean from head to toe. I hate body wipes that lose all their moisture before the job is done. Thankfully that's not the case with these Shower Wipes. They have no trouble staying moist even during full body cleanses. So whether it's your feet, balls, ass, pits, face, or everything in between, 1 DUDE Shower Wipe is all you need to get the job done.
• Large and thick
Whoa, I'm not talking about a penis here. Get your head outta the gutter. These DUDE Shower wipes measure an impressive 8″x 9″ and are thick, durable, and strong. One wipe is fully capable of handling a full body wipe down and then some. My one bit of advice? Don't go ass-to-face with these bad boys.
• Unscented
While this may be a positive or negative depending on personal preference, I personally view it as a good thing. These wipes feature no artificial or synthetic fragrances making them a good option for men with sensitive skin. It's also nice to know that these wipes won't clash with body spray or cologne. See, it's a positive after all.
---
Anthony Shower Sheets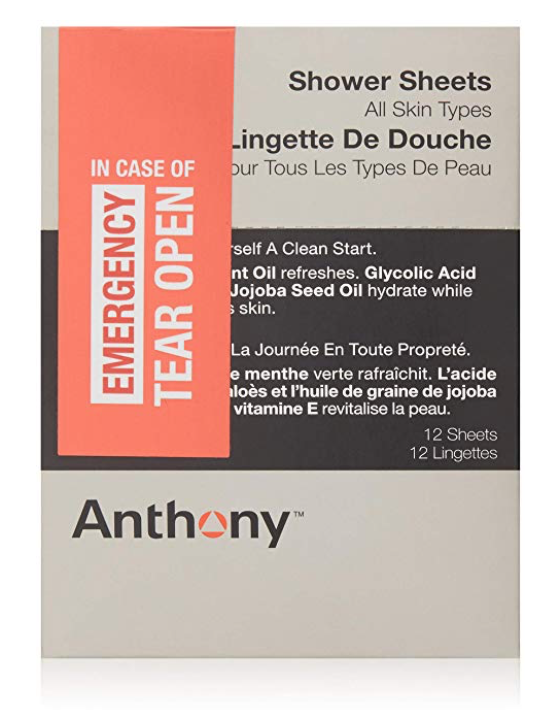 Anthony was one of the first male specific grooming product brands I ever purchased. That was about 10 years ago. Since then, their brand and line of products has expanded significantly, including these Shower Sheets. Staying true to their luxury grooming product roots, these wipes are designed to be a truly premium body wipe for the guy that wants nothing but the best for his balls and body. Infused with peppermint and jojoba oil, these wipes blast through sweat, funk, dirt, and oil buildup, while leaving your skin feeling clean, refreshed, and smelling citrusy fresh. Magic.
What I like about Anthony Shower Sheets:
• It's a shower in your pocket
When showering isn't an option, you want a body wipe that leaves you feeling clean and refreshed without any residue or stickiness. These Anthony Shower Sheets check all the boxes when in comes to effectiveness. Not only do they handle dirt, sweat, and odor with ease, they leave your skin feeling clean, soft, refreshed and smelling great. It's a winner in my book.
• Big ass wipe
Anthony wasn't messing around when he made these body and ball wipes. Measuring an impressive 9″ x 12.5″, it just doesn't seem right calling these monsters "wipes". I think "towel" is more appropriate. I'll let Anthony know.
• They contain glycolic acid
Don't be intimidated by the use of the word "acid" here. Glycolic acid is actually derived from sugar cane, and is an awesome natural exfoliator. It gently removes the outermost layer of dead cells from the skin, revealing new, fresh skin underneath.
• Fresh scent
Infused with peppermint oil, eucalyptus, and aloe, these body wipes offer a light, fresh, minty/citrusy scent that smells pretty damn good on the skin. It's pleasant without being too strong or overbearing.
---
Venture Wipes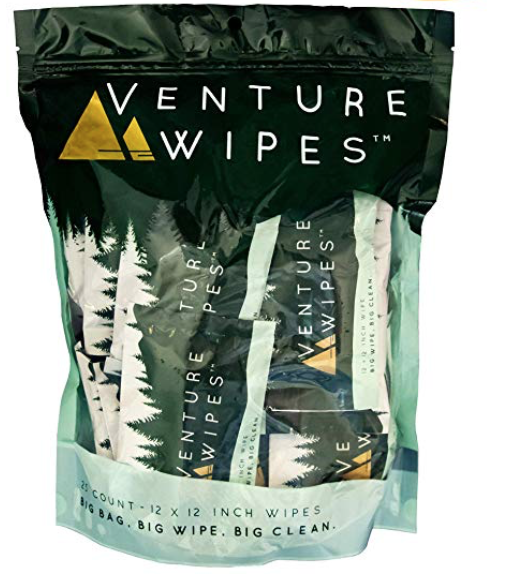 Whether you're camping, traveling, hiking, working out, or simply need to freshen up, Venture Wipes are one of my favorite body wipes for tackling dirty balls and body. These large (12″x12″) wipes are designed for full body use, so one wipe has no trouble getting your entire body clean – no matter how funky you might be. Formulated with all-natural and biodegradable materials, Venture Wipes are a great option for guys with sensitive skin, or simply anyone who gives a shit about the environment.
What I like about Venture Wipes:
• All-Natural
I'm not a big fan of using synthetic chemicals and ingredients on my skin, and I know most of you guys aren't either. One of the things I really like about Venture Wipes is that they're made from all-natural ingredients that are safe and effective, including:
Aloe – A natural antioxidant and anti-inflammatory that helps moisturize and protect the skin.
Vitamin E – A powerful antioxidant that helps nourish and protect the skin from damage caused by free radicals.
Tea tree oil – A natural anti-inflammatory and antimicrobial that helps calm skin redness, swelling, and inflammation.
• Huge
These wipes just keep getting bigger and bigger. Venture wipes measure in at a whopping 12″ x 12″, making them perfect for full body wipe downs and then some.
• Textured
Sometimes our balls and body need a little extra motivation to get clean. A simple wipe down just aint gonna do it. One of the things that's great about these Venture wipes is their textured surface that exfoliates dirt, grime, odor, and bacteria from the skin in one fell swoop.
• Biodegradable
Looking for the perfect full body camping wipe? Here it is. Not only are Venture Wipes freakin massive, they are also biodegradable and safe for the environment. Perfect for camping trips or pretty much any outdoor excursion.
---
Alcala Body Wipes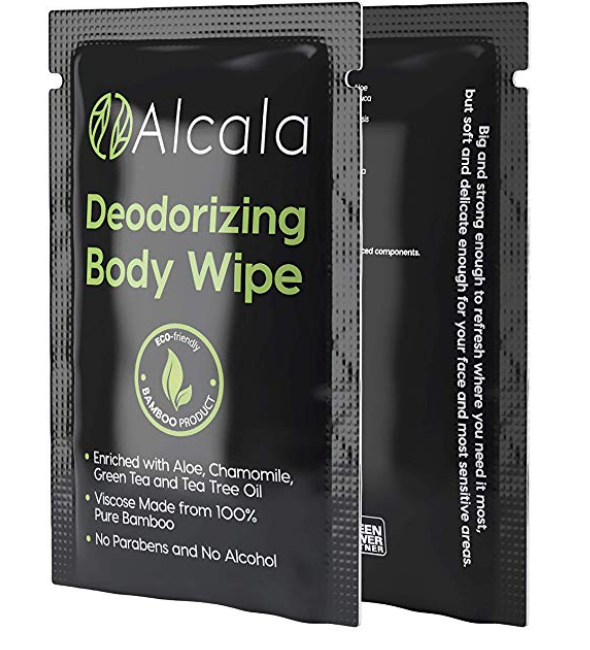 Sweaty balls, funky balls, smelly body, whatever situation you're dealing with, these bamboo body wipes from Alcala can handle it. Constructed using 100% bamboo, these large (10″x10″) body wipes are soft, absorbent, strong, and help fight odor and bacteria. They are also individually wrapped making them a great choice for men on the go.
What I like about Alcala Body Wipes:
• Skin beneficial ingredients
Not only do these Alcala body wipes eliminate dirt, odor, grime, and bacteria, they also contain a ton of skin beneficial ingredients, including:
Aloe – Moisturizes the skin while acting as a natural antibacterial that helps eliminate odor causing bacteria.
Chamomile – A natural anti-inflammatory, antibacterial, and anti-fungal that helps reduce skin irritants by neutralizing free radicals.
Tea tree oil – A natural anti-inflammatory that helps soothe painful and irritated skin, and even helps reduce swelling and discomfort.
• Bamboo
Bamboo isn't just for pandas anymore. Apparently it's also for cleansing and de-funking sweaty balls and body. These all-natural wipes are constructed using 100% bamboo which is great for absorbing sweat and moisture, and also helps eliminate odor causing bacteria. Another thing I really like about these bamboo wipes is their durability. Once you get them in your hands you can really feel the difference. They are thick and strong enough to take a beating, but plenty soft enough to use on our most sensitive parts (nut sack).
• Biodegradable
Another big positive of these all-natural bamboo constructed body wipes is that they are completely biodegradable within 27 days. That means these environmentally safe wipes are a great option for guys who enjoy the outdoors, or anybody who cares about the environment.
---
FunkBlock Shower Wipes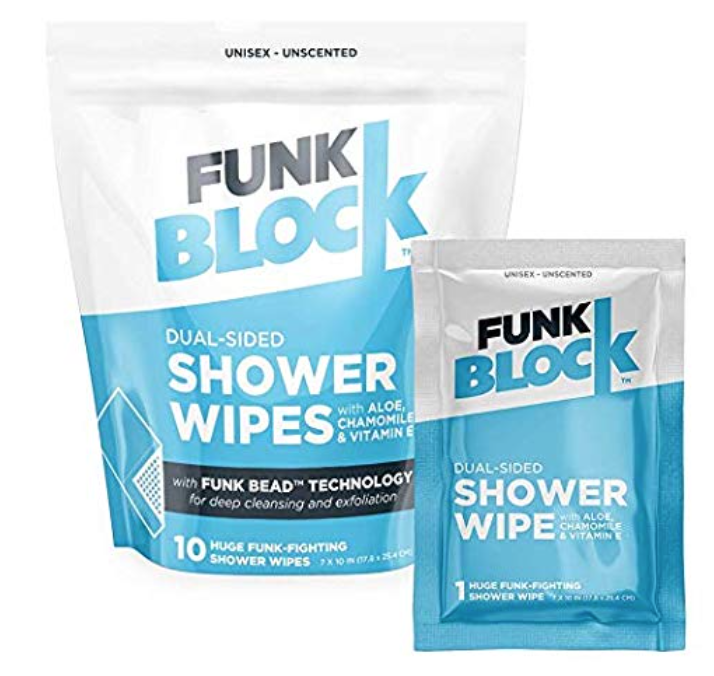 Sometimes taking a shower just simply isn't an option. So does that mean you have to go about your day with a sweaty, funky pair of balls? Of course not! FunkBlock wipes are a solid backup plan when taking a shower isn't possible. These double sided wipes are designed to eliminate sweat and odor, while gentle exfoliation scrubs away dirt, oil, and bacteria. Individually wrapped for convenience, these handy wipes are perfect for the gym, work, camping, hiking, the airport, and road trips.
What I like about FunkBlock Shower Wipes:
• Dual-sided
Sometimes us guys really stink. That's why FunkBlock added a textured scrubbing side to their shower wipes for when our balls and body need a little extra oomph to get clean. The cool looking blue beaded side gently eliminates dirt, grime, bacteria, and stink, for a fresh, clean feeling you'll be surprised came from a body wipe.
• Sensitive skin safe
Guys have sensitive skin too. These cleansing shower wipes contain safe, natural, and effective ingredients that are perfect for guys with sensitive skin, including: Aloe, chamomile, cucumber extract, and vitamin E. They are completely free of harmful ingredients such as alcohol, parabens, and pthalates.
• Full body clean
While they aren't the biggest wipes on the list, they still measure in at a respectable 7″ x 10″ and are more than capable of getting the job done with just one wipe.
• Reasonably priced
If you're anything like me, you don't enjoy spending a small fortune on your grooming and skincare needs. One of the things that really stands out to me about these FunkBlock Shower wipes is the reasonable price tag. Considering how effective these things are at their job, I'd say they'd be a bargain at twice the price.
---
What's the Difference Between Body Wipes and Baby Wipes?
Body wipes are for men. Baby wipes are for babies. 'Nuff said.
While it's not uncommon for men to use baby wipes to freshen up, the fact is body wipes offer a much more effective solution, and they often contain multiple bacteria fighting ingredients that you won't find in baby wipes.
Body Wipes vs Baby Wipes
Baby Wipes
Sure, baby wipes are great for babies. But the problem is they are specifically designed for extremely sensitive newborn baby skin. Do you really think the skin sensitive cleansing ingredients used on baby wipes are going to be enough to tackle the sweaty, stinky, bacteria riddled balls and body of a full grown man? Likely not.
Body Wipes
On the other hand, body wipes are specifically designed with men in mind. Not only do they contain more powerful cleansing agents, they are thicker, stronger, and usually 3 times bigger (sometimes even bigger) than traditional baby wipes.
They are also full ingredients that freshen skin and combat odor causing bacteria; things you won't find in a baby wipe.
---
Thanks for checking out my list of best body and ball wipes for men. If you found this article helpful, check out my list of best face wipes for men. As always, if you have any questions, comments, or suggestions of your own, feel free to drop me a line in the comment section down below.