Trouserdog.com is a participant in the Amazon Services LLC Associates Program, an affiliate advertising program designed to provide a means for sites to earn advertising fees by advertising and linking to Amazon.com.

Article updated: September 4, 2021
  
B.O.
Monkey balls
Swamp ass
Bat wings
Trench stench
Asshole casserole
Whatever unpleasantness you're dealing with, I think all guys can agree on this: being hot, sweaty, stinky, and chafing sucks.
Whether you're at work, out with friends, at the gym, playing sports, or on a date, no guy wants to feel uncomfortable or self conscious about sweat and unpleasant odor.
Fortunately for us there is a simple, yet highly effective solution that every guy should know about. It's called Ball and body powder.
Benefits of Using Ball and Body Powder
Ball and body powder is a magical product that is capable of incredible feats of wonder and amazement. At least I think so.
Let's take a look at some common hygiene issues us guys suffer from, and how body powder can help alleviate the problem.
• Sweaty, stinky balls?
No problem. Body powder creates a protective barrier on your nuts that basically tells sweat and odor, "not today bitch."
• Do you constantly deal with swamp ass, and sweaty underwear?
No guy wants to go through the day with soggy underwear. Body powder helps absorb sweat and moisture, effectively keeping you dry, and your ass feeling good all day.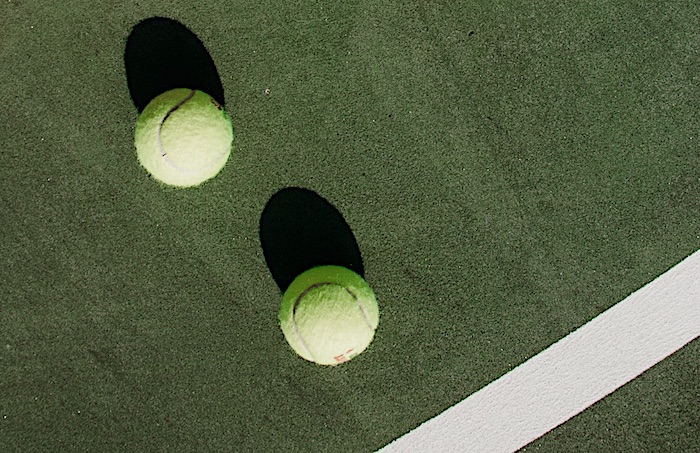 • Do your feet smell like you went dumpster diving barefoot?
Body powder helps fend off sweat, moisture, and bacteria, keeping your dogs fresh, cool, and dry all day.
• Are your crotch and inner thighs so chafed, you walk like you're trying to touch your balls to the ground?
Body powder not only soothes red, irritated skin, but it also helps stop the problem from reoccurring by preventing sweat and friction in those tight spaces.

If you're looking for the perfect body powder, or just want to learn a little more about it, read on for my breakdown of the best ball and body powders for men.
The List:
Best Men's Ball and Body Powders Reviewed
---
---
Chassis – Ice Max Ball and Body Powder

Concerned about ball sweat, funk, chaffing, and discomfort? Then let Chassis Ice Max handle your ballsack for you – literally.
Chassis Ice Max is jam packed with premium ingredients that are specifically chosen for their ability to kick the shit out of ball sweat and odor, while preventing crotch chafing and discomfort.
Staying true to its name "Ice Max," this cooling ball powder provides a Jack Frost kick to the nutsack that feels borderline orgasmic on a hot summer day. With 10x the cooling action as their original ball powder, Chassis Ice Max is formulated for men who like to feel fresh, clean, dry, and seriously cool down below.
What I like about Chassis Ice Max:
• Great for balls and body
I established that Chassis Ice Max is great for ball use, but it's also excellent for full body use as well. Sprinkle a little on your feet, pits, and even your ass crack for all day sweat and odor protection. Caution: The Ice Max chill on your balls and ass crack might bring you to full erection.
• Long lasting cooling action
Not only does Chassis Ice Max offer a cooling blast of refreshment, but the effect has some serious staying power to it. While the cooling effect of most other powders dissipates after a minute or two, Ice Max's chill keeps on comin' for almost 2 hours.
• A little goes a long way
Chassis Ice Max powder has a very smooth, fine texture that applies easy and evenly. Not only does this eliminate clumping and caking, but it also means that you don't need to use much of it to cover a lot of ground. So while it's not the cheapest ball powder in the world, you can fully expect a bottle of this stuff to last for months.
• All day sweat and odor protection
One of the things I like most about Chassis Ice Max is how long 1 application lasts. Even after the cooling effect eventually wears off, it's impressive how long Chassis Ice Max keeps balls dry and stink free. One application on clean, dry balls is enough to keep your nuts feeling their best all day. Simply put: Chassis is one of the absolute best powders for balls when it comes to sweat and odor protection.
• Chassis knows balls
When it comes to ball hygiene, Chassis knows a thing or two about a thing or two. That's because their business is balls. They offer a unique line of products that are specifically designed for men's balls and the surrounding region. If you're serious about taking your crotch hygiene to the next level I highly recommend you check out Chassis' full line of ball grooming products:
Chassis Fresh Scent Powder
Chassis Powder unscented
Chassis ICE Powder
Chassis ICE MAX Powder
Chassis Restoration Cream
Chassis Shower Primer
Chassis Gift Set
What I don't like:
A bottle of this stuff is a little pricey, but it lasts close to 4 months with daily use so I can't complain too much.
---
Beast – Balls & Body Powder


Beast is a men's grooming company that offers a ton of safe, all-natural products that are designed for discerning gentlemen such as ourselves. One of the things that sets them apart from other men's brands is their premium line of products designed specifically for men's nutsacks.
This includes their Nutt Butter lotion, Nutt Butter Extreme lotion, Nutt Butter Edibles, and of course their Beast Balls & Body Powder.
Their Beast Powder is jam packed with safe, all-natural ingredients that are specifically designed to prevent sweat, odor, chafing, and discomfort. It also features a refreshing cooling sensation that basically feels like air conditioning for the nutsack — minus the electricity bill.
What I like about Beast Balls & Body Powder:
• Silky Smooth
One of things that I like most about Beast Powder is its texture. It has a silky smooth texture that applies evenly and doesn't clump or build-up in those sensitive areas. It provides a thin layer of protection that is highly effective at eliminating chafing and discomfort, without the clumping or grittiness that is common with inferior ball powders.
• Smells awesome
Beast powder smells crisp, fresh, musky, and masculine. Its scent is derived from a combination of cucumber, green tea, rosehip, and hemp seed oil that Beast calls, "Beast Blue Scent." If you're tired of dealing with a funky crotch region, you should seriously consider dousing your nuts in this stuff.
• All-natural
How would you like to douse your balls in mystery chemicals and ingredients? Yeah, me neither. Thankfully Beast formulates their Balls and Body Powder using only safe, all-natural ingredients that are derived straight from the earth, including: Corn starch, menthol, chamomile, cucumber extract, green tea extract, rosehip, and hemp seed oil.
• Refreshing tingle
What's not to like about a cool, refreshing tingle on your nut sack during a hot summer day? Tame the Beast powder offers a blast of menthol powered refreshment to your nut sack right where us guys need it most.
• Reasonably priced
One of the things that I really like about Beast Powder is the reasonable price tag. When it comes to premium ball powders for men, Beast Powder is one of the most affordable. Pair that with the fact that it offers excellent performance against sweat, odor, chafing, and discomfort, and you got a bonafide winner in my book.
What I don't like:
Nothing. Considering the awesome, long-lasting performance and fairly reasonable price tag of this powder, I think it's a great buy.
---
Fromonda – Ball and Body Powder
Fromonda men's care powder was created out of necessity. To put it simply, the founder was sick of his balls chafing. After struggling to find a natural, masculine smelling powder that actually worked, he decided to take matters into his own hands.
Fromonda is formulated using only safe and natural ingredients sourced from small businesses right here in the good ol' USA. This soothing powder helps prevent: body odor, foot stink, ball funk, moisture, and is safe for sensitive skin. Oh yeah, it smells pretty freakin awesome too. Orange peel and hops essential oil create a refreshingly awesome fragrance that encapsulates the scent of a craft brew citrus IPA in powder form. Magic.
What's great about Fromonda:
• Lightweight
Gritty, clumpy body powder sucks. It doesn't last long, and it rarely does what it's supposed to do. Fromonda powder is smooth, fine, and most importantly it doesn't build up, or clump in the folds and crevices of your skin. It has a lightweight feeling, and does its job without the fuss.
• Natural
If you're anything like me, you don't like putting mystery chemicals on your skin. Especially in the nether region. Fromonda's all natural formulation provides peace of mind, knowing that I'm putting only safe, natural ingredients on my body. It's also the perfect choice for guys with sensitive skin.
• It lasts all day
This stuff lasts surprisingly long. It's a little bit more expensive than basic body powders, so not having to reapply multiple times throughout the day is a cost effective win in my book.
• Great scent
I personally think they killed it with this one, but if citrus IPA isn't your cup of tea, no worries. Fromonda powder comes in a variety of other awesome scents that are sure to please. Including:
What I don't like:
Nothing. It's reasonably priced and it does what it's supposed to.
---
Brickell – Stay Fresh Ball and Body Powder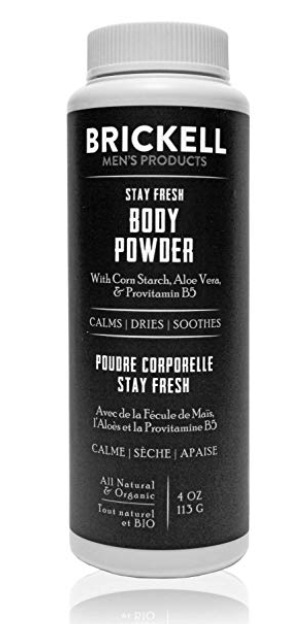 If you're unfamiliar with Brickell, it's time to get acquainted. Founded by two friends who were tired of synthetic, unsafe, and subpar men's grooming products, Brickell was created with the idea that all-natural and organic based products could perform better. With a long line of premium men's products available, Brickell has become one of my personal favorite brands when it comes time to handle my grooming needs.
If you want to give your balls the VIP treatment they deserve, look no further than Brickell's Stay Fresh powder. Formulated with all-natural and organic ingredients, Stay Fresh powder does a kick-ass job of keeping balls and body cool, dry, and irritation free. Offered in a cool minty fresh scent or an unscented version.
What I like about Brickell Stay Fresh powder:
• Keeps you cool
Brickell includes organic aloe leaf powder in their formulation which soothes, hydrates, moisturizes, and has a long lasting cooling effect in the place us guys need it most. Aloe vera is also known for its antibacterial properties, which helps keep odor and stink at bay.
• Natural and organic
My favorite part about Brickell products is the fact that they only use safe, natural, and organic ingredients in their products, and their Stay Fresh powder is no different. The ingredient list includes:
Corn starch – Naturally absorbs sweat and moisture, while eliminating chaffing, friction, and discomfort at those skin-on-skin contact points (think between the thighs).
Aloe vera – This natural moisturizer helps soothe, protect, and fight odor causing bacteria from forming.
Pink clay – Naturally reduces skin irritation and inflammation, while being safe for guys with sensitive skin. Kind of the perfect ingredient for the highly sensitive balls and ass crack region.
Pro vitamin B5 – This powerful vitamin helps heal and regenerate damaged skin, while it protects and helps maintain the skins natural moisture balance.
• Smells awesome
Offered in a minty fresh scent that smells masculine, and clean. Perfect for maintaining a fresh smelling pair of balls and body, without being too strong or overbearing. It's also available in an unscented version.
What I don't like:
It's pricey
---
Stanky's Grooming – Stanky Powder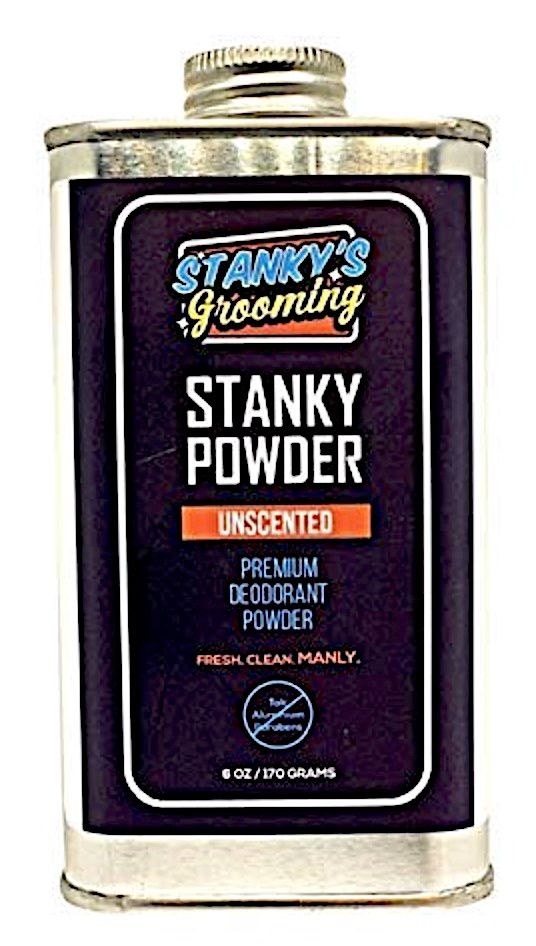 Formulated using only safe, all-natural ingredients, Stanky Powder is growing in popularity amongst men when it comes to preventing body and ball sweat, odor, chaffing, and discomfort. The all-natural ingredient list contains kaolin clay, French green clay, cornstarch, baking soda, and aloe powder.
As you can see by the ingredients, Stanky Powder places emphasis on sweat and moisture control. If you are a heavy sweater or spend a lot of time in hot and humid environments, Stanky Powder might be your answer to staying dry. Aside from its ability to keep you dry, Stanky Powder also helps fight odor, friction, chafing, and discomfort. It also helps protect and moisturize the skin thanks to the inclusion of aloe powder.
What I like about Stanky Powder:
• Lasts all day
Before I discovered ball and body powder for men I used to use cornstarch on my balls. One of the reasons why I stopped using corn starch on my balls was because it simply didn't work that well. Not only did it not do a very good job of stopping sweat, odor, and chafing, but it also needed to be reapplied often throughout the day. One of the things I look for in a good powder is how long it lasts once it is applied. Stanky Powder gets 2 thumbs up for longevity. I find that 1 application in the morning is typically enough to last a solid 8 hours. Pretty impressive.
• Friction-free
Pants and underwear have a tendency to mash body parts together down there in a very unpleasant way. This can create a ton of friction which leads to sweat, odor, and chafing. Stanky Powder does a great job of alleviating friction on those skin-to-skin areas and can also help alleviate pre-existing redness and irritation.
• Unscented
I appreciate a nice, manly scent but sometimes I prefer to keep things simple and steer clear of scents or fragrances altogether. One of the things that I like about Stanky Powder is that it is available in an unscented version that won't interfere with cologne or body spray. It simply does its job without adding any fragrance to your body or balls.
• Awesome for sweat prevention
When it comes to sweat and moisture protection, Stanky Powder is one of the best powders for balls and body. Stanky Powder's unique formulation features 2 clay powders that do an excellent job of absorbing sweat and keeping you dry down below or wherever you decide to apply it.
• Smooth texture
The silky smooth texture of Stanky Powder is a testament to its quality in my opinion. It isn't gritty or clumpy and you don't need to apply a lot for it to do its job.
• Cool packaging
While this might not matter to some of you guys, I on the other hand like to see products that offer cool packaging. Stanky Powder comes in a big 6 oz metal screw top tin that not only looks really badass but it also feels really good in the hands while using it.
What I don't like:
Price. Stanky Powder is a bit on the expensive side compared to some other ball and body powders for men.
---
Bozak – Ball and Body Powder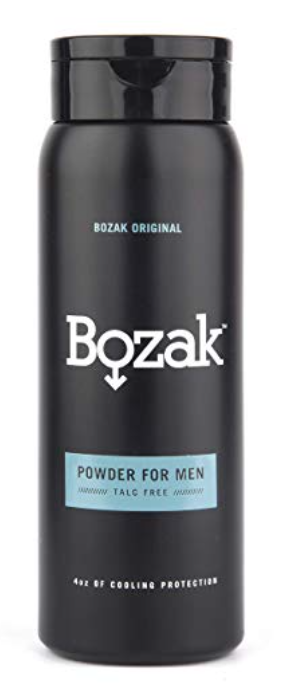 Bozak was founded by two college friends that share one thing in common, they both have balls. While both friends ended up taking vastly different career baths after college – ball sweat, chaffing, and discomfort kept them connected. In an effort to free themselves of their discomfort, Bozak powder was formed. Offered in two versions: cooling Bozak Original with menthol (pictured), and Bozak Light (no menthol).
What I like about Bozak:
• Bozak stands behind their product
As crazy as it sounds, Bozak offers a lifetime satisfaction guarantee on their powder. While this is more of a positive about the company than the powder, I still think it's worth mentioning. It's certainly not everyday you see a company prioritize customer satisfaction, and show that much confidence in their product. My balls salute you Bozak.
• Cooling
While Bozak is offered in a cooling version (original) and a non-cooling version (light) I am partial to the original. Through the power of menthol and peppermint oil, Bozak provides a cooling blast right to your ball sack. I never would've thought I'd enjoy getting blasted in the balls so much.
• Very fine
Bozak is a very smooth, fine powder that applies easily and evenly. Tricalcium Phosphate is added to keep the powder silky, and to prevent clumping and caking via a molecular charge. It's science, bitch.
• Aloe leaf extract
Inflamed, sore, chaffed balls are no fun. That's why Bozak adds aloe leaf extract which is full of vitamins that help reduce inflammation, and soothe irritated skin. The result is one happy pair of nuts.
What I don't like:
While it does have a light minty fragrance, I would like the scent to be a bit more bold.
---
DUDE – Ball and Body Powder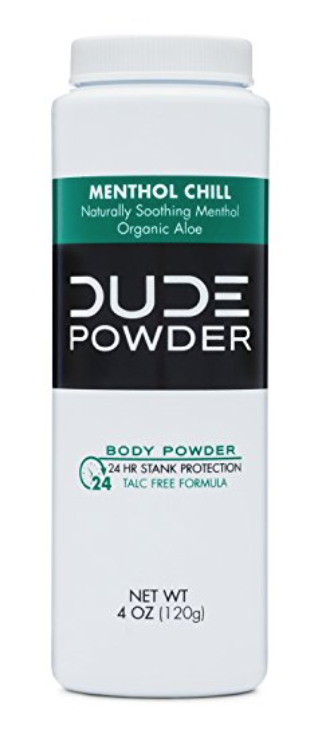 DUDE products has been around since 2011 and as the name suggests, they specialize in products designed specifically for the needs of men. DUDE powder is one of their most recent creations, and is intended to be used daily to maintain dry, stink free crack, balls, pits and feet.
This cooling menthol body powder offers a blast of refreshment right where guys need it most, while corn starch keeps you dry, chafe free, and protected.
What I like about DUDE Powder:
• Cooling
Imagine dumping a bucket of ice water on your balls after baking in the hot sun all day. DUDE powder is kind of like that. Thanks to menthol, this stuff has an invigorating cooling effect that'll make you want to come back for more.
• A little goes a long way
The very fine, smooth texture makes this powder easy to apply and cover a lot of ground. It won't build up or clump, and you definitely don't need to use a ton for it to do its thing.
• It lasts all day
DUDE boasts 24 hour protection right on the bottle, and they aren't far off. This powder will keep you dry and stink free for most of the day. If you're a heavy sweater, I'd say 2 light applications per day is a safe bet.
• Minty fresh
If you're like me and enjoy the fresh scent of mint, you'll love the masculine, invigorating scent of this DUDE Powder menthol chill. If mint isn't your thing, they also make it in a citrusy version called tropic breeze.
What I don't like:
For the price I would like to see it offered in a larger size.
---
Anti-Monkey Butt – Ball and Body Powder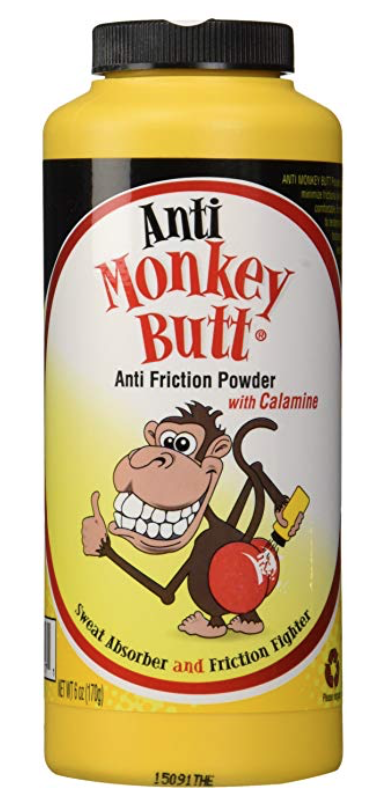 The bottle kind of looks like a joke, but this stuff is legit. Anti-Monkey Butt was founded by a couple of avid dirt bike riders that were tired of their asses being sore, red, and chaffed after a long ride. After testing multiple powders that failed to meet their expectations, they decided to formulate their own remedy to the problem.
This masculine smelling body powder offers versatile benefits, and is designed to be used on the body anywhere you want to reduce sweat, stink, chaffing, and aid in healing.
What I like about Anti-Monkey Butt:
• Helps heal
Thanks to the inclusion of calamine, this powder helps promote healing in guys with pre-existing skin conditions such as chafing, irritation, and discomfort. Since most other powders don't contain ingredients that help heal the skin, Anti-Monkey Butt powder is simply one of the best powders for balls if you're currently suffering from painful redness, chafing, and irritation. Here's a few of the skin benefits of calamine:
Soothes irritated skin
Helps reduce redness
Helps treat rashes
Helps treat jock itch
Helps accelerate wound healing
• It lasts
No guy wants to reapply body powder multiple times throughout the day. We want to apply it once, and forget it. While no powder performs with 100% efficacy all day, Anti-Monkey Butt does an awesome job of keeping you dry, and chafe free into the evening hours.
• Prevents chafing
This stuff was originally formulated to prevent chafing, and that is exactly what it does best. The super fine powder applies smoothly and evenly, and eliminates friction caused by skin-to-skin rubbing.
What I don't like:
I'd like to see them offer this in a talc-free version for guys with sensitive skin.
---
Chassis – Fresh Scent Ball and Body Powder

Chassis is a men's care brand that specializes in products specifically designed for below the belt. Boasting the use of only premium ingredients, Chassis believes that they have formulated the top body powder known to man.
If Chassis Ice Max powder (top pick) offers too much chill for your balls to handle, their Fresh Scent Powder is definitely an excellent alternative. Just like Ice Max, this premium ball powder smells great and contains a ton of unique ingredients that are chosen for their ability to fight sweat, odor, chafing, and discomfort. And since no guy wants his balls to feel hot and humid in his pants, Chassis powder provides a light cooling action to refresh and soothe your nuts.
What I like about Chassis Fresh Scent Powder:
• Unique ingredients
I can appreciate innovation, as long as it's not just innovation for the sake of innovation. Chassis uses a bunch of ingredients in their powder that seem odd when you read the label. As it turns out, most of these ingredients offer some pretty serious skincare benefits:
Oat – Moisturizes, soothes irritation, natural antioxidant, promotes healing.
Pumpkin seed – Moisturizes, promotes healing, rich in vitamin E.
Hops – anti-inflammatory, antibacterial, helps retain moisture.
Witch hazel – Reduces inflammation, reduces irritation.
• Keeps you dry
In my opinion this is one of Chassis powders defining qualities. This stuff keeps you dry. Whether you're at the gym or work, this powder's ability to maintain a dry undercarriage is pretty damn impressive.
• It lasts
A little bit goes a long way. No need to pile it on. The smooth, fine powder does a great job of covering a lot of surface area so you don't need to use a ton for it to do its job effectively. While I'm not crazy about the price, the bottles longevity is certainly the silver lining.
• It doesn't clump
This isn't baby powder or that cheap crap you buy at the grocery store. This powder won't clump or accumulate in uncomfortable areas. When it comes to choosing the best powder for men's privates, Chassis performs exactly how you would expect a super premium ball powder to perform.
What I don't like:
Pricey. Even though the bottle lasts for months, I wouldn't mind seeing Chassis lower the price a bit.
---
Duke Cannon – Dry Ice Ball and Body Powder
Duke Cannon has built their brand around the idea that men should be men. Hard working, chivalrous, brave, fixers, builders, and doers. Their products are built to accommodate the daily stresses and strains of the working men and soldiers of this country.
Their Dry Ice body powder is designed to keep men dry, stink free, chafe free, and provide a cool blast of refreshment thanks to menthol and eucalyptus oil.
What I like about Duke Cannon Dry Ice:
• Activated charcoal
I'm a pretty big fan of activated charcoal products, so it's awesome to see the inclusion of it in this Dry Ice body powder. If you're unfamiliar with the activated charcoal, here's a brief rundown of its skin benefits:
Deodorizes
Soothes irritation
Detoxifies
• Calamine
If you're in urgent need of a body powder, chances are you're suffering from some chafing. This Dry Ice powder contains calamine which has some awesome skin healing benefits:
Helps heal wounds
Soothes irritated skin
Helps heal jock itch
Promotes healing in body rashes
• It lasts all day
This stuff is formulated to last all throughout the day and it doesn't disappoint. If you're in search of a long lasting powder for men's privates, Duke Cannon Dry Ice is definitely worthy of consideration. I find that one application after a morning shower is enough to keep me fresh and dry for a solid 8 hours.
• Helps support US Veterans
Taking inspiration from US military history, Duke Cannon's staple bar soap has similar dimensions and appearance as the soap issued to soldiers during the Korean War. As a thank you to the men and women who risk their lives for this country, a portion of all proceeds directly supports Veteran causes.
• Great value
One of the bigger bottles on this list, and one of the most affordable, this Dry Ice powder is priced right and is long-lasting.
What I don't like:
I'd like to see Duke Cannon introduce a talc-free version for sensitive skin.
---
How to Powder Your Balls and Body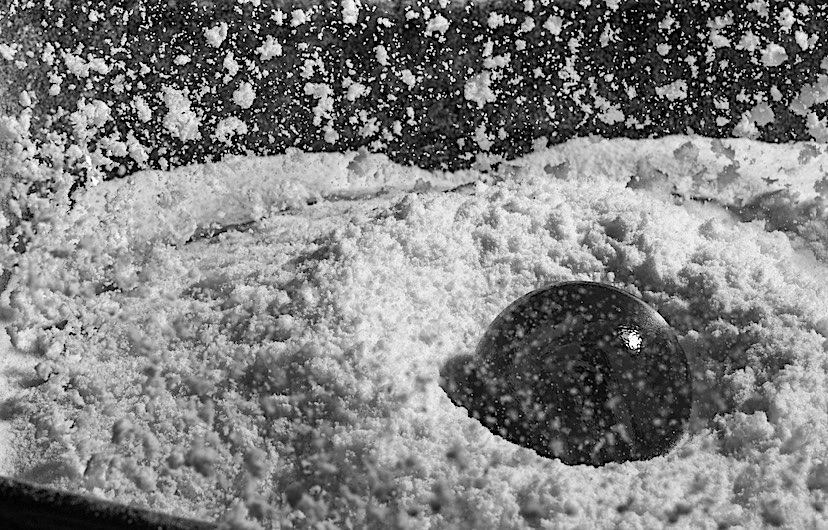 It might sound like basic common sense. After all, how hard could it be to slather some body powder on your ball bag and ass crack? Well it's not hard. But I do have a few tips that can extend the life of your bottle of body powder, and help it perform its job with optimum efficacy.
• Get clean
Before you even think about dousing your biscuits in flour, hop in the shower. You're not supposed to put deodorant on dirty pits, and the same rule applies for body powder. After all, you shouldn't be trying to mask the funk, you should be trying to prevent it. When it comes to washing your stink areas, I recommend using a good exfoliating body wash or bar soap to help slough away dead skin and odor causing bacteria. Check out my list of best soaps for men's balls.
• Get dry
Powder now? Uh, no. First make sure your body is completely dry and free of moisture. Avoiding a cake batter type effect is the goal here. You'd probably be surprised how much water can hide in your cracks and crevices, so you really need to be thorough with the towel. If you're feeling really bold go ahead and spread ass in front of a strong fan to get dry – ideally one in the privacy of your own home. Sure it'll feel hella demeaning, but it gets the job done.
• Be strategic
Now that you're all clean and dry it's time to apply the powder. The best practice is to pour a quarter size amount into the palm of your hand, and apply it to the desired areas. This method of strategic placement ensures thorough coverage in trouble areas, and minimizes waste.
Methods like: pouring the powder down your pants, creating a powder bomb in the air, or letting a fan blow it back onto you aren't very effective, but they are pretty good at creating a complete fucking mess.
In general, most guys use way more powder than necessary. Try applying less than you think you should. You can always apply more if needed.
Ball and Body Powder Q&A
Can you put Gold Bond foot powder on your balls?
So I've received this question quite a few times from readers and I want to address it here. When it comes to original Gold Bond powder (yellow bottle) and Gold Bond foot powder (blue bottle) there is a significant difference.
While original Gold Bond powder from the yellow bottle is safe to put on your balls, I however do not recommend putting Gold Bond Foot powder on your balls.
My reasoning for this is because Gold Bond foot powder contains significantly more menthol (1%) than the original Gold Bond formula (0.15%). While this might not seem like a big deal from a numbers standpoint, that additional amount of menthol can feel extremely uncomfortable for many men when applied to the sensitive skin of the nutsack.
Based on my research, men who applied Gold Bond foot powder to their balls experienced burning, stinging, and extreme discomfort at the site of application.
Is body powder safe?
Yes. But here's why some people are confused about its safety:
So pretty much all body powders at one point in time were made using talc as the main ingredient. Talc is a naturally occurring mineral that just so happens to be really great at absorbing sweat and odor, and it also helps reduce friction and chafing.
The problem with talc is that it is sometimes found underground within close proximity to asbestos (also a naturally occurring mineral), and as we all know, asbestos is a known carcinogen (it causes cancer).
So talc is mined from the ground, and in some cases, asbestos is mined right along with it. No good, right?
So to help make sure the talc that companies use for consumer products is safe, it gets thoroughly tested to make sure it's not contaminated with asbestos. Yay, great.
The problem with this is during the 19th century, a company called Johnson & Johnson did a shitty job of testing the talc that they use in their baby powders, and ended up getting sued by a woman that allegedly got cancer after using their asbestos riddled baby powder for many years.
Naturally this gave talc a pretty bad reputation and now most companies that produce body powder and other skincare products avoid using it altogether.
There are still some companies that use talc in their body powders, but this is becoming less and less common. Even Johnson & Johnson stopped producing talc containing baby powder in 2020.
Either way, most body powders nowadays don't use talc and instead substitute corn starch in its place.
So if you're concerned about the safety of talc in your body powder, there are plenty of talc free body powders to choose from.
Is ball/body powder the same thing as baby powder?
Here's another question I see fairly often. Is body powder the same thing as baby powder? No, it's not the same thing. Although it's fairly similar.
The truth is baby powder is basically a body powder, but for babies. Baby powder is formulated to be safe for the sensitive skin of a newborn baby and therefore only contains about 2 or 3 ingredients (fragrance being one of them).
Ball/body powder on the other hand usually contains quite a bit more ingredients (it varies between brands) and is specifically designed to handle man sized sweat and odor problems.
So while you can absolutely apply baby powder to your body; don't expect its effectiveness to last that long. It will also make you smell like a baby, so keep that in mind too.
How do you make homemade ball and body powder?
Want to try your hand at making your own homemade ball and body powder? All that's needed is a few ingredients.
While many of the above listed powders are formulated with unique and sometimes exotic ingredients, you can actually make your own basic powder using some common household ingredients.
One of the simplest homemade recipes involves mixing cornstarch and baking soda. Start with 3 parts cornstarch and 1 part baking soda. Since both of these ingredients are skin safe you can adjust the ratio to your preference. You can even add a drop or two of essential oils to the mix if you want your powder to have a light fragrance.
What's the best powder for ball chafing?
Ball chafing and irritation is one of the most aggravating discomforts a man can experience. The problem with ball chafing is that it makes simple, everyday functions uncomfortable and annoying. Walking, exercising, working, jogging — all can cause extreme discomfort for a man if he is dealing with ball and crotch chafing.
If you're fed up with living in discomfort and are looking for the best powder for ball chafing, I can say with confidence that any of the above listed ball and body powders will serve you well.
My personal preference?
While not every man is a fan of cooling body powders, I will say that I personally enjoy the feeling and relief that a cooling body provides for chafed balls.
Why do guys put baby powder on their balls?
The reason why some men put baby powder on their balls is to help stop sweat, odor, and chafing. Many baby powders are formulated using only 2 main ingredients: talc and fragrance.
While talc has developed somewhat of a bad reputation over the years, it is however very effective at absorbing sweat and moisture and also helping to prevent chafing.
While I personally prefer to use ball powders that are designed specifically for men, baby powder isn't a terrible option if you find yourself in a pinch.
---
Thanks for checking out my list of best ball and body powders for men. If you found this article helpful, check out my list of best deodorants for men's balls. As always, if you have any questions or comments, drop me a line in the comment section below.