Trouserdog.com is a participant in the Amazon Services LLC Associates Program, an affiliate advertising program designed to provide a means for sites to earn advertising fees by advertising and linking to Amazon.com.

Article updated: April 26, 2023
  
As it turns out, choosing the best smelling deodorant for men was somewhat of a challenge for me. After all, few things in life are as subjective as scent.
I'd just as soon be able to tell you what the best sex position is; every guy has their own personal preference and opinion.
So in order to bring you guys the most thorough and comprehensive list of best smelling men's deodorants, I enlisted the help of thousands of user reviews, spent days researching and analyzing products, and even embarked on a perilous journey through the Himalayan Mountains to solicit the advice of a wise and all knowing sage.
And although that last part is not true at all, I believe I gathered enough facts, information, and data to present you with the most comprehensive and accurate list of best smelling deodorants for men available. In the end, the sage's opinion wasn't needed. What the hell does he know anyway?
Which Deodorants Made the Cut?
While scent is the topic of discussion in this article, it's important to remember that it shouldn't be the only factor considered when choosing a deodorant. Don't get me wrong, an awesome smelling deodorant is great, but if it doesn't serve it's primary function of preventing odor causing bacteria from forming, that great fragrance is going to be negated by your funky smelling arm pit odor, and that shit's not cool man.
So instead of focusing solely on fragrance, I compiled a list of men's deodorants that not only smell freakin awesome, but also do a kick-ass job of keeping armpit odor and funk in check all-day. Wins all-around.
The Lineup
Best Smelling Deodorants for Men Reviewed
---
L'Occitane – Eav des Bavx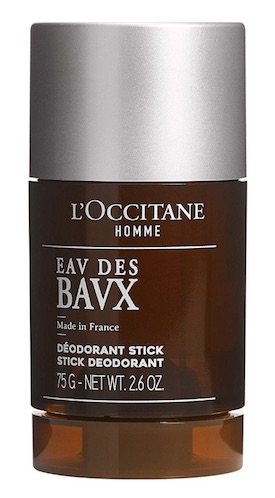 If you're looking for an incredibly masculine smelling deodorant for men, I highly recommend you take of whiff of L'Occitane Eav des Bavx. As you may have guessed by the difficult to pronounce —and spell— name, L'Occitane is a French company that was founded in Alps de Haute Provence in Southeastern France. Their products first caught my attention when I had the pleasure of smelling their awesome Shower Gel for men, and I was officially hooked when I discovered this Eav des Bavx deodorant. Taking inspiration from the scents and fragrances of the Alps de Haute Provence countryside, this deodorant is a masculine blend of fresh cypress and mellow incense with notes of bergamot and vanilla. It smells bold, rugged, woody, warm, and slightly spicy. Bottomline: when it comes to best smelling deodorants for men, L'Occitane Eav des Bavx is definitely a heavyweight contender.
What else is great about L'Occitane Eav des Bavx deodorant?
• All day odor protection
A great smelling deodorant is nice, but if it doesn't provide long lasting odor protection other people are going to be smelling your unpleasant body odor instead of the deodorant. One of the things that makes L'Occitane so special is that it not only smells awesome, but it does a great job of preventing the formulation of odor causing bacteria — allowing it's great fragrance to shine through all day.
• The scent lasts
Over the years I've tried many really great smelling deodorants for men but the problem I've often encountered with many of them is that the scent doesn't last very long. Thankfully that's not the case with Eav des Bavx. I find that a few quick swipes of this deodorant is enough to keep it's masculine smelling fragrance going strong all day.
• Aluminum free
More and more men are gravitating towards aluminum free deodorants — and for good reason. Not only do aluminum based deodorants cause unsightly stains on light colored shirts, but aluminum has also been linked to Alzheimer's disease: a progressive brain disorder that causes brain cells to die.
• A little goes a long way
When it comes to applying deodorant I fully understand the temptation to heavily cake it on. The problem with that is — more deodorant doesn't necessarily equate to longer lasting odor protection. It usually just means wasted product and oily stains on shirts. One of the great things about L'Occitane deodorant is that it doesn't take much for it to do it's job. Just 2-3 quick swipes is enough to keep body odor at bay all day.
What I don't like:
It contains alcohol which might be irritating for guys with sensitive skin.
---
Azzaro – Chrome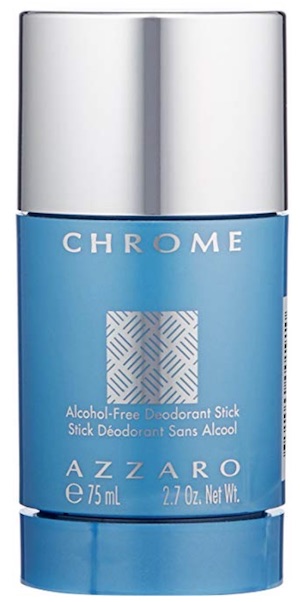 Take your olfactory senses on a trip to the Mediterranean with Azzaro Chrome deodorant for men. Fragranced with a blend of bergamot, transparent musk, and mate leaves, Azzaro Chrome's scent takes inspiration from the Mediterranean, and can be described as citrusy, aquatic, woody and downright masculine as hell. It's a far cry from the typical scents of grocery store deodorants, while still offering highly effective odor protection to match it's awesome fragrance. No need to sacrifice performance for scent here, guys. Formulated without aluminum or alcohol, Azzaro Chrome not only smells freakin awesome, it's designed to beat arm pit odor, funk, and stink into oblivion, while foregoing harmful chemicals in the ingredient list. In a nutshell, if you're looking for a best smelling, highly effective deodorant for men, Azzaro Chrome is certainly worth a try.
What else is great about Azzaro Chrome deodorant?
• Long lasting protection
Sure it smells great, but does it provide all day odor protection? Answer: hell yes. Aside from the awesome smelling blend of bergamot, transparent musk, and mate leaves, Azzaro Chrome still manages to function as a highly effective stick of deodorant. And there's no need to overdue it. Since this isn't a cheap deodorant (my one gripe) it's important not to use more than is necessary. A few quick swipes of Azzaro Chrome on clean underarms is enough to keep even the funkiest of men smelling fresh all day.
• Invisible solid
No need to worry about white deodorant stains on dark colored clothing with this one. Azzaro Chrome is an invisible solid that applies smoothly, and evenly, and doesn't leave any unsightly stains on your favorite shirt.
• Aluminum free
There are plenty of reasons why you should avoid aluminum based deodorants. Aside from being the cause of unsightly yellow pit stains on white t-shirts, aluminum has been linked to Alzheimer's: a debilitating disease that deteriorates the mind. Talk about a bad day.
• Alcohol free
Just because we are men doesn't mean we don't have sensitive arm pits. Alcohol based deodorants are known to dry out the skin, and even cause underarm irritation. Azzaro formulates their Chrome deodorant without the use of alcohol, making it a safe option for guys with sensitive skin.
What I don't like:
Due to the price, it might not be the best option for guys on a tight budget.
---
Brickell – Fresh Mint
There's really nothing complicated about the scent of this Brickell deodorant, and that's what I like about it. It's Fresh Mint scent is simple, refined, masculine, and pleasant. It makes for a perfect every-day deodorant, and does a great job of keeping pits smelling clean, without being overbearing or obnoxious. Aside from the great scent, this deodorant is formulated using natural and organic ingredients, and that's actually what Brickell is all about. They create men's grooming products using only safe, effective ingredients that can be found in nature. But wait, doesn't natural and organic basically mean less effective? Answer: hell no. Brickell combines the power of modern science with natural and organic ingredients to formulate products that are actually more effective than their synthetic counterparts. The result? A safe, highly effective deodorant for men, with a kick-ass fragrance to boot.
What else is great about Brickell Fresh Mint deodorant?
• Keeps you dry naturally
Brickell deodorant is made from safe, natural, and organic ingredients, so that means it doesn't contain any aluminum. Although aluminum is effective at preventing sweat and moisture from forming in your pits, it's not without it's negative side effects. That's why Brickell instead uses arrowroot powder as a safe, effective alternative. Arrowroot powder keeps pits dry thanks to it's natural absorbent properties and it's also highly effective at fighting off odor causing bacteria. It's a bonafide twofer.
• Long lasting stick
If you guys are anything like me, you prefer the best when it comes to your skincare needs, but aren't necessarily looking to factor grooming products into your monthly budget. While this Brickell deodorant does come at a premium price, it has the longevity to help offset it's high price tag. Brickell estimates that the stick will last 60 days with daily use, and based on personal experience and user reviews, I'd say that this is a modest estimate.
• It moisturizes
You might be wondering why the hell a stick of deodorant needs to be moisturizing, and I don't blame you. It's not often you encounter a deodorant that contains pit skin moisturizing ingredients like shea butter and coconut oil. But Brickell clearly knows something that most people don't, and formulated their deodorant stick to nourish, moisturize and naturally reduce irritation and inflammation in our oh-so-senstive armpit region.
• Won't stain clothes
Since Brickell formulated this natural and organic invisible solid deodorant stick without the use of aluminum, it doesn't leave any yellow or white stains on clothes.
What I don't like:
Due to the natural and organic ingredients, this stick doesn't quite glide as smoothly as other deodorants.
---
Giorgio Armani – Acqua Di Gio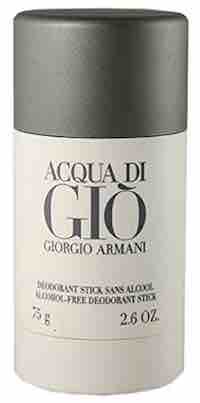 Based on the incredibly popular cologne by the same name, this Acqua Di Gio deodorant by Giorgio Armani offers pretty much everything you'd hope to find in a deodorant stick: awesome fragrance, and kick-ass performance. Inspired by the salty waves of the Mediterranean Sea, the masculine scent of Acqua Di Gio deodorant contains notes of fruit, citrus, herbs, and wood. As far as performance goes, this invisible solid applies smoothly and evenly, and keeps pits smelling clean, masculine and fresh all-day. Bottom line: if you're looking for the best smelling deodorant for men, you can't go wrong with Georgio Armani Acqua Di Gio. It's a proven crowd pleaser.
What else is great about Acqua Di Gio deodorant for men?
• It lasts
This is a premium stick of deodorant and it has a premium price to prove it. And with that premium price tag, it's only natural to have high expectations when it comes to the sticks longevity. Thankfully Acqua Di Gio doesn't disappoint. Users report an average lifespan of 3 months with daily use. Impressive.
• Alcohol free
Sensitive skin? No problem. ADG deodorant is formulated without the use of alcohol which can wreak havoc on sensitive skin.
• Women love it
While there are of course exceptions, generally speaking Acqua Di Gio scent has proven to be incredibly popular with women. ADG cologne is one of the best selling colognes of all time, and is an extremely popular gift given by women to men. It's popularity undoubtedly contributed to Giorgio Armani encapsulating the exact ADG fragrance that so many women love, and formulating it into an awesome smelling deodorant for men.
• No stains
Damn those deodorant sticks that leave stains on shirts, damn them all to hell. Thankfully ADG deodorant for men is a stain-free invisible solid, so no more unsightly white stains on dark shirts. And since the ingredient list doesn't contain any aluminum, say goodbye to those hideous yellow pit stains on light colored shirts. Time to start raising those arms with confidence.
What I don't like:
The scent is common. But the question is: do you consider that to be a good thing or a bad thing? I guess it depends on how you look at it. If you're seeking originality, ADG deodorant might not be the best option for you. On the other hand if you're simply looking for a great smelling deodorant that's a proven crowd pleaser – ADG is a safe bet.
---
18.21 Man Made – Sweet Tobacco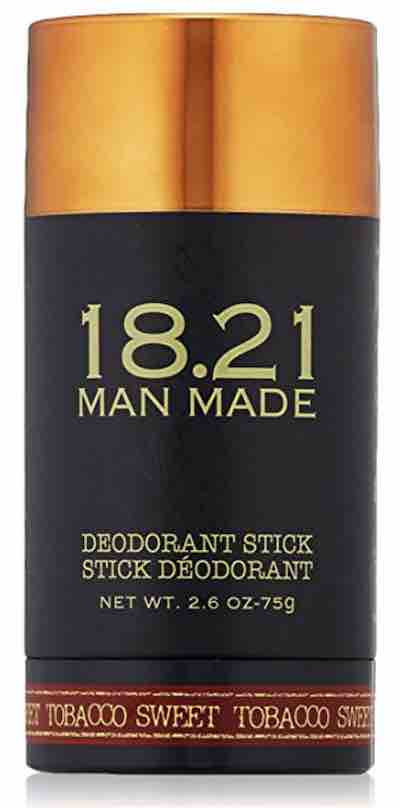 18.21 Man Made deodorant is quite possibly masculinity personified in deodorant form. Inspired by the spirit of prohibition era speakeasy lounges and sweet Virginia pipe tobacco, the scent of this deodorant is enough to elevate masculinity in any man. Sweet tobacco leaves are paired with notes of spicy saffron, dried fruit, manuka honey, dark vanilla, tonka bean, exotic woods, and powdery musk. It's a truly unique blend of bold, and rugged manliness that you aren't going to find amongst the sport scented deodorants at your local grocery store. Unique fragrance aside, 18.21 Man Made deodorant is formulated to absorb sweat and moisture and break down odor causing bacteria, all without the use of harmful chemicals and ingredients. Great scent and effective performance? It's a winner in my book.
What else is great about 18.21 Man Made deodorant?
• Absorbs sweat and moisture
While this deodorant won't prevent sweat like an antiperspirant, it does serve a similar function by absorbing sweat and moisture thanks to tapioca starch. This all-natural additive is a safe alternative to aluminum, and is known for it's highly absorbent properties. The result is dry, stink free pits, with a manly scent of Sweet Tobacco.
• Powerful odor protection
18.21 Man Made deodorant is more than just a great fragrance, it contains legit odor fighting ingredients to help combat even the funkiest of pits. What's inside:
Organic saccharomyces ferment filtrate – An effective odor neutralizer that's derived from vegetable fermentation. The resulting live enzymes destroy and decompose odor causing bacteria that is found in sweat. Powerful stuff.
Diatomaceous earth – A natural occurring mineral that is used for it's highly effective deodorizing properties. It's also PH neutral making it a safe option for guys with sensitive skin.
• Sensitive skin safe
"Sure, it has a great scent and it kicks the shit out of odor causing bacteria, but I have sensitive skin, so I probably can't use it (insert frown emoji)."
Buck up buddy, because you are in friggin luck. 18.21 Man Made specially formulated their deodorant to be free of harmful chemicals and ingredients including: aluminum, alcohol, and baking soda. This means it is in fact completely safe and effective for guys with sensitive skin. So turn that frown emoji upside down, and get your damn facts straight bud.
What I don't like:
It's expensive. I'd like to see 18.21 Man Made make this deodorant more accessible by lowering the price a bit.
---
Dolce & Gabbana – Light Blue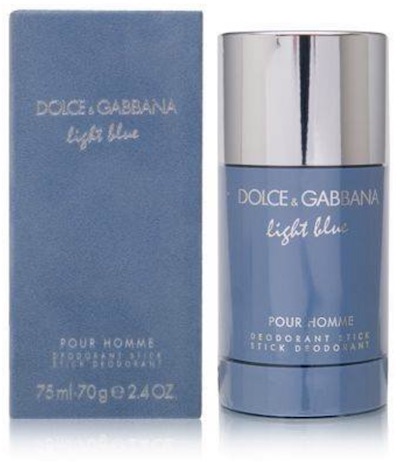 For guys who prefer the finer things in life, consider slathering some Dolce & Gabbana Light Blue in your arm pits. D&G is an Italian luxury brand that specializes in clothing, accessories, and fragrances. Based on their popular cologne for men, this Light Blue deodorant stick captures all the subtle fragrance notes that make the cologne so great. Featuring a complex amalgam of scents, including: bergamot, mandarin, grapefruit peel, juniper, rosemary, Sichuan pepper, rosewood, musk wood, incense, and oak moss – this deodorant is perfectly suited for refined gentlemen who desire nothing but the best for their pits. Awesome fragrance aside, this deodorant also does a great job of serving it's primary function as a deodorizer. While it does lose points for containing alcohol, the solid gel stick handles arm pit odor and funk with ease, and leaves pits smelling great all day.
What else is great about Dolce & Gabbana Light Blue deodorant?
• Lasting scent
Nobody wants a deodorant that gives up after a few hours, especially one that smells as good as D&G Light Blue. One of the things that really stands out to me about this deodorant is it's staying power and effectiveness. Not only does the scent last all-day, but it keeps arm pit odor and funk completely in check, allowing the full glory of Light Blue to shine through. Seriously though, this stuff smells really good.
• Invisible solid
Invisible means this deodorant doesn't leave any unsightly white stains in the pit of your favorite shirt. My advice is to not over due it though. Just two or three quick swipes is all that's needed for this effective deodorant to do it's job.
• Long lasting stick
One of the things I don't like about this D&G Light Blue deodorant is the price. It's high. While that kind of sucks, I will admit that a stick of this stuff has some pretty decent longevity. I find that it lasts close to 3 months with daily use. While mileage will vary based on frequency and quantity of use, I do want to point out that you don't need a lot of this deodorant for it to effectively do it's job. I suggest 2 swipes per underarm for optimum efficiency and minimal product waste.
What I don't like:
It contains alcohol which can be irritating for guys with sensitive skin. It's also pricey.
---
Baxter of California – Citrus & Herbal Musk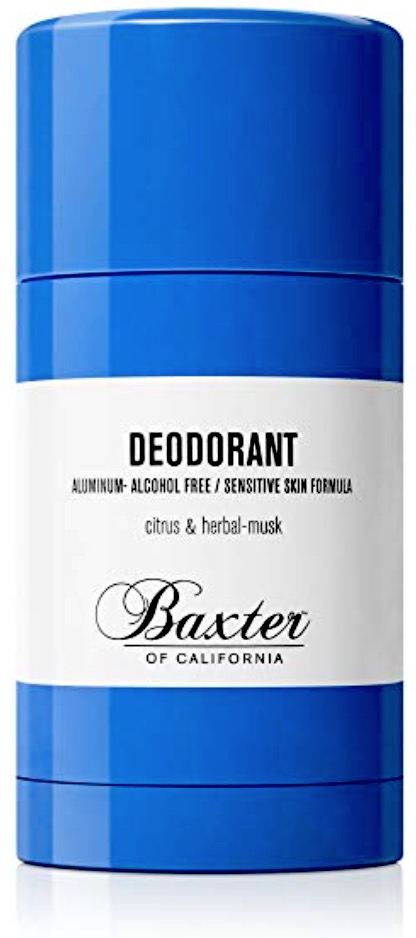 When it comes to my grooming and skincare needs, I prefer to settle on nothing but the best. Which is why Baxter of California products have become a staple in my bathroom. Whether it's their shampoo, body wash, face wash, bar soap, or moisturizer, Baxter of California offers nothing but high quality, premium products for discerning gentleman such as ourselves. But gentlemen or not, we are first and foremost men, and because we are men, we have a tendency to stink – especially in our pits. It's because of this that Baxter of California formulated their awesome smelling Citrus and Herbal Musk deodorant for men. The scent can be described as fresh, woodsy, earthy, citrusy, and downright masculine as hell.
What else is great about Baxter of California deodorant for men?
• Award winning
How many deodorants can boast that they have won an award? Well none I guess since they are inanimate objects. But if this Baxter of California deodorant could boast, it would tell you that it's a GQ Grooming Award Winner for Best Deodorant. It must be doing something right.
• Deodorizes naturally
Baxter of California deodorant for men doesn't simply rely on an awesome smelling fragrance to mask odors. It's formulated with natural ingredients that pound odor and funk into oblivion, while keeping pits smelling fresh all day. What's inside:
Witch hazel – A plant with powerful medicinal properties that reduces inflammation, and helps disinfect skin; effectively eliminating odor causing bacteria.
Tea tree oil – Contains anti-inflammatory and antimicrobial properties that disinfect and eliminate odor causing bacteria.
Chamomile – A natural anti-inflammatory, anti-fungal, antibacterial, and antiseptic that can help reduce and eliminate odor causing bacteria from forming.
• Soothing and moisturizing
Just because your armpit skin spends most of it's days out of sight and out of mind, doesn't mean you should neglect it. Baxter of California understands that maintaining armpit skin's moisture and hydration levels will help reduce irritation and inflammation in this notoriously sensitive region of the body. That's why they absolutely pack their deodorant with natural soothing and hydrating ingredients, including:
Glycerin – An emollient that draws moisture into the skin and keeps it there by forming a protective outer layer on the skin.
Allantoin – Extracted from the root of the comfrey plant, allantoin is used to sooth, soften, and protect the skin.
Yarrow – Contains antimicrobial and pain relieving traits, and is used for soothing skin that is prone to irritation and inflammation. It also has skin nourishing properties.
Pomegranate extract – Helps reduce skin irritation and inflammation. It also helps hydrate and moisturize dry skin.
Acai – Packed with vitamins A,B,C, and E, these berries are a natural antioxidant and anti-inflammatory that helps soothe and protect irritated skin.
Sea buckthorn – A small berry found in Europe and Asia that is used to help hydrate and nourish the skin.
• Safe for sensitive skin
If you've ever used a deodorant that caused burning, irritation, redness, and inflammation, then you know how uncomfortable it can be. One of the biggest reasons men suffer from adverse skin reactions from deodorant is due to the ingredients that are used to make it. One of the things that's great about Baxter of California deodorant for men is the fact that they formulate it without the use of harmful chemicals and ingredients. It's safe and effective for guys with even the most sensitive skin types.
What I don't like:
Nothing. Solid overall. The price is quite a bit higher than typical grocery store bought deodorants, but it's not unreasonably high. It's a solid buy in my opinion. Bottom line: you get what you pay for.
---
Lacoste – L'Homme
Having a hard time parting ways with your trusty sport scented deodorant? Consider making the transition a bit easier with L'Homme deodorant from the sport inspired brand Lacoste. Founded in 1933 by French tennis player René Lacoste, Lacoste produces a long line of clothing, footwear, sportswear, watches, and more. Based on their cologne for men, L'Homme deodorant offers a bold fragrance that can be described as woody and spicy, and features notes of mandarin, rhubarb accord, black pepper, ginger, cedar wood, amber, and vanilla. The scent is elegant while still managing to elicit thoughts of rugged masculinity. In regards to performance, L'Homme deodorant pulls through with flying colors. Although it does contain alcohol, which I don't like, this gel deodorant stick applies smoothly and evenly, and provides solid all-day odor protection. It's definitely worth checking out.
What else is great about Lacoste L'Homme deodorant?
• Long lasting odor protection
L'Homme gives armpits a great smelling woody and spicy fragrance, but that great scent would be all for naught if it failed at stopping armpit stink from taking over. Thankfully L'Homme excels at providing effective all-day odor protection for even the most notorious of funk offenders.
• Long lasting stick
Premium scented deodorants like L'Homme aren't cheap, so I know how important it is to pay attention to the sticks longevity. With L'Homme you can expect a roughly 3 month lifespan with daily use. That figure is an estimate based on personal experience with the product and testimonials from fellow users. My one suggestion: don't overdue it with the application. L'Homme provides effective odor protection with 2-3 swipes to each underarm. Any more is unnecessary and essentially wasting the product.
• Stain free
Say bye to yellow stains, white stains, or any deodorant stains. L'Homme is an aluminum free, invisible solid stick of deodorant, so it won't leave any unsightly discoloration in the pits of your shirts.
• Looks cool
While this has absolutely nothing to do with the scent or effectiveness of this stick of deodorant, I think that it looks awesome on display. The black and chrome create a sharp contrast that really adds a look of premium quality to the stick. I'd go as far as saying that it looks about as cool as it smells.
What I don't like:
It contains alcohol which might be irritating for men with sensitive skin.
---
How to Use Deodorant – 7 Tips
Come on now, applying deodorant is basic common sense. You jam the stick in your pits, give them a few quick wipes, and you smell good for the rest of the day. What more is there to know?
While I mostly agree with the above sentiment, there is a little more to know about applying deodorant that might help you get the most out of your stick. Below are 7 tips and "tricks" that you can use to improve the efficacy of your deodorant.
Apply to wet or damp skin
Little known fact: applying deodorant to wet or damp skin improves it's longevity and effectiveness. So next time you hop out of the shower, give your underarms a few quick wipes of your favorite smelling deodorant before you completely dry off. You should notice a nice little performance improvement. Note: this trick only applies to deodorant and not antiperspirant.
Don't cake it on
I get it, you have an awesome smelling deodorant and you wanna make sure the scent stays with you all day, so you cake it on like it's your birthday party. While I understand where your head is at, I'm here to tell you that it doesn't exactly work that way.
Applying more than just a couple of swipes to your underarms won't prolong the scent of the deodorant, and it doesn't do a better job of keeping odor causing bacteria at bay. What it does do is waste product, take longer to dry, and can even stain clothes.
The key is to maximize the effects of the deodorant without hitting the point of diminishing returns. I find that 2-3 swipes per underarm is the sweet spot.
Get skin deep
The key is to apply deodorant to the source of odor causing bacteria, and that's the skin. The problem is men tend to have a rug of hair in their underarms that acts as a barrier and prevents deodorant from getting to where it really needs to go. To help maintain all day freshness, it's important to make sure that your deodorant is making it's way through the hairy forest, and actually being applied directly to the skin in your underarms.
Trim it up
While it's normal for women to trim and shave their underarms, it's less common for men. Aside from keeping your pits looking neat and tidy, trimming your underarms offers a few hygiene benefits that might make it worth your while.
Hair is known for trapping and holding onto odors, and this is especially true for arm pit hair. Trimming your underarms can help reduce armpit odor by simply giving it fewer places to hide.
Having less hair in your pits means that it's easier for deodorant to make it to the true source of sweat and odor; your skin.
Change it up
Did you know that our bodies can adapt to the ingredients in deodorant over time and render it less effective? In order to keep your deodorant working at optimum efficacy, I recommend switching up your brand once or twice a year.
Warning signs
Don't ignore warning signs that indicate a negative skin reaction. Deodorant that burns, stings, causes redness, irritation or swelling isn't normal. Even if the deodorant says it's safe for sensitive skin, it's important to note that everybody's skin is different. Just because it works well for others, doesn't mean it'll work well for you.
Not just for pits
Did you know you can apply deodorant to more than just your armpits? It can be used anywhere you struggle with odor causing bacteria. This includes your balls, ass crack, and even your feet.
---
Thanks for checking out my list of best smelling deodorants for men. If you found this article helpful, also check out my list of best smelling body washes for men. As always, if you have any questions or comments, simply drop me a line in the comment section below.