Trouserdog.com is a participant in the Amazon Services LLC Associates Program, an affiliate advertising program designed to provide a means for sites to earn advertising fees by advertising and linking to Amazon.com.

Article updated: January 2, 2023
  
One of the biggest complaints about aluminum free deodorant is that it never seems to work.
After all, what good is a deodorant that doesn't prevent odor?
Thankfully not all aluminum free deodorants are completely useless; there are actually some pretty decent options out there, and I'll show you.
Below is a list of my top 10 favorite men's deodorants without aluminum that actually work. Enjoy.
The List:
10 Best Men's Deodorants Without Aluminum Reviewed
---
Art of Sport aluminum free deodorant (2.7 oz)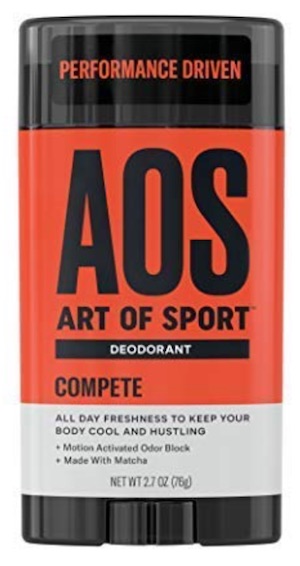 If you're serious about telling body odor and aluminum to take a hike, look no further than this AOS aluminum free deodorant for men. Specifically formulated for athletes, AOS isn't messing around when it comes to quality and performance. Backed by some of the biggest names in sports, Art of Sport is quickly becoming one of the most popular choices for male athletes (and couch potatoes) when it comes to hygiene and grooming care.
What I like about Art of Sport deodorant:
• Smells awesome
AOS deodorant is offered in 3 awesome scents: Compete, Rise, and Victory. While Compete is my scent of choice (pictured) all 3 options smell great and are perfectly suited for male athletes and couch potatoes alike.
• Keeps you dry
Not what you'd expect from a stick of deodorant without aluminum, but this Art of Sport deodorant does an awesome job keeping me dry all day – even during physical activities. I like to think it's the arrowroot powder taking care of business and absorbing moisture, but whatever the hell it is — my pits stay dry.
• No stains
I've had my fair share of shirts ruined from deodorant stains, so I can appreciate the fact that Art of Sport formulated their invisible solid deodorant stick to do no such thing. It goes on clear, dries fast, and does its job without the mess or the stains.
• It lasts all day
I'd expect a premium deodorant like Art of Sport to last all day, and it doesn't disappoint. After your morning shower apply a thin layer to your underarms and expect to stay fresh all day and all night.
• Matcha and arrowroot
Not two ingredients you typically find in your average stick of deodorant, AOS includes matcha and arrowroot powder to add a refreshing feeling to your underarms and to help absorb sweat and moisture.
---
MenScience Androceuticals (2.6 oz)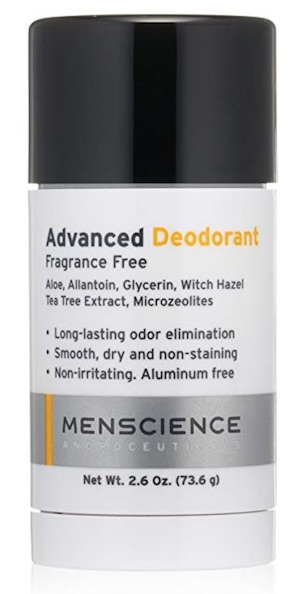 MenScience Androceuticals produces men's grooming and skincare products that are scientifically formulated to do their job and to do it really well. While I'm certainly no scientist and can't vouch for the science behind their products, I will say that their Advanced Deodorant actually does do what it's claimed to do, and that is to keep your underarms free of odor without the use of aluminum.
What I like about MenScience Androceuticals:
• Fragrance free and it still works
Let's face it, most deodorants use heavy scents and fragrances to mask the smell of body odor – they don't actually prevent it. That's not the case with this Advanced Deodorant. Clearly MenScience was so confident in their deodorant's ability to prevent odor, they decided that any scent or fragrance would be completely superfluous – and they were right.
• Safe for sensitive skin
We may be men, but the fact is our underarms are just as sensitive as any woman's. Heat, moisture, and friction have a tendency to cause irritation and discomfort in our armpits – especially if the deodorant we're using doesn't agree with our skin. The good news is that MenScience Androceuticals combats this issue by designing their aluminum free deodorant to be safe for sensitive and easily irritated skin.
---
Oars + Alps aluminum free deodorant (2.6 oz)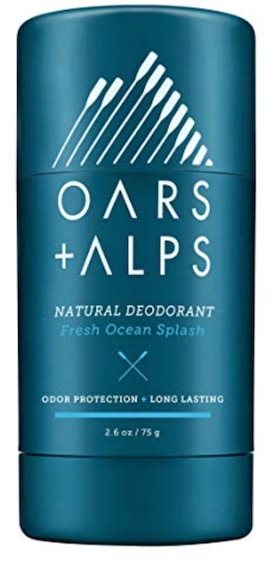 Oars and Alps is a premium skincare brand that specializes in all-natural men's grooming products that actually work. Their aluminum free deodorant is designed to eliminate odor causing bacteria without the use of harmful chemicals and ingredients. In fact the company has a list of over 1,000 ingredients that they refuse to use in their products due to safety and health concerns. While safe, all-natural ingredients are great, the big question is: does the deodorant actually work? The answer is yes! If you're looking for an effective aluminum free deodorant for men, I recommend giving Oars and Alps a try.
What I like about Oars + Alps deodorant:
• Smells awesome
Even though most people will never catch a whiff of your deodorant, this stuff smells pretty damn good. I'd describe it as a fresh, masculine scent that isn't overly strong or overbearing. Meaning it won't clash with cologne or body spray.
• All-natural
You don't have to be a tree hugger to appreciate all-natural ingredients – I'm certainly not. But when it comes to my body, I prefer to steer clear of mystery chemicals and ingredients and stick to the safe, all-natural stuff.
• Safe for sensitive skin
Formulated with safe, all-natural ingredients, this Oars + Alps deodorant is a great option for guys with sensitive skin.
• It lasts all day
Have you ever kept an extra stick of deodorant in your car in case you needed to re-apply throughout the day? I have. Thankfully this isn't necessary with Oars + Alps. The all-natural formula manages to last all day, even without the use of synthetic chemicals and ingredients.
---
Duke Cannon Charcoal Deodorant (2.75 oz)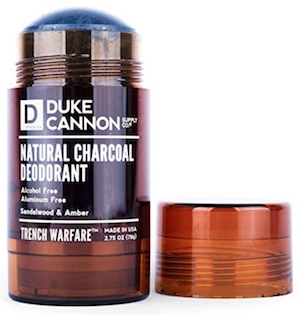 Real men suffer from real body odor. That's just the way it is. That's why Duke Cannon formulates their products specifically for tough, hardworking men who aren't strangers to breaking a sweat. Part of Duke Cannon's Trench Warfare line of products is this Natural Charcoal Deodorant for men. This long-lasting aluminum free deodorant is designed to handle the rigors of being a man with the help of odor eliminating activated charcoal. It leaves pits smelling fresh, masculine, and most importantly stink free.
What I like about Duke Cannon Natural Charcoal Deodorant:
• Smells awesome
Fresh, tough, musky, and downright masculine as hell. That's the best I can do to describe the smell of this Duke Cannon deodorant. Scented with a unique blend of sandalwood and amber, this deodorant excels at keeping odor at bay, while delivering a blast of rugged scented masculinity to your underarms.
• Activated charcoal
My favorite thing about this Duke Cannon deodorant is that it contains natural activated charcoal. If you're unfamiliar with the odor control capabilities of activated charcoal, it's time to get educated. Activated charcoal is extremely porous in nature and is used in a wide variety of applications for its ability to absorb and eliminate odor, not just mask it. Charcoal containing products such as bar soap, body wash, toothpaste, face wash, underwear, and deodorant are becoming increasingly common due to the odor controlling capabilities of activated charcoal.
• Lasts all day
Duke Cannon says it better than I can:
"This deodorant is designed to keep underarms odor-free during 12 hour workdays, not 30 minute webinars."
While it will most certainly last through a 30 minute webinar as well, it's specifically formulated to handle the rigors of a physically demanding 12 hour day. This means that no matter what funk your pits are willing to dish out, count on Duke Cannon Charcoal deodorant to be there to deliver a serious odor obliterating ass kicking.
• Doesn't stain
I know what you're thinking. Won't the activated charcoal stain light colored clothing? And the answer is: no. To be honest I was actually thinking the same thing. Thankfully this charcoal deodorant doesn't leave any stains – black or yellow – on clothing. I guess Duke Cannon knows what they're doing.
---
O'DEO aluminum free deodorant spray (4 oz)

Not every great deodorant without aluminum has to come in solid form. This natural and organic spray deodorant from O'DEO uses the power of natural minerals to eliminate body odor instead of just masking it. Formulated with silver, copper, and zinc, this unscented aluminum free deodorant is powerful enough to last all day, while still being safe and gentle on sensitive skin.
What I like about O'DEO spray deodorant:
• It lasts
While this certainly isn't the cheapest deodorant on the list, it does probably last the longest. One 4 ounce can lasts approximately 4 months with daily use. Kind of impressive.
• Unscented
While some of you guys might not be a fan of unscented deodorant, I personally like having the option in my arsenal. With no trace of fragrance in this deodorant, O'DEO doesn't mask the scent of body odor, but eliminates it with bacteria fighting minerals.
• Fights bacteria
Did you know that sweat is virtually odorless? That's right. Even though sweat is often accompanied by body odor, it's not the sweat itself that's the source of the problem; it's bacteria. Odor causing bacteria thrives in warm, moist locations (particularly arm pits), and can cause some pretty foul smelling body odor if left unchecked. O'DEO formulates their aluminum free spray deodorant with 3 proven bacteria fighting minerals: silver, zinc, and copper. The idea isn't to mask the scent of body odor, but to eliminate it before it gets the chance to start.
---
MARLOWE No. 024 aluminum free deodorant (2.5 oz)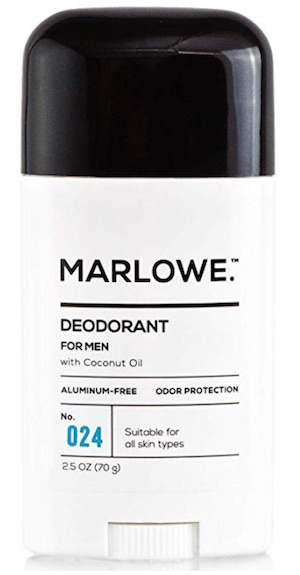 If you're a simple guy who likes simple things, I suggest checking out this all-natural aluminum free deodorant from Marlowe. Since becoming quite familiar with Marlowe I can attest to the quality and efficacy of their products. Formulated with ingredients like jojoba oil, shea butter, and arrowroot, Marlowe prioritizes natural, effective ingredients that our skin needs, and skips the harmful shit our skin doesn't.
What I like about Marlowe 024:
• Masculine scent
It wouldn't be much of a deodorant if it didn't have a masculine scent. Good thing Marlowe understands the needs of men and gave this natural deodorant a fresh woodsy scent with hints of pine and agarwood. It's fresh without being too strong or overbearing. Just the way the ladies like it.
• Coconut oil
Sure it's a great moisturizer, but did you know that coconut oil is also a natural antibacterial? That's right. Not only will it keep your pits soft and smooth, it will also help keep them from smelling like a goat. Win-win.
• Jojoba oil
This oil acts a natural anti-inflammatory that reduces redness, swelling, chaffing, and discomfort. Since our arm pits are subjected to a lot of moisture (sweat) and skin on skin rubbing throughout the day, it's not hard to see why Marlowe included jojoba oil in this all-natural deodorant.
---
Tom's of Maine aluminum free deodorant (2.25 oz)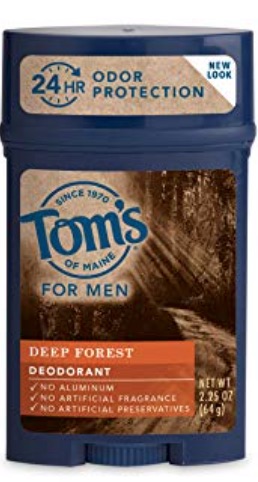 Tom's of Maine has seemingly been around forever and have built themselves a solid reputation when it comes to all-natural grooming products. Consisting of only naturally derived ingredients, this Tom's of Maine deodorant is aluminum free, sulfate free, and paraben free. It also has an awesome scent that is 100% natural.
What I like about Tom's of Maine deodorant:
• It's made with hops
While everyone knows that hops are commonly used to make beer, what most people don't know is that hops inhibit the growth of odor causing bacteria. Sounds like the perfect ingredient for an all-natural deodorant.
• It's affordable
Let's face it, natural grooming products typically cost more. That's just the way it is. One of the things I really like about Tom's of Maine aluminum free deodorant is the price. Costing just slightly more than your average stick of deodorant, it's a very affordable option for guys looking for an aluminum free deodorant that actually works.
• It smells great
I wasn't expecting much when I learned that Tom's of Maine uses 100% natural fragrances in this deodorant, but I was pleasantly surprised. Offered in three distinctly masculine scents: North Woods, Deep Forest, and Mountain Spring.
---
Nextrino aluminum free deodorant (2.5 oz)
This aluminum free deodorant from Nextrino kind of flies under the radar but this stuff actually works. I'll admit the label is a bit lackluster, but it's what's on the inside that counts right? Formulated with all-natural and 100% vegan ingredients, this deodorant stick works hard to keep you smelling fresh all day without the use of any harmful chemicals or ingredients. While the Blood Orange is my scent of choice (pictured), it's also offered in Douglas Fir, Lavender, and even an unscented version.
What I like about Nextrino deodorant:
• Sensitive skin safe
Arm pits can be a sensitive place for a guy, and many deodorants have the tendency to make matters worse. One of the things I really like about this deodorant from Nextrino is that it's made with 100% natural ingredients that are safe and gentle on even the most sensitive arm pits.
• It actually does last all day
Most aluminum free deodorants give up after only a few hours, that's what makes finding a good aluminum free deodorant so difficult; most of them kind of suck. Thankfully Nextrino isn't one of them. Their effective deodorant applies smoothly and evenly but most importantly it keeps you smelling fresh and stink free all day.
• Coconut oil
Nextrino uses 100% natural and organic coconut oil as the base of their deodorant. As you've probably heard, coconut oil is a very effective moisturizer which is great for keeping your pits soft and supple. But who cares about soft, supple arm pits right? Aside from its moisturizing benefits, coconut oil is a natural antibacterial that fights odor causing bacteria. So not only will it give you lick-able soft pits (I don't judge), they'll also be stink free.
---
Olivina aluminum free deodorant (3 oz)
Olivina is a men's skincare brand that specializes in natural and organic grooming products that smell great, are safe for sensitive skin, and are affordable. Based out Tennessee, Olivina formulates their aluminum free deodorant with all-natural ingredients that actually do what their supposed to. Offered in 2 awesome fragrances: Bourbon Cedar and Juniper Tonic, this aluminum free deodorant is a solid choice for any guy that wants to smell like a gentleman.
What I like about Olivina deodorant:
• Safe for sensitive skin
Even the manliest of men can have sensitive skin — especially in the armpit area. One of the things I really like about this Olivina deodorant is that it's all-natural, organic, and safe for all skin types.
• Affordable
Natural and organic grooming products aren't known to be cheap, but Olivina gets points for pricing their aluminum free deodorant very reasonably. Although it does cost slightly more than your average stick of deodorant, just remember that it's natural, organic, aluminum free, and actually works.
• Manly scents
I'm not the type of guy who gets too hung up on the way deodorant smells (unless it really smells like shit), but one of my favorite things about Olivina's deodorant is the two awesome fragrances:
Bourbon Cedar – Definitely my favorite of the two scents. Bourbon Cedar smells, as you've probably guessed, like bourbon and cedar. It's fresh, masculine, timeless, and rugged. Everything a man needs.
Juniper Tonic – A ruggedly masculine fragrance that reminds me of a Christmas tree and citrus fruit. It's fresh, manly, and I suspect the ladies will love it.
---
Sam's Natural aluminum free deodorant (3 oz)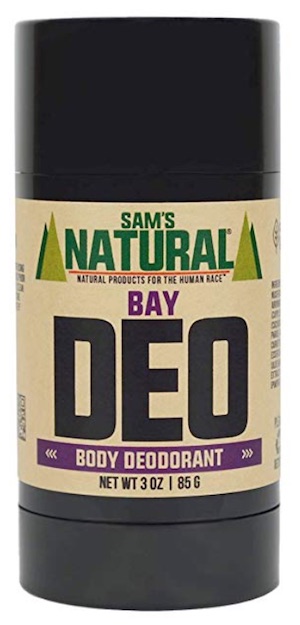 Based out of New Hampshire, Sam's produces all-natural grooming products that are designed to be effective without the use of synthetic chemicals or ingredients. Their aluminum free deodorant is quickly growing in popularity not only because it's effectiveness, but also the sheer volume of scents that are available (17!).
What I like about Sam's deodorant:
• Arrowroot powder
Sam's deodorant contains natural arrowroot powder that absorbs sweat and moisture, helping to keep your pits dryer, longer. Arrowroot powder is a starch that is obtained from tropical plants, and is gaining popularity as a natural solution to excessive sweating (focal hyperhidrosis).
• Coconut oil
It seems like coconut oil is in everything these days, and for good reason. Aside from its awesome skin moisturizing benefits, coconut oil fights odor causing bacteria, making it the perfect addition to this all-natural deodorant.
• Baking soda
Baking soda is commonly used in many natural deodorants, and that's because it works. A natural deodorizer, baking soda keeps armpits smelling fresh by attacking odor causing bacteria. The combination of coconut oil and baking soda in this deodorant prove to be an effective first defense against armpit stink.
• 17 scents to choose from
I don't care how many scents there are if the deodorant doesn't work. Thankfully Sam's actually does work, and us guys can rejoice at the fact that there are 17 awesome scents to choose from. While I won't list all 17 here, I do recommend trying out Sport and Bay.
---
Why You Should Avoid Aluminum
Alzheimers
While scientists are still on the fence as to whether aluminum plays a role in the development of Alzheimers, there have been some convincing studies that would seem to indicate it does.
First off, what is Alzheimers?
To put it bluntly, Alzheimers is a disease that messes with your mind. The most common symptoms include memory loss, confusion, and delusion. While it's rarely seen in adults under 60 years old, the disease is steadily increasing year after year in senior citizens.
Since Alzheimers attacks brain cells, causing them to malfunction and ultimately die, it's a crushing disease to go through and experience.
Pit stains
If the possibility of losing your damn mind isn't enough to convince you to switch to aluminum free deodorant (it should be), maybe yellow pit stains will be enough to sway you.
One of the most common side effects of aluminum containing deodorant is yellow armpit stains on light colored shirts.
While most people tend to blame sweat alone for yellow stains, it's actually caused by chemical reaction between the salt in our sweat and the aluminum in our deodorant. The resulting stain is not only unsightly, but damn near impossible to wash out.
---
Deodorant vs. Antiperspirant
What is the difference between deodorant and antiperspirant?
Which one is better?
Which one is right for you?
First off, what's the difference?
Simply put, deodorant protects against odor, while antiperspirant helps reduce sweat and odor.
Deodorant isn't intended to stop the natural bodily function of sweating; it's simply meant to help mask the scent of odor, and in some cases fight odor causing bacteria from forming.
Antiperspirant on the other reduces sweat and perspiration (anti-perspiration, duh) by blocking the skin's sweat ducts, thereby reducing the amount of sweat that makes it to the skin's surface. The average antiperspirant reduces sweat by roughly 20 percent.
Which one is better?
Well this is completely subjective, but I'm going to go ahead and give my personal opinion and say deodorant is better, and here's why:
• Antiperspirants contain aluminum
While aluminum is very effective at blocking the skin's sweat ducts and stopping sweat, it is not without it's potential risks. If you happened to read the above section about the health risks of aluminum, it's not hard to figure out why I would prefer to stay away from the stuff.
• Antiperspirants stop sweat
While this doesn't sound like a negative, you have to understand that sweating is a natural bodily function that is actually good for us. Here is a few benefits of sweating:
Sweating helps remove harmful toxins from the skin including alcohol and cholesterol.
Sweating reduces the risk of kidney stones by limiting the bodies accumulation of salt and calcium.
Sweating helps prevent the common cold by releasing antimicrobial peptides onto the skin, which are effective at breaking down bacteria and other viruses.
Which one is right for you?
Again, this is completely subjective. It really all comes down to what you're looking for.
If you want to avoid the health risks of aluminum then the choice is simple: deodorant is the one for you.
If you really like the sweat reducing benefits of antiperspirant and don't give a fuck about the potential health risks of aluminum, again the choice is simple.
If you're interested in reducing sweat, but don't want to risk exposing yourself to aluminum, I suggest one of the natural deodorants from the above list that contain arrowroot powder. Arrowroot powder helps absorb excess sweat and moisture, but doesn't clog the skin's sweat ducts. It's a great natural alternative to aluminum.
Arrowroot containing deodorants:
---
What Causes Body Odor?
While most people believe that sweat itself is the cause of body odor, this isn't exactly true. Believe it or not, sweat is actually odorless. The real source of body odor comes from the process of bacteria on our skin breaking down sweat into acids.
This process occurs most frequently in the following places:
Feet
Genitals
Behind the ears
Anus
Pubic hair
Armpits
While sweating is a natural bodily function, there are steps you can take to help reduce the smell of body odor.
Tips to reduce the scent of body odor
Diet
The foods you eat can have a significant impact on the fragrance of your body odor. Certain foods are notorious for causing foul smelling body odor, these include:
Alcohol
Red meat
Fish
Broccoli
Brussel sprouts
Cauliflower
Asparagus
Cumin
Curry
Shave
Body hair slows down the evaporation of sweat, which gives bacteria more time to break it down into acid. While armpit shaving is something us guys typically associate with women, it's actually an effective way of reducing odor and staying fresh longer throughout the day.
Deodorant
Wear deodorant obviously! A good deodorant is a very effective first defense against odor causing bacteria. Just make sure you are applying deodorant to clean skin. This will help your deodorant perform with optimum efficacy.
---
Thanks for checking out my list of best men's deodorants without aluminum. If you found this article helpful, check out my list of best smelling deodorants for men. As always, if you have any questions, comments, suggestions, or personal experience with any of these products, feel free to leave it in the comment section below.