Trouserdog.com is a participant in the Amazon Services LLC Associates Program, an affiliate advertising program designed to provide a means for sites to earn advertising fees by advertising and linking to Amazon.com.

Article updated: April 26, 2023
  
Sometimes having balls really stinks. Literally.
Unless you're a full time nudist, chances are your balls spend most of the day mashed together in the crotch of your pants like 2 fat chicks in a Smart car.
With so little room to breathe, it only becomes a matter of time before sweat, perspiration, chaffing, and discomfort set it.
Luckily there's a simple solution.
If you're relatively new to the world of men's grooming products, particularly ball grooming products, chances are you're unfamiliar with a glorious little product known as lotion for men's balls.
That's right. Lotion designed specifically to keep men's balls dry, stink free, smooth, comfortable, and moisturized.
If you and your balls are rejoicing (I'm sure the three of you are), feel free to read on for my list of top 9 recommended ball lotions and creams for men. Enjoy.
The Lineup:
10 Best Lotions and Creams for Men's Balls Reviewed
---
---
Chassis Restoration Cream (2.5 oz)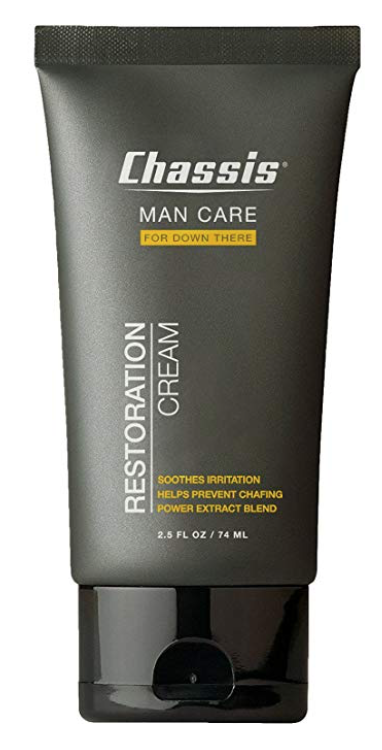 If your crotch is being a real son-of-a bitch, I highly recommend you check out this Chassis Restoration Cream for men. If you're unfamiliar with Chassis, they offer a line of premium grooming products that are specifically designed for men's balls and the surrounding region.
Their Restoration Cream is a do-it-all lotion that is meant to be applied to balls, cock, and even your ass crack if you feel so inclined. It's scientifically formulated to moisturize, reduce friction, prevent chaffing, and even eliminate odor, funk, and bacteria.
Bottom line: When it comes to the best lotion for men's balls, Chassis Restoration Cream is definitely worth checking out.
What I like about Chassis Restoration Cream:
• Makes balls feel brand new
While I highly recommend using Chassis Restoration Cream on a clean nutsack, sometimes it's necessary to break the rules. One of the things I really like about this lotion is how it makes balls feel fresh and clean — even when they're not. I recommend keeping a bottle of this stuff on hand during long work days or whenever it's hot and humid outside.
• Eliminates crotch friction
Whether it's your balls rubbing against your thighs, or your thighs rubbing against each other, Chassis Restoration Cream has got you covered. This easy to apply lotion leaves a silky smooth protective layer on the skin that effectively eliminates friction, rubbing, irritation, and discomfort. Simply apply it during your morning routine (ideally after showering) and enjoy a day without crotch irritation and regret. It's easily one of the best creams for ball chafing that I've come across.
• Moisturizes
Ball skin gets dry too, bruh! That's why Chassis formulates their Restoration Cream with a shit ton of moisturizing ingredients that help keep your sack feeling soft, smooth, and thoroughly hydrated. Here's a quick look at Restoration Cream's key ingredients: Glycerin, aloe vera extract, meadowfoam seed oil, oat kernel extract, pumpkin seed extract, hops extract, and illipe butter.
• A little goes a long way
One of the great things about this lotion is that you really don't need to use much to get the job done. It has a silky smooth texture and consistency, and a little bit of it covers a lot of ground. I suggest starting with a pea sized amount and use more if you need it. Chances are you won't.
• Chassis knows balls
If you're anything like me, you probably don't entrust the care of your balls to any old product out there. One of the things that I really like about Chassis is that they know their shit when it comes to ball hygiene and grooming. Their entire product line is dedicated to keeping men's balls smelling fresh and feeling good. If their Restoration Cream has piqued your interest, definitely recommend checking out their full line of ball grooming products here.
What I don't like:
The bottle is kind of small. But a little bit goes a long way so I can't complain too much.
---
Tame the Beast Nutt Butter Extreme (6 oz)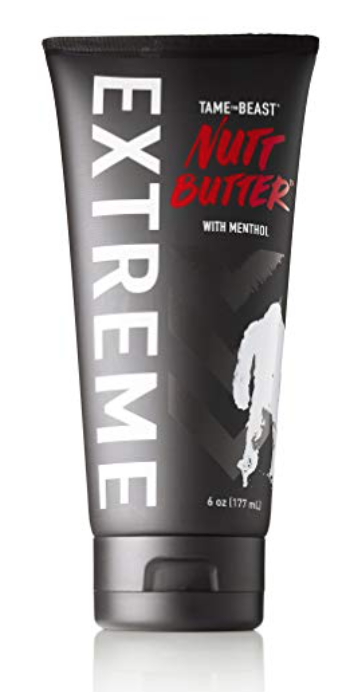 Tame your sweaty, funky, chaffing ball bag with Nutt Butter Extreme. Tame the Beast specializes in grooming products designed specifically for us guys, which makes sense considering their Nutt Butter Extreme lotion is meant to be applied to a nut sack. Formulated to moisturize and eliminate sweat, odor, chaffing, and discomfort, this ball lotion is the perfect compliment to your morning routine if you like smelling fresh throughout the day.
But what's so extreme about it? The tingle is extreme! Tame the Beast's original Nutt Butter formula offers a slight tingling sensation when applied, but they decided to take things a step further with this extreme version and my balls couldn't be happier about it. Tame the Beast rates the tingle at 59,000 Beast Tingle Units (BTU's), which is just their way of saying this shit really tingles!
With enough tingle to have your balls doing an Irish jig, it's only understandable that not every guy is man enough to handle it. If the Extreme version is too much for you to handle, don't worry, their Original Nutt Butter version is an excellent alternative.
What I like about Nutt Butter Extreme:
• Not just a ball lotion
Our balls stink, but so do our bodies. That's why Tame the Beast designed this not just to be a ball lotion, but a full body lotion as well. So funky balls, pits, chest, back, and yes, even your ass crack can reap the benefits of Nutt Butter Extreme.
• Moisturizing
Just because your ball sack spends the majority of it's day crammed in the crotch of your pants doesn't mean you should ignore it's moisturizing needs. Nutt Butter Extreme provides powerful skin nourishing benefits that keep your sack feeling smooth, soft, and hydrated with the help of these natural ingredients: glycerin, allantoin, jojoba, and shea butter.
• Menthol
The cooling effect of menthol feels like a blast of cold water where us guys need it most. If you live or work in a hot environment, the cooling sensation of this ball lotion is going to feel like heaven on earth…but inside your pants.
What I don't like:
Nothing. Fresh masculine scent, works awesome, refreshing tingle.
---
Manscaped – The Crop Preserver Ball Deodorant (4oz)
Moisturize and deodorize your ball sack like a boss with this one of a kind ball lotion from Manscaped. Formulated specifically for the funky male nether regions, Manscaped Crop Preserver is designed to keep the balls fresh, dry, soft, smooth and smelling fan-freakin-tastic. Made with skin beneficial ingredients such as aloe leaf juice and tapioca starch, Crop Preserver leaves the balls feeling velvety smooth and comfortable all day.
What I like about Manscaped Crop Preserver:
• Moisturizing
So, lotion for the balls that stops sweat and odor – but is it actually moisturizing? You bet your left nut it is! Even though Crop Preserver is designed to stop sweat and eliminate odor, it also contains ingredients that help soften and moisturize the skin as well. After applying Crop Preserver you will immediately notice a difference in the softness, smoothness, and comfort of your balls. It's a game changer for sure.
• Manly Scent
You would expect a balls lotion to smell masculine, right? After all it's designed specifically for men's balls so that would only make sense. Thankfully Manscaped Crop Preserver doesn't disappoint and features Manscaped "signature" masculine scent that smells bold, rugged, and 100% masculine.
• Fights Chafing
Balls and groin chafing is the worst! Thankfully Crop Preserver is designed to eliminate this uncomfortable condition that many men experience. Simply apply a thin layer of Crop Preserver wherever you are experiencing discomfort, and Crop Preserver will create a smooth, protective barrier that eliminates friction and skin-to-skin rubbing that leads to chafing.
What I don't like:
It's a little pricey, but the results are worth it.
---
Anthony No Sweat Body Defense (3 oz)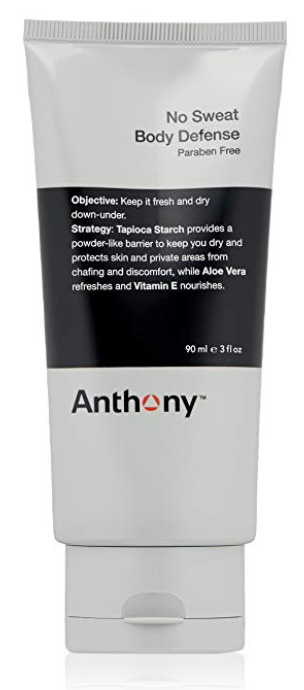 For a truly pampering experience, show your ball sack a little love with this No Sweat Body Defense lotion from Anthony. Designed to keep you feeling fresh, clean, dry, and moisturized, this lotion is a must have for men who struggle with sweat, moisture, and odor throughout the day. As with pretty much every Anthony men's product, this lotion is formulated with premium ingredients that you would be hard pressed to find in similar products. Here is a quick look at some of the ingredients:
Tapioca starch
Macadamia nut oil
Aloe vera
Olive oil extract
While Anthony products do typically cost a bit more more than average, I personally have had nothing but positive experiences with them and this No Sweat Body Defense lotion is no exception. My balls approve.
Check out Anthony wipes in my list of best men's wipes for sweaty balls and body.
What I like about Anthony No Sweat Body Defense:
• Moisturizing
If you suffer from dry, cracked, chafed balls: fret no more. No Sweat Body Defense is chalk full of moisturizing and hydrating ingredients that not only soothe and hydrate the skin, but also protect.
Moisturizing ingredients:
Macadamia nut oil – A highly moisturizing oil that regenerates and softens skin and even helps reduce water loss. It also contains anti-inflammatory properties.
Olive oil extract – A natural moisturizer that is also a antioxidant and antibacterial.
Aloe vera – Full of moisturizing benefits and also a antioxidant, anti-inflammatory, and antibacterial.
• Smells awesome
As with all Anthony products this lotion is specifically designed for men. That means it not only caters to the needs of men, but it also boasts a fresh masculine citrusy scent as well.
• Keeps you dry
No guy wants to go through the day feeling sweaty and uncomfortable. So if you regularly suffer from swamp crotch, swamp ass, and soggy underwear – No sweat Body defense is worth checking out. The fresh smelling cream applies like a lotion but dries to a light powdery finish, and prevents sweat, moisture, and odor from ruining your day.
What I don't like:
For the price, I would've liked the bottle to be bigger.
---
Fresh Balls (3.4 oz)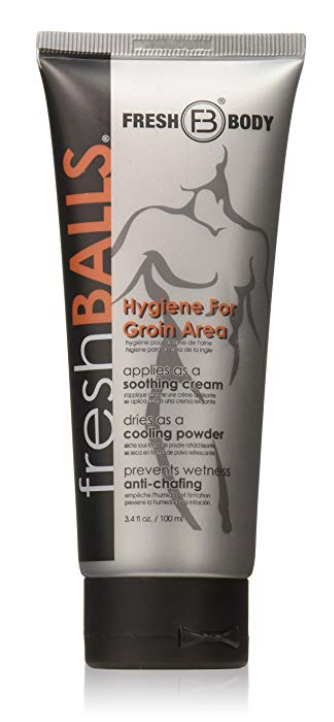 They certainly weren't pulling any punches when they named this lotion. If you haven't already guessed, Fresh Balls lotion is intended to keep balls feeling clean and smelling fresh. The unique formula comes out of the tube as a silky smooth cream, but somehow dries to a non-messy powdery finish. The result is fresh smelling, dry balls that won't chafe, rub, or become irritated throughout the day. It's pretty magical if you ask me.
What I like about Fresh Balls lotion:
• Works like a powder but without the mess
I personally love dousing my balls in a refreshing powder, but I get it – ball powder isn't for everyone. If you're one of those guys that wants the benefits of a powder but without the mess, I suggest slapping a handful of Fresh Balls on your nuts. The creamy lotion applies smoothly, evenly, mess free and quickly dries to a light powdery finish. Picture two powdered donut holes… but with a big penis (yeah right pal) dangling between them.
• Not just for balls
Yeah yeah the bottle says balls, but guess what? I find this stuff works pretty damn good in other areas of the body too.
Rubbing thighs? No problem.
Funky pits? Just a dab'll do ya.
Sweaty, swampy ass crack? Pack it in there bruh.
• It lasts
Not only do the effects of the lotion last for most of the day, the 3.4 ounce tube has a pretty impressive lifespan too. Since you really only need about a dime size amount per application, a tube of this stuff lasts longer than you think.
What I don't like:
Although the fresh scent is good, it's a bit gender neutral in my opinion. I'd expect a balls lotion to smell more unequivocally masculine.
---
---
ToppCock Silver (3.4 oz)
Top off your morning routine with Toppcock, and your penis and balls will be feeling fresh. This not-your-typical lotion is actually a leave-on gel that is designed to moisturize, soothe, deodorize, and keep you feeling fresh and dry all day.
Formulated with these natural ingredients, Toppcock Silver offers some pretty serious benefits for your ball bag, including:
Aloe vera – Works as an antioxidant, natural moisturizer, and contains healing vitamins A and C. Perfect for guys who suffer from dry, chafed balls.
Tea tree oil – Naturally kills bacteria that leads to funky ball odor, and also helps heal red, irritated skin.
What I like about Toppcock Silver:
• It moisturizes and still keeps you dry
With so many men's products designed to do nothing but eliminate sweat from our nether region, it's nice to see a product that actually has some ball moisturizing benefits to it. Toppcock Silver manages to simultaneously moisturize the skin, while still preventing sweat and moisture from developing a funky swamp in your crotch.
• It's healing
If you've ever had to deal with a chafed crotch area you know how unpleasant it can be. One of the things I like about Toppcock Silver is that it contains natural healing ingredients that soothe irritated skin, and help promote healing. If you're currently reading this and your balls feel like they're on fire, this might be the solution.
What I don't like:
For the price I would like to see them offer it in a larger size.
---
Comfy Boys (4 oz)
I spent years in the restaurant industry as a cook, and I'll be the first to tell you that spending 10+ hours in a scorching hot kitchen is murder on your balls. While baby powder did manage to provide some temporary relief from the chafing and discomfort, I would have given my left nut for something like Comfy Boys to help me get through those long, hot shifts.
Comfy Boys isn't just a lotion for your balls. It's a deodorant for your balls in lotion form. That means it not only prevents sweat and odor build up, but it also reduces chafing, irritation, and discomfort. Sounds like a ball sack's best friend.
What I like about Comfy Boys:
• It's easy to apply
While I do like body powder, I'll admit it can get a little messy when it comes to applying it. Comfy Boys on the other hand is quick and easy to apply, dries fast, and won't make a mess in your bathroom or your underwear.
• It lasts
While no product is going to keep you dry and odor free forever, Comfy Boys' longevity is pretty damn impressive. One application after your morning shower should last you most of the day. And if you do find the need to reapply throughout the day. go for it. Just don't whip your balls out in public to do it. There's laws against that type of shit.
• Doesn't clump
If you've ever had the unpleasant experience of using a cheap body powder that clumps in all the wrong places, you know how uncomfortable it can be. There's nothing worse than using a grooming product to alleviate a specific problem, only to have it create a whole new one. Thankfully Comfy Boys doesn't present that problem. This fast drying lotion applies smoothly and easily, and does it's job without any clumping, grittiness, or unpleasantness.
What I don't like:
Pricey
---
Super Fresh – Man Parts Deodorant Lotion (4 oz)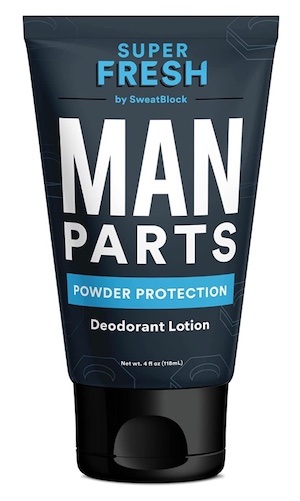 Did you ever wish you could punch ball odor and sweat in the face? Well unfortunately you can't. But what you can do is make it your little bitch by stopping it before it starts with Super Fresh Man Parts Deodorant Lotion. Super Fresh is a body powder lotion that is designed to absorb sweat and eliminate odor from all your stink zones but especially your ass crack, ball sack, and that mysterious space in between (whatever it's called). Just slather on a little Super Fresh after your morning shower and the fresh smelling lotion dries to a light powdery finish. The result is less moisture, less stink, and less irritation. Screw you ball sweat and odor!
What I like about Super Fresh:
• Powder feel, without the mess
Just like a good body powder, Super Fresh lotion reduces friction, fights odor, and absorbs moisture but doesn't leave your bathroom or clothes a powdery mess. Simply apply a small amount to the desired area (a little goes a long way) after your morning shower, and Super Fresh balls lotion keeps you dry, odor free and comfortable for hours.
• Fresh scent
Featuring a manly "Arctic Blue" scent, Fresh Balls not only keeps you dry down below, but also smelling great. I would describe the scent as a light, fresh, and clean scent but not overpowering. It doesn't clash with cologne or body spray and no one is likely to smell it unless they have their face in your crotch. Lucky you.
What I don't like:
Pricey
---
Batwings (8 oz)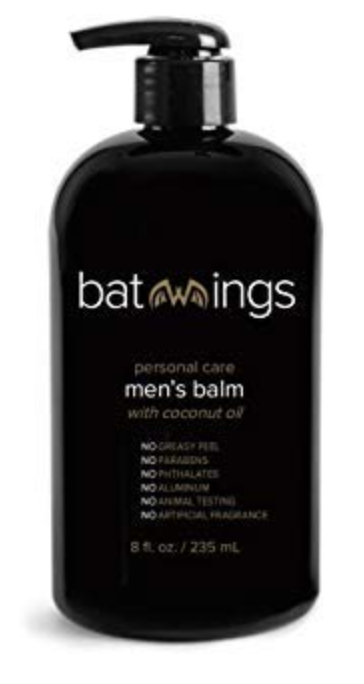 The name kind of says it all with this one. Batwings lotion for men's balls is designed to reduce chaffing, irritated skin, and of course prevent the dreaded bat wings associated with sweaty sticky balls. This lightly scented lotion is formulated with coconut oil that keeps your balls moisturized and smooth, and even helps reduce bacteria that leads to a funky smelling ball sack. Joy.
What I like about Batwings:
• Coconut oil
Coconut oil seems to be finding it's way into every grooming product these days, and for good reason. Not only is it extremely moisturizing, it's also a natural antibacterial that is capable of killing odor causing germs and bacteria. It's inclusion in Batwings makes this a great option for guys looking to keep their balls moisturized, comfortable, and stink free. And which guy isn't?
• Light scent
While some of you guys may prefer their grooming products to have a big, strong, overpowering scent, sometimes subtlety is best. The all-natural fragrance of Batwings lotion is light and fresh, and certainly won't clash with your cologne or body spray. The only one's who are going to smell it are you, and whoever is diving into your balls head first.
• Reduces chaffing and irritation
No guy wants to deal with irritation and discomfort; especially in the groin area. With our balls crammed together in the crotch of our pants all day, it's extremely common for guys to experience pain and discomfort that's a result of constant heat, friction, and rubbing. Batwings is specifically designed to eliminate this problem by moisturizing the ball sack and reducing friction.
What I don't like:
Nothing. Good deal for the price.
---
Dryyd Men's Anti-Chafing Deodorant Lotion (5oz)
If you're looking for the best lotion for balls, you might want to check out this do-it-all lotion from Dryyd. Formulated to eliminate sweat, odor, and chafing while it simultaneously moisturizes and hydrates the skin, Dryyd is a next level grooming product designed specifically for men like us.
What I like about Dryyd:
• Moisturizing
One of the things that stands out about Dryyd ball lotion is how moisturizing it is for the skin. While it does a great job of stopping sweat, it thankfully doesn't cause the balls to dry out and crack. That's because it's formulated with moisturizing ingredients such as hemp seed oil and aloe vera that penetrate deep into the skin of the ball sack and help it stay soft, smooth, and hydrated.
---
Why Do Balls Smell?
Hey buddy, your balls stink!
Every guy gets testicle odor. Whether they know it or not. Since most men can't reach their head to their nuts (boooo), lots of guys are completely oblivious to the fact that their balls carry an odor.
While there are many contributing factors to testicle odor, it's worth noting that the scent of your balls, and the strength of that scent, can vary from day to day.
So now you know that your nuts stink, let's take a look at a few of the reasons why.
Diet
What did you eat bruh!?
Believe it or not, diet has a major impact on body and ball odor. If you occasionally notice that your balls and body are unusually funky, there might be something in your diet that is the source of the problem. While most foods won't make you smell like a goat, here is a list of common foods that may be causing your balls to stink up the joint:
Asparagus
Fish
Cabbage
Broccoli
Cauliflower
Garlic
Curry
Brussel sprouts
Heat
Are you sweating your balls off?
Heat is probably the most common culprit when it comes to ball odor. Since clothes are legally required in public, most guys spend the majority of the day with their balls in an environment of heat, sweat, moisture, friction, and discomfort. The perfect environment for odor causing bacteria to thrive.
So what's a fella to do?
Since airing out your balls isn't always an option, you might want to consider clothing that allows for a little breathing room. Consider wearing boxers, and opt for looser fitting pants or shorts to allow for optimum air circulation.
But just remember, sweating is a natural bodily function that can't always be avoided. Sometimes you just gotta let your balls do their thing. In those situations, one of the above ball lotions, or a good ball powder might be just what you need to stay fresh down below.
---
Thanks for checking out my list of best lotions for men's balls. If you found this article helpful, I recommend checking out my list of best ball and body powders for men. As always, If you have any questions, comments, suggestions, or personal experience with any of the above products, leave a comment below.