Trouserdog.com is a participant in the Amazon Services LLC Associates Program, an affiliate advertising program designed to provide a means for sites to earn advertising fees by advertising and linking to Amazon.com.

Article updated: January 2, 2023
  
Did you ever wonder why feet smell and noses run?
It's one of the great mysteries of the English language.
Or at least it was a great mystery to me while I was half in the bag and my mind was gravitating towards philosophical trains of thought.
Now that I'm completely sober, I'm realizing I actually don't give a damn about the ironic idioms of the English language.
What I would actually like to know though is why do feet smell? What causes that unpleasant sour stink that's been known to clear out rooms of people and is capable of clinging to nose hairs for days on end. Seriously, I can still smell it.
As it turns out, the source of foot odor is sweat. Believe it or not, each one of our feet has over 250,000 sweat glands that are capable of producing over a pint of sweat per day. If that isn't gross enough, the bacteria that lives on our skin just so happens to have an affinity for the taste of sweat. So while they're chowing down on your buffet of foot sweat like it's Mother's Day at the Golden Corral, an organic compound is being created called isovaleric acid.
While you've probably never heard of isovaleric acid before, you sure as hell have smelled it. While some scholars eloquently describe the scent as being akin to rancid parmesan cheese, us layman know it simply as funky foot odor.
So, how do you stop foot odor and sweat?
The solution to stinky feet isn't exactly rocket science, and it all starts with tempering the torrent of sweat that's pouring out of your feet like a hose (seriously, what's up with that?).
One of the simplest and most effective foot odor cures is using a high quality foot or body powder that's designed to combat sweat, moisture, and odor. But with so many powders on the market to choose from, how do you decide which ones are the most effective?
Below is my hand selected list of most effective powders for feet. Each one is specifically formulated to eliminate sweat, moisture, and most importantly, odor. Enjoy
The Lineup
5 Best Powders for Sweaty, Smelly Feet Reviewed
---
FRoMoNDA AtoneMint


Your feet will atone! Or at least they'll start smelling a whole helluva lot better with Fromonda AtoneMint powder for men. AtoneMint powder is specifically designed to absorb excess sweat, deodorize, cool, soothe, and leave skin with a refreshingly fresh scent of peppermint and Tea tree oil. As you may have guessed by the name Fromonda, this powder isn't restricted to use on the feet. It's actually a full body powder that can be safely applied to feet, pits, balls, ass, or wherever you're in serious need of some cooling, drying, deodorizing relief.
What's great about Fromonda powder:
• Lightweight
Don't worry about grit or clumping with Fromonda. This lightweight powder is silky smooth and fine, and won't leave you're feet feeling like they are covered in a wet sandy mess.
• Cooling
Hot, sweaty feet? Blast a little bit of Fromonda AtoneMint powder on your dogs to experience a cooling, refreshing chill of menthol and peppermint oil. It also pretty feels damn good on hot, sweaty balls too. But that's a story for another day.
• It lasts
Foot powder that lasts all day? I'm down with that. A single application of Fromonda powder provides all day foot odor and sweat prevention. Which is great, because nobody wants to have to reapply powder multiple times throughout the day.
• All-natural
Fromonda doesn't mess around when it comes to their powder. AtoneMint is formulated with safe, all-natural ingredients that are highly effective and great for guys with sensitive skin. What's inside:
Cornstarch
Arrowroot powder
Kaolin clay
Baking soda
Tapioca starch
Spearmint oil
Peppermint oil
Eucalyptus oil
Tea tree oil
Menthol
• Smells awesome
AtoneMint features a refreshing scent of peppermint and tea tree that helps keep feet and shoes smelling great all day. If AtoneMint doesn't sound like your cup of tea, Fromonda powder is offered in a few other kick-ass scents including: Citrus IPA, Woody, and Cool Mint.
What I don't like:
It's a little pricey, but it does exactly what it's supposed to do and it lasts, so I can't complain too much.
---
Foot Sense Powder

Take care of foot odor and sweat the natural way with Foot Sense powder. Formulated using only safe, all-natural ingredients, Foot Sense powder kicks the shit out of smelly and sweaty feet by neutralizing and eliminating the problem at it's source. Zinc oxide is added for it's anti-fungal properties and ability to control odor causing bacteria, while arrowroot powder and baking soda absorb moisture, for long lasting wetness protection.
What's great about Foot Sense powder:
• A little goes a long way
I know it can be tempting, but you don't need to completely douse your smelly feet with this Foot Sense powder. You really only need a light coating for it to do it's magic. Which is great because a bottle of this stuff isn't exactly dirt cheap, I'm glad to see that a bottle of it lasts.
• All-natural
Just because your feet are gross, sweaty, and smelly (no offense) doesn't mean you should mistreat them by covering them in odor eliminating mystery chemicals and ingredients. Foot Sense powder manages to handle foot odor using only safe, all-natural ingredients, including:
Arrowroot powder
Zinc oxide powder
Baking soda
Silicon dioxide
Lemon powder
Cinnamon bark powder
Lavender
• Great for shoes
Don't stop at just your feet. Foot Sense powder is not only effective for skin use, it also eliminates odors from footwear as well. So whether it's your work shoes, gym sneakers, running shoes, cleats, skates…. or whatever, sprinkle a little bit of Foot Sense powder into the mix and let the magic begin.
What I don't like:
For the price, I'd like to see Foot Sense offer this in a larger size bottle.
---
Friendly Foot Powder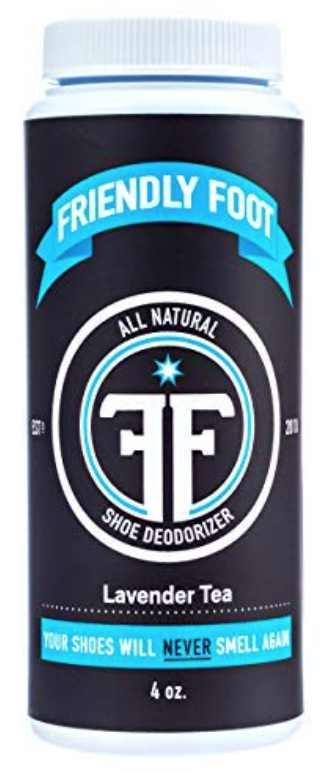 Foot odor and sweat isn't going to think you're very friendly when you send their ass packing with this Friendly Foot shoe deodorizing powder for smelly feet. Designed to be applied directly to footwear, Friendly Foot powder eliminates foot stink at it's source by killing odor causing bacteria and fungus and helps keep feet dry with effective all-natural ingredients, such as: lavender oil, tea tree, eucalyptus, peppermint oil, and hydrogen borate. The result is dry, stink free shoes and feet, and a clean minty fresh scent.
What's great about Friendly Foot powder:
• All-natural
You don't have to be a tree hugger to appreciate safe, all-natural ingredients. I'm not. But the fact is I don't like using synthetic chemicals and mystery ingredients on my body, and I'm sure most of you guys are the same way. One of my favorite things about Friendly Foot powder (aside from it's effectiveness) is that it's formulated from safe all-natural ingredients, making it a great option for guys with sensitive skin.
• Fresh scent
Friendly foot powder has an awesome fresh scent thanks to a combination of these natural and skin beneficial essential oils:
Peppermint oil – Offers skin soothing and cooling benefits, and helps freshen and deodorize.
Tea tree oil – A natural anti-inflammatory and antimicrobial that kills odor causing bacteria and helps soothe redness, swelling, and inflammation.
Eucalyptus oil – Purifies and cleanses the skin, and helps eliminate odor causing bacteria.
Lavender oil – a natural anti-inflammatory that can help heal skin and reduce dry skin.
• Smooth
Don't worry about clumping or grittiness with this one. Friendly foot powder's texture is silky smooth and doesn't clump or become gritty inside shoes. Aside from it's ability to eliminate odor and reduce sweat, you won't even notice it's there at all.
What I don't like:
Nothing. Reasonable price, effective powder, great scent.
---
Bozak Powder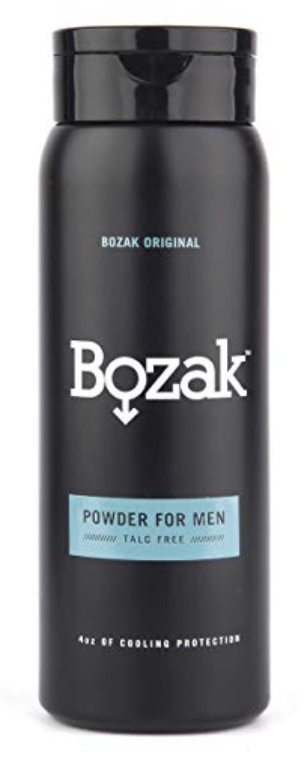 Sweaty and funky smelling feet got you down? Bozak can handle that. This full body powder (feet included) is designed to absorb sweat and moisture, prevent odor causing bacteria, and cool the skin. Formulated with effective, high-quality ingredients many of which you won't find in other powders, including: cornstarch, aloe leaf extract, miconazole nitrate, eucalyptus oil, sodium bicarbonate, peppermint oil, zinc oxide, menthol, and tricalcium phosphate. Bozak is basically foot sweat and odor's worst nightmare in powder form.
What I like about Bozak powder:
• Cooling
Thanks to menthol, peppermint, and eucalyptus oil, Bozak powder provides a refreshing blast of coolness wherever it's needed most. So whether you're at work, the gym, jogging, or any activity that results in hot, sweaty feet; throw some Bozak powder into the mix and experience the cool feeling of relief.
• Ultra dry
Sweaty feet suffers, rejoice! Or at least get mildly excited because Bozak powder provides next level sweat and moisture management. Formulated with sodium bicarbonate, tricalcium phosphate and cornstarch, I find that Bozak powder excels at keeping feet bone dry, and eliminates the unpleasantness of sweat soaked socks and shoes. Yummy.
• Smells great
I guess any scent smells better than funky feet, right? While that's true, Bozak powder isn't just any boring fragrance. Peppermint and eucalyptus oil take center stage (at least to my nose) and provide a light fresh scent that smells pleasant but not overpowering.
• Brand confidence
How often do you see a company offer a no questions asked, don't even have to return the remainder of the product guarantee? That's what I thought, pretty much never. Bozak on the other hand offers exactly that. They are so confident that we will love their product, they willingly lay their own asses on the line. Their confidence gives me confidence.
What I don't like:
The tingly, cooling effect only lasts about 5 minutes or so. I'd also like the minty scent to be a bit more bold. Just personal preference though.
---
Tame the Beast Powder

If your looking to tame foot sweat and odor, this is certainly an appropriate powder to do it. Tame the Beast is a male specific grooming brand that specializes in a wide range of high quality products for guys like us. One of their newest creations is this full body powder that's designed to absorb sweat and moisture, while keeping you smelling clean fresh, and funk free. Formulated with all-natural ingredients, Tame the Beast powder is as safe as it is effective. What's inside: corn starch, zinc oxide, silica, allantoin, menthol, chamomile, cucumber extract, green tea, rosehip, hemp seed oil.
What I like about Tame the Beast powder:
• It's smooth
Tame the Beast powder has a silky smooth texture that doesn't build up, clump, or become gritty. It simply does it's job of eliminating sweat, moisture, and odor without any unpleasant side effects.
• All-natural
I'm no fan of putting mystery chemicals on my skin, and one of the things I really like about Tame the Beast powder is that it's formulated using only safe, natural and effective ingredients. What's inside:
Corn starch
Zinc oxide
Silica
Allantoin
Menthol
Chamomile
Cucumber
Green tea
Rosehip
Hemp seed oil
• Smells great
Tame the Beast specializes in products designed specifically for men like us, so it only makes sense that their powder features a fresh, crisp, musky, and masculine scent. Tame the Beast calls it "Beast Blue Scent" and it's derived from a combination of cucumber, green tea, and hemp seed oil.
• Cooling
Know what feels great on a pair of hot, sweaty feet? A blast of cooling refreshment. Tame the Beast powder provides a refreshingly cool, menthol powered tingling sensation when applied to the skin that feels great on hot, overworked feet.
What I don't like:
It's a little more pricier than similar powders on this list.
---
Thanks for checking out my list of best powders for sweaty and smelly feet. If you found this article helpful, check out my list of best powders for balls and body. As always, if you have any questions or comments, drop me a line in the comment section below.