Trouserdog.com is a participant in the Amazon Services LLC Associates Program, an affiliate advertising program designed to provide a means for sites to earn advertising fees by advertising and linking to Amazon.com.

Article updated: April 26, 2023
  
So I recently bought this big 15 lb. bag of charcoal bar soap to try out and test. There must've been about 200 – albeit small – bars inside the bag, so I figured for the price it was a pretty damn good deal.
Although I was a bit confused by the strange packaging (a paper bag) I figured the soap itself couldn't be all that bad and decided to take the risk.
Big mistake! The soap smelled like lighter fluid, they were dry as hell, hard as a rock, and I couldn't get a lather going to save my life. At the end of the shower my skin was scored from head to toe, and red as a lobster.
Live and learn I guess.
Suffice it to say, Kingsford charcoal soap didn't make the cut for inclusion in this list of 10 best charcoal bar soaps for men…
So What is Activated Charcoal Anyway?
Activated charcoal products have really taken off in the past few years, even though activated charcoal itself has kind of been around forever.
Walking through the grocery store, I'm sure you've noticed countless skincare products boasting the power of activated charcoal. But most people still have no idea exactly what it is, or how it differs from the charcoal you use to fire up your grill.
Without getting too sciencey on you, activated charcoal is made by heating carbon-rich materials, like wood and coconut shells, to very high temperatures and then infusing it with oxygen. This process results in charcoal that is very porous in nature, and is where the moniker "activated" comes from.
Meanwhile grilling charcoal is made with sawdust, and various chemicals; rendering it toxic to humans, and unsuitable for use in skincare products.
Benefits of Activated Charcoal Bar Soap
If you've never tried activated charcoal bar soap before, you and your skin are seriously missing out. Here's a few of the benefits:
Reduces oily skin
Extremely effective at fighting acne on the face and body
Treats dry skin
Treats psoriasis and eczema
Firms skin
Absorbs toxins from skin and pores
Reduces the appearance of pores
With all the skincare benefits it offers, activated charcoal bar soap is easily one of my favorite go-to grooming products. If you're interested in trying some for yourself, or just want to learn more about it, continue reading for my list of 10 best charcoal bar soaps for men.
The List:
10 Best Charcoal Bar Soaps for Men Reviewed
---
---
CHARLES + LEE Charcoal Bar (3.5oz x 2)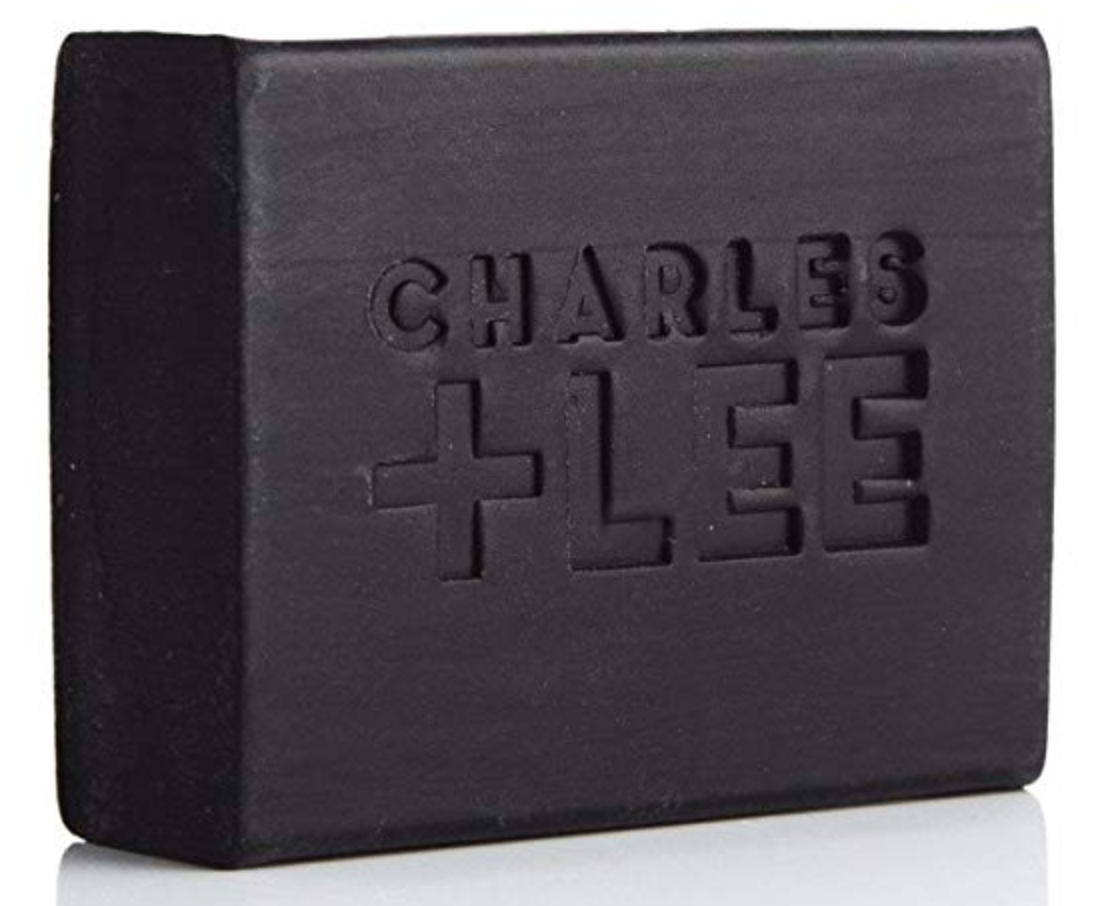 Let's put another shrimp on the barbie :: Australian accent :: but don't cook it with this Charles + Lee charcoal bar soap. Seriously don't, you'll get sick. While it may be a poor choice for firing up the BBQ, this activated charcoal soap does a bang up job serving it's intended purpose as a cleanser, exfoliator, and detoxifier. Oh yeah, it smells awesome too.
Charles + Lee is a little known company started by two guys from Melbourne, Australia. They specialize in men's skincare products that work very well, while still maintaining a very reasonable price tag. Their straightforward, and often times humorous approach to marketing is what caught my attention, while their top notch quality is what made me a believer.
How long does it last with daily use? 4 weeks (2 bars)
What's great about it:
Exfoliating:
Upon first glance you wouldn't think that this thing has any exfoliating properties whatsoever, that is until you put it into action. Powered by natural pumice and small activated charcoal particles, this bar has a gritty texture that you can really feel working once you start lathering it up. I prefer to go bar-to-skin, especially with bar soap that has the added benefit of exfoliation, and I didn't experience any abrasions, redness, or irritation with this level of grittiness
Rich lather:
This black soap somehow works into awhite lather that makes washing up quicker and easier. Did you ever use a bar soap or body wash that barely lathers? It sucks. It's hard to get clean, and it prolongs the hell out of your shower. That's not an issue with this charcoal bar soap.
Moisturizes:
All bar soap dries out the skin, right? Wrong! With the inclusion of jojoba oil, shea butter and all of it's hydrating glycerin intact, this bar soap actually moisturizes, leaving the skin feeling soft, hydrated, and clean. Imagine that.
Smells awesome:
Charles + Lee claim the scent of this bar soap was influenced by the scent of Johnny Depp after he gets home from drinking whiskey and smoking cigars. While I can't attest to the accuracy of the scent (or why Johnny Depp?), I will say it smells masculine and pretty damn good.
Price:
One of the cheaper selections on the list, Charles + Lee includes two 100 gram bars per box and they're a steal at twice the price. If you're on a budget, or just want a premium bar of soap at a great price, look no further.
What I don't like:
Nothing. Great soap. Great price. Smells awesome.
---
Jack Black Charcoal Body Bar (4.75oz)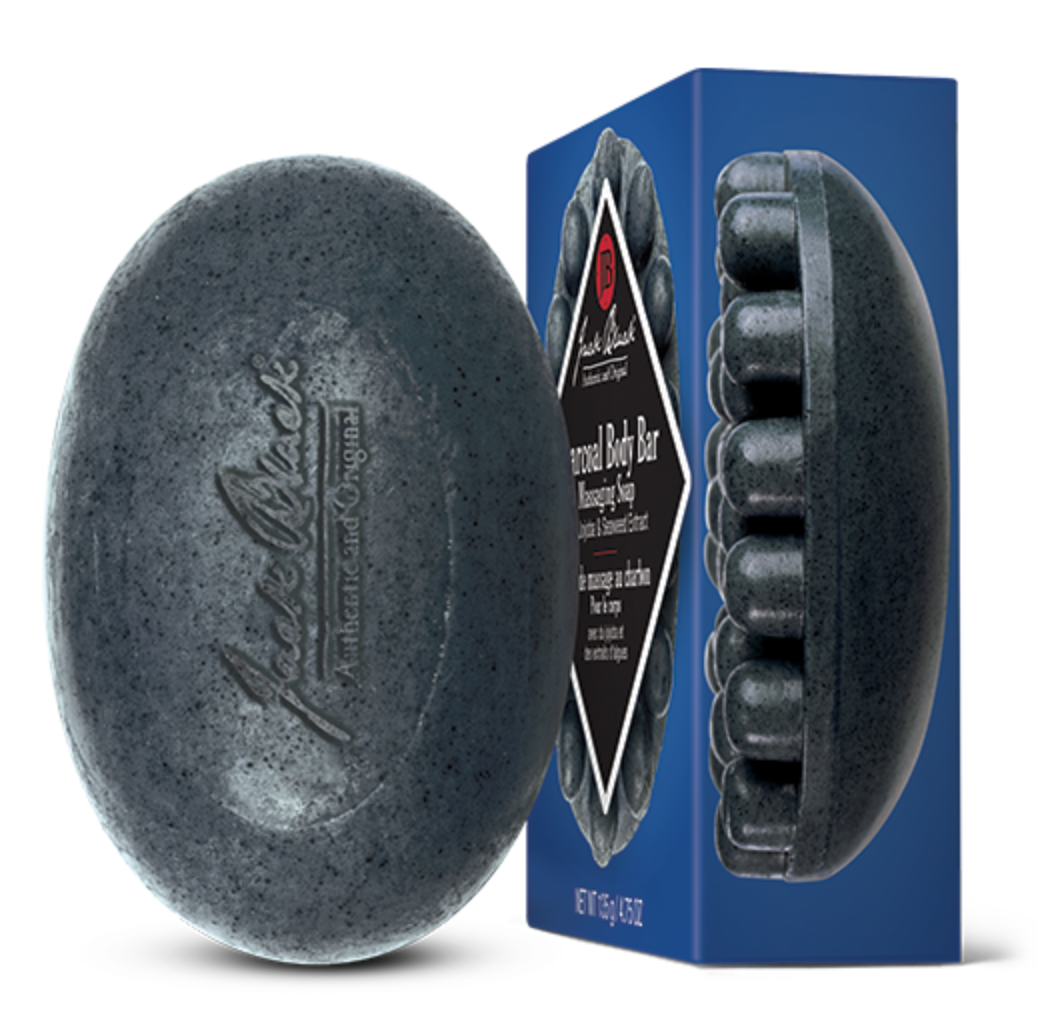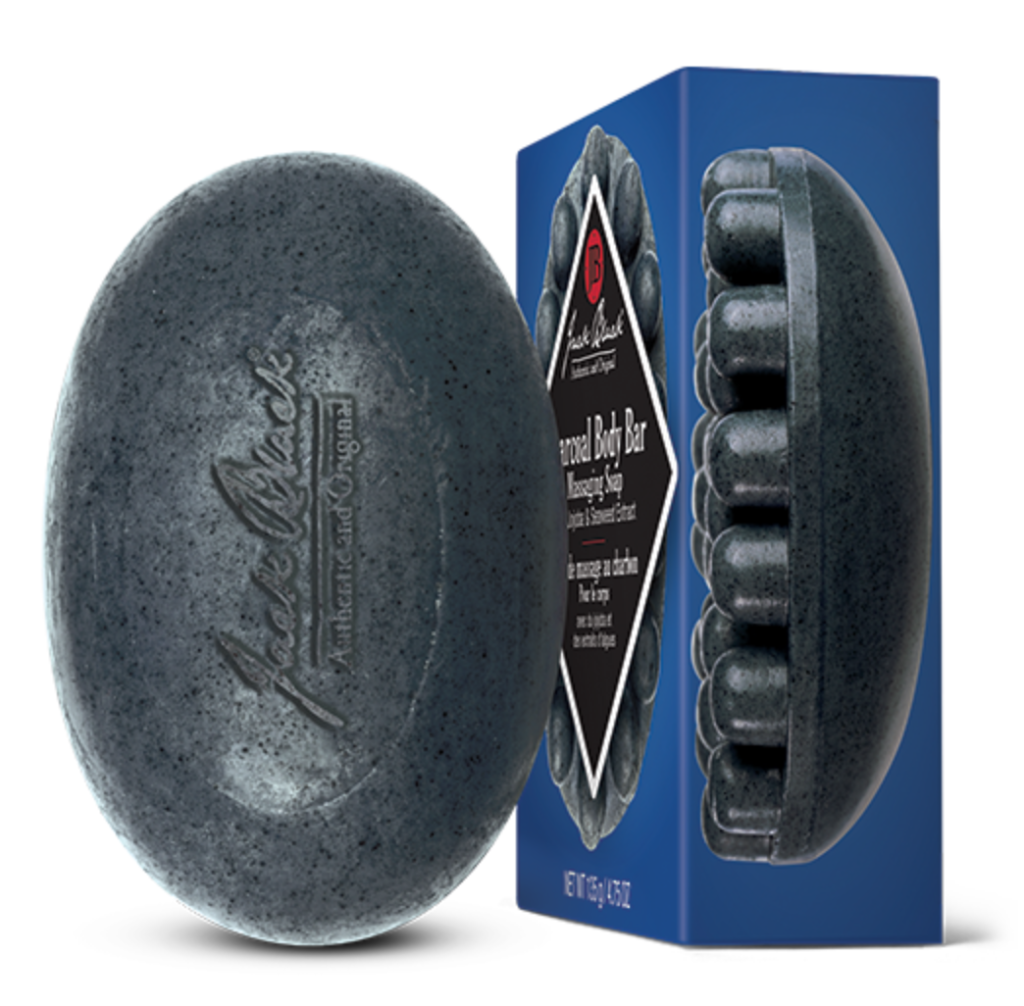 If you're unfamiliar with Jack Black men's products, you should get acquainted. They have been around for about 20 years and create some awesome natural men's skincare products that I've become quite familiar with; including this massaging activated charcoal body bar.
At first glance this thing looks pretty gnarly – literally and figuratively – thanks to the unique nubby texture that is molded into one side of the bar. The nubs provide a unique sensation while in use that is akin to one of those small handheld massagers that people receive as Christmas gifts and never use. Not sure if I would go so far as saying this soap provides a great massage, but the nubs contribute to the overall exfoliating factor, and definitely feel good on the skin that It'll make you wanna ask for one of these for Christmas instead.
How long does it last with daily use? About 2 weeks
What I like about it:
• Activated charcoal
Well it wouldn't be on this list without it. This body bar does a great job of combining the power of activated charcoal, and exfoliation to leave the skin feeling really smooth and clean, without any waxy residue.
• Exfoliating
With the help of the unique texture and natural jojoba beads, this thing does an awesome job exfoliating the skin for a smooth, refreshed feeling that just makes you wanna touch yourself.
• Smells good
Even though I can be sensitive to fragrances, I always seem to like the scent of Jack Black's products. They smell masculine, but not overpowering, and they typically don't travel with you beyond the confines of the shower or bath. Whether that's a positive or negative is personal preference I suppose.
• Doesn't dry out skin
Bar soap gets a bad rap for drying out the skin. That's because most bar soap manufacturers suck, and remove the moisturizing by-product glycerin from their soaps to make other products. That's not the case with Jack Black. This body bar contains glycerin, and seaweed extract that leaves the skin feeling moisturized and hydrated.
What I don't like:
For the price I would like to see Jack Black offer this in a larger size.
---
Viking Revolution Charcoal Soap (7oz)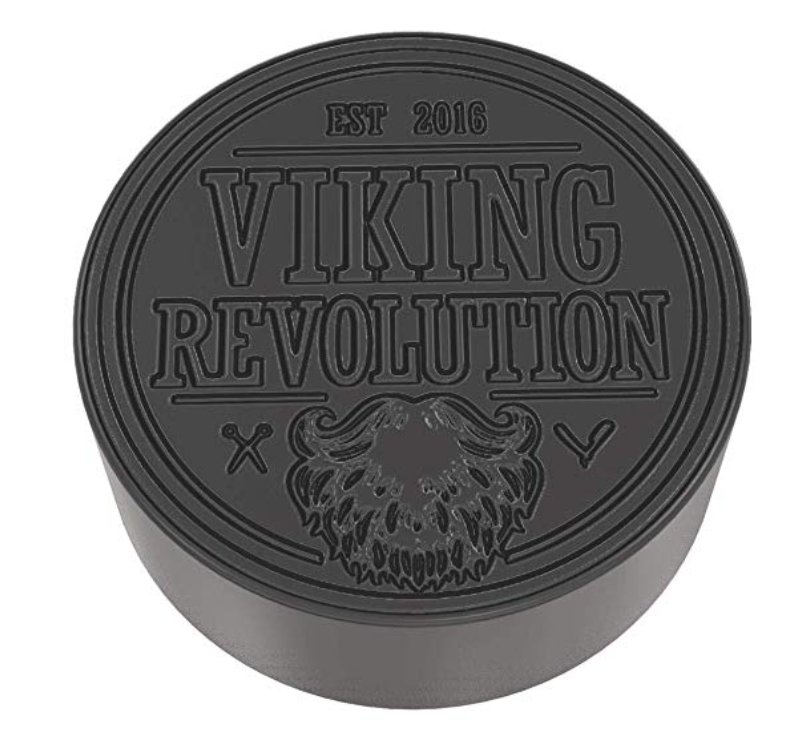 A viking recommended this soap to me. Okay, that's not true. They're dead. But if they were still around, I'd like to think that this Viking Revolution charcoal bar soap would be their soap of choice.
Established in 2016 by two friends, Viking Revolution specializes in men's products, with a strong emphasis on beard care and grooming. They designed this cool looking all natural and organic charcoal bar soap with the idea that it can be used not just on the body, but on the face and beard as well.
How long does it last with daily use? About 4 weeks
What I like about it:
• It's huge
This thing is built for a man. It's thick, solid, and it lasts. And yes, I'm still talking about the soap. If you hate frequently buying soap, or you just like getting a lot of bang for your buck, this Viking Revolution soap is definitely worth looking into.
• It smells awesome
It smells like peppermint and eucalyptus. I like it. It's refreshing, masculine, and offers a nice pick me up during those early morning showers. It's kind of like having someone dump a bucket of cold water on your head when you're half asleep. Minus the bucket, cold water, and ensuing ass kicking.
• The shape
It might not seem like a big deal, but I really like the circular look and feel. It's easy to handle, looks badass in the shower, and it's unique. Hey, it's not everyday you see a black, circular bar of soap.
• The lather
If it doesn't work into a thick, rich lather, I ain't interested, and this ones got lather for days. At least I assume it's for days. Once it goes down the drain I don't know what happens to it.
• It's natural & organic
What's not to like about natural and organic? I'm not saying we all need to go hug a tree, but when it comes to something that I put on my skin, it's nice to know it isn't full of potentially harmful chemicals and toxins.
What I don't like:
Nothing. It's huge, it lasts, it works, and it's priced fairly.
---
Art of Sport Charcoal Body Bar (3.75oz x 2)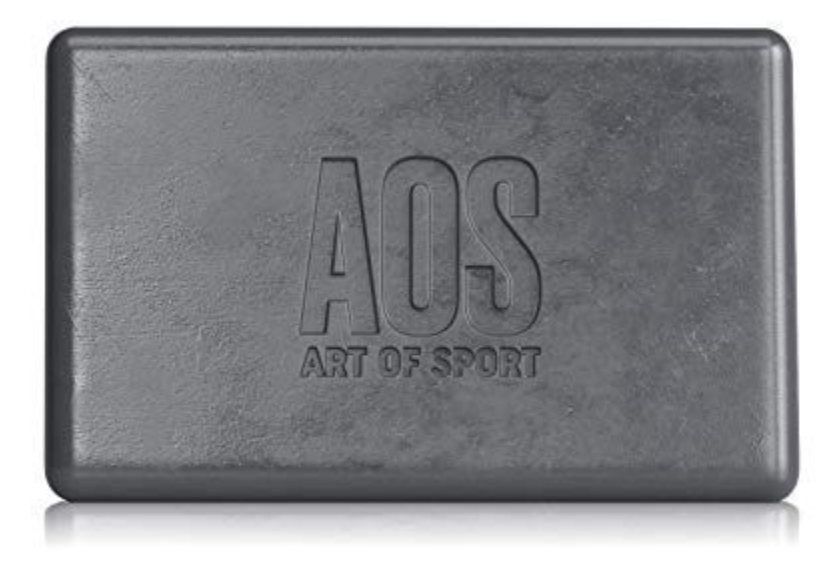 Formulated for the physically demanding lifestyles of athletes. So if you're not an athlete, beat it. Kidding, of course. I figure if AOS is strong enough to keep an athlete smelling fresh, it'll work wonders for couch potatoes, and pretty much everyone in between.
Art of Sport is a relatively new company that specializes in body care products for athletes. It is owned by a slew of well known sports stars including Kobe Bryant, James Harden, Javier Baez, and more (sorry more). The idea was to create a line of products that didn't just say sport on the packaging, but actually help athletes recharge, rejuvenate, energize, and recover.
They offer a full line of products including body wash, sunscreen, deodorant, and of course this activated charcoal bar soap.
How long does it last with daily use? 5 weeks (2 bars)
What I like about it:
• Smells awesome
This AOS body bar comes in 2 scents: "Rise" and "Compete" and both smell awesome. I would say the "Compete" scent is a little more gender neutral, while "Rise" smells like it was made specifically for a man.
• Beneficial for your skin
AOS made sure to exclude harmful chemicals from this soap, like: sulfates, parabens, alcohol, and petrolatum. Instead it's full of beneficial ingredients including:
Activated charcoal (obv) – Detoxifier, cleanser, exfoliator
Shea butter – Moisturizer, reduces inflammation, fights acne, soothes irritation.
Tea tree oil – Anti-inflammatory, reduces redness and swelling, and fights acne.
• Rich lather
Soaps that work into a heavy lather just seem to clean better. This body bar quickly works into a thick, rich lather that not only feels luxurious on the skin, it helps speed up the process of getting clean.
• Cleans without drying
One thing I really like about bar soap is the way it leaves me feeling fresh and clean. While the 1 thing I hate about bar soap is that it has a tendency to dry out the skin. AOS did an awesome job with this body bar in that it leaves your skin feeling squeaky clean but not sapped of moisture. With most cheap bar soaps I have to apply moisturizer after showering because my skin is so dry; I didn't find that to be an issue here.
• Good bargain
Although it does cost a bit more than your average grocery store bar soap, it's also dramatically better. AOS currently offers it in 2,4, and 8 bar packages that are all reasonably priced in my opinion.
What I don't like:
Nothing. I think AOS did an awesome job with this one and it's reasonably priced.
---
Baxter of California Charcoal Clay Bar (7oz)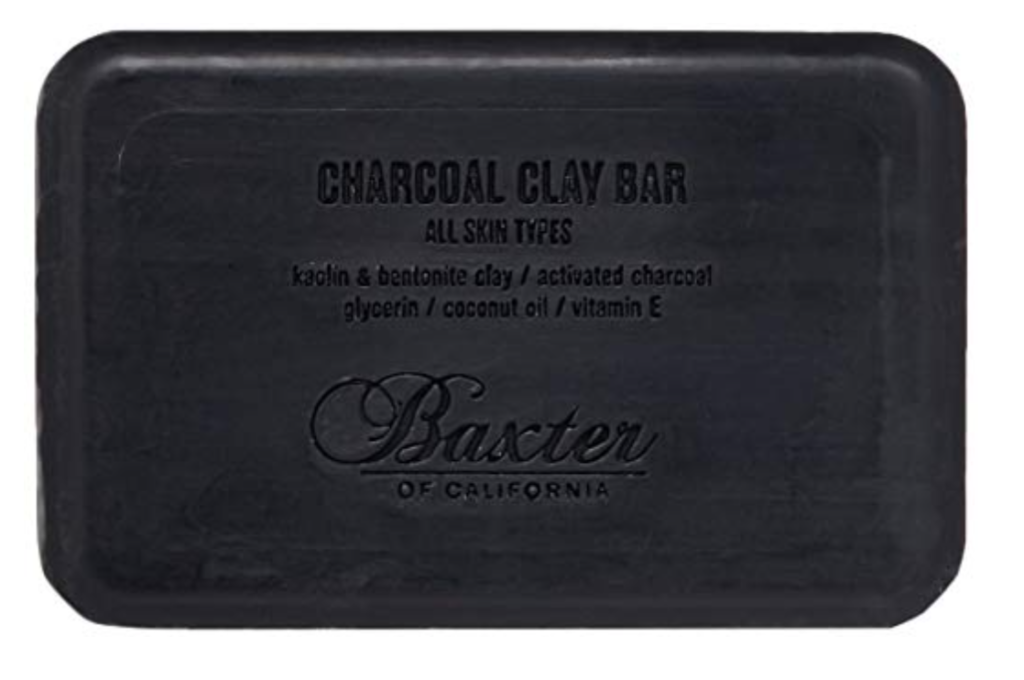 Baxter of California has been around since 1965 and is one of the early pioneers in men specific grooming products. Long considered a premium brand, BOC is known for using only high quality, natural ingredients in their products that are not only safe, but effective.
In my opinion they really hit a home run with this charcoal clay bar. Not only does it boast the power of charcoal, it also contains kaolin and bentonite clay which both offer a ton of awesome skin benefits. Other beneficial ingredients include: glycerin, coconut oil, and vitamin E. My one gripe with this one is that the price is kind of high. Although, for what you pay you do get a big ass bar of soap (7oz), and of course Baxter of California's quality is top notch.
How long does it last with daily use? About 4 weeks
What I like about it:
• Tons of skin benefits
Aside from doing a killer job of getting you clean, this charcoal clay bar offers plenty of other benefits for your skin:
Charcoal – Cleans, exfoliates, detoxifies
Kaolin clay – Exfoliates, reduces oil, tones skin
Bentonite clay – Unclogs pores, detoxifies, reduces oil, soothes irritated skin, fights acne
Coconut oil – Moisturizes, reduces inflammation, fights acne
Vitamin E – Heals damaged skin, protects skin, antioxidant
• Fresh feeling
Yes, Baxter of California is a premium brand, and yes you can feel the difference. This body bar leaves you feeling clean, smooth, fresh, and hydrated. No more dry skin after showering, and certainly no unpleasant residue.
• Exfoliation
This thing is packed with natural exfoliators, but don't worry, it's effective without being too harsh or abrasive. The end result is soft, smooth skin.
• Great for acne
If you suffer from acne or the occasional breakout, you might want to give this one a try. It's safe for full body use and contains a ton of acne fighting ingredients to clear up breakouts on the back, shoulders, and face.
• Smells awesome
It smells like soap that was made for a man; masculine. BOC describes the scent as hemp grass and smoked wood essence. While I'm not sure what hemp grass is supposed to smell like, I will say that it has a great, subtle woodsy aroma that isn't too overbearing.
What I don't like:
Price. I would like to see Baxter of California make this one more accessible by lowering the price a bit.
---
C&C Charcoal Muscle Bar (5.3oz)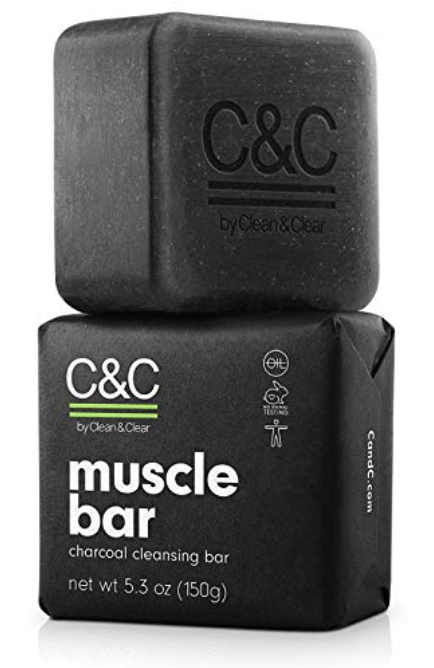 C&C is a new line of products by Clean & Clear that are designed to appeal to millennials through clever marketing, cool packaging, and effective products.
Although I will admit that this Muscle Bar is wrapped in some cool packaging, and the soap itself looks pretty badass, those certainly weren't deciding factors when testing it. As it turns out, C&C did such an awesome job with this charcoal muscle bar that I felt inclined to include it in this list. No strong arming necessary.
How long does it last with daily use? About 3 weeks
What I like about it:
• Awesome exfoliation
Exfoliation is powered by activated charcoal and natural pumice. At first glance, this soap doesn't appear to offer any exfoliation whatsoever. Just get it wet and you'll quickly realize it's packed with exfoliating particles that do an awesome job of sloughing away dead, dry skin.
• Smells fresh
It smells like a eucalyptus tree, which can be described as a fresh, minty, pine fragrance. Scratch and sniff here → ?
• Great lather
This odd shaped bar works into a great lather once you get it going. The result is fresh, smooth, clean skin that doesn't feel dry.
What I don't like:
For the price, they could make the size a little bigger.
---
GIBS PUCK IT Charcoal Bar (5oz)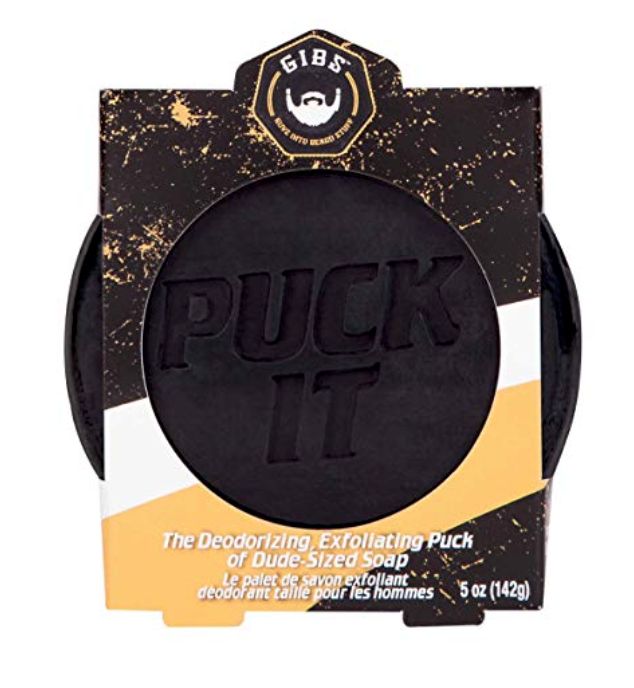 Founded in 2014, GIBS is a men's brand that specializes in beard, body, tattoo, and hair products. As you can probably guess by the name of their charcoal soap, the company has a good sense of humor which reflects in their marketing and advertising.
This puck sized bar of soap has an awesome scent, and it's chalk full of beneficial ingredients that exfoliate, deodorize, moisturize, and protect. Weighing in at 5oz, I would say this soap puck is on the medium size. Not big, but not small either. I would've liked to see them bump the weight up an ounce though, considering an actual regulation hockey puck weighs 6oz not 5. They kind of dropped the ball puck on that one.
How long does it last with daily use? About 3 weeks
What I like about this puck:
• It smells awesome
This actually might be one of my favorite smelling charcoal soaps on the list. GIBS describes the scent as having hints of cardamom, pepper, leather, and clove. If that sounds overbearing to you, don't worry it isn't. GIBS did a nice job of balancing out the fragrance and keeping it subtle. It does linger on the skin for a bit after a shower, and this case I don't mind.
• Exfoliation
No shortage of exfoliation here. Topping the list of ingredients is charcoal, jojoba seed powder, and volcanic sand. Each one has natural exfoliation properties as well as many other skin benefits.
• Great lather
Boasting a surprising amount of lather, this soap puck makes getting clean quick and easy. I'm half tempted to see if this thing can get a bubble bath going.
• Doesn't dry out the skin
Great lather, excellent clean feeling, and best of all it doesn't dry out the skin. GIBS adds shea butter and jojoba seed to help keep skin moisturized while the soap does it's thing.
What I don't like:
It's a bit pricey. It also has a tendency to dissolve quickly if you don't store it properly. To maximize it's lifespan I suggest keeping it somewhere dry when not in use.
---
Brickell Charcoal Bar (4oz)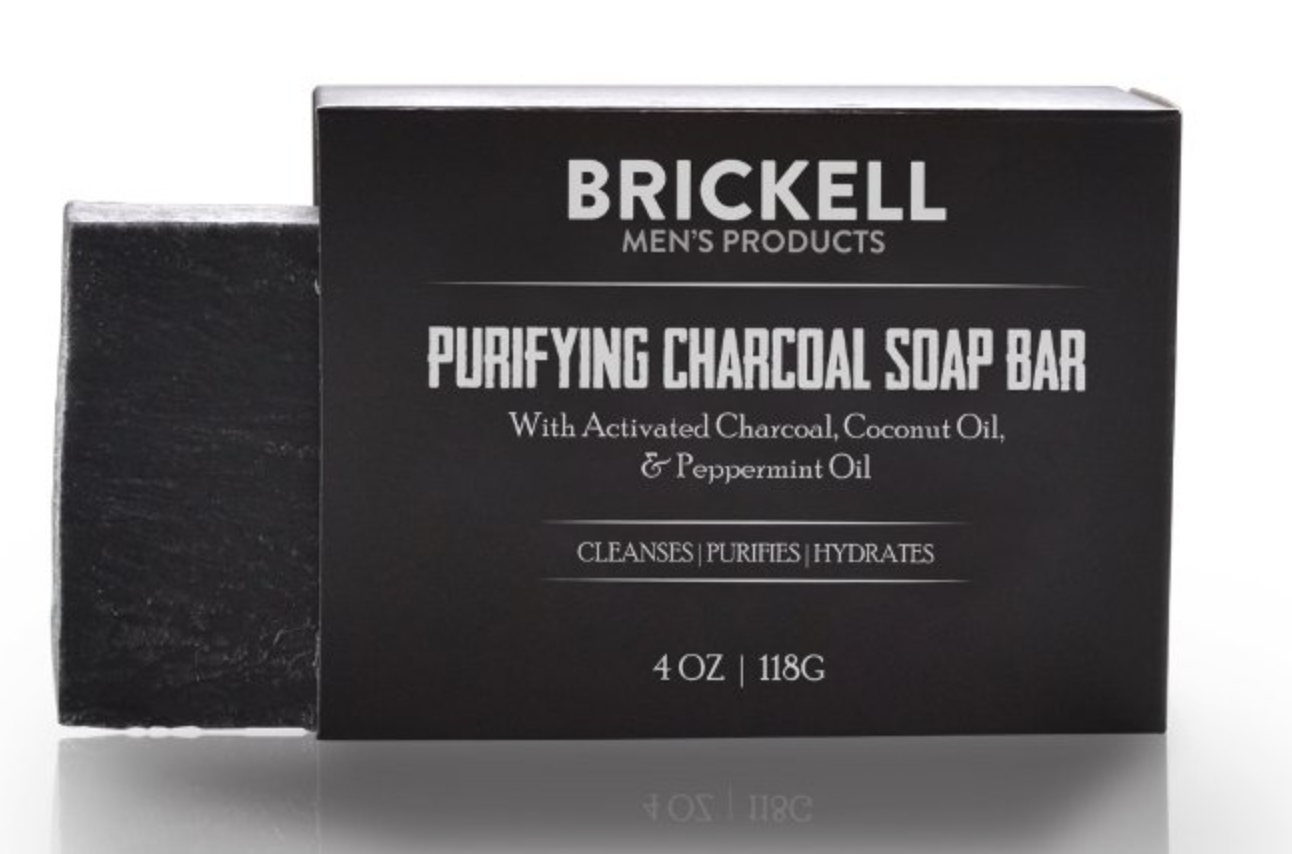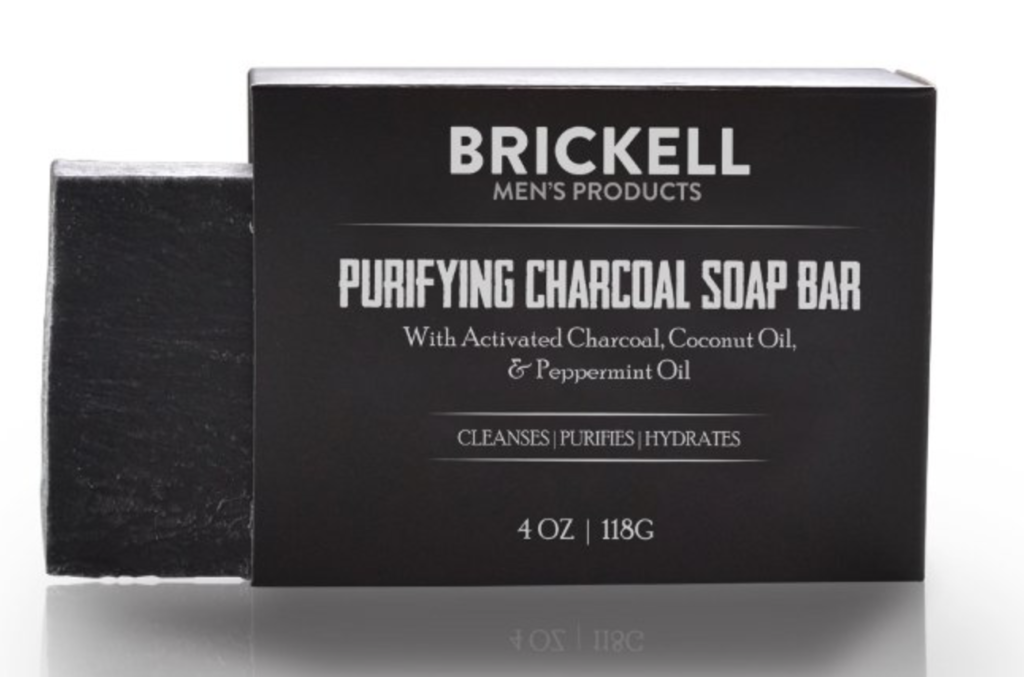 Brickell specializes in natural and organic grooming products for men. The concept behind the company is a belief that they can create products that are not only safe to use, but will outperform other products made from synthetic ingredients.
Over the years I have become quite acquainted with Brickell's products, and have had many positive experiences with their natural and organic formulations. While it doesn't offer much exfoliation, this purifying charcoal bar does an awesome job of cleansing and hydrating, and is another great example of Brickell's ability to continually up their game.
How long does it last with daily use? 2.5 weeks
What I like about it:
• Natural and organic
It's one of the main appeals of Brickell products. You can rest assured knowing they only use natural and organic ingredients that are safe and effective.
• Moisturizing
If you have naturally dry skin, or you're just sick of cheap bar soap drying you out, this Brickell soap bar might be the one for you. It's full of coconut, olive, and palm oils that do an awesome job of moisturizing; effectively eliminating that dry, tight, itchy feeling you get after a shower with those common grocery store brands.
• Smells great
Scented with peppermint and tea tree oil, this thing packs an invigorating punch to your senses during early morning showers.
What I don't like:
For the price I would like to see Brickell increase the size.
---
Keika Charcoal Clay Bar (5oz)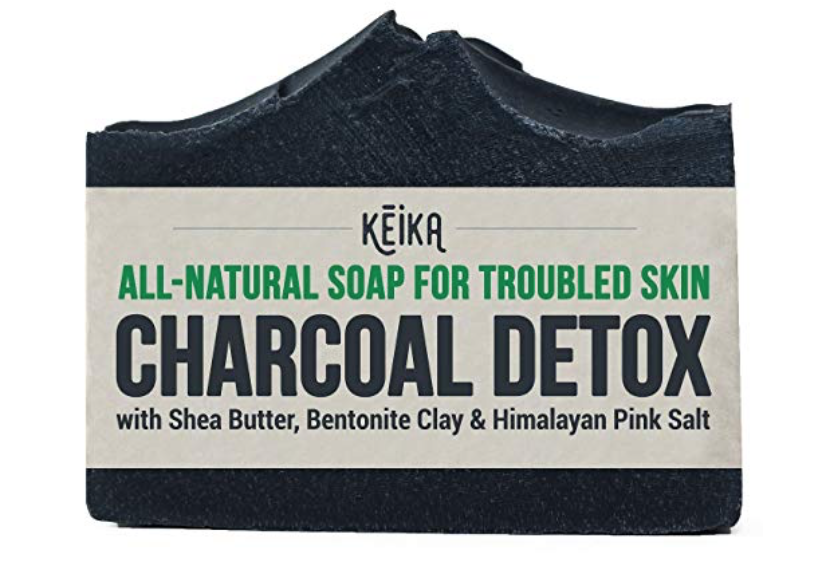 This cool looking charcoal bar from Keika Naturals is handmade in Canada, and consists of 100% natural and vegan ingredients. Aside from being a pretty badass looking addition to your bathroom, Keika designed this soap to be long lasting, good for acne, and affordable. It's also perfect for facial use as well as body.
How long does it last with daily use? 3.5 weeks
What I like about it:
• Unscented
This just comes down to personal preference, but sometimes I appreciate a bar soap that doesn't smell like anything. This is a great option if you are sensitive to fragrances, or you just prefer soap to be sans odor.
• All-natural
I don't like putting harsh chemicals on my skin, and I'm sure you don't either. Apparently Keika feels the same way since they emphasize the fact that they only use 100% natural ingredients in their soap.
• Beneficial ingredients
I can appreciate a company that is unique and innovative with their ingredients; as long as the ingredients are beneficial to the consumer. Keika puts a few things in this charcoal bar that you don't frequently see in soap:
Himalayan pink salt – exfoliates, detoxifies, fights acne, softens skin, and reduces oil.
Bentonite clay – Unclogs pores, detoxifies skin, reduces oil, soothes irritation, and fights acne.
Shea butter – Moisturizes, fights acne, reduces inflammation, and reduces scarring.
• Handmade
I think it's pretty cool these are made by hand. While the ingredients remain unchanged, each bar has it's own unique appearance. If you're accustomed to grocery store bar soap, this Keika charcoal bar is a nice respite from those mass produced moisture destroyers.
What I don't like:
Nothing. Great soap, great ingredients, great value.
---
The Grandpa Soap Co. (4.25oz x 2)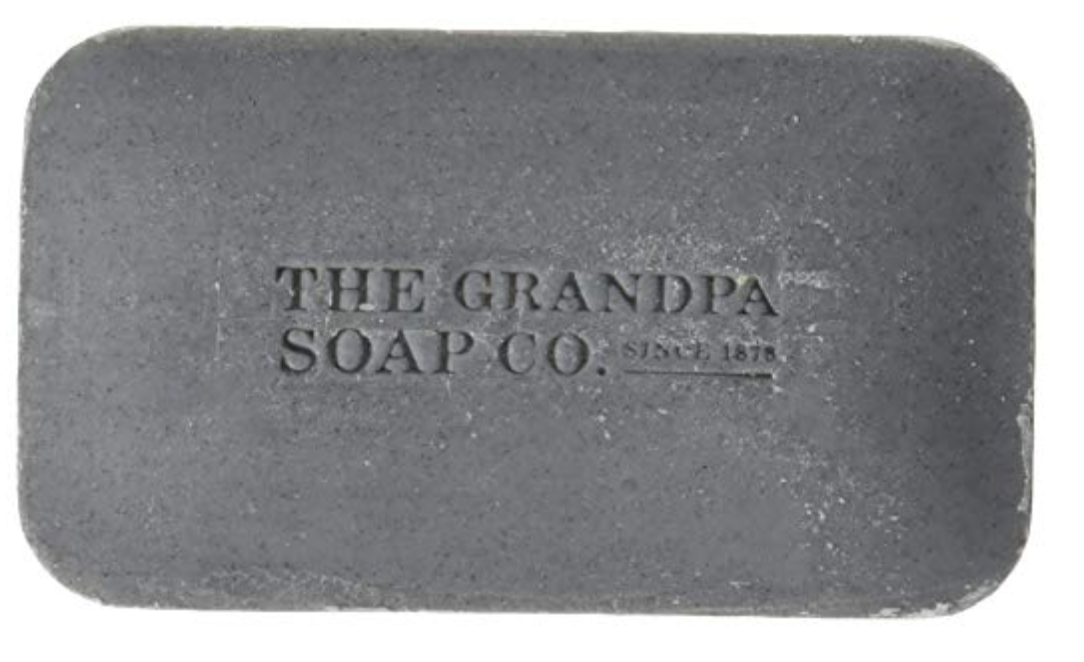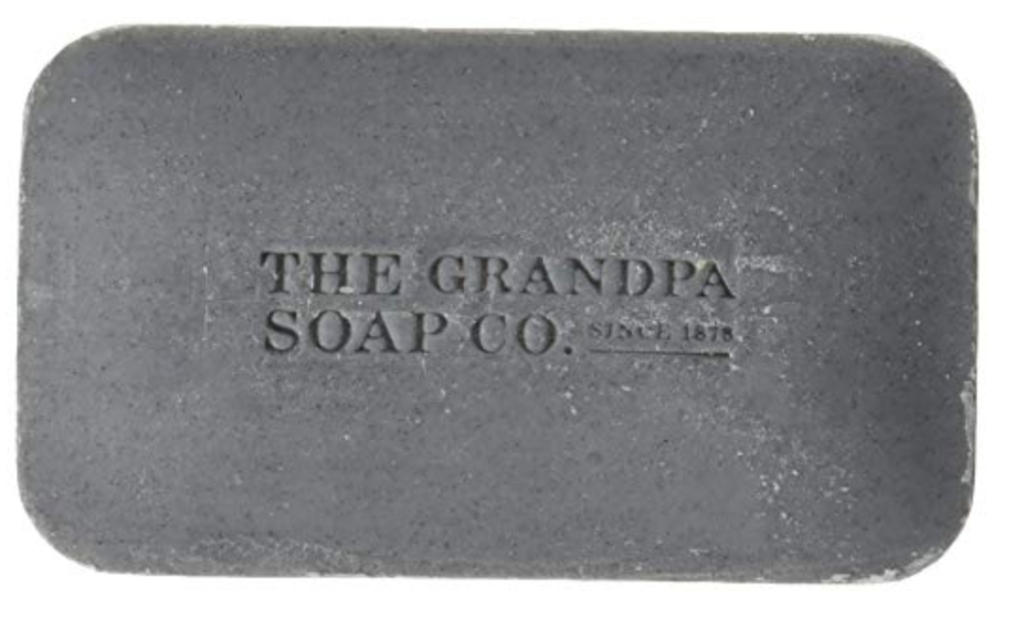 The Grandpa Soap Co. is a family owned business that has been around since 1878, and they specialize in handcrafted soaps that are high in quality, and made of safe, natural ingredients.
This slightly gritty charcoal bar does a great job of gently exfoliating, while leaving the skin feeling clean and smooth. It also smells pretty damn good too. Here's a look at some of the natural ingredients:
Cannabis sativa seed oil
Glycerin
Eucalyptus
Rosemary leaf oil
Spearmint leaf oil
Peppermint oil
How long does it last with daily use? 3 weeks (2 bars)
What I like about it:
• Fresh scent
Thanks to eucalyptus, spearmint oil, and peppermint oil, it has a minty fresh scent that isn't overpowering, and doesn't linger long on the skin; which I happen to like.
• Gentle exfoliation
Slightly gritty charcoal particles add a nice exfoliating element to the bar that leave you feeling clean, smooth, and free of dry skin.
• Moisturizing
This bar does a great job of cleansing, while keeping you moisturized. Thanks to glycerin, and cannabis sativa oil (hemp oil), you won't get out of the shower feeling like you need to empty an entire body of lotion on your skin just to rehydrate.
What I don't like:
It doesn't last that long
---
How To Maximize The Lifespan of Your Activated Charcoal Bar Soap
So you decided on the perfect charcoal bar soap, and now you want to maximize its milage? Good thinking. After all these are premium bar soaps, and that comes at a price. I'm sure you're not interested in pouring money down the drain – quite literally.
It's not exactly rocket science, but here's a few tried and true methods that I use to help get the most out of my charcoal bar soap:
• Keep it somewhere dry when not in use – While washing your hair, or shaving, or doing whatever it is you do in the shower, leave your charcoal soap somewhere dry until you're ready to use it. Leaving it under running water for long periods of time will drastically reduce the life expectancy.
• Don't leave it in the shower – If you live alone, this shouldn't be a problem. But if you have a wife, kids, or girlfriend that regularly use your shower, take it out when you're done using it. All that constant moisture won't do it any favors.
• Use a washcloth or loofah – I typically prefer to use the bar directly on my skin, but lathering up with a washcloth of loofah will significantly increase the soaps lifespan. It'll also work the soap into a better lather. Win-win.
---
Thanks for checking out my list of best charcoal bar soaps for men. If you're curious about how I compiled this list, my recommendations are based on a combination of personal experience with the products, reviews, and ratings sourced from verified users. I also factor in ingredients, price, longevity, and value before making my final recommendations.