Trouserdog.com is a participant in the Amazon Services LLC Associates Program, an affiliate advertising program designed to provide a means for sites to earn advertising fees by advertising and linking to Amazon.com.

Article updated: April 26, 2023
  
Balls
Nuts
Nads
Family jewels
Sack
Huevos
Whichever term you prefer, we can all agree that nobody likes a funky pair of testicles.
But the truth is, every guy experiences a bit of ball stink and odor at some point in his life.
Fortunately for us there are plenty of ways to eliminate crotch odor — if you know what the source of the problem is.
What Causes Ball (Testicle) Odor?
Simply put, testicle odor is caused by the process of bacteria breaking down sweat into smelly acids that are known as thioalcohols.
As disgusting as it may sound, the scent of thioalcohols is often compared to onions, eggs, meat, and even cheese. sounds pretty appetizing, right?
The biggest reason why balls often stink is because the entire crotch region is the perfect environment for odor causing bacteria to thrive and multiply. I'd even go so far as to say the balls and surrounding area is a bonafide bacteria paradise.
Bacteria love warm, moist, and humid areas of the body. In fact they thrive in these types of environments, which is why the ball sack, armpits, and ass crack region tend to be the most smelliest parts of a man's body.
So what the hell is a fella to do?
The answer is pretty simple. Wash your nuts, Man!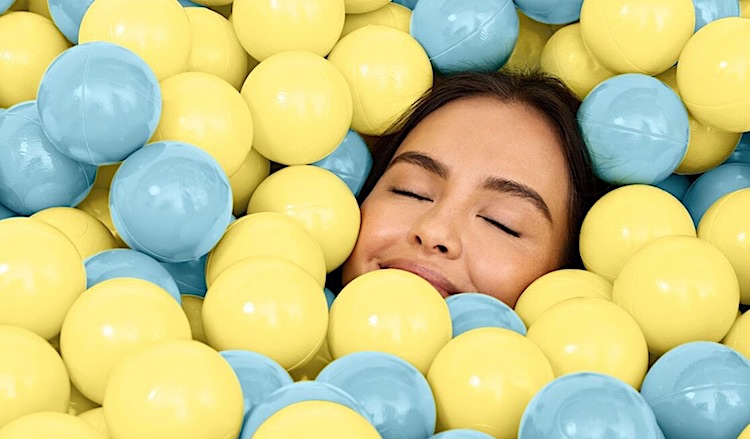 It's not exactly rocket science, but the first step to keeping your balls in peak hygienic form is to simply wash them. Thoroughly.
While most store bought soaps and washes do an okay job of getting the balls relatively clean, the fact that you're here reading this article leads me to believe that you're looking for something that works significantly better.
After all, you're stuck with the same pair of balls for life. Isn't it high time you started cleaning them right?
So without further ado, let's get into it. Read on for my list of the best soaps and washes for men's balls. Enjoy.
The Lineup:
Best Soaps and Washes for Men's Balls Reviewed
---
---
Chassis – 5-in-1 Shower Primer

If you're looking for the best soap or wash for balls, I highly recommend letting Chassis handle your crotch for you. When it comes to ball hygiene and grooming, Chassis products are hands down some of the best on the market.
Their unique line of men's products are specifically designed to clean, deodorize, and maintain the balls, while eliminating uncomfortable friction, irritation, and crotch discomfort.
Their 5-in-1 Shower Primer is a one-of-a-kind ball wash that serves 5 beneficial functions. Shower Primer: Deep cleans, deodorizes, moisturizes, softens pubes, and even helps eliminate chafing and discomfort. The result is a noticeably smoother and softer crotch region that stays fresher for longer throughout the day. Tip: Consider taking your ball hygiene to the next level with the full Chassis gift set.
What I like about Chassis Shower Primer:
• Keeps balls smelling fresh all day
Chassis is on to something here. Unlike typical soaps and body washes that are designed for a full body cleanse, Shower Primer is specifically formulated for the nutsack. Its long list of unique ingredients are chosen for their ability to cleanse, deodorize, moisturize, and soften the ball skin in ways that other soaps and body washes simply can't. So not only does Shower Primer make your balls feel fresh, smooth, and clean, but it also keeps them stink and odor free all day.
• Premium ingredients
Chassis takes crotch hygiene very seriously, therefore they pack their Shower Primer ball wash with a shit ton of unique ingredients that you simply won't find in other body washes.. Here's a look at some of the key ingredients:
Witch hazel, pumpkin seed extract, hops extract, oatmeal extract, aloe vera extract.
• Reduces friction
If you're anything like me you have experienced a bit crotch friction and irritation at some point in your life. Whether it's at work, at the gym, or while playing sports, I think we can all agree that crotch friction and irritation sucks serious ass. The problem is that our balls, thighs, and dick are mashed together in the crotch of our pants like a fat chick in a prom dress. With all that skin-on-skin contact, a lot of heat and friction is created throughout the day. This leads to sweat, odor, irritation, and discomfort. The great thing about Shower Primer is that it's basically a superhero for the ball sack. Not only does it cleanse and deodorize like a boss, but the innovative formula leaves your skin feeling incredibly soft and silky smooth.
• Masculine scent
You got balls like a man, so it only makes sense that they should smell like a man, right? One of the things that I really like about Shower Primer is its clean, manly scent that is perfectly suited for gentlemen such as ourselves. It's the perfect balance of rugged, masculine, and fresh, without being too strong or overbearing. Just how the ladies like it.
• Chassis knows balls
When it comes to crotch hygiene Chassis has been one of my go-to brands for years. And it's not just because they specialize in ball-specific grooming products. It's because their shit works, and it works really well. If you're serious about your testicular hygiene I highly recommend you check out Shower Primer and the full line of Chassis' ball grooming products:
Chassis Fresh Scent powder
Chassis Powder Unscented
Chassis ICE Powder
Chassis ICE MAX Powder
Chassis Restoration Cream
Chassis Gift Set
---
Manscaped – Crop Cleanser
You got balls like a man, so it's time to start washing them like a man damnit! Manscaped specializes in below the belt grooming products designed specifically for us guys. That means they know a thing or two about keeping ball sacks smelling fresh and clean. Their Crop Cleanser body wash is formulated to cleanse and hydrate, balance PH levels, control bacteria, and reduce inflammation and irritation. The result is a stink free ball bag with a refreshingly manly scent. Yay.
What I like about Manscaped Crop Cleanser:
• It balances PH levels
When your PH levels are off, bacteria is able to thrive. Not only does this turn your balls into a funk-fest (not as fun as it sounds), it can cause you to experience skin irritation and discomfort in the worst place possible. Crop Cleanser is formulated to hydrate the skin and control bacterial growth, resulting in a cleaner, fresher nut suck, and less irritation.
• Masculine scent
You're a man, so it's about time you start buying skincare products that help you smell like one. Manscaped Crop Cleanser is designed specifically for us guys and has a clean, fresh, masculine scent that is sure to put hair on your chest. About time.
• Versatile
Yeah it's a great soap for balls, but you don't have to stop there. Crop Cleanser is also great as a full body wash, and can even be used as a shampoo.
• Moisturizing
You want your balls to smell fresh, but you don't want your soap to dry them out right? Crop Cleanser is designed to not only keep your balls smelling clean, but it contains natural aloe vera gel that helps hydrate, moisturize, and fight off odor causing bacteria.
---
GIBS – PUCK IT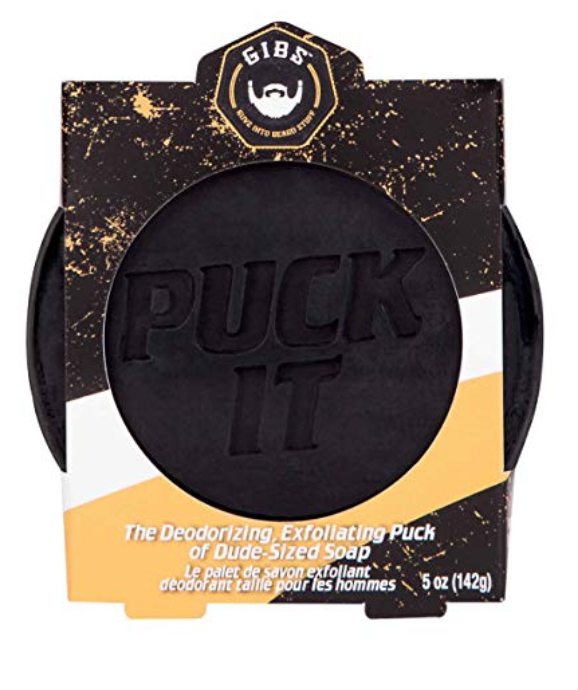 Perfect for your boys down low, this 5 ounce body bar by GIBS is designed to exfoliate and deodorize for all day freshness. Containing activated charcoal to control odors and trap them at the source, while shea butter and seaweed extract moisturize the skin.
What I like about GIBS PUCK IT:
• Exfoliating
Sometimes your balls need a little tough love. PUCK IT contains activated charcoal, and volcanic ash that exfoliate by removing dead skin, bacteria, dirt, and odor. The result is smooth, clean skin that stays fresher, longer.
• Smells awesome
PUCK IT has a really nice scent that lingers on the skin for hours. I can be pretty sensitive to intense, powerful odors, but I don't have any issues here. The fragrance is fresh and masculine, without being too strong or overbearing. It simply smells great on the skin and balls. Now if I could only reach my nose down that far to smell it…
• It moisturizes
Most people tend to think that bar soap dries out the skin. That's because the cheap shit everyone buys at the grocery store does dry out the skin. That's not the case with this GIBS PUCK IT bar soap. It contains natural shea butter, and seaweed extract that moisturize the skin, leaving your balls and body smooth, soft, and hydrated.
• It lasts
This big 5 ounce bar soap has a pretty serious lifespan. As long as you take care of it properly that is. I suggest storing it in a dry location when not in use to help maximize it's longevity. Expect it to last roughly 6 weeks with daily use and proper care. Pretty damn good for a bar soap.
---
Jack Black – Turbo Wash

Turbo Wash your balls bruh! Formulated specifically for guys like us, Jack Black Turbo Wash is designed to eliminate dirt and bacteria, while moisturizing the skin, and energizing the body. Containing all-natural and organic ingredients, this body wash is the safe choice for that oh-so-sensitive ball sack area, and is the perfect first defense against stink and odor causing bacteria.
What I like about Jack Black Turbo Wash:
• Eliminates bacteria
Since our balls have the recipe to become a bacteria paradise, it's a good thing that this Turbo Wash is capable of coming in like hurricane to shit all over bacteria's parade. Formulated with rosemary and eucalyptus, these two antioxidants contain antimicrobial properties that help eliminate and prevent odor causing bacteria on the skin.
• Moisturizing
No guy wants to leave the shower with dried out skin. One of the things I really like about this Jack Black Turbo Wash is that it's designed to maintain the skins natural moisture balance, while contributing some moisturizing benefits of its own. Formulated with natural shea butter, this body wash does a kick ass job leaving your skin feeling smooth and hydrated.
• Versatile
While I personally like it for it's bacteria eliminating capabilities, Turbo Wash's job doesn't stop at your balls. This body wash is designed to function as a full body soap, and even a shampoo. While I never would've thought I'd want my hair to smell like my nut sack, in this case it turns out to be a good thing.
• It lasts
This stuff isn't exactly cheap, so I appreciate the fact that a little bit of this body wash goes a long way. Just a dab'll do ya, and this Jack Black Turbo Wash works into a thick rich lather that easily performs its job from head to toe.
---
Tame the Beast – All-in-One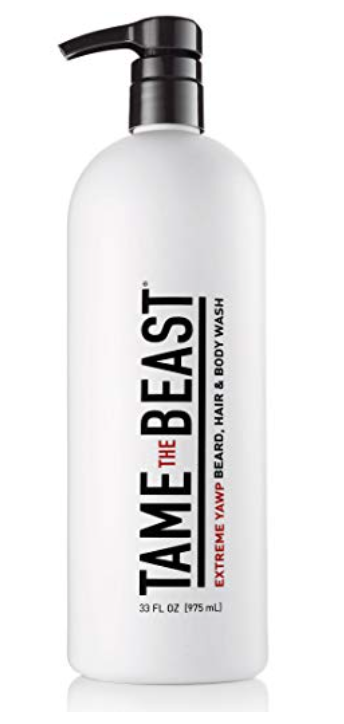 Strong enough to tame a beast, this all-in-one body wash has no trouble handling a little crotch stink. Formulated specifically for guys like us, this Tame the Beast all-in-one triples as a full body wash, beard wash, and shampoo. The invigorating formula contains caffeine, green tea, moringa extract, and eucalyptus for a refreshingly powerful scent that'll wake you up in the morning like a kick to the balls.
What I like about Tame the Beast All-in-One:
• Versatile
You're more than just a smelly pair of balls bruh. This All-in-One from Tame the Beast not only eliminates testicle odor and bacteria, it also serves as a full body wash, beard wash, and shampoo. It really kind of dumbs down the process of getting clean, which is great for lazy people like me.
• Awesome scent
Morning routines really kind of suck, especially when you're still exhausted. While this All-in-One body wash scent won't perform any miracles, it does offer a refreshing pick-me-up during those half-asleep morning showers. Thanks to ingredients like caffeine, eucalyptus, green tea, and moringa extract, this body wash has a refreshingly masculine scent that puts a little pep in your step when it's needed most.
• It lasts
A bottle of this stuff isn't exactly cheap, so it's a good thing that it seemingly lasts forever. While you will pay a premium for the huge 33 ounce bottle (hey, it's quality shit man), expect it to last a solid 6-7 months with daily use. When you balance it all out you might actually be saving money. I don't know I'm not a math wizard.
---
Ballsy – Ballwash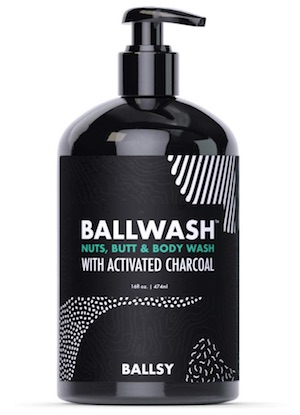 If you couldn't' already tell by the name, Ballsy Ballwash is specifically designed to cleanse and deodorize, you guessed it, your ball sack. Aside from its ability to send ball funk packing, It also contains a ton of skin beneficial ingredients, including: activated charcoal, essential oils, and all-natural plant extracts such as cucumber, licorice root, chamomile, and bamboo extract. Available in a large 16 ounce pump bottle, and featuring a clean masculine fragrance, Ballsy Ballwash is a solid choice when it comes to cleansing and deodorizing a funky nut sack.
What I like about Ballsy Ballwash:
• Skin beneficial ingredients
Ballwash isn't your average body wash. It's specifically formulated to handle the unique hygiene needs that every guy with a pair of balls must deal with on a daily basis. That's why it's formulated with these safe, powerful, and effective natural ingredients:
Activated charcoal
Aloe vera
Cucumber
Lavender oil
Licorice root
Chamomile
Bamboo extract
• Not just for your balls
So you're telling me that a soap called "Ballwash" can be used for more than just balls? Ridiculous! Actually Ballsy Ballwash is completely capable of serving as a full body wash that can help eliminate funk from all the stink zones. This includes: balls, pits, ass, and even feet.
• A little goes a long way
While this ball wash is a little bit on the pricey side, a bottle of the stuff does however have some serious longevity to it. That's because you don't really need to use much to get the job done. Just a small dollop is enough to work into a thick, rich lather that has no problem blasting away ball funk, dirt, sweat, grime, and bacteria.
• Masculine scent
What sort of scent would you expect from a ball wash, exactly? Ballsy Ballwash has a fresh, clean, masculine scent that you're sure to get tons of compliments on. After all, every guy loves being told his balls smell great.
---
Bond – Select Wash for Men

If you want your penis and balls smelling fresh, clean, and seductive, Bond Wash is definitely for you. This unique intimate wash for men is specifically designed to cleanse and deodorize the crotch and ass region, while leaving a masculine aroma that is sure to entice any female that gets close. It also provides a one-of-a-kind warming sensation that I must admit feels pretty damn good on the balls. Powered by ginseng root extract which is full of antimicrobial and antibacterial properties, this ball wash provides a deep down clean that simply can't be matched by ordinary body washes and bar soaps.
What I like about Bond Select Wash:
• Smells awesome
The first thing you'll notice about Bond Wash is the fresh, masculine scent. Once you pop open the top you'll be greeted with a manly aroma that is perfectly suited for a pair of balls. And while I've never smelled James Bond's balls before, I imagine they would smell a lot like this wash.
• Warm nuts
Great balls of fire! Don't worry, this ball wash doesn't get that hot. Instead it provides a soothing, warming sensation to the skin that I must admit feels unlike anything I've experienced in a ball wash before. It's perfect for cold winter mornings, or simply whenever you want your nutsack to feel like it's being comforted and cradled. Which for most men is all the time. Bond Wash is also available in a cooling version ❄️ as well.
• It actually works
The thing I like about Bond Wash is that it actually works. I honestly didn't expect much from this wash when I fist discovered it but it left me and my balls pleasantly surprised. Not only does it smell great, but it leaves the balls funk and odor free for most of the day. It's definitely a big step up from basic bar soaps and body washes when it comes to ball hygiene.
• Options
If Bond Wash Select (pictured) isn't for you, it's also available in a few other options that are worth checking out, including:
Bond Wash – Cool Blue
Bond Wash – Gentle Mild
---
Kkeul – Super Ball Wash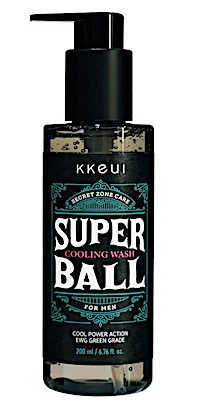 Treat yourself to the cooling action of this Super Ball wash by Kkeul. Featuring a blend of skin safe, cooling ingredients, Super Ball wash is designed to thoroughly eliminate ball odor, while delivering a blast of cooling relief that lasts for hours after the shower is over. Here's what's inside: menthol, gingko leaf extract, and camphor.
What I like about Super Ball wash:
• It's super
Aside from its somewhat goofy name, this stuff is actually pretty great. Not only does it do a really good job of cleansing the balls and surrounding region, but it helps keep the sack smelling minty fresh throughout the day. I actually was not expecting much from this ball wash but it managed to surprise me.
• Cooling
Not every guy enjoys a cooling sensation on his ball sack, so if that's you, Super Ball probably isn't the wash for you. But everyone for else, this stuff feels excellent inside the shower and even after you get out. The cooling sensation does wear off as the day goes on, but while it's there it feels pretty damn good.
---
Questions & Answers
Reader submitted questions
How do I wash my balls effectively?
The key to washing your balls effectively starts with exfoliation. Exfoliating the dead skin, dry sweat, and bacteria from your balls is the single most important aspect of washing your sack.
While the word exfoliation might sound harsh and not something you want to do to the sensitive skin of your ball sack, I assure you that it's not as painful as it sounds.
In fact all you need to exfoliate your balls is either a wash cloth or a loofah (and the soap/wash of coarse).
The textured surface of a washcloth or loofah is far more effective at exfoliating the skin than using your hand alone.
How do I make my balls smell and taste good?
If you want your balls to smell good, consider checking out my list of best smelling body washes for men. In regards to tasting good, I'm not sure. Perhaps wrap your balls in a fruit roll up.
How do I keep my balls dry and odor free throughout the day?
Washing your balls thoroughly every day is a great first step to eliminating ball odor throughout the day. But let's face it, keeping your balls clean isn't always going to be enough to prevent some degree of odor. It's also not going to do anything to prevent sweat in the crotch region either.
One of my personal favorite solutions for preventing ball sweat and odor is body powder. Body powder is designed to absorb sweat and moisture, and deodorize the skin. Making it great for not only the balls, but also ideal for the armpits, ass crack, and even the feet.
If body powder isn't for you, you might prefer ball deodorant instead. Most ball deodorants are in liquid form and are designed to be applied by hand. Once dry, ball deodorant helps prevent sweat, moisture, and odor from developing on the balls.
Do you have a question you would like to submit? Leave it in the comments section below.
---
Thanks for checking out my list of best soaps and washes for men's balls. If you found this article helpful, check out my list of best lotions for men's balls. As always, if you have any questions or experience with any of the above products, feel free to share in the comments below.