Trouserdog.com is a participant in the Amazon Services LLC Associates Program, an affiliate advertising program designed to provide a means for sites to earn advertising fees by advertising and linking to Amazon.com.

Article updated: June 24, 2022

Let's face it guys, our balls stink.
Considering the fact that our balls spend the majority of their day mashed in the crotch of our pants with little room to breath – it comes as no surprise that they carry an unpleasant odor that's usually accompanied by sweat, chaffing, and discomfort.
While maintaining a good daily hygiene routine is a vital first step to combating ball sweat and odor – often times it's simply not enough.
So what's a guy to do?
While you may feel defeated, discouraged, and even embarrassed by your persistent and unpleasant ball sack odor, I'm here to tell you there's hope for your little problem. It's called ball deodorant.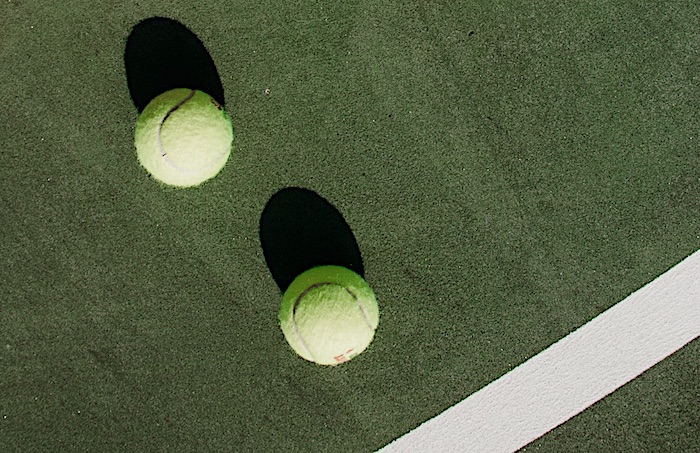 While we all know that underarm deodorant is great at keeping pits dry and stink free – ball deodorant however is a different animal entirely.
Ball deodorant is specifically formulated for the unique hygiene struggles that having a pair of balls presents. So not only is it great at preventing sweat and odor, but it also helps reduce friction, chafing, irritation, and discomfort.
It's basically a must have grooming product if you got a pair of nuts hanging between your legs.
So without further ado, here is my list of best ball deodorants for men. Relief is on the way.
The Lineup:
Best Ball Deodorants for Men Reviewed
---
---
Galaxy Dust – Ball & Body Powder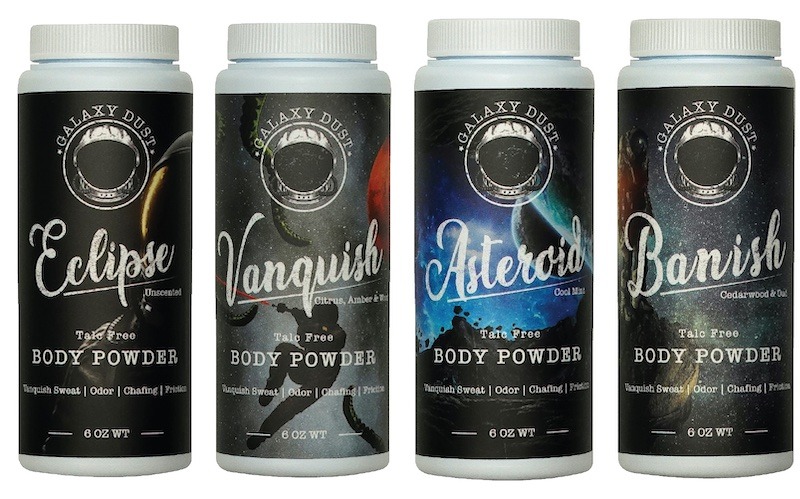 Blast ball sweat and odor into outer space with this one of a kind deodorizing ball and body powder from Galaxy Dust. Formulated with a unique blend of starches and clay minerals, Galaxy Dust Powder is designed to be applied directly to the ball sack, asscrack, and anywhere else on the body that you experience sweat, odor, and friction.
Their unique powder formula is made from all-natural ingredients and is 100% safe and highly effective at putting an end to sweaty, smelly ball sacks.
Simply sprinkle a lit bit of Galaxy Dust on your ballsack every morning and enjoy a fresh, dry pair of balls as you go about your day.
What I like about Galaxy Dust Powder:
• It's ball deodorant — in powder form
One of the things that I really like about Galaxy Dust Powder is the fact that it's a deodorant for the balls, but it's in powder form. Powder offers the benefit of creeping into all those cracks and crevices of the balls making it highly effective at preventing ball sweat and odor from developing throughout the day.
• Keeps the balls, asscrack, and crotch dry
Eliminating ball odor and funk starts with preventing sweat. Galaxy Dust Body Powder is formulated with highly effective moisture managing ingredients including: cornstarch, arrowroot powder, kaolin clay, French green clay, and bentonite clay. Not only does this unique blend of powders eliminate sweat, but they also keep odor and friction at bay.
• Great scent options
Galaxy Dust Powder is available in great smelling scents that are perfectly suited for manly men such as yourself. Here's a closer look at their scent options:
Banish – A manly blend of cedarwood and oud that smells incredibly rugged while it combats ball sweat and odor.
Vanquish – Featuring a unique blend of citrus, amber, and wood, Vanquish smells excellent and best of all it keeps sweat and odor at bay all day.
Asteroid – Looking for a cooling tingle on your balls? Give Asteroid a try. Formulated with peppermint and eucalyptus essential oils, Asteroid offers a cooling chill wherever it's applied and it smells minty fresh.
Eclipse – Prefer stealth mode? Eclipse is for you. It contains no scent or fragrance but will keep your balls fresh and dry all day.
• Made in the USA
With so many products coming from overseas nowadays, it's always refreshing to see a product that is handcrafted right here in the good ol' USA. Galaxy Dust is handmade in Buffalo, New York using premium, natural ingredients that are not only effective at preventing ball sweat and odor, but are also beneficial for the skin. Not something that can be said with most deodorants.
---
Chassis – Ice

If you want to keep your ballsack smelling fresh, clean, and dry, I highly recommend you check out Chassis Ice Powder for men.
If you're unfamiliar with Chassis, they specialize in men's skincare products that are designed specifically for the balls and surrounding region. Their Ice Powder is formulated using a ton of all-natural ingredients, and is designed to kick the shit out of ball sweat, odor, chafing, and even crotch discomfort. It even provides a cooling blast of refreshment to the skin that feels borderline orgasmic on a hot summer day.
Just like all of Chassis' products, their Ice Powder is formulated using 100% ball-safe ingredients that will take your crotch hygiene to the next level. And who doesn't want that, right?
Here's what's inside: Corn starch, baking soda, rice powder, pumpkin seed extract, hops extract, oat kernel extract, and aloe vera.
What I like about Chassis Ice deodorizing powder:
• All day odor protection
What's a ball deodorant that gives up on odor protection halfway through the day? Crap! Thankfully Chassis powder does no such thing. Featuring a long list of highly effective, natural ingredients — Chassis Powder kicks the shit out of odor, sweat, chafing, and discomfort. So not only will your balls smell clean and fresh throughout the day, but they'll also feel damn good too.
• A little goes a long way
While this isn't the cheapest deodorant for balls on this list, it does however last a long time. That's because you really don't need to use much for it to do its job effectively. Just a light coating on clean balls is enough to keep you dry and smelling clean all day. Expect roughly 4 months of daily use per bottle.
• Cooling
Not only does Chassis Ice Powder keep you dry and smelling clean, but it also provides a blast of cooling relief right where us guys need it most. Our balls! And if the Ice version doesn't appeal to you, you might want to consider one of Chassis' other deodorizing ball powders:
Chassis Fresh Scent Powder
Chassis Powder

unscented

Chassis ICE MAX
---
Beast – Blue Balls Powder

If you're looking for a ball deodorant that not only eliminates odor, but also prevents sweat, chafing, and discomfort — then Beast Blue Balls Powder is definitely for you. Formulated with all-natural ingredients, this silky smooth powder is designed to be applied to the balls, ass, and body to help put an end to sweat, odor, and chafing. It also contains menthol which delivers a kick of cooling refreshment to the balls — that feels even better than it sounds.
What I like about Beast Blue Balls Powder:
• Awesome scent
Beast powder smells crisp, fresh, musky, and masculine. The scent is derived from its all-natural ingredients, which includes: cucumber, green tea, rosehip, and hemp seed oil. Beast calls the scent, "Beast Blue Scent," and I highly recommend giving it a sniff if you're tired of dealing with a funky nutsack.
• Cooling refreshment
A ball deodorant that also provides cooling refreshment? I'm down with that. One of things that I like most about Beast Powder is that it delivers a cool blast of refreshment right where us guys need it most. It's cool, it tingles, and dare I say it feels borderline orgasmic on a hot summer day.
• All-natural
How would you like to douse your balls in mystery chemicals and ingredients? Yeah, me neither. Thankfully Beast Blue Balls Powder contains only safe, all-natural ingredients that are derived straight from mother earth. Here's what's inside: Corn starch, menthol, chamomile, cucumber extract, green tea extract, rosehip, and hemp seed oil.
---
Happy Nuts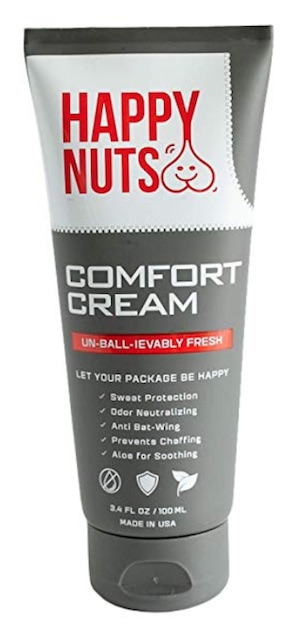 Fresh and dry balls are happy balls. At least I'd like to think they would be happy if they could actually, you know, process emotion. Either way, this deodorant cream from Happy Nuts is sure to put a smile on your face while it obliterates ball sweat, stink, funk, and even helps eliminate chafing and discomfort. Formulated with natural ingredients including aloe, coconut oil, and tapioca starch, Happy Nuts is more than just an effective ball deodorant – It's relief from all the common daily struggles of having a nutsack.
What I like about Happy Nuts ball deodorant:
• Eliminates ball stink
Destroying smelly balls is probably what brought you here, right? Well Happy Nuts has got you covered. Simply apply a small dime sized amount to a clean, dry ballsack (ideally your own) and be amazed while the silky smooth cream dries to a light powdery finish. But don't worry, the magic doesn't end there. The real trick is how well this lightly scented cream spends the day kicking the shit out ball stink, funk, and odor – keeping your crotch smelling like you just stepped out of the shower.
• Keeps balls dry without aluminum
No guy wants a stinky pair of balls. We also don't want a sweaty pair either. Happy Nuts is formulated with natural tapioca starch that is designed to effectively absorb sweat and moisture, keeping your ballsack dry and comfortable all day. So say goodbye to swamp crotch, batwings, and discomfort.
• Fresh scent
Don't worry, Happy Nuts cream is designed to prevent and eliminate odor, not mask it. That being said, it does have a light, fresh scent that keeps balls smelling clean and pleasant.
• Reasonably priced
Happy Nuts eliminates testicle odor, sweat, chafing, discomfort, and it's reasonably priced? What's not to like?
---
Fromonda
Not all ball deodorants come in solid form. Fromonda is a powdered deodorant specifically designed to blast testicle odor, sweat, and funk into oblivion, while eliminating unpleasant chafing and discomfort that every guy with a pair of balls has dealt with before. Formulated right here in the good ol' USA, Fromonda powder contains only safe, effective, all-natural ingredients, and might be exactly what you and your funky ball sack are looking for.
What I like about Fromonda powder:
• Smooth as silk
Forget about those old fashioned clumpy body powders; Fromonda powder is some seriously next level shit. Formulated with corn starch, kaolin clay, arrowroot powder, baking soda, and tapioca starch, Fromonda powder has a silky smooth consistency that applies easily and evenly, and doesn't cake or clump in the cracks and crevices of your skin. It simply does it's job of keeping sweat, odor, and discomfort at bay without any unpleasant side effects.
• A little goes a long way
No need to pile it on with Fromonda powder. Just a light dusting on your balls and inner thighs is enough to keep you dry, smelling fresh, and feeling comfortable all day. For best results I recommend applying to clean, dry balls.
• Smells awesome
While Fromonda powder comes in a variety of great fragrances, Citrus IPA (pictured) is my personal favorite scent. It smells fresh, clean, citrusy, and downright masculine as hell. Citrus IPA not your cup of tea? No problem. Fromonda is also available in these great scents: Woody, Cool Mint, AtoneMint, and unscented.
---
Snowball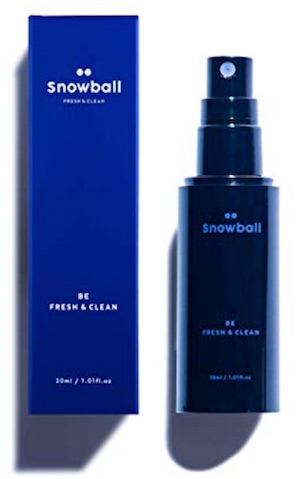 A cooling spray deodorant specifically formulated for balls? Yes please! Snowball is an all-natural spray deodorant that's designed to eliminate odor and sweat, while providing balls with a blast of cooling relief. They don't call it Snowball(s) for nothing! Formulated with 14 safe, all-natural ingredients, Snowball is a one of kind ball deodorant that's a must have for any guy concerned about his crotch hygiene.
What I like about Snowball spray deodorant:
• Cooling relief
Holy crap this stuff is cool. 2-3 quick spritzes of Snowball gives your balls a one of a kind chilling relief that has to be experienced to be believed. It's perfect for after the gym, work, or whenever your hot, sweaty nuts are in serious need of cooling relief.
• Convenient
Since this all-natural spray deodorant creates zero mess, it's the perfect deodorant for guys on the go. Keep it in your car, gym bag, work desk, or even in your pocket for those unexpected hygiene emergencies.
• Fresh scent
Snowball has a citrus and mint scent that smells fresh and clean without being too strong or overbearing. It's just the right amount of fragrance to help keep balls smelling fresh and clean with just a few spritzes.
• Safe
Thanks to all-natural plant based ingredients, Snowball is completely safe for any situation you might find yourself in while wearing it. So whether you're spending a lonely night at home, or getting busy with that special someone, Snowball is good to go.
---
Comfy Boys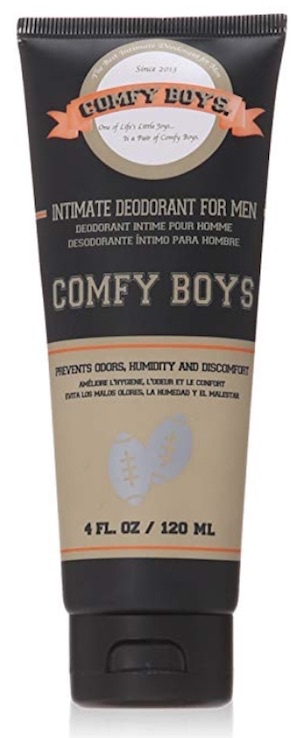 No guy should have to go about his day with a funky, sweaty, and uncomfortable pair of balls. That's where Comfy Boys deodorant for men comes in. Comfy Boys is a lotion/deodorant that's specifically designed for those below the belt hygiene issues that every guy wants to avoid. Formulated to eliminate sweat, moisture, odor, and discomfort, Comfy Boys is a simple yet effective solution that any funky ball sufferer will appreciate.
What I like about Comfy Boys ball deodorant:
• Easy to apply
Comfy Boys starts out as a smooth, creamy lotion. But once it's applied to the designated area (balls) it quickly dries to a silky smooth powdery finish that battles odor and sweat all day. No mess, no fuss.
• Sweat control
Having to deal with ball odor is bad enough, but pair that with swamp crotch and you're basically in a living hell. Comfy Boys ball deodorant does an awesome job of providing all-day sweat and moisture protection in the ball region, or anywhere else you decide to slather it down there.
• Fresh scent
While eliminating sweat and odor is Comfy Boys primary mission, it also has a light, pleasant fragrance that smells pretty good on the balls. Or so I've been told…. 😉
---
Fresh Balls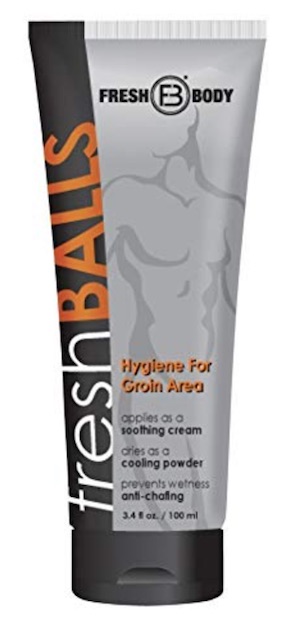 You want fresh balls? Then get Fresh Balls. While the name of this deodorizing lotion is a bit on the nose, I understand why they decided to name it that. With it's ability to eliminate sweat, moisture, and odor, Fresh Balls lives up to it's name by leaving your nut sack smelling so fresh and clean you'll begin to wonder how you ever got by without it. Formulated with safe, natural, effective ingredients, Fresh Balls applies to your sack as a creamy lotion, but quickly dries to a silky smooth powdery finish. It kinda feels like a protective silk purse for your ball bag.
What I like about Fresh Balls deodorizing lotion:
• No mess
One of the big advantages of using this deodorizing lotion over a powder is that it stays exactly where you put it. Powders have the potential to make quite the fucking mess if you're not careful during application, but the great thing about this Fresh Balls lotion is that it applies easily and evenly, and won't leave your clothes or bathroom floor a powdery mess.
• Keeps balls dry without aluminum
If you spend a lot of time in hot, humid environments, or if you simply have a naturally sweaty ball sack, Fresh Balls lotion is for you. I find that one application in the morning is usually enough to keep even the sweatiest of balls dry all day.
• Fresh scent
While it's not the strongest fragrance in the world, Fresh Balls lotion has a pleasant subtle fragrance that that keeps balls smelling fresh and clean throughout the day.
• Eliminates chafing
What happens when your testicles are mashed together in the crotch of your pants like 2 fat chicks in a Smart car? Answer: chafing and discomfort. Fresh Balls lotion actually fights this common occurrence amongst men by reducing friction at skin-on-skin contact points. So no more burning, itching, pain, or irritation.
---
ToppCock Silver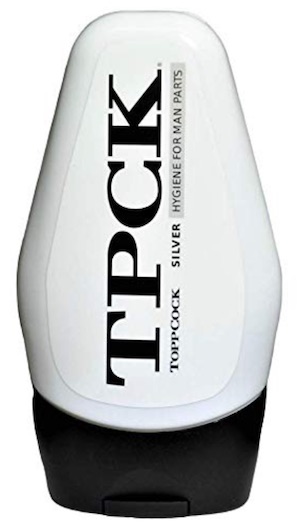 Top off your morning routine with ToppCock deodorant and keep your balls smelling fresh and clean all day. This one of a kind clear gel deodorant contains silver nano-particles, aloe, and tea tree oil to blast ball funk and sweat into oblivion, while leaving your junk feeling clean, smooth, and hydrated. Simply apply the unique gel formula to a clean pair of nuts (preferably your own) and within moments it dries to a smooth powdery finish.
What I like about ToppCock Silver:
• It's moisturizing
Toppcock Silver does a great job keeping sweat and odor at bay, but what you might be surprised to discover is how well it moisturizes. Formulated with natural aloe vera, ToppCock deodorant leaves your ball bag feeling smooth, nourished and hydrated.
• It's soothing
Not only does ToppCock Silver excel at deodorizing and preventing sweat, it also helps soothe irritated skin. Formulated with skin nourishing ingredients, including:
Tea tree oil – Kills odor causing bacteria and fungi, and also helps soothe red, irritated, and inflamed skin.
Aloe vera – A natural antioxidant and moisturizer that helps heal irritation and inflammation.
• Great for post shave
If you're one of the growing number of men that practice manscaping of their nether region, the skin soothing properties of ToppCock Silver make it a perfect post-shave gel to help prevent razor burn and irritation.
• All day sweat and odor protection
A ball deodorant that gives up halfway through the day has no place on this list. Just a small dab of ToppCock Silver in the morning keeps balls dry and smelling fresh throughout the day. For best results, I highly recommend applying to freshly clean and dry balls.
---
Dude Powder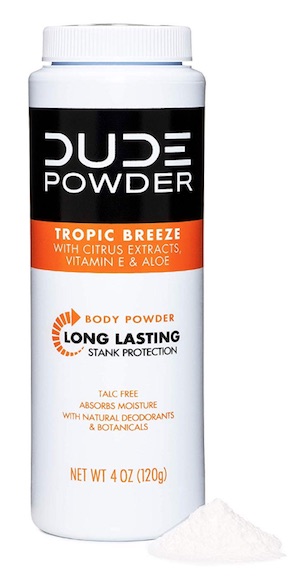 Dude your balls fucking stink! Perhaps you should try some Dude powder to help resolve that issue. This all-natural deodorizing powder is designed to eliminate funk from all the primary stink zones on a man's body. This includes pits, ass, feet, and of course balls. And it's not just stink that Dude Powder is after; this stuff also helps reduce sweat and moisture buildup, while putting an end to uncomfortable friction and irritation in those sensitive areas.
What I like about Dude Powder:
• Smells awesome (Tropical Breeze)
As a man, I know exactly how bad a sweaty ballsack can smell. To put it simply – it's not good. That's why I like Dude Powder so much. Not only does it fend of ball stink like the plague – it leaves them with a "tropical" fragrance that is quite enticing (any ladies want a whiff?). Formulated with orange and grapefruit peel, Dude's Tropical Breeze scent smells fresh, clean and citrusy, without being too strong or overbearing. And if Tropical Breeze isn't your thing, no problem. Dude powder is also available in Menthol Chill (cooling) and an unscented version.
• Keeps balls smelling fresh all day
When looking for the best ball deodorant, one of the things that us men want is a deodorant that lasts all day. We don't want to have to re-apply multiple times throughout the day in order to keep stink at bay. One of things that impressed me about Dude Powder is how long it actually lasts. One application on a clean, dry pair of balls is generally enough to last the entire day.
---
Thanks for checking out my list of best ball deodorants for men. If this article was helpful, I suggest checking out my list of best lotions and creams for men's balls. As always, if you have any comments or questions drop me a line in the comment section down below.