This Article May Contain Affiliate Links Updated: January 18, 2020 By Derek Martin
---
Long hair on a guy is cool, up until that moment your mom asks to borrow one of your hair ties.
Since growing my hair long, I've come to grips with having to venture into the women's hair care aisle to buy my hair ties. What I haven't been so acquiescent of is the fact that pretty much all hair accessories are made for women. Companies don't seem interested in making hair accessories specifically for men.
Then came along Hair Ties For Guys.
---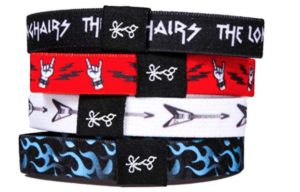 As the name suggests, Hair Ties For Guys are hair ties designed specifically for men. From materials and construction to the designs and colors, these hair ties were created with men in mind.
---
Durability
Had enough of those crappy hair ties that either break or quickly lose their elasticity? I have. Hair Ties For Guys are made using quality materials that won't break or stretch out. In fact they are weight tested to hold up to 80 pounds. Seems a bit overkill, but I do enjoy the peace of mind.
---
Cool Designs
Hair Ties For Guys offers some awesome designs and patterns specifically for men:
American flag
Fishing lures
Ammunition
Guitars
Women
And many more..
If designs and patterns aren't your thing, they also have plenty of solid colors to choose from.

---
Longhairs Do Care
One of the coolest things about Hair Ties For Guys is their charitable outreach program called Longhairs Do Care. Through this program they donate $1 from every purchase to an organization that supports children who suffer from medically-related hair loss. Pretty cool.
---