Trouserdog.com is a participant in the Amazon Services LLC Associates Program, an affiliate advertising program designed to provide a means for sites to earn advertising fees by advertising and linking to Amazon.com.

Article updated: April 26, 2023
  
I think it's safe to say that suspenders are not part of the average man's daily wardrobe.
Unless of course you're this guy:
Or this guy: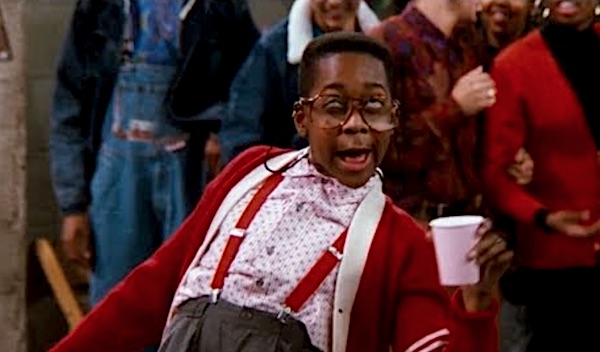 While suspenders had their day in the sun during the early 20th century, the fact of the matter is that belts have become the accessory of choice when it comes to matters of keeping trousers in place.
But just like flat caps, aviator sunglasses, combat boots, and fanny packs (seriously, WTF?), suspenders are making a big time comeback in the world of men's fashion.
One of the brands responsible for this suspender resurgence is a company called JJ Suspenders.
Founded in 2014 by two friends, Jackson & Josh, JJ Suspenders set out to create a line of fashionable, quality suspenders that are well suited for the modern day man.
Unlike most suspenders that prioritize function over form (ie: ugly AF), one of the things that I really like about JJ Suspenders is that they don't make sacrifices when it comes to form, function, or quality.
Their offerings include:
Leather suspenders
Skinny suspenders
Classic style suspenders
Formal suspenders
Kids suspenders
They also have a ton of color options and unique patterns to choose from.
While browsing the JJ Suspender's website recently, I quickly became intrigued by their Sierra Nevada leather suspenders and thought they would be perfect for an upcoming, semi-formal wedding that I was slated to attend.
While the wedding ended up being postponed (fuck you coronavirus), I still got an up-close and personal look at a pair of leather JJ Suspenders.
Upon arrival, my pair of Sierra Nevada leather suspenders came neatly packaged in a burlap, draw-string bag with the JJ logo printed on the front. While packaging doesn't necessarily speak to the quality of the product itself, it's always reassuring to see a company take pride in the presentation of their goods.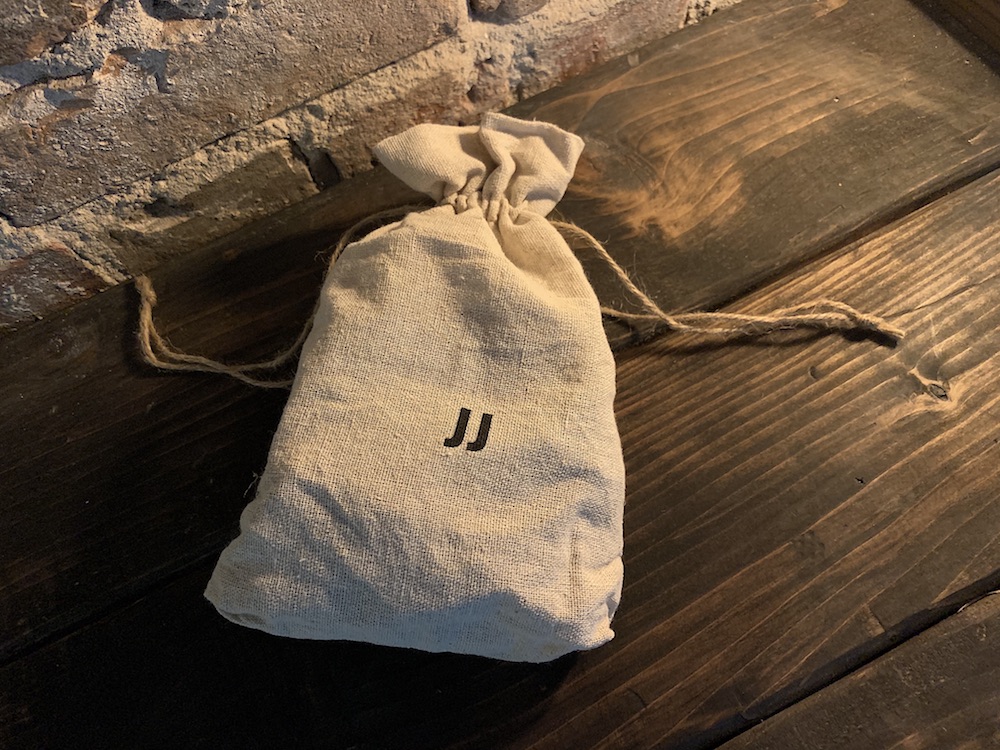 Inside the bag I found a handsome pair of leather suspenders, additional metal clips, and all the necessary hardware (buttons, needle, thread) to allow all pants to accept the button attachment option — if you decide to go that route.
Or if you're lazy like me (and terrible with a needle and thread), you can simply use the metal clip fasteners and bypass the sewing and inevitable finger pricks.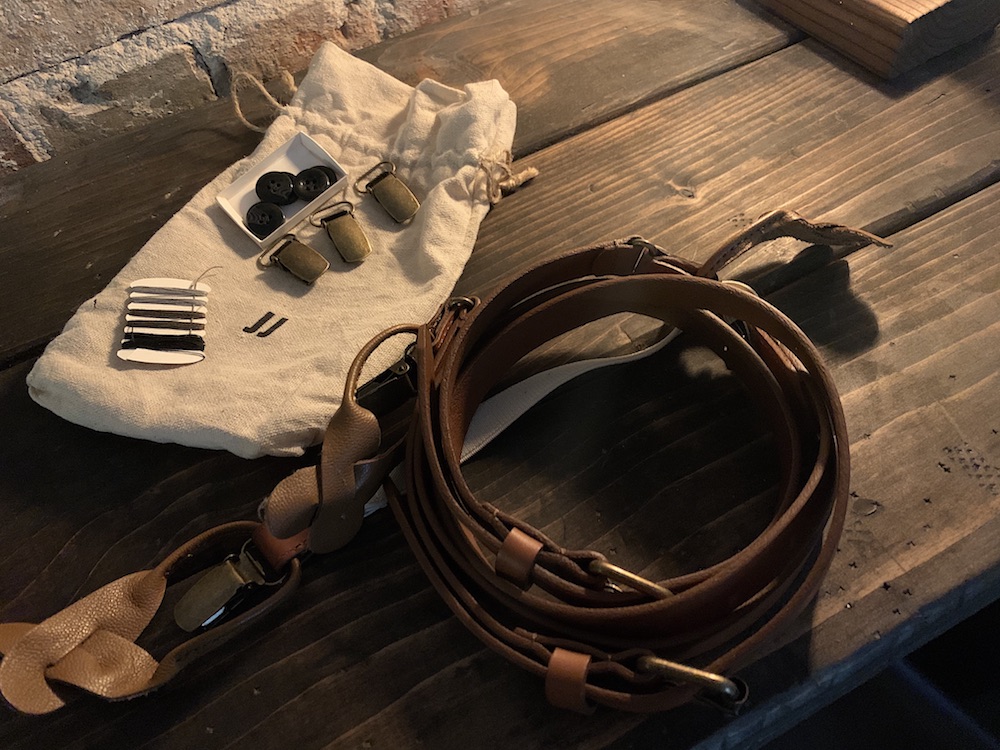 Packaging and accessories aside, the real showstopper is undoubtedly the leather suspenders themselves.
Everything from the leather, stitch work, and brushed metal fasteners on these suspenders screams premium quality.
The leather is thick, strong, and durable, while still allowing for comfortable wear due to their soft and supple quality. There is also a soft elastic back strap (below the Y-back) that helps improve comfort, fit, and mobility.
The leather also displays grain variations that give these suspenders a rugged look and feel, while speaking to the premium quality of the leather.
Fit and comfort is everything you would expect from a premium pair of suspenders. JJ states that their leather suspenders are suitable for men between the heights of 5'6 and 6'4. I stand approximately 5'11 and I find that these suspenders fit perfectly with plenty of adjustability to spare.
If you're a gentleman of shorter stature they also have offerings that are suitable for men as short as 5'2.
It's also worth noting that JJ Suspenders offers a full refund on all of their suspenders if the fitment isn't just right.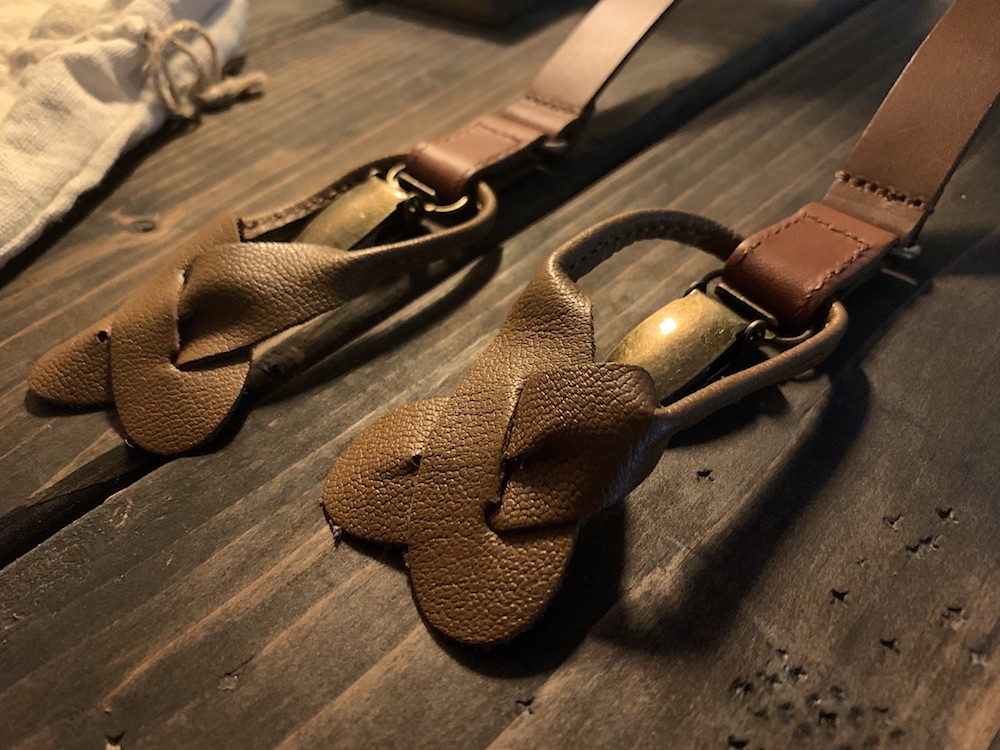 JJ Suspenders: To buy or not to buy?
When it comes to premium quality suspenders, JJ Suspenders gets two thumbs up.
While the price of these suspenders (ranging from $49 – $109) is a bit more than you can expect to pay for suspenders at your local department store, the fit, finish, and quality of JJ Suspenders is absolutely miles ahead.
And while I can't yet speak to the longevity of these leather suspenders: the quality, craftsmanship, and attention to detail gives me reason to believe that these things will last for many years to come.