Trouserdog.com is a participant in the Amazon Services LLC Associates Program, an affiliate advertising program designed to provide a means for sites to earn advertising fees by advertising and linking to Amazon.com.

Article updated: January 2, 2023
  
What's the best smelling bar soap for men?
If you're a bar soap kind of guy, this is undoubtedly a question that has crossed your mind before.
Few men will dispute the notion that bar soap provides a better clean skin feeling than body wash. But on the unfortunate flip-side it's pretty well established that bar soap tends to get the shit end of the stick when it comes to appealing scents and fragrances.
A quick walk down the grocery store soap aisle will reveal a collection of rather uninspiring bar soap scent options for guys. With choices such as: Fresh Reaction, Mountain Fresh, Extra Fresh, Icy Blast, and Active Sport, it can be difficult to find an option that doesn't leave you smelling like you're 80 years old — or off to your first day of high school.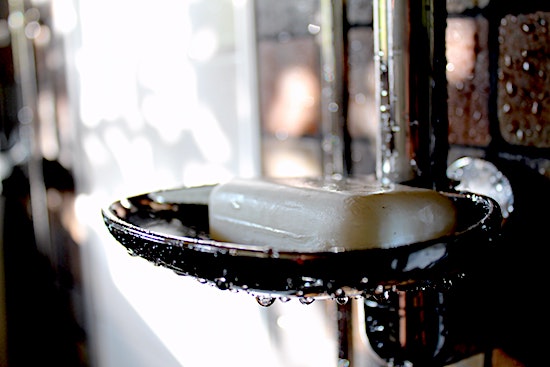 The good news is that bar soap has seen a huge surge in popularity over the past few years. This has caused an influx of male specific grooming companies that are creating unique, innovative, and great smelling bar soaps that are perfectly suited for gentlemen such as ourselves.
So in order to help you guys find exactly what you're looking for, I decided to create this list of best smelling bar soaps for men. Each soap was chosen based on a combination of extensive personal experience — and because scent is highly subjective — I also solicited the advice of thousands of user reviews from men just like you and me.
With masculine scents such as: leather, bourbon, rum, sandalwood, cedar, vanilla, citrus, and even fresh IPA beer, the following list of best smelling men's bar soaps has a little bit of something for everyone. Except maybe the high schoolers — they can stick with their Extreme Icy Jock Strap Sport scents.
The Lineup:
Best Smelling Bar Soaps for Men Reviewed
---
---
Caswell-Massey – Sandalwood Explorer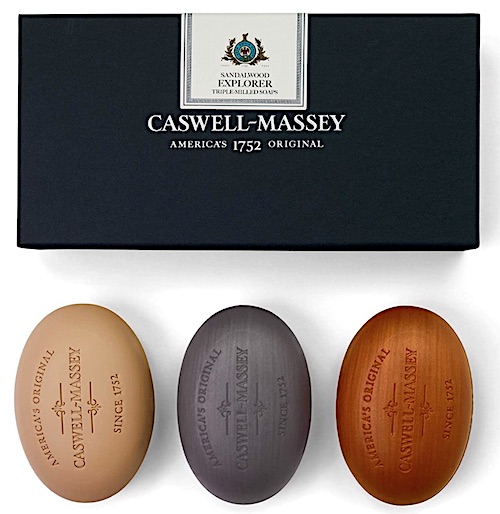 If you're looking for the best smelling bar soap for men I highly recommend you check out this Sandalwood Explorer pack by Caswell-Massey. Founded all the way back in 1752(!), Caswell-Massey was the first fragrance and personal care company in the United States.
Their products are not only known for their superior quality and performance, but they are also known to be ridiculously great smelling.
Their Sandalwood Explorer pack contains 3 of Caswell-Massey's most popular smelling bar soaps. The scent's include: Woodgrain Sandalwood, Centuries Sandalwood, and Heritage Tricorn. Each one is incredibly unique, distinct, bold, rugged, and masculine.
Bottom line: The Sandalwood Explorer pack is an excellent smelling option for men who like rich, masculine scents. It's also worth mentioning that the presentation of this 3 pack is absolutely exquisite. Definitely gift worthy.
Scent Profiles:
Woodgrain Sandalwood – A blend of sandalwood, cedar, and cypress. It smells woody, warm, rich, spicy, and earthy. Definitely a man's man type of fragrance.
Centuries Sandalwood – A blend of sandalwood, cypriol, and botanicals that smells very fresh, woody, earthy, smokey, and slightly spicy.
Heritage Tricorn – Sandalwood, cocoa, cedar, amber, and essential oils combine to give this soap a very rich, woody, citrusy, earthy, musky, and slightly sweet fragrance. It's bold, masculine, and very unique. My favorite of the 3.
How Does Caswell-Massey Bar Soap Compare to Other Bar Soaps on the Market?
If you're a bar soap type of guy you know that bar soaps in general can vary greatly in terms of quality, effectiveness, and price. Casewell-Massey Sandalwood Explorer is my personal favorite smelling bar soap for men, but how does it compare to other bar soaps on the market aside from it's awesome scent?
• Cleansing – Aside from the great scent, this Sandalwood Explorer pack serves its primary purpose of cleansing the skin really well. It leaves the skin feeling fresh, clean, moisturized, and doesn't leave any residue behind. Compared to other bar soaps on the market, I would definitely categorize Caswell-Massey as an excellent cleansing bar soap. Score – 9/10
• Lather – Aside from scent, lather is one of the first things that you notice when using a new bar of soap. Some bar soaps smell really nice but don't lather that well, while other bar soaps smell pretty mediocre but lather great. It can certainly be a challenge to find the perfect bar of soap that covers all the bases and covers them really well. Thankfully Caswell-Massey bar soap is one of those bar soaps that smells excellent and produces a really nice lather. While it's not the most impressive lathering bar soap I have ever come across, it's certainly well above average and impressive in its own right. Pair the great scent with its great lather and you definitely have a winner in my book. Score – 8.5/10
• Price – My only real negative with the Caswell-Massey bar soap for men is the price. Compared to most other bar soaps on the market, Caswell-Massey is in the high price point end of the spectrum. The quality, scent, ingredients, and packaging firmly cement this bar soap as a "premium" bar soap and that comes at a price. Score – 6/10
---
Baxter of California – Cedarwood & Oakmoss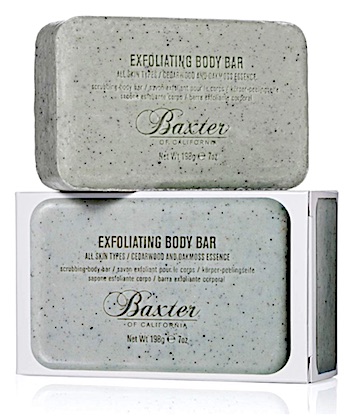 Cleanse and exfoliate your skin while smelling damn good doing it with this Exfoliating Body Bar from Baxter of California. Founded in 1965, Baxter of California produces a long line of men's grooming products that are formulated with unique and powerful ingredients not commonly found in other brands.
Their Exfoliating Body Bar is designed to cleanse and exfoliate the skin thanks to these premium ingredients: Crushed olive seed, jojoba meal, pumice, and glycerin. The end result is skin that feels incredibly smooth, soft, and hydrated.
Great performance aside, the other thing that stands out about this Body Bar is it's excellent scent. Cedarwood and oakmoss essence combine to give this bar soap a very rugged, masculine aroma that smells woody, musky, earthy, and slightly sweet with subtle leathery undertones. It's the perfect balance between rugged and refined, and in my opinion would work really well for all men.
Bottom line: This is an excellent smelling bar soap for men who like woody, earthy fragrances. The exfoliating factor is also a nice added touch that leaves skin feeling very soft and smooth.
---
Dr. Squatch – Bay Rum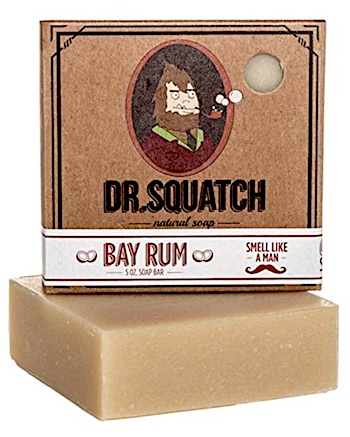 If a great smelling bar of soap is what you're after, I will personally vouch for pretty much every scent offered by Dr. Squatch. One of their most popular and best selling offerings (over 2,500 reviews on Amazon) is their Bay Rum scented bar soap.
It's formulated with 100% safe, all-natural ingredients that are designed to cleanse, moisturize, and hydrate the skin. It also provides gentle exfoliating action thanks to small kaolin clay particles that remove dead skin while still being safe for people with sensitive skin.
And while the performance of this soap is excellent, it's the awesome scent that really stands out most. Their tropically inspired Bay Rum scent features a complex blend of clove, cinnamon, pine, and orange. It smells warm, spicy, citrusy, sweet, and extremely inviting. It reminds me of an old school barbershop scent but with unique Dr. Squatch twist.
Bottom line: Dr. Squatch Bay Rum soap is an excellent option for men who like warm, spicy, and citrusy scents. It's also reasonably priced which is a big plus.
---
Mistral – Bourbon Vanilla
If a manly smelling bar soap is what you're after, it doesn't get much more manlier than this Bourbon Vanilla scented bar soap from Mistral. Founded in 1994, Mistral has become one of the premier purveyors of high end, luxury bar soaps for men.
While their Bourbon Vanilla scent is one of my personal favorites, they also offer a bunch of other unique and masculine scented bar soaps to satisfy the senses of pretty much any man.
The first thing that stands out about Mistral Bourbon Vanilla bar soap is the impressive size and weight. Weighing in at a massive 8.8 ounces it's clear that this soap bar is intended to be wielded by a man. Once you get past the generous size of this soap, your nose will undoubtedly pick up the intoxicating scent of smokey bourbon and toasted vanilla. It's very warm, inviting, spicy and slightly sweet. There's even a subtle twist of golden tobacco leaf to help round out the masculine aroma.
Bottom line: Two thumbs up.
---
Pré de Provence – No. 63
Take your nose hairs on a trip to the French countryside with Pré de Provence No. 63 bar soap. When it comes to great smelling grooming products for men, Pré de Provence No. 63 always seems to find its way onto my list.
No. 63 is a unique scent that Pré de Provence formulated specifically for their male grooming product line. And whether it's their body lotion, shave soap, shave cream, body wash, or bar soap — I've come to find that the masculine smell of No. 63 works really well across the board.
Hand crafted in France, the scent of No. 63 takes inspiration from natural scents and fragrances found in the countryside of Provence, France. The smell can be described as warm, spicy, peppery, and citrusy — with notes of cedar, plum, violet leaves, leather, and tobacco. Scent profiles don't get much more masculine than that.
Bottom line: Pré de Provence No. 63 is a unique, bold, and masculine smelling bar soap that is absolutely worth a whiff. It's also pretty damn cheap too, which is always a plus.
---
Hermès – Eau d'Orange Verte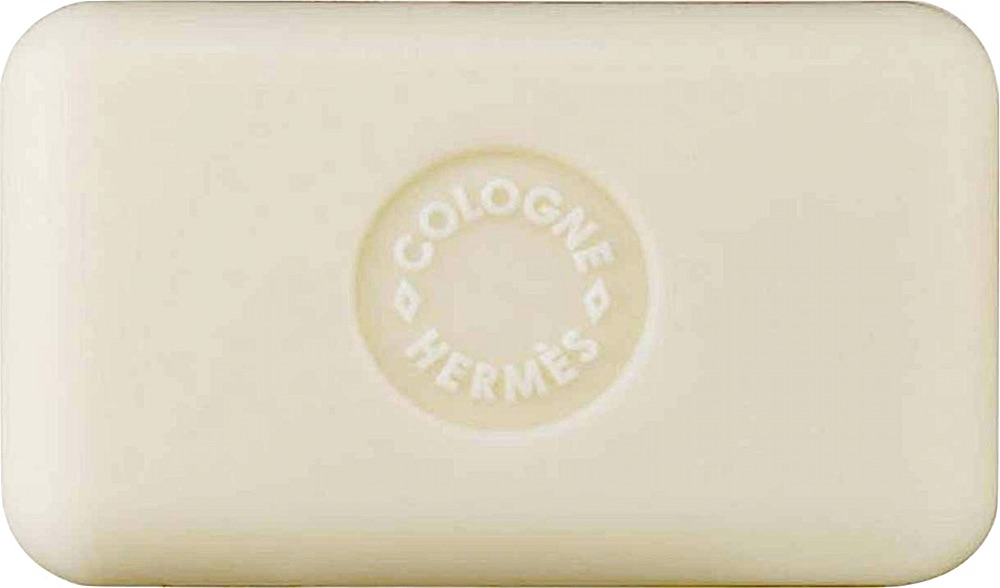 When it comes to great smelling bar soaps for men, Hermès Eau d'Orange is quite possibly luxury at it's finest. Hermès was established in 1837 in Paris, France, and they produce high fashion luxury clothes, fragrances, and accessories for both men and women.
Their Eau d'Orange Verte bar soap has a bold, complex scent that's perfectly suited for men who enjoy citrusy, earthy, and woody fragrances. The Eau d'Orange Verte scent profile contains notes of orange, lemon, mandarin, mint, blackcurrant, oak moss, cedar, sandalwood, patchouli, and botanical essences. And if that sounds extremely complex, that's because it is.
One sniff of Eau d'Orange Verte bar soap is not enough to achieve a full appreciation of it's subtle notes and nuances. Which is a good thing because anyone who catches a whiff of it is undoubtedly coming back for more.
Bottom line: Eau d'Orange Verte is a very complex and fresh smelling bar soap, with citrus and wood being the most prominent notes.
---
Dr. Squatch – Crisp IPA
Although it may be frowned upon to throw back a beer first thing in the morning, nobody however can say shit if you decide to start your day off with this Crisp IPA scented bar soap from Dr. Squatch.
I first had the pleasure of smelling this unique creation when I received it as a Christmas stocking stuffer a few years back. Even through the wrapping paper I could smell the strong, intoxicating aroma of a fresh citrus IPA beer. With notes of grapefruit, hops, and undeniable badassery, this soap is a must have for any gentlemen who appreciates the delicious aroma of a craft IPA beer.
And if you thought for one second that the IPA scent was artificial — you would be dead wrong, my friend. Dr. Squatch Crisp IPA is brewed formulated with all-natural ingredients that include: Distilled hops, beer, shea butter, sea salt, kaolin clay, olive oil, coconut oil, and palm oil.
Bottom line: when it comes to fresh, citrusy smelling bar soaps that are inspired by craft IPA beer — this shit is the real deal.
---
Mistral – Sandalwood Bamboo
Another excellent offering from Mistral is this Sandalwood Bamboo scented bar soap. If you've never had the pleasure of experiencing a bar of Mistral soap before, there are two things you should prepare yourself for:
1. Mistral soaps are built like tanks. They are thick. They are heavy. And they will quickly become too much to handle in the shower if you aren't man enough to wield it.
2. Mistral soaps smell friggin awesome. They are bold, unique, and undeniably masculine as hell.
One of Mistral's most popular sellers is their Sandalwood Bamboo scented bar soap. The scent profile contains notes of warm sandalwood, botanical essence, spices, and Italian bergamot. The resulting fragrance is woody, warm, spicy, citrusy, fresh, and slightly floral. It's a robust fragrance that requires a few focused whiffs to appreciate everything the scent has to offer.
Bottom line: This Sandalwood Bamboo scented bar soap from Mistral is an awesomely unique take on the classic sandalwood scent.
---
Baxter of California – Lime & Pomegranate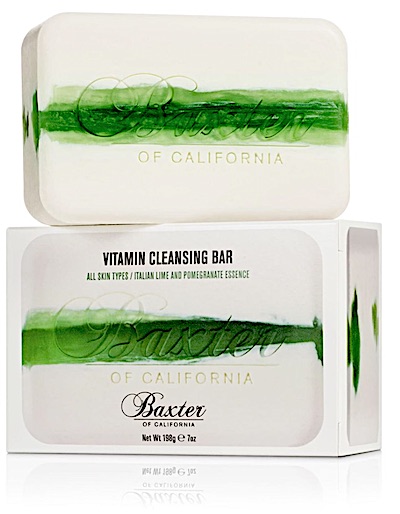 Who the hell told you that fruit inspired scents are for women? Well whoever it was clearly never caught a whiff of this Lime & Pomegranate scented bar soap from Baxter of California.
It features a complex blend of lime, pomegranate, bergamot, cucumber, and musk. The scent is very fresh, citrusy, and slightly spicy. And while this bar soap may be inspired by the essence of fruit, nobody can claim that the resulting fragrance is anything short of pure masculinity.
Great scent aside, there's a lot to like about this bar soap in regards to quality and performance. For one — the green stripe. Sure it looks pretty cool, but there's more to it than that. It's actually a stripe of glycerin that is responsible for nourishing and hydrating the skin.
This soap also contains aloe, seaweed extract, sunflower oil, and vitamins A and E that leave the skin feeling soft, smooth, nourished, hydrated, and protected.
Bottom line: This is an excellent smelling — and performing — bar of soap with heavy notes of citrus, musk, and pomegranate.
---
Swag Brewery – Boozy Soap
Unleash your inner — outer? — alcoholic with this Boozy scented soap collection from Swag Brewery. While you may be thinking that using these soaps will make you smell like a raging alcoholic, that's thankfully not the case.
Each scent in the collection is unique, complex, and perfectly suited for any gentlemen who enjoys a lively spirit from time to time to time to…….
The 3 scents include Whiskey, Wine, and Beer and are actually formulated with real Kentucky bourbon, vintage merlot, and fresh IPA beer. A few of the other key ingredients include: crushed oats, apricot seed, cranberry seed, and rosemary.
Bottom line: This is an awesome collection of spirit inspired bar soaps. Each scent is distinct, unique, and does a great job of capturing the essence of their corresponding spirit without leaving your skin smelling like you just went on a 3 day bender. Sadly you won't be able to blame any potential DWI's on your bar soap.
Scent Profiles:
Whiskey – A masculine Kentucky bourbon scent that contains notes of vanilla and oatmeal. The scent is warm, rich, peppery, spicy, slightly sweet, and oaky.
Wine – A sweet, yet masculine scent that smells like a true vintage merlot, with notes of grape, raspberry, cherry, and blueberry. The scent can be described as fruity, rich, sweet, and bright.
Beer – A fresh, hoppy scent that smells like a fresh IPA beer. It's spicy, fresh, herbal, slightly floral, and slightly sweet.
---
Seattle Sundries – Manly Man Soap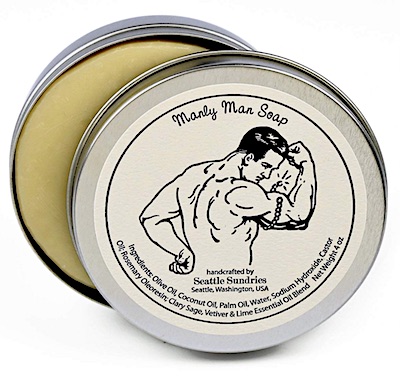 It's time to put down those sport inspired bar soaps that leave you smelling like a boy, and pick up this "Manly Man Soap" that will leave you smelling like a man.
Seattle Sundries is a small Seattle based company that specializes in all-natural, handcrafted products and soaps. Their long line of soaps are easily recognizable by their unique puck shape, original artwork, and re-usable metal tin packaging.
As you can clearly guess by the name, their Manly Man Soap is specifically designed for men like us and is formulated with clary sage, vetiver, and lime. The scent can be described as woody, earthy, fresh, herbal, zesty, citrusy, slightly sweet, and slightly grassy. It's a unique scent that is perfectly suited for men who appreciate a masculine, rugged aroma.
Great scent aside, this bar soap is also extremely nourishing and hydrating to the skin thanks to these key ingredients: Glycerin, olive oil, coconut oil, palm oil, and castor oil.
Bottom line: Manly Man Soap is a unique, rugged, and masculine smelling soap that is definitely worth a sniff.
---
Charles + Lee – Macchiato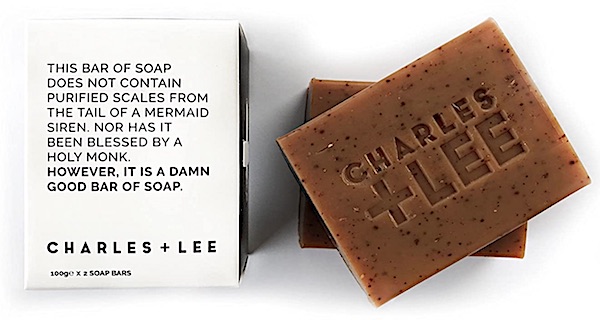 If you're the type of guy that takes his morning coffee with more morning coffee, then this Macchiato scented bar soap from Charles + Lee is definitely for you.
It features the delicious aroma of a fresh Italian Macchiato which smells rich, bold, warm, nutty, earthy, and slightly smokey. It's perfect for gentlemen who start every day with a hot cup of joe, or for gentlemen, like me, who simply enjoy the rich, fresh scent of coffee.
Performance wise, this Charles + Lee bar soap is enriched with real arabica beans and oatmeal which provide excellent exfoliation. Skin is left feeling soft, smooth, and renewed. It also contains shea butter which nourishes, moisturizes, and hydrates the skin.
Bottom line: If you enjoy the scent of fresh coffee or macchiato, then you're going to love lathering up everyday with this Charles + Lee bar soap. The added exfoliation is also a really nice performance enhancing touch.
---
How to Make Bar Soap Last Longer
Now that you've found an awesome smelling bar soap you'll naturally want it to last as long as possible, right? The problem with bar soap however is that it can prematurely dissolve if it's used or stored improperly. This not only reduces the lifespan of the bar, but it also means that you're pouring your hard earned money down the drain — quite literally.
So to help you maximize the lifespan of that great smelling bar of soap, I've included 3 easy tips you can use to keep it in action for as long as possible.
1. Cut it up
One of the most effective ways to make a bar of soap last longer is to cut it into smaller pieces; ideally in half or into thirds. This helps the entirety of the bar last longer because you are only bringing little pieces of it into the shower while the remainder stays dry until it's ready to be used. Keeping bar soap dry when it's not in use will significantly prolong it's lifespan.
2. Use a washcloth or loofah
If you're the type of guy that prefers to lather your bar soap directly on your skin, I'm here to tell you that this is significantly reducing the lifespan of the bar. The problem is that skin is smooth and therefore very ineffective at producing and maintaining a lather. By using a washcloth or loofah you will significantly increase the amount of suds and lather while decreasing the amount of bar soap that's being used. The textured surface of washcloths and loofahs is also much more effective than soap at sloughing away dead skin, odor, and bacteria.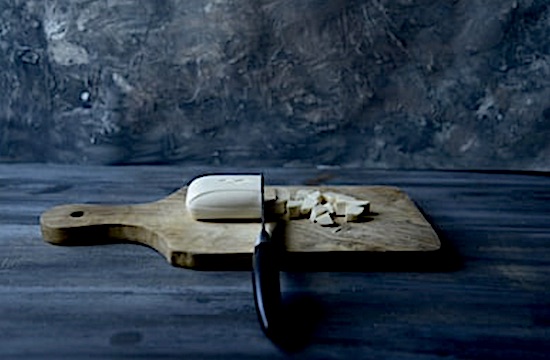 3. Store it properly
While most men don't think twice about leaving bar soap stored in the shower, this can dramatically reduce it's lifespan due to steam and moisture. If you intend to maximize the lifespan of your soap then you need to keep it stored in a dry location between uses. It's also important to keep soap away from dripping or splashing water during a shower if you aren't in the process of using it. It might sound like overkill, but the simple fact is: the less time bar soap spends in contact with water, the longer it'll last. A moveable suction cup soap holder works really well for this purpose.
4. Cure it
While most premium and handcrafted soaps are already cured, many store bought bar soaps are not. Curing bar soap involves unwrapping it and placing it in a cool, dry location for a period of 4-8 weeks. This allows any trapped moisture and air to escape — resulting in a much harder and longer lasting bar of soap. To help further improve moisture evaporation during the curing process it can be beneficial to individually wrap each bar in a towel or cotton linen to help draw out any trapped moisture. I've even heard of individuals who keep their unused soap stored in cardboard boxes (unwrapped and not touching) to improve moisture evaporation. Whatever method you choose, curing your bar soap is a simple and effective way to prolong the life of most store bought bar soaps.
---
Thanks for checking out my list of best smelling bar soaps for men. If you found this article helpful, be sure to check out my list of best smelling beard oils and balms. As always, if you have any comments or questions feel free to drop me a line in the comment section below.