Trouserdog.com is a participant in the Amazon Services LLC Associates Program, an affiliate advertising program designed to provide a means for sites to earn advertising fees by advertising and linking to Amazon.com.

Article updated: April 26, 2023
  
Few things in life are as satisfying and soothing for a man than his daily morning shave. For a lot of men, this brief time spent in front of the mirror is a welcome reprieve from the hustle and bustle of daily life.
With all the stress, obligations, and burdens that day-to-day life tends to throw in our face, it's no wonder that many men treat their daily shave as more of a ritual than a chore.
That's why building the perfect shaving kit can be so satisfying – it's kind of like investing in yourself.
One of the most important elements of any shave kit is choosing the perfect shave soap. While there a literally thousands of options available on the market, certainly not all of them are worthy of your brush and bowl.
While lather and protection are of paramount importance when choosing a shave soap, in this article I am going to be covering fragrance and smell.
While choosing the best smelling shave soap is largely a matter of personal preference (no two noses think alike), it certainly doesn't hurt to solicit the advice of others in order to make a more informed decision.
In this article I discuss some of the best smelling shave soaps available today. Each one is carefully hand selected based on personal experience and thousands of user reviews from gentlemen just like you and me. I figure that many noses can't be wrong, right?
And although this article is all about shave soap smell – shave soap performance was most definitely not overlooked.
Not only are the following selections amazing smellers, they are also top notch performers as well. After all, what good is a great smelling shave soap that you never want to use?
So without further ado, read on for my list of best smelling shave soaps for men. Enjoy.
The List:
Best Smelling Shave Soaps for Men Reviewed
---
Barrister and Mann – Cologne Russe

Truth be told, this list of best smelling shave soaps wouldn't be worth a damn if I didn't include one of Barrister and Mann's incredible creations. Cologne Russe is an old world scent that takes inspiration from an early twentieth century cologne created by the House of Guerlain for the Russian royal Family. It can be described as citrusy, herbal, spicy, warm, and masculine as all hell. The deep, complex scent is a blend of lemon, bergamot, petitgrain, herbs, violet, rose, bay, and amber, and also includes castoreum, benzoin, and vanilla for a rich, warm finish. Amazing smell aside, this soap's performance more than matches it's great scent. It lathers very well, it's slick, protective, smooth, and leaves skin feeling highly moisturized post shave. What more could you ask for? Tip: do yourself a solid and pair it with Cologne Russe aftershave.
What else is great about Barrister and Mann shave soap?
• The scent lasts
A great smelling shave soap doesn't mean much if all the fragrance immediately dissipates or gets washed down the drain. Like all Barrister and Mann soaps, Cologne Russe has a long lasting presence on the skin. Not only will you thoroughly enjoy the smell during your morning ritual, but it will stay with you throughout the day so you can share it with others.
---
Pré de Provence – No. 63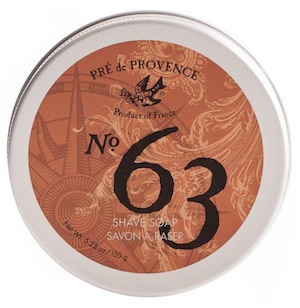 Handcrafted by French artisans, Pré de Provence No.63 shave soap is inspired by the scents and fragrances found in the tranquil setting of Provence, France. The smell is described as warm, spicy, peppery, and citrusy, rounded by cedar, plum, and violet, and finished with a masculine base of leather and tobacco. I like to think of it as a case of dapper gentlemen meets bold, badass outlaw. It's fresh, clean, refined, and masculine, with an unmistakable hint of rugged and daring. Aside from the awesome smell, No. 63 shave soap doesn't disappoint when it comes to performance. It doesn't need a lot of water to work into a rich, slick lather that provides a ton of cushion and protection. It also leaves skin feeling very nourished, hydrated, and smooth thanks to moisturizing ingredients such as shea butter, glycerin, and sunflower seed oil.
What else is great about Pré de Provence No.63 shave soap?
• It's quad milled
The process of milling involves running soap through a milling machine that consists of smooth stainless steel rollers. This not only thoroughly mixes all the ingredients of the soap, but also presses out any extra moisture and air. The benefit of this is a bar of soap that contains less water and air, resulting in a much harder, long-lasting soap. While most cheap shave soaps are only milled once or twice, Pré de Provence No. 63 is milled 4 times. Meaning it lasts hell of a lot longer than your average shave soap.
---
Henri et Victoria – Cognac and Cuban Cigars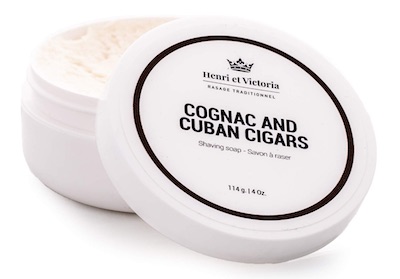 When it comes to masculine smelling shave soaps, this offering from Henri et Victoria pretty much takes the cake. Cognac and Cuban Cigars is an insanely bold, rugged, masculine fragrance that any real man would be thrilled to add to his arsenal. It's also impressively long-lasting. The sweet cognac and smoky aroma contains notes of: cedarwood, leather, grapes, raisins, apricot, lemon, and spicy tobacco. Or to put it simply – it's basically manliness personified in shave soap form. Performance wise, Henri et Victoria shave soap definitely doesn't disappoint. It lathers really nicely, and provides plenty of cushion and glide. Tip: definitely pair it with the companion aftershave balm.
What else is great about Henri et Victoria shave soap?
• Handmade in Canada
In this day and age of mass produced products, it's refreshing to see (and support) a small company like Henri et Victoria that handcrafts their products from the ground up. Each one of their awesome smelling shave soaps is made in small batches by skilled artisans at the Henri et Victoria shop in Quebec, Canada.
---
Sir Hare – Classic Barber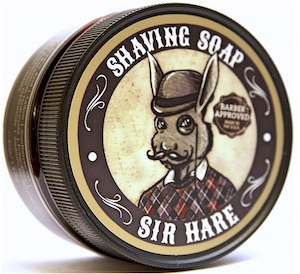 What comes to mind when you think of a classic barbershop smell? Is it the clean fragrance of talcum powder? Leather? Wood? Or maybe it's a blend of fragrances that you can't quite put your finger on. Whatever particular scent stands out to you most, I think we can all agree that the classic smell of a barbershop is unmistakably fresh, clean, and masculine. Sir Hare Classic Barber makes this list of best smelling shave soaps for men due to it's ability to capture the essence of that traditional barbershop smell, while putting an awesomely unique twist on it. They expertly recreate the barbershop fragrance that we all know and love, and blend it with hints of bergamot, cedarwood, and oakmoss. The result is truly something to sniff behold. It's fresh, clean, bold, warm, and inviting. Not to mention, undeniably masculine as hell. It's kind of a modern/retro twist on an American classic. Two thumbs up.
What else is great about Sir Hare shave soap?
• Big lather
An awesome smell isn't the only thing that Sir Hare Classic Barber is good at. It's also really great at working into a thick, rich, creamy lather that allows for a silky smooth shave, while providing tons of cushion and protection. And it doesn't take long to get there either. This stuff is really easy to lather (similar to Proraso in that regard) and doesn't require much water, but still provides a ton of skin lubrication and protection.
---
Rocky Mountain Barber Co. – Cedar Spice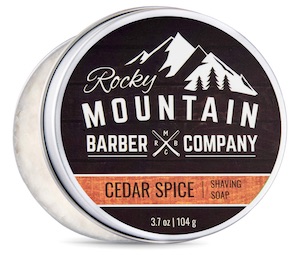 Looking for the best smelling shave soap for men, but using all-natural ingredients is important to you? Then I suggest you take a hard look at Rocky Mountain Barber Company – Cedar Spice. This all-natural shave soap for men is an absolute beast when it comes to high performing natural ingredients, while still offering a kick-ass, masculine fragrance to boot. Their Cedar Spice scent is a natural blend of orange and cinnamon leaf oils, and can be described as sweet, warm, spicy, and citrusy. It's a refreshingly unique offering to the world of shave soaps, and is certainly a must have for any man looking to add an awesome smelling addition to his shave soap repertoire. Great fragrance aside, this all-natural shave soap from RMBC doesn't disappoint when it comes to performance and comfort. It produces a very slick, rich lather that offers plenty of skin lubrication and protection.
What else is great about Rocky Mountain Barber Co. shave soap?
• Highly moisturizing
An all-natural, great smelling, rich lathering shave soap for men – what more could we ask for? Apparently Rocky Mountain Barber Company wasn't satisfied. That's why they packed this shave soap with plenty of all-natural moisturizing ingredients such as shea butter, coconut oil, and castor oil. Post shave skin is left feeling soft, smooth, nourished, and hydrated.
---
Lather & Wood – Bay Rum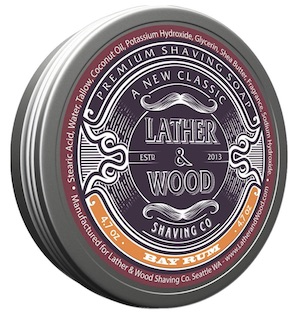 Start your morning off right with a classic smelling shave soap that every self respecting wet shaver should have in his arsenal. Bay Rum is one of those fragrances that never seems to go out of style. Early versions of the scent date as far back as the 1500's, and continues to be one of the most popular men's fragrances for aftershaves, beard oils, colognes, and of course shave soaps. Lather & Wood's Bay Rum shave soap gives us that classic bay rum fragrance, but still offers unique characteristics that you won't find with other brands. It's inspired by the scent of bay leaves and Jamaican rum, and smells warm, sweet, spicy, earthy, and woody. Not to mention bold, rugged and distinctly masculine. After all, there's a good reason why bay rum scent has been around for over 500 years.
What else is great about Lather & Wood shave soap?
• It's long lasting
One of the great things about Lather & Wood shave soap is how long it actually lasts. Compared to most other brands, I find that you can get significantly more mileage with Lather & Wood. I've even seen some users report that the soap has lasted them over 6 months with daily use. Pretty damn impressive.
---
Henry Cavendish – Lavender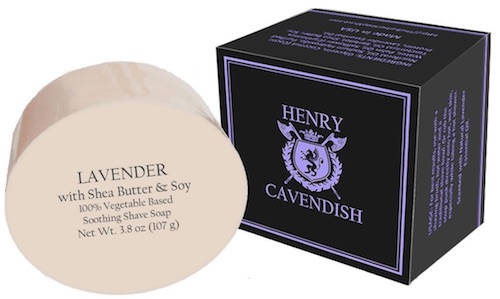 Lavender is one of those traditional scents that some men really like and some men don't. If you fall into the former category, Henry Cavendish Lavender shave soap is definitely for you. Formulated using all-natural, vegetable based ingredients, Henry Cavendish offers a clean, herbal, fresh fragrance that is perfectly suited for a well groomed man. It's the kind of scent I imagine a guy like James Bond would use. Which might explain why he got so much Pussy Galore. Aside from the great fragrance, Henry Cavendish performs exceptionally well in the shave department. It quickly works into a thick, rich lather that provides plenty of cushion and protection for the skin. The result is a smooth, irritation free shave, with no nicks or cuts. Top notch performance and excellent fragrance? What more could a gentleman ask for?
What else is great about Henry Cavendish shave soap?
• It contains skin beneficial ingredients
Aside from the great smell and excellent performance, one of the things that I really like about this shave soap is that it contains a ton of skin beneficial ingredients that help moisturize, hydrate, and protect. What's inside:
Shea butter – A fat that's extracted from the nut of the African shea tree, shea butter is known for it's moisturizing benefits, ability to restore skin elasticity, and it even helps reduce razor irritation and bumps.
Soy – Known to boost collagen production, hydrate, and even reduce the appearance of fine lines and wrinkles.
Glycerin – An emollient that helps draw moisture to the skin and keep it there.
Coconut oil – Contains antimicrobial properties that helps protect the skin. It's also known for it's ability to moisturize, reduce inflammation, and promote wound healing.
Safflower oil – Helps moisturize dry skin while improving skin elasticity, and even helps reduce the appearance of fine lines and wrinkles.
Castor oil – A skin moisturizing oil that contains antioxidant properties. It also helps eliminate acne, reduce inflammation, and even helps fight free radicals.
---
The Blades Grim – Smolder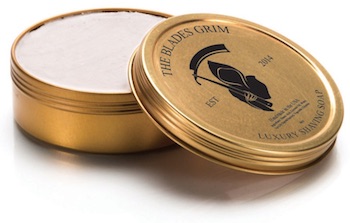 Come on now, the name of this scent alone is almost enough to earn it a place on this list. Smolder. Just reading that word aloud kinda makes me feel like a badass. Cool name aside, Smolder is an all-natural shave soap that smells every bit as good as it's name would indicate. It's a ridiculously awesome blend of orange peel, coriander, star anise, mandarin, and Venezuela tonka beans. The scent can be described as warm, toasty, citrusy, spicy, and extremely inviting. It also earns points for being incredibly unique – I'll just say you likely haven't come across a fragrance like this before in a shave soap. Excellent smell aside, The Blades Grim Smolder again lives up to it's cool name by offering kick-ass performance. It very quickly (almost effortlessly) works into a rich, luxurious lather that provides tons of protection and glide. And unlike the name suggests, your skin will not be smoldering after 3 passes with this one.
What else is great about The Blades Grim shave soap?
• All-natural
One of the things that originally drew me to The Blades Grim shave soap is that it's formulated with safe, all-natural ingredients. It contains no harsh, or synthetic chemicals, and is a great option for wet shavers with sensitive skin.
---
Thanks for checking out my list of best smelling shave soaps for men. If you liked this article, check out my list of best smelling body lotions for men. As always, if you have any questions or comments, drop me a line in the comment section below.