Trouserdog.com is a participant in the Amazon Services LLC Associates Program, an affiliate advertising program designed to provide a means for sites to earn advertising fees by advertising and linking to Amazon.com.

Article updated: April 26, 2023
  
Leather flip flops are great. They're stylish, comfortable, durable, and short of formal wear, they pair well with pretty much anything.
But as versatile as leather flip flops are, they aren't without their shortcomings. Although leather flops are superior to their synthetic counterparts; by design all flip flops suffer from some serious functionality issues. If you ever thought to yourself, gee it would be swell to only ever wear flip flops, guess again pal, because there is quite a few things you seriously wouldn't want to do while wearing flops.
Things you don't want to do while wearing flip flops:
Run with bulls
Run from the police
Play soccer
Lift weights
Gang fight
Play kick-ball
Juggle hammers
Snow board
I know what you're thinking:what else is there? But don't worry. As limiting as that list is, let's take a look at a few pastimes where flip flops really excel.
Things you do want to be doing while wearing flip flops:
Beaching
Vacationing
Barbecuing
Drinking
Boating
Hammocking
Fishing
Sleeping
Nothing
As you can see, that list is pretty diverse. If you want to enjoy all the benefits flip flops have to offer, you need to consider a pair that is capable of handling itself in a wide range of environments, and look good while doing it.
In my opinion leather flip flops check all the requisite boxes. They are tough as hell, comfortable, versatile, and they're pretty damn stylish. But with so many options available, how is a guy to choose? So in an effort to find the best leather flip flops for men, I scoured the internet, poured over statistical data, aggregated countless user reviews, and devised a complex algorithm based on personal experience.
The result? 10 of the best leather flip flops known to man. Enjoy.
10 Best Men's Leather Flip Flops Reviewed
---
OluKai – Waimea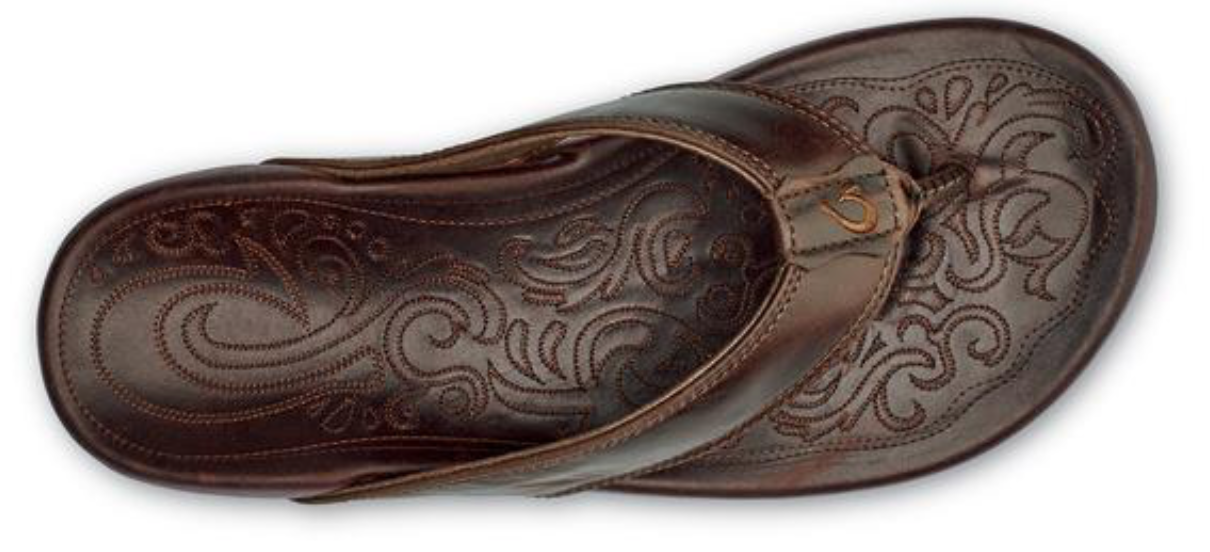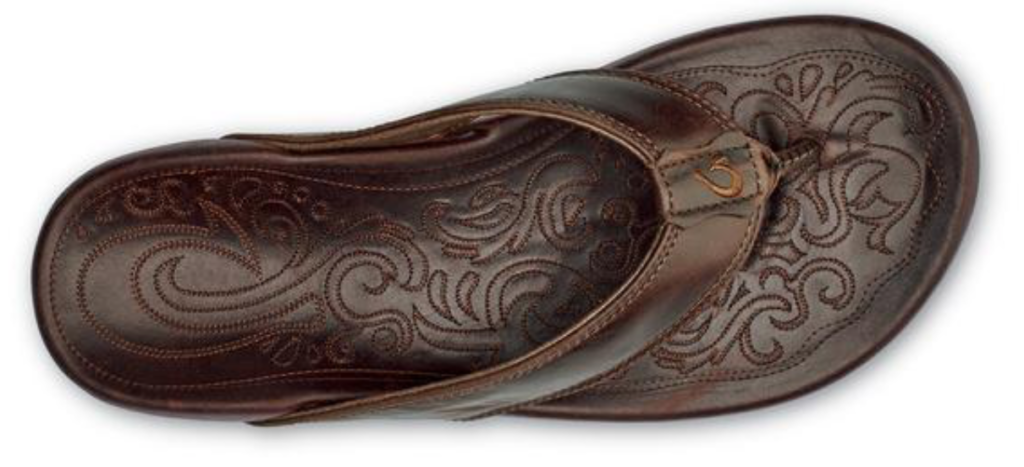 Slip into the spirit of Hawaii with these OluKai Waimea flip flops. OluKai is a Hawaiian footwear company that began making premium flip flops back in 2006. Their environmentally friendly approach to business, and uncompromising commitment to quality has earned them a solid reputation and loyal fanbase. As you can see, the OluKai Waimea doesn't look like your basic run of the mill flip flop. Crafted using water-resistant full grain leather and featuring some intricate stitch work, these flip flops look as cool as they feel.
What's great about the Waimea:
• Paniolo stitching
One of the first things you'll notice about the Waimea is the intricate stitching that covers the full grain leather footbed. OluKai refers to this stitching as Paniolo stitching, and pays tribute to the traditional style of Hawaiian cowboys called Paniolos.
• Comfort
Remember the last time you were at the beach and you stepped into the wet sand? It's a comforting feeling. Sand has the ability to mold to the contours of your foot, providing support and stability. When OluKai designs their footbeds, they try to mimic that same feeling of stepping into the wet sand.
• Full grain leather
Full grain leather is the finest grade of leather you can get, and the Waimea is covered in it. From the straps, to the footbed, midsole, outsole, and even toe post are all water-resistant full grain leather. For increased traction and durability, molded rubber inserts are added to the sandals outsole.
• Versatile style
The Waimea somehow manages to never look out of place. Whether you're going to the beach, dinner, out with friends, or a non-formal night on the town, the versatile styling is suitable for pretty much any occasion. Which is kind of cool if you're the type of person who hates having to change out of their flip flops.
• Warranty
Flip flops can take a lot of abuse from us guys. Unlike shoes, flip flops have very little upper materials to absorb the stresses and strains of each step. They rely entirely on the straps to keep your foot in place. Because of this it's not uncommon to experience premature blowouts in cheaply made flip flops. OluKai sandals on the other hand have been known to last for years; and they are so confident in their build quality and craftsmanship that they offer a full 1 year warranty on all their sandals.
Negatives:
Pricey. Expect to pay more for the premium quality and materials.
---
Rainbow – Single Layer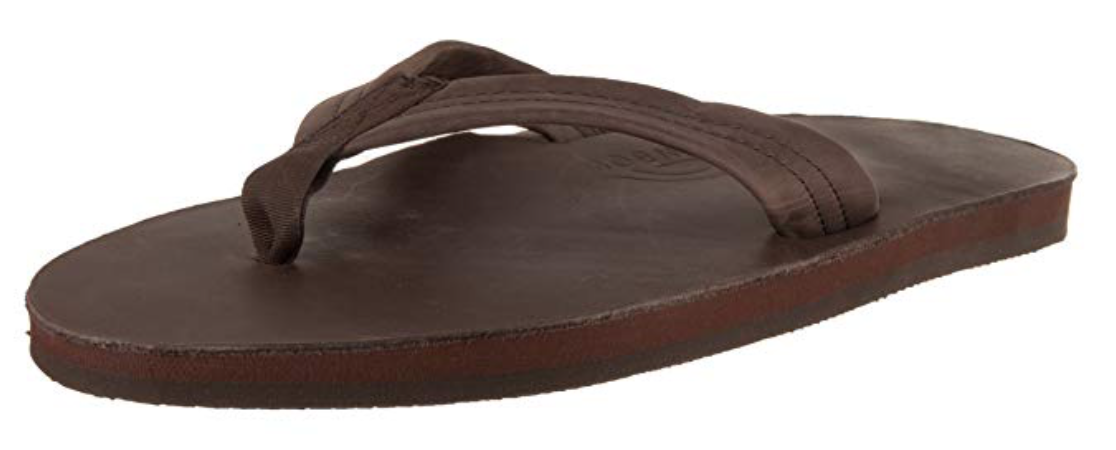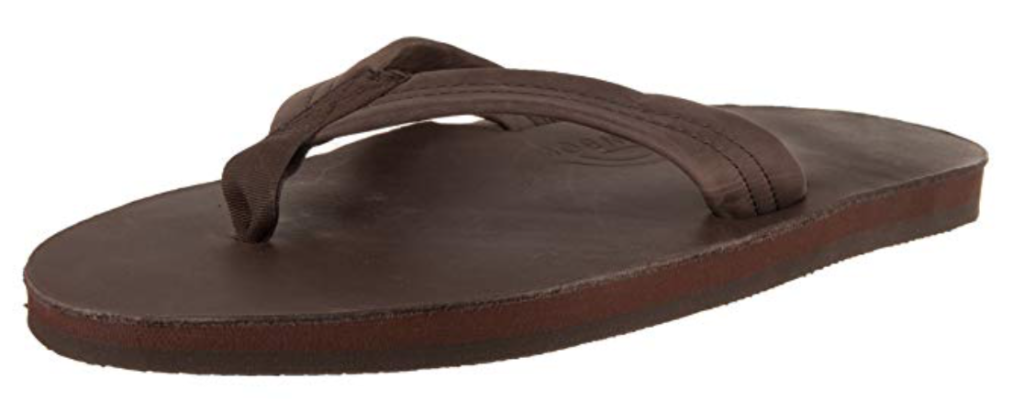 Rainbow Sandals have been around since 1974, and they are known for producing some of the most durable, and comfortable leather sandals known to man. All Rainbow's are made right here in the USA using only premium materials, and are constructed to the highest standards of build quality. If their solid reputation for quality isn't enough to satisfy you, they also offer a lifetime guarantee on all their sandals. Confidence.
Offered in a range of colors and finishes, the Rainbow Single Layer is the original, and in my opinion best looking sandal in their lineup. The footbed and strap are both constructed of Nubuck leather, while the toe piece is made of nylon for durability and comfort. Rainbow uses a special box X parachute stitch to secure the nylon toe piece to the leather straps, which basically eliminates those unexpected flip flop blowouts.
Appearance wise, the Single Layer has that very simple, classic flip flop look, but bears unique characteristics that make it distinctly Rainbow:
Arch support
Embossed Rainbow logo on foot bed
Small Rainbow logo on right strap
Double stitching on the straps for durability
Nylon toe piece for comfort
Non-slip grip outsole
What's great about the Rainbow Single layer:
• Nubuck leather
Constructed with Nubuck leather footbed and straps, this soft velvety leather is strong, durable, and after a brief break in period, will begin to form to the shape of your foot like a glove.
• Durability
These things are built to last, and Rainbow guarantees it. Literally. Utilizing custom glues, double stitching, weather resistant nylon thread, and premium materials, expect to be stuck with these flip flops for a long time.
• Comfort
My favorite things about flip flops are convenience and comfort. Pretty much all flip flops offer convenience, but where Rainbow really stands out is their dedication to comfort. Check out a few of the reasons why Rainbow owners often say, they are the most comfortable sandals they have ever worn:
Memory foam – Closed cell memory foam is used in the midsole, and provides a soft, cushioned landing zone every time you take a step. Over time it'll even mold to the unique contours of your feet. Kinda cool.
Arch support – Often times flip flops can cause foot pain and discomfort during long treks on foot due to lack of arch support. That's not an issue with these. If you live in flip flops during the summer, Rainbows provide comfort and support in the arches better than most shoes.
Custom feel – Kind of like a fine wine, Rainbows just seem to get better with age. The more time you spend in a pair, the more they contour to the unique characteristics of your foot.
Negatives:
Rainbow sandals typically require a brief break-in period while they mold to your feet. Expect some mild discomfort for the first few hours of wear.
---
Volcom – Recliner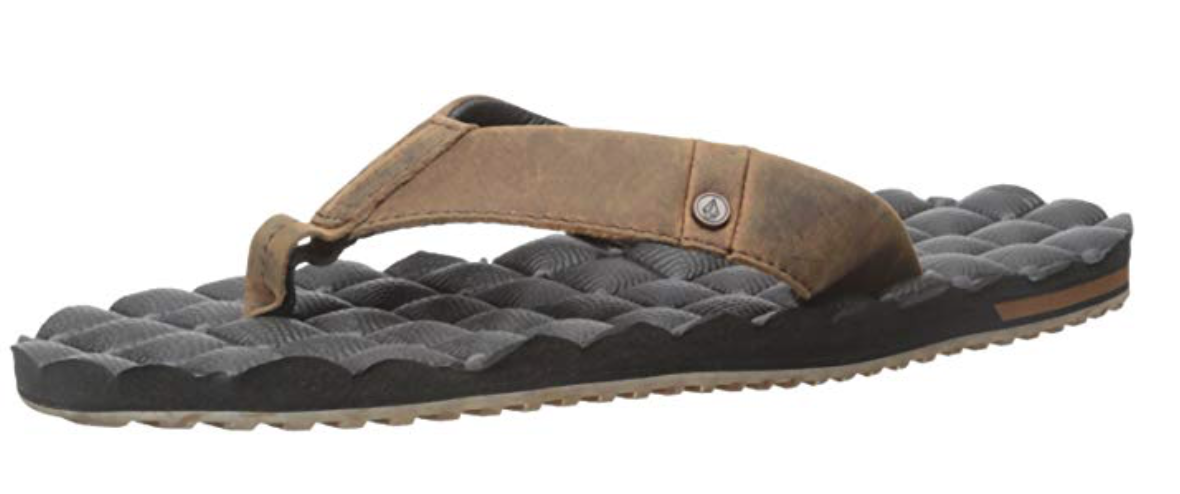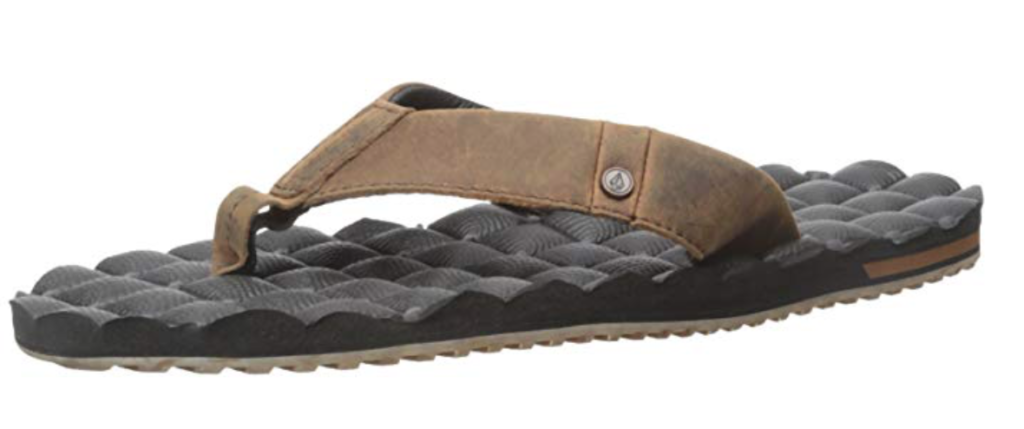 Founded all the way back in 1991, Volcom produces footwear, clothing, and accessories for people who aren't afraid to push the boundaries of what's considered normal. Often seen on skaters, surfers, and snowboarders, the Volcom brand emphasizes creativity and uniqueness in all their designs, and the Recliner flip flop is no exception.
Unlike any sandal I've ever seen, the Recliner has a crazy looking footbed that makes you do a double take when you first see it. Also featuring a handsome genuine leather strap, and anti-slip outsole, these unique flip flops certainly stand out in a crowd.
What's great about the Volcom Recliner:
• Comfort
As the name Recliner suggests, these things are designed to be comfortable. The footbed is constructed with a series of soft pillow-like pads that look pretty badass, and provide unrivaled cushion and comfort with every step. The only downside is you're probably not going to want to take 'em off.
• They look awesome
While looks are subjective, I personally think these look awesome. The aged genuine leather strap has a rugged feel that adds a ton of character. Little details like the metal Volcom pin, detailed stitching, and contrasting heel stripe give these flip flops a premium look, while maintaining a reasonable price tag.
• Water resistant
Leather is awesome, but leather soles can sometimes become misshapen when they get wet. Since the Volcom Recliner's sole is constructed of polyurethane and rubber, these hold up really well to repeat bouts with water. If you're the type of guy that wears his flip flops literally everywhere, it's nice to know that these will survive whatever comes their way.
Negatives:
The leather toe piece requires a short break in period.
---
UGG – Beach


UGG is generally known for their warm sheepskin winter boots, but their roots actually originated in surf & beach culture. The original UGG boot design was meant to keep surfers feet and ankles warm after a day of riding the waves. But considering most guys typically don't wear sheepskin boots to the beach, the UGG Beach flip flop is a sensible alternative.
While it's a significant departure from those clunky winter boots, the Beach flip flop still maintains the quality and comfort that people have come to expect from UGG – minus the sheepskin of course.
What's great about the UGG Beach:
• Suede leather
UGG constructed the Beach's straps using 100% suede leather. Suede is a high quality leather that is notable for it's soft fuzzy appearance and texture. Unlike full grain leather that contains the smooth outer layer of the animal's hide, suede is made from the underside of the hide, and is coveted for it's fashion, softness, and flexibility.
• Minimalist style
Featuring clean lines and a sleek low profile design, the UGG Beach is a great choice for guys who appreciate quality and style, but aren't necessarily trying to make a lot of "noise" when it comes to their fashion choices. Subtle details like: x stitching on the strap, a subtle white stripe on the outsole, and patterned canvas lining under the suede straps, all add a premium look and feel without being obnoxious. UGG offers the Beach in: black, chestnut, and imperial blue (pictured).
• Comfortable
What would a pair of flip flops be if not comfortable? Shoes? In regards to comfort, the Beach features a molded footbed that offers: arch support, a heel cup, and raised toe support. They also added a canvas lining on the underside of the straps to prevent rubbing and friction from the leather. And even though the grippy rubber outsole is reminiscent of a sneaker, it's still lightweight and flexible; maintaining the comfort and freedom of a flip flop, but with the durability and grip of a sneaker.
Negatives:
I would've liked to see UGG use leather on the footbed.
---
Reef – Voyage LUX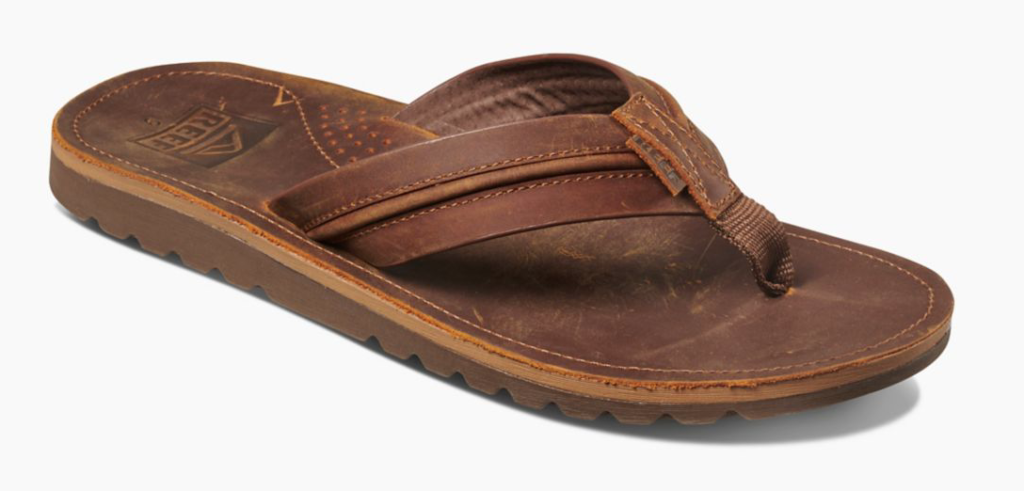 Reef has been in business for over 30 years, and is heavily rooted in surf, beach, and travel culture. Although they now make a wide range of clothing, footwear, and accessories, the brand is well known for their iconic sandals.
The Voyage LUX are a full grain leather flip flop that are as comfortable as they are cool. Constructed using waterproof leather, and a sawtooth rubber outsole, the LUX are a great option for guys that never know where their adventures might take them. In regards to style, the full grain leather upper has a slightly distressed finish that adds a rugged feel, and pairs really well with jeans, shorts, or khakis.
What's great about the Reef Voyage LUX:
• Full grain leather
Both the straps and the footbed of the Voyage LUX are constructed using premium ISA LITE waterproof full grain leather; while the underside of the straps are covered in a soft pigskin liner intended to reduce friction and increase comfort.
• Environmentally friendly
The LITE leather used to construct the Voyage LUX is sourced from an environmentally friendly tannery called ISA Tantec. LITE stands for Low Impact To the Environment, which means the leather was processed in a facility that utilizes sustainable energy, and has a very low carbon footprint.
• Waterproof
Leather flip flops are awesome, but they don't always mix well with water. I personally like to wear flip flops everywhere in the summer, and I know a lot of you guys do to. But chance encounters with water (or intentional encounters) are bound to happen, so that's why Reef constructed the Voyage LUX using waterproof leather that'll stand up to any amount of moisture you throw at it.
• Comfortable
The Voyage Lux features a very soft molded footbed that conforms to the unique characteristics of your foot. Because of this, these flip flops require very little to no break in period. Reef also added a velvety soft seamless pigskin liner to the underside of the straps. This reduces friction and discomfort common with leather straps, and further eliminates the need for a break in period.
Negatives:
None
---
OluKai – Hiapo


According to OluKai, Hiapo means: first born. Which is fitting considering the Hiapo is one of their original designs. Featuring water-resistant full grain leather: straps, footbed, toe post, and outsole, the Hiapo is covered in the stuff. The only non-leather materials on the exterior of the sandal is the microfiber lining on the underside of the straps, and the rubber pods on the outsole that provide grip and durability.
What's great about the OluKai Hiapo:
• Moko tattoo artwork:
There is a ton of detail on the Hiapo, but one of the first things to stand out is the really cool etching on the footbed. The intricate pattern is modeled after a traditional Polynesian form of face and body art called Moko. Ancient Polynesian cultures often used these tattoos to indicate lineage, rank, and status within the society. Not only is the backstory of the etching pretty cool, but it also shows how much attention to detail they put into these sandals.
• Awesome design:
Aside from the etching on the footbed, the Hiapo has a few other details that deserve mentioning, like the intricate grain pattern of the leather, and the hand-sewn whipstitching on the straps and toe post. You can tell OluKai didn't overlook any aspect of this sandal. Even the rubber "pods" on the leather wrapped outsole are covered in cool Polynesian designs, and patterns that add to the overall premium look and feel of the flip flop.
• Comfortable:
Considering OluKai is known for their comfort, this one isn't really surprising. The cushioned leather footbed on the Hiapo provides arch support, and gradually molds to the contours of your feet over time. Even the undersides of the straps have a soft microfiber lining that prevents rubbing and discomfort from the leather.
• Warranty
Like most guys, when choosing a premium flip flop I like to have a little piece of mind when it comes to their strength and durability. Well OluKai has got our back and offer a full 1 year warranty on all their sandals; the Hiapo included.
Negatives:
Pricey. They usually require a short break in period.
---
Sperry Top-Sider – Baitfish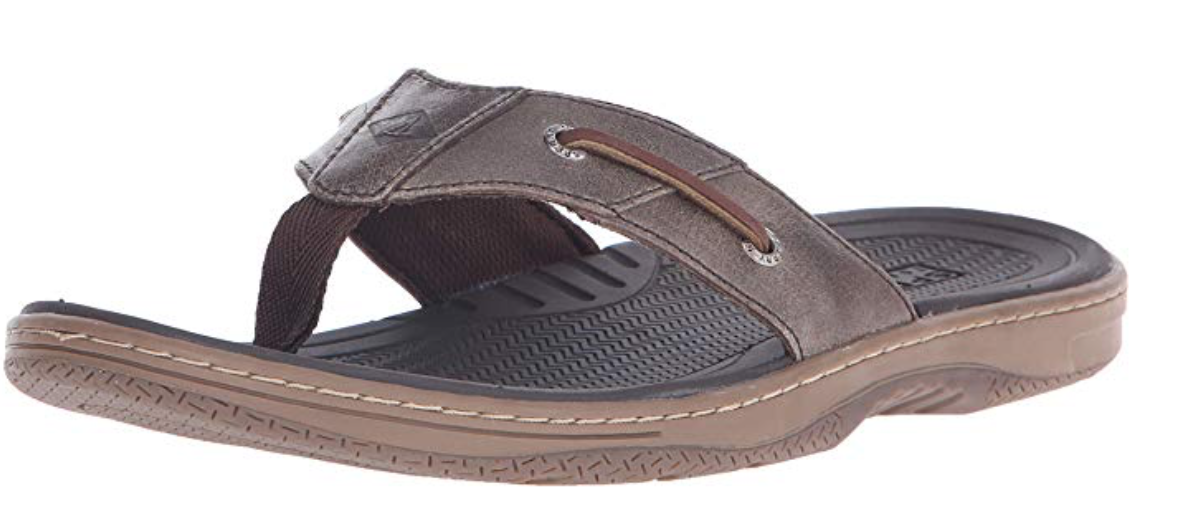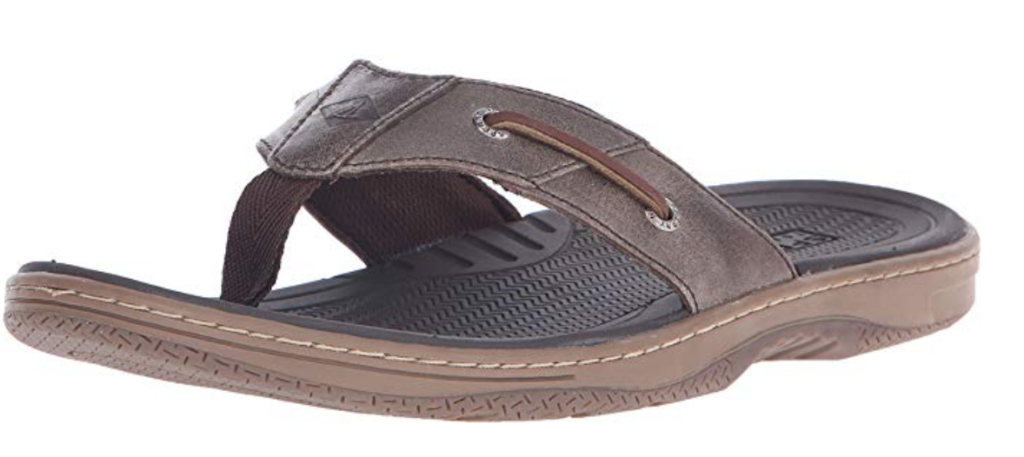 Sperry Top-Siders were founded in 1935 by Paul Sperry after he slipped on the deck of his boat and went overboard. Apparently tired of falling on his ass, or winding up in the sea, Paul set out to develop a non-slip boating shoe that would help him stay upright while sailing. While they are famous for their casual boating shoes, Sperry now offers a full line of clothing, accessories, and footwear including this Baitfish flip flop.
Taking inspiration from the Sperry Billfish shoe, the Baitfish is a casual flip flop that screams man of leisure. Featuring full grain leather straps with rawhide lace accents, a molded footbed, and a durable non-slip outsole, the Baitfish is a comfortable flip flop, that maintains style and functionality.
What's great about the Sperry Baitfish:
• Full grain leather
The straps of a flip flop have a very important job; they are the only component of the sandal responsible for keeping your foot in place, which naturally subjects them to a lot of stress and strain. Sperry constructs the Baitfish straps using full grain leather, which is the strongest grade of leather you can get. Durable and stylish.
• Comfortable
It's hard to be a man of leisure if your flip flops aren't comfortable. The Baitfish features a molded footbed that offers: cushion, grip, and a supportive heel cup. Sperry also lined the underside of the straps with microfiber for increased comfort, and to eliminate uncomfortable friction from the leather.
• Casual style
Flip flops are meant to be casual, and in my opinion that is where the Baitfish really excel. Whether you are going to the beach, boating, out with friends, or just having a few beers on the patio; the casual style of the Baitfish pairs well with jeans, khakis, and shorts.
Negatives:
They don't offer a lot of arch support.
---
Reef – J-Bay III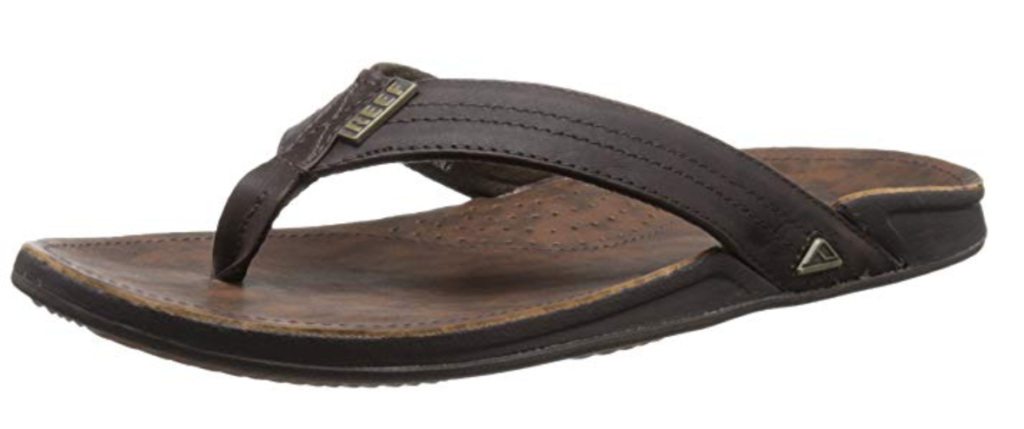 The J-Bay III is named after Jeffreys Bay, South Africa, one of the top surfing destinations in the world. Part of Reef's premium line-up, the J-Bay III is constructed with waterproof full grain leather, and they offer some solid comfort right out of the box. The molded footbed is contoured to provide arch support and heel support, and after a short break in period, will further mold to the unique characteristics of your feet and toes.
What's great about the Reef J-Bay III:
• Full grain leather
As one of Reef's premium sandals it only makes sense that they would use the finest leather. The J-Bay's straps, toe piece, and footbed are all constructed with waterproof full grain leather. Aside from quality, Reef also has a thing for being environmentally friendly. That's why they source their leather from tanneries that utilize sustainable energy, and have a low carbon footprint.
• Waterproof
Yes, leather flip flops are cool. No, water damaged flip flops are not. Reef understands that sandals get worn basically everywhere in the summer. That's why they use waterproof leather to protect them from accidental encounters with water, or intentional ones. Because I sure as hell don't let my footwear dictate my path, I doubt you do either.
• Rugged style
The full grain leather of the J-Bay III is full of character. With variations of tones in the leather and a rugged patina, these flip flops pair really well with shorts, jeans, and khakis. The detailed stitching and metal accents indicate an attention to detail, and add to the premium look and feel of the sandal.
Negatives:
Expect a short break in period.
---
OluKai – Mea Ola


If you haven't been paying attention, this isn't the first OluKai flip flop to make an appearance on this list. That's because when it comes to leather sandals, they know what they're doing. The OluKai Mea Ola is another full grain leather flip flop that looks badass all around. With intricate etching on the footbed, detailed stitching throughout, and premium leather covering basically every square inch of this thing, you don't have to be a detective to figure out exactly why it made the list.
What's great about the OluKai Mea Ola:
• Creature
The Hawaiian word Mea Ola means creature. Which is exactly what is etched onto the footbed of this sandal; a octopus inspired creature. OluKai uses a laser etching process to permanently imprint the design into the leather. The result is one badass piece of artwork, and a really cool looking sandal.
• Detailed stitching
Ancient Polynesians were the first civilization to explore the pacific ocean, which they did in their handmade canoes. The canoe lash whipstitching on the leather straps of the Mea Ola pay tribute to these ancient explorers, and their traditional canoe building techniques.
• Durable
OluKai builds their sandals to last. From the premium full grain leather, to the strong stitching, it's not uncommon for these sandals to last for years. They even hand stitch the toe post to ensure comfort and durability. OluKai is so confident in their craftsmanship, that they offer a 1 year warranty on all of their sandals.
Negatives:
Pricey
---
Sperry Top-Sider – Outer Banks


Do you even sail bro? No? Well it's a good thing you don't have to be a sailor to rock a pair of Sperrys. While they are originally built for safely navigating slippery boat decks, they are completely suitable for all you landlubbers out there as well.
With a look that is distinctly Sperry, the Outer Banks flip flop has a casual look and feel, but with a little rugged appeal. Featuring full grain leather straps, a molded footbed, and a rugged outsole, the Outer Banks is capable of helping you navigate a boat deck, or a rocky terrain in style. If you're brave enough that is.
What's great about the Sperry Outer Banks:
• Full grain leather
The Outer Banks features full grain leather straps with raw hide lacing accents. While laces on a flip flop doesn't make a bit of sense, they are a nice detail that helps differentiate these flip flops from the pack.
• Rugged
While you don't typically think of the word rugged when it comes to flip flops (with your toes being exposed and all), the Sperry Outer Banks is built to be a little tougher than the rest. The thick rubber outsole features a wavy pattern that offers a ton of traction on wet surfaces, but also provides comfort and grip if you decide to venture off the beaten path. Stubbing your toe is still a very real threat though, so take a measured approach.
• Comfortable
When it comes to choosing the right pair of flip flops, the first thing most guys look for is comfort. Otherwise what's the point, right? The Sperry Outer Banks certainly do not disappoint in that department. The lightweight molded footbed cushions every step, while the straps are lined with a soft microfiber fabric to eliminate friction and discomfort from the leather.
Negatives:
Arch support is somewhat lacking.
---
How To Care For Leather Flip Flops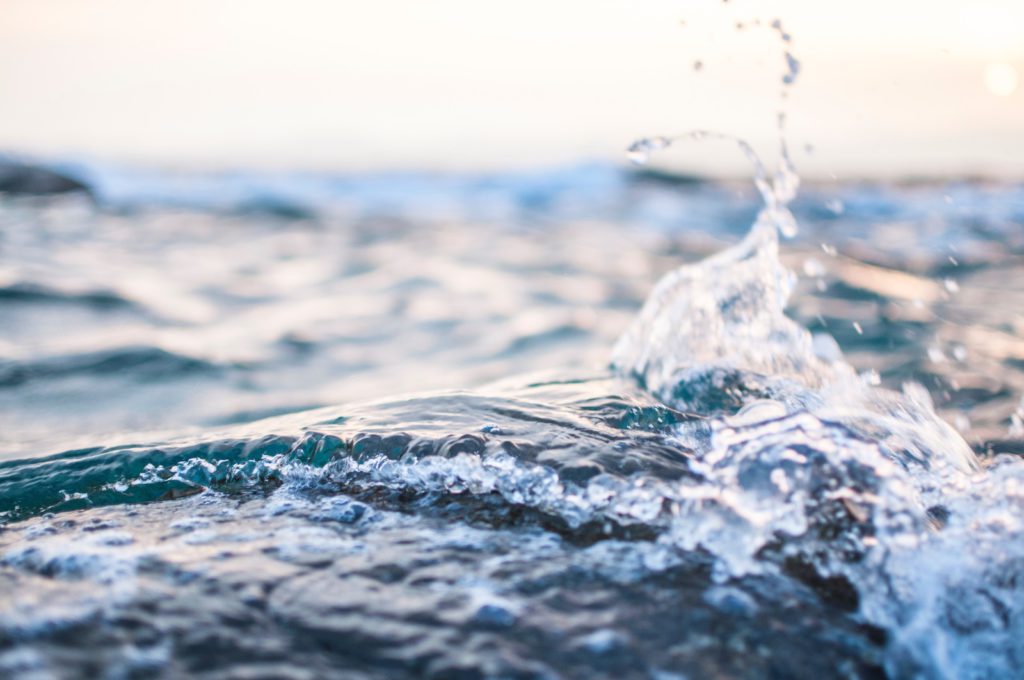 So you settled on the perfect pair of leather flip flops, but you aren't sure how to properly care for them.
No problem.
Although caring for leather can be somewhat of a mystery, it really isn't all that complicated. After all, us flip floppers are men of leisure. We can't be bothered with tedious flip flop upkeep.
• Remove dirt and debris
Flip flops get dirty. It happens. The best way to remove accumulated dirt and debris is with a damp wash cloth. Without applying pressure, gently wipe the leather clean, letting the texture and dampness of the wash cloth do the work for you.
• Air dry
Once your leather flip flops are wiped clean, it's important to let them dry out completely before wearing them again. Damp leather has a tendency to attract dirt and dust, which would effectively negate all the work you did in the first step. When it comes to drying leather flip flops, it's best to simply place them outside in a shaded area. While sunlight won't necessarily harm the leather, it could potentially bleach the finish and leave them with a lighter shade.
• Condition
If you want to prolong the life of your leather flops, it's important to periodically condition with a good leather oil. Over time leather can become dry, and even crack if left untreated. The general rule of thumb is to condition once every 3 months.
If you're not sure what type of oil to use, I personally recommend Obenauf's Leather Oil Conditioner (available on Amazon). It's simple to use, and will help protect your leather flip flops from: water damage, mold and mildew, scuffs and abrasions, and cracking. It's simply a wipe on wipe off procedure that shouldn't take more than a minute or two of your time.
---
Thanks for checking out my list of best men's leather flip flops. If you have any questions or comments you'd like to share, feel free to leave it down below.