Trouserdog.com is a participant in the Amazon Services LLC Associates Program, an affiliate advertising program designed to provide a means for sites to earn advertising fees by advertising and linking to Amazon.com.

Article updated: April 26, 2023
  
Every guy has had to deal with an ingrown hair at one time or another. You know, those painful, red, unsightly, puss filled bumps. No, I'm not talking about the pimples that ruined your yearbook picture.
Ingrown hairs are hairs that grow sideways or back into the skin when they should be growing upwards and out. Since our skin isn't fond of invaders, it views the rogue hair as a foreign object and responds by becoming inflamed and often times infected. Ouch.
Having to deal with a painful ingrown hair is certainly no fun. Luckily there are some effective methods for preventing ingrown hairs before they get the chance to be a pain in the ass — possibly literally.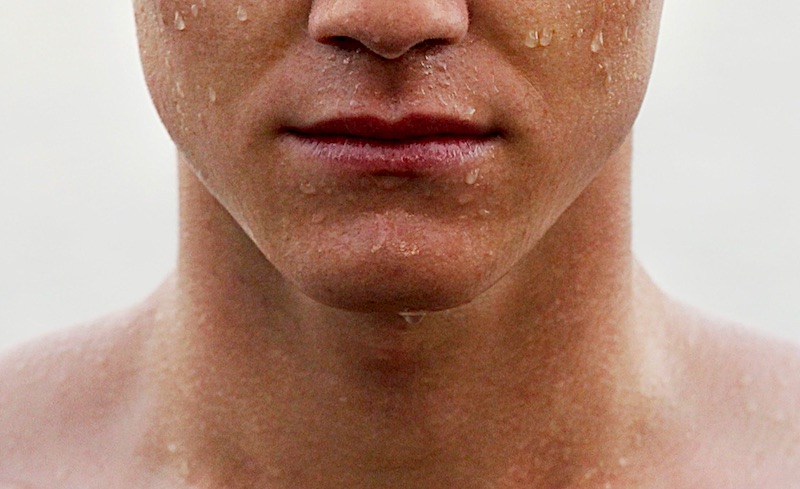 What Causes Ingrown Hairs?
One of the leading causes of ingrown hairs is an over accumulation of dead skin cells on the surface of the skin. Believe it or not, humans shed up to 1 million dead skin cells every singe day. Most of these skin cells fall off the body and actually turn up as dust found in the home. Yummy. The remaining dead skin cells accumulate on the surface of the skin, which can result in clogged hair follicles if the skin isn't exfoliated regularly.
After shaving, a clogged hair follicle can act as a barrier, and prevent new sprouts from breaking the surface of the skin; resulting in, you guessed it, an ingrown hair. Men with thick, coarse, or curly hair are more susceptible to ingrown hairs than guys with straight, fine hair. That's because thick, curly hair is more likely to grow backwards into the skin instead of straight out. And since most men's facial hair is thick, coarse and curly, it's no surprise that's where ingrown hairs most often wreak havoc.
How To Prevent Ingrown Hairs
The only surefire way of preventing ingrown hairs is to completely abstain from common hair removal methods such as: shaving, waxing, and tweezing. Since that likely isn't going to happen for most men, the next best option is implementing an effective skin care regimen to help significantly reduce the chances of sprouting one of those painful little bastards.
As we already learned, one of the main causes of ingrown hairs is clogged hair follicles thanks to an over-accumulation of dead skin cells on the skin. Because of this, regular exfoliation of the skin is one of the most effective measures a guy can take to help prevent ingrown hairs from forming. Incorporating a quality scrubbing face wash into your morning routine (ideally pre-shave) will exfoliate the surface of the skin and deep within the pores; effectively wiping out those dead skin cells, and allowing hair to emerge unimpeded from the hair follicle.
With so many options to choose from, picking the best exfoliator can certainly get confusing. To make matters a little easier, I compiled and reviewed my top 10 picks for best exfoliating face washes for ingrown hairs. Enjoy.
The Lineup:
Best Exfoliating Face Scrubs for Preventing Ingrown Hairs Reviewed
---
---
Tame the Beast – Exfoliating Face Wash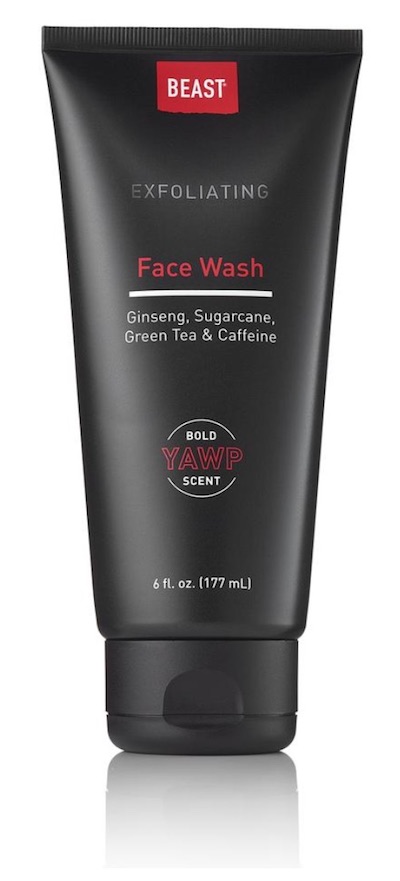 If you'd like to make ingrown facial hairs a thing of the past, I highly recommend you check out Tame the Beast's Exfoliating Face Wash for men. Tame the Beast is a male specific grooming company that is known for their long line of premium products, including: Body wash, shampoo, conditioner, bar soap, shave cream, aftershave, and lotion. Their Exfoliating Face Wash is one of their more popular products and it's designed to blast away dirt, oil, and grime, while it obliterates dead skin cells that can lead to annoying and painful ingrown hairs. It features Tame the Beast's awesome YAWP scent, and is packed with a shit ton of natural ingredients that are great for the skin, including: Glycerin, jojoba wax, hydrolyzed wheat protein, aloe, guarana extract, rosemary leaf extract, sugarcane extract, shea butter, chamomile, pomegranate, apple, green tea, orange extract, lemon extract, rosemary, lavender, peppermint oil.
What I like about Tame the Beast Exfoliating Face Wash:
• Gentle yet effective
One of the things I like most about this exfoliating face wash is that it sloughs away dry skin, dirt, and oil without being overly aggressive on the face. Nobody wants an exfoliator that leaves the skin scratched and irritated. But we also don't want one that is so gentle that it's completely ineffective. Tame the Beast hit the nail on the head with this one and formulated an exfoliator that effectively smoothes, cleanses, and helps prevent ingrown hairs without damaging the skin.
• Smells great
This exfoliator features Tame the Beast's exclusive YAWP scent that is specifically designed for men. It smells fresh, clean, citrusy, minty, and masculine.
• Moisturizes
Although I still recommend using a good facial moisturizer after exfoliating, this scrub does a good job of providing hydration and not leaving your face feeling overly tight and stripped of moisture.
• Refreshing tingle
One of things that immediately stands out about this face scrub is the refreshing tingle. Not only does it feel great on the skin, but it also provides an invigorating pick-me-up during those early morning showers.
Benefits:
Excellent for preventing ingrown hairs
Smells awesome
Gentle yet highly effective
Moisturizes
Safe for daily use
Refreshing tingle
---
Clarins Men – 2-in-1 Exfoliating Cleanser
Clarins is known for being a luxury brand and one of the original pioneers in the science of plant-based skin care products. Their 2-in-1 exfoliating cleanser is designed for men to eliminate sweat, dirt, oil and dry skin, while being very effective as a pre-shave scrub and a great first defense against ingrown hairs. Gentle exfoliation is powered by natural lava powder and water activated micro-beads that feel effective in doing their job; without being overly harsh or abrasive. Skin is left feeling smooth, refreshed, and hydrated. The accompanying scent is subtle, pleasant, and distinctly masculine.
What's great about it:
• It boasts serious ingrown hair prevention
With two exfoliating actions in one, it's a bonafide two-fer. Lava powder and micro-beads combine for a gentle, yet highly effective sloughing of dead skin cells; creating a smooth, soft exfoliated finish that will not abide ingrown hairs.
• Thick and gritty
I really like the thick creamy texture of this one. It lathers incredibly well. There is also a ton of grit, that you can really feel going to work. The exfoliation is thorough, without leaving your skin feeling like it's been in a fight with a weed-whacker.
• Exfoliates with lava powder
"I exfoliate my face with lava powder." Just being able to say that sounds pretty badass. Cool factor aside, lava powder provides gentle exfoliation, while conditioning the skin. This 2-in-1 also exfoliates with dissolving, water activated micro-beads. Perhaps not quite as cool sounding as lava powder (you be the judge), but undoubtedly equally as effective.
• 2-in-1
I like to streamline whenever possible. I'm not someone who likes to spend a lot of time on their skin care routine. This 2-in-1 eliminates a step by combining the cleansing benefits of a face wash, with the exfoliating benefits of a scrub. Convenient.
• A little goes a long way
My one small gripe with this one is the price. It's one of the more expensive exfoliators on this list. On the plus side, one tube lasts a long time. You don't need much to get the job done. The thick creamy texture works into a rich luxurious lather that covers a lot of ground skin. A quarter sized amount is really all you need.
Benefits:
Effective at preventing ingrown hairs
Exfoliates dead skin cells and cleanses
Works into a rich luxurious lather
Excellent pre-shave scrub
Hydrates skin
Safe for daily use
Subtle masculine scent
---
Max Green Alchemy – Scruff Rescue
Founded in 2004, Max Green Alchemy's line of products are organic, plant based, all-natural, and they even use 100% recyclable packaging from renewable resources. Their Scruff Rescue Face Scrub is powered by pure walnut shells, and AHA (alpha hydroxy acid) for a gentle combination of mechanical and chemical exfoliation – the perfect one-two punch against ingrown hairs. Safe for daily use, this scrubbing face wash is the perfect compliment to any skin care regimen, and features a creamy texture with a masculine, all-natural scent that contains hints of wood and citrus fruit.
Why I like it:
• It says "hell no" to ingrown hairs
Scrubbing particles and AHA chemical exfoliation in one? This dynamic duo blasts through dead skin cells and clears clogged hair follicles, for highly effective ingrown hair prevention.
• All natural and organic
Nobody likes putting a bunch of unpronounceable chemicals on their skin (Phthalates anyone?). With this Scruff Rescue scrub, rest easy knowing that it's comprised of all natural and organic plant based ingredients derived straight from the earth.
• Walnut shells
Gentle exfoliation is powered by pure, ground up walnut shells. Pretty cool. Aside from being an all-natural exfoliator, another benefit of ground walnut shells is effective dead skin removal, without being overly harsh or abrasive.
• Alpha hydroxy acid (AHA)
AHA is a group of natural acids commonly found in foods. Some common AHA's you may have heard of:
Citrus acid (all citrus fruits)
Malic acid (apples)
Lactic acid (milk)
Glycolic acid (sugar cane)
Alpha hydroxy acid is a gentle yet effective exfoliator that gradually removes the uppermost layer of skin with regular use. The benefit of this is fresher, smoother and firmer skin.
• Smells awesome
Scruff Rescue smells pretty damn good. With notes of wood, citrus, and unmitigated masculinity.
Benefits:
Helps prevent ingrown hairs
Mechanical and chemical exfoliating
All natural and organic plant based ingredients
Safe for sensitive skin
Safe for daily use
Great smelling masculine scent
---
Beau Brummell – Facial Scrub
Founded in 2013 by two brothers, Beau Brummell specializes in men's skin care products that are made in the USA of natural and organic ingredients. Each small batch is manufactured in house at their production laboratory in New York, and this organic, multi-functional facial scrub is no exception. It's formulated to exfoliate dead skin cells, while leaving moisturizing minerals and nutrients behind to re-hydrate. Natural activated charcoal and organic walnut shells power this scrubbing facial cleanser to produce a clean, smooth, matte finish.
What I like about it:
• Helps prevent ingrown hairs
Through the exfoliating power of organic walnut shells, and natural activated charcoal; this facial scrub from Beau Brummell powers through accumulated dead skin cells and clogged follicles to help prevent ingrown hairs.
• Great for sensitive skin
This organic facial scrub is free of harsh chemicals, preservatives, and irritants, making it a great choice for guys who have sensitive skin.
• It has activated charcoal
Activated charcoal is a known antioxidant and anti-inflamatory. It's popularity in skin care products is steadily growing due to it's natural exfoliating benefits and it's ability to draw toxins, chemicals, and dirt from the skin. Aside from the skin care benefits, activated charcoal is commonly used in emergency rooms to help treat overdoses and poisonings, due to it's ability to bind to toxins and help eliminate them from the body. Powerful stuff.
• It's natural and organic
Beau Brummell formulates and manufactures all of their own products with natural and organic ingredients. No harsh chemicals or irritants? What's not to like.
• It's made in small batches in the USA
A company that makes their products in small, controlled, consistent batches in the USA. I can get behind that.
Benefits:
Helps prevent ingrown hairs
Natural and organic
It helps moisturize
Contains activated charcoal
Great for sensitive skin
---
Rugged & Dapper – Power Scrub
This face wash by Rugged & Dapper was designed exclusively for men. It's a multi-purpose wash offering 3 great benefits; Exfoliator, Toner, and of course a deep cleansing face wash. Featuring all natural and organic ingredients this daily facial cleanser attacks dirt, oil, and grime to eliminate acne. The plant-based exfoliants gently, but effectively slough away dead skin and unclog pores. Featuring a fresh masculine scent that is evident once you pop open the bottle. This wash lathers up nicely, feels great on the skin, and doesn't dry out or strip the skin of moisture.
What I like about it:
• Effective against ingrown hairs
Jojoba beads and crushed olive seed provide effective exfoliation against dead skin cells, and help prevent ingrown hairs from occurring.
• Multi-purpose
Rugged & Dapper formulated this face wash to effectively serve 3 functions in one:
Cleanse – The foaming cleanser is formulated to eliminate dirt, oil, and grime to help clear acne and blackheads, and also prevent future breakouts.
Exfoliate – Jojoba beads and crushed olive seed offer a nice gritty texture that lets you know it's working without being overly harsh or abrasive.
Tone – Toner is added to help reduce the appearance of pores, and provide a refreshed clean feeling to the face.
• Natural and organic
Rugged and Dapper includes only natural and organic ingredients in their skincare products, and this exfoliating facial scrub is no exception; boasting natural ingredients such as:
Burdock root – Helps treat common skin conditions such as acne, psoriasis and eczema. It has anti-inflamatory and antibacterial properties as well.
Aloe vera – Fights acne breakouts, moisturizes, and has a natural cooling effect that soothes irritated skin.
Tea tree oil – known for soothing irritated skin, and has been proven effective at treating eczema and oily skin.
Rosemary – A natural anti-inflamatory with antiseptic properties. It's also an effective facial astringent.
• Masculine scent
The 100% natural fragrance smells awesome, isn't overpowering, and is definitely intended for a man.
Benefits:
Multi-purpose: Face wash, exfoliator, toner.
Natural & organic
Won't dry out skin
Clears acne
Masculine scent
---
Brickell – Renewing Face Scrub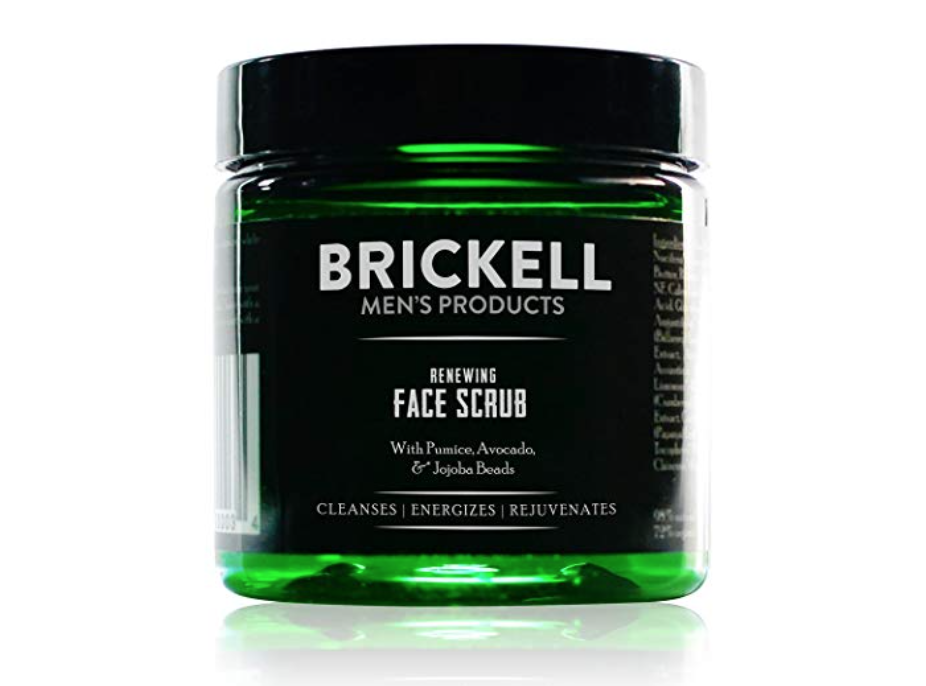 This renewing face scrub by Brickell removes oil, dirt and sloughs away dead skin for a smooth and clear complexion. Featuring natural and organic ingredients that unclog pores and exfoliate without drying out the skin. Excellent for pre-shave use as it removes dead skin and lifts up facial hair allowing for a ultra close shave. This scrub has a pleasant, masculine scent that helps energize and invigorate those early mornings. The natural scrubbing particles are effective at removing dead skin cells, and preventing ingrown hairs without being overly harsh on the skin.
Why I like it:
• Effective exfoliation
Jojoba beads and pumice offer a not too gritty texture that exfoliates dry skin, for a clean, smooth, rejuvenated complexion.
• Natural and organic
Brickell uses the highest grade natural and organic ingredients in their skincare products; making it a great choice for guys with sensitive skin. Here is a few of the hard working natural ingredients in this renewing face scrub:
Avocado – Rich in fatty acids, and offers excellent moisturizing properties. It also contains vitamin E which is effective at repairing damaged skin, and is a known antioxidant.
Kukui nut oil – Rich in fatty acids and commonly used in Hawaii for it's excellent moisturizing benefits.
Olive butter – Contains tons of antioxidants, and is an excellent emollient that moisturizes and softens the skin.
Pumice – Volcanic rock known for its excellent exfoliating properties.
• Invigorating
Thanks to certified organic coffee extract, one sniff and this scrub does a great job of bringing you to your senses early in the morning.
Benefits:
Helps prevent ingrown hairs
Exfoliates while removing oil and dirt
Unclogs pores
Allows for a closer shave
Masculine scent
Natural and organic
---
Viking Revolution – Facial Scrub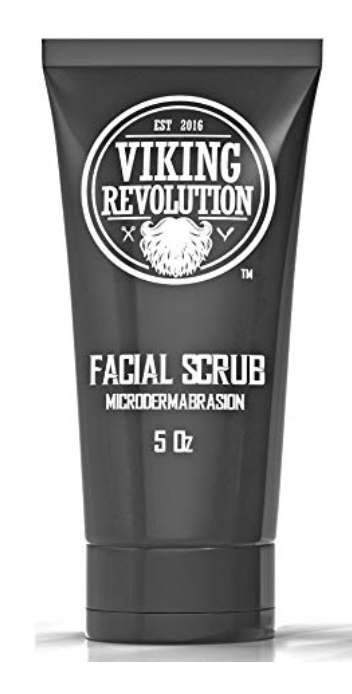 Viking Revolution is a relatively new company that is making a name for itself by producing high quality, effective, and affordable grooming products for men. Their Facial Scrub deep cleans to unclog pores, eliminate oil, and help prevent ingrown hairs; without over-drying the skin. The gentle yet effective exfoliating action eliminates dead skin cells for a clear, smooth complexion, and a closer shave. The 100% natural and organic formula features an invigorating peppermint scent that is the perfect start to your day. Not-too-course exfoliating particles feel substantial and effective on the skin; without being harsh or abrasive.
Why I like it:
• Great exfoliation
You can feel the exfoliating particles effectively doing their job, without being overly harsh or damaging. It obliterates dead skin cells, and unclogs pores; leaving your face feeling smooth, refreshed, and less susceptible to ingrown hairs.
• Fights acne
Salicylic acid is added to help eliminate acne and blackheads. This naturally occurring acid is derived from the willow tree, and is known for it's ability to reduce inflammation and oily skin, unclog pores, and clear acne breakouts.
• Natural and organic
You won't find any harsh chemicals in the ingredients list. Believe me, I looked. In fact, all Viking Revolution's grooming products are natural and organic, and safe for all skin types.
• Safe for sensitive skin
The all natural and organic ingredients make this a safe option for guys with sensitive skin.
• Refreshing scent
The scent can be described as earthy, with a touch of peppermint, and definitely masculine. I like the scent of peppermint but I know some guys aren't fans. If you fall into that group, bear in mind it's subtle and doesn't linger.
Benefits:
Exfoliates skin and eliminates oil
Unclogs pores
Natural and organic
Won't dry out skin
Refreshing peppermint scent
---
Lather & Wood – Facial Scrub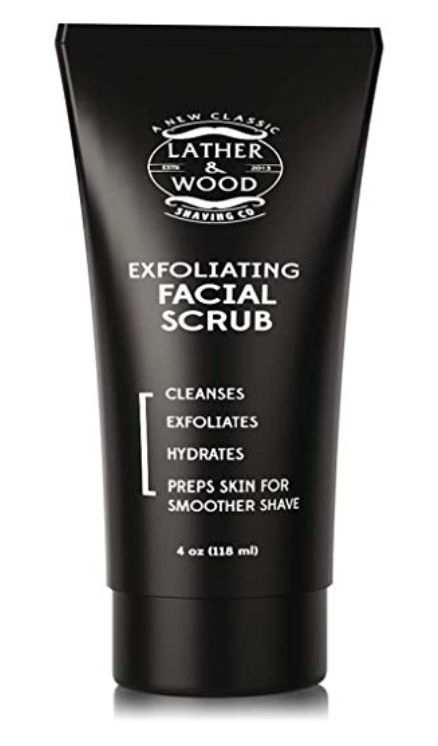 This exfoliating face wash from Lather & Wood is formulated with natural jojoba beads to remove dead skin, oil, and grime while unclogging pores and fighting ingrown hairs. Lather & Wood pride themselves on creating products specifically for men, and you can tell when you open this bottle of exfoliating face wash; the scent is distinctly masculine. The exfoliating particles feel effective and thorough on the skin; without being overly abrasive. Makes for a great daily pre-shave scrub as it lifts facial hair away from the skin; allowing for a closer shave.
Why I like it:
• Gritty
This facial scrub by Lather & Wood is a bit coarser than most. It really digs down deep to remove accumulated dead skin, oil, dirt, and is highly effective at preventing ingrown hairs. Take your time, be gentle, and this scrub does a bang up job without damaging your skin; leaving a smooth, clean, and clear complexion behind.
• No harsh chemicals
Lather & Wood is against the use of harsh chemicals and synthetic ingredients in their skincare products. They use only safe, natural ingredients in their products, and this scrub is no exception.
• Confidence
This isn't exactly a compliment on the facial scrub, but the company itself. Lather & Wood believe their facial scrub is the best in existence, and they aren't afraid to show it. They're quickly gaining a rep for their excellent customer service, and willingness to make sure the consumer is always satisfied.
• Manly scent
This scrub is made for a man, so naturally it smells like a man (should). It has a mild woodsy scent, that isn't overbearing and doesn't linger.

Benefits:
Exfoliates dead skin
Smoothes skin
Removes oil and grime
Unclogs pores
Fights acne
Masculine scent
---
Jack Black – Face Buff
Jack Black Face Buff exfoliating facial cleanser offers deep cleaning and exfoliation in one. This wash is designed to eliminate oil, dirt, dead skin and it also unclogs pores. Specifically formulated to use as a pre-shave wash to help lift hair from the skin for a closer shave. When applied to the skin this wash offers a refreshing tingling sensation while the exfoliating particles do their job without being overly abrasive. Scented with peppermint oil for an invigorating, not too overpowering masculine touch.
Why I like it:
• Awesome for ingrown hairs
Jack Black uses natural bamboo powder to power this exfoliating scrub. Bamboo powder is a course granule obtained from Tabashi stems in liquid form, which is then crystalized at room temperature.
The bamboo powder granules are very fine in this scrub, but there is a crap ton of them; you can really feel them doing their thing. They effectively eliminate accumulated dead skin cells, for a smooth, clean finish that ingrown hairs ain't gonna step to.
• Natural and organic ingredients
I hate putting chemicals on my skin, and I suspect you guys do too. This scrub was formulated without harsh chemicals and irritants; making it safe for sensitive skin. Key natural ingredients:
Vitamin C – Known to boost collagen production for firmer, healthier looking skin. It's also a known antioxidant which helps reduce the appearance of scars, and helps heal sun damaged skin.
Peppermint – A known anti-inflamatory that soothes irritated skin, and also softens and tones when used topically.
Licorice extract – A powerful antioxidant that repairs skin damage, and helps manage oily skin.
• Refreshing feel
Thanks to peppermint oil, this scrub has a cooling, refreshing tingle that feels awesome on the face.
• Peppermint smell is invigorating
I really like the invigorating feel, and smell of peppermint in my skin care products. I know it's not for everyone so keep in mind it really only lasts while it's being put to use.
Legend of the peppermint plant:
According to Greek mythology, Hades God of the underworld, was seduced by the beautiful water nymph Minthe. In a jealous rage, Hades' wife Persephone transformed Minthe into a lowly plant; to spend the rest of her days being trampled underfoot. After failed attempts by Hades to transform Minthe back, he settled on perfuming her with a sweet aroma so that passersby would be intoxicated by her fragrance, and remember her beauty.
Whether or not you subscribe to Greek mythology, you have to admit that the legend accurately describes the intoxicating qualities the scent of peppermint has.
Benefits:
Exfoliates and cleanses
Won't dry out the skin
Eliminates dirt, oil and dead skin
Unclogs pores
Pleasant tingling sensation
---
MARLOWE – NO.122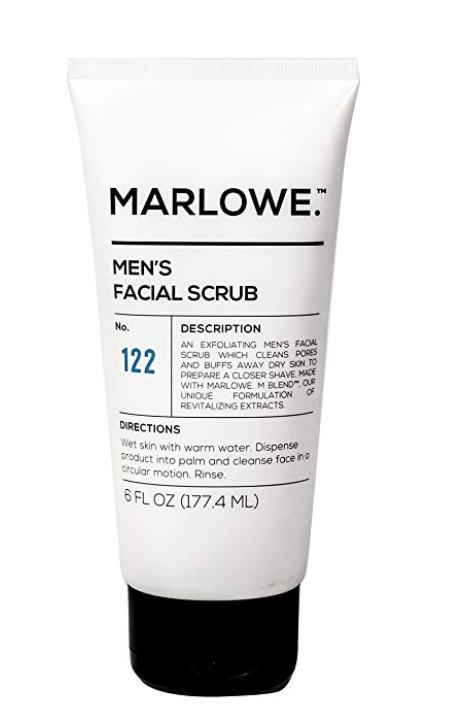 Marlowe recently redesigned this formula for improved texture, increased scrubbing power, and better overall cleansing. The increased scrubbing power gently, but effectively removes dry skin; while the cleanser eliminates dirt, oil and unclogs pores. The exfoliating particles feel effective on the skin without being damaging. The masculine fragrance is subtle yet pleasant; containing hints of agarwood, sandalwood, and musk. This wash is also very effective as a pre-shave scrub, allowing for a closer shave.
What I like about it:
• Thick and gritty
Marlowe NO. 122 is on the creamier side of the spectrum, and there is no shortage of scrubbing particles. I was expecting more of a lather due to the creamy texture; a small gripe. But it more than makes up for it with effective exfoliation and ingrown hair prevention.
• It hydrates
Although I do always suggest using a facial moisturizer after exfoliating, this scrub does a good job of not stripping the skin, by adding moisture rich botanicals:
Aloe vera – Everyone knows the moisturizing benefits aloe vera has, but did you know it's also highly effective at treating acne and helps fight the signs of aging?
Passion flower extract – Soothes, moisturizes, and hydrates the skin without clogging pores. It's also known to fight the signs of aging.
• Great scent
122 is scented with a blend of agarwood, sandalwood, and musk. It's a very unique combination of scents that invoke feelings of rich leathers, woodsy terrain, and above all, strength and masculinity. Look out ladies.
• It lasts
A little goes a long way with this one. It has a thick consistency without being pasty, and is easily spreadable.
Benefits:
Exfoliates and cleanses
Eliminates dirt and oil
Unclogs pores
Won't dry out skin
Masculine scent
---
Thrive – Energy Scrub
Thrive teamed up with Costa Rican farmers to help bring this Energy scrub to reality. Using all natural ingredients, this men's face scrub is formulated with Arabica coffee beans, carnauba wax, and jojobo; designed to exfoliate, cleanse, and protect skin from stress and irritation. The premium plant based exfoliating particles scrub off dry, dead skin, unclogs pores, and helps prevent ingrown hairs. Every purchase supports rural Costa Rican farmers, and helps restore degraded farmlands.
Why I like it:
• Texture and grit
This runny, and slightly muddy looking scrub doesn't look like much at first, but don't judge a book by it's cover. The texture is on the thinner side, and works into a slight lather; making it easier to spread and work into the skin. Exfoliation is provided by coffee grounds, jojoba, and carnauba wax. The coarse coffee granules immediately stand out, which can be alarming at first, but the overall exfoliation is gentle on the skin, while still being very effective at it's job. The result is smooth, rejuvenated skin.
• Innovative
Thrive uses juanilama and fierrillo oil in their Thrive Energy Scrub. Never heard of either? That's because both oils are unique to this scrub; you won't find them anywhere else. The indigenous people of Costa Rica know about these oils, and have been using them for hundreds of years to treat a wide range of skin conditions.
Juanilama – A natural occurring herb that has antibacterial, antioxidant, and anti-inflammatory properties; all effective at healing skin, and helping to prevent ingrown hairs.
Fierrillo – This rainforest vine shares a lot of the same properties as juanilama, and has been used by Costa Ricans for centuries to protect their skin, and promote healing in minor cuts and abrasions.
• Coffee grounds
And yet another way Thrive stands out from the crowd. They use Arabica coffee grounds to power their facial scrub along with the help of jojoba and carnauba wax. Aside from their excellent exfoliation properties, coffee grounds offer a ton of other skin care benefits:
Skin calming effects
Anti-aging benefits
Reduces inflammation
Helps fight acne
• Smells great
This scrub has a earthy and natural fragrance that is very pleasant and masculine. Upon popping the top, expect subtle notes of clove, anise, lemon, and of course coffee beans.
Benefits:
100% natural plant based ingredients
Exfoliates and cleanses
Masculine scent
Won't dry out skin
Every purchase helps Costa Rican farmers
---
Choosing the Right Men's Exfoliator
Not all exfoliators are created equal. From harsh chemicals to downright ineffective products, a lot can go wrong if you don't do your homework.
So what are some things to look for?
• Natural or organic ingredients
I recommend exfoliators that use natural or organic ingredients; bonus points if they contain both. Natural ingredients are not only safer for the skin, they're safer for the environment. It's no mystery that many of these skincare products are ending up in our lakes, rivers, and oceans. Natural ingredients are much safer, and make significantly less of an impact on aquatic ecosystems and marine life.
• Some things to look out for
It's not always about what's in a product; it's sometimes more important what's not in it. Believe it or not, some common chemicals found in skincare products are not only bad for you, they're toxic. I recommend staying clear of an exfoliator (or any product) that contains any of these ingredients:
Sodium lauryl sulfate – Known to cause skin irritation, canker sores, eye damage, and acne.
Butylated hydroxyanisole (BHA) – Commonly found in exfoliators, BHA is classified by the National Toxicology Program as reasonably likely to be a human carcinogen. Carcinogens cause cancer.
Parabens – Although not "officially" considered harmful, the FDA has linked several studies to parabens causing skin cancer, and decreased sperm count.
Polyethylene – Used to make tiny plastic beads for exfoliators; this synthetic material is commonly contaminated with a chemical that the U.S. Government considers a probable human carcinogen.
How To Properly Use an Exfoliating Facial Scrub: Best Practices
It's not exactly brain surgery, but exfoliating with a facial scrub the right way will yield much better results than doing it the wrong way.
Easy does it:
Try to remember you're not polishing a car here. Facial skin can be pretty delicate, and susceptible to irritation and inflammation if you go all HAM on it. Move in small, gentle, circular strokes; letting the scrubbing particles do their job. Apply less pressure than you think you need to.
Use pre-shave:
Exfoliating prior to shaving is best practice. Exfoliating removes dead skin cells, dirt, and toxins from the skin and pores; facilitating a closer, cleaner shave. I don't recommend using a facial scrub after shaving. Freshly shaved skin is usually quite sensitive, and often times nicked in a few places. I imagine going at it with exfoliating particles in this state would be like pouring salt in a wound.
Moisturize afterwards:
So you just exfoliated your face of dead skin, dirt, toxins and guess what else? Moisture. It's important to use a good facial moisturizer every day, but it's crucial to use one after exfoliating and shaving. Since freshly exfoliated and shaved skin is sensitive, and more prone to sun damage; I recommend using a lotion that contains SPF protection. Check out my list of 10 best face moisturizers with SPF.
---
Thanks for checking out my list of best face scrubs for ingrown hairs. If you found this article helpful, check out my list of best face washes for oily skin. As always, if you have any comments or questions feel free to drop me a line in the comment section below.